Analysis
2023 Free Agent Profile: Xander Bogaerts
One of the most prolific hitters in baseball seems more than likely to opt out of the remainder of his Red Sox contract and hit the open market.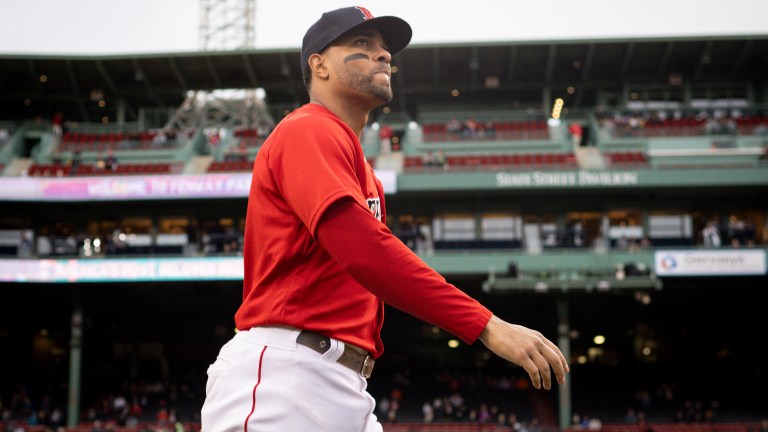 Position: SS
Bats/Throws: R/R
Age: 30 years old (October 1, 1992)
Traditional Stats: 150 G, .307/.377/.456, 15 HR, 53 XBH, 73 RBI, 84 R, 118 SO
Advanced Stats: 134 wRC+, 19% K%, 9% BB%, .149 ISO, .363 wOBA, .323 xWOBA
Path to Free Agency
Xander Bogaerts was born in Oranjestad, Aruba and was signed for $410,000 by the Red Sox in 2009 as a 16-year-old. He quickly rose through the minor league ranks and even received an invite to the 2012 Futures Game, an honor reserved for only the best MLB prospects. By 2013, the 20-year-old Bogaerts was ranked in the top 10 of every publications' top 100 prospect list and was expected to debut at some point during the 2013 season.
On August 20th, 2013, Bogaerts would make his debut for the Red Sox against the San Francisco Giants and would collect his first hit against the Dodgers five days later. He struggled a bit out of the gate, as many prospects do, hitting .250 with one home run in 50 plate appearances to end the 2013 regular season.
The Red Sox had confidence in the young Bogaerts from the jump, though. So much so that they placed him on their postseason roster and started him in every single game of the 2013 World Series against the Cardinals. Bogaerts hit .296 with an .893 OPS in the 2013 playoffs and was one of the many reasons why the Red Sox were able to go on their miracle World Series run in 2013. This would be just the beginning for the next Boston Red Sox star shortstop.
Fast forward nine years: Bogaerts has made four All-Star teams, won the Silver Slugger four times, finished top five in MVP voting in 2019, won another World Series in 2018, and has accumulated 34.2 WAR across his career. Bogaerts is coming off of his best season yet in 2022, in which he hit .307 with a 134 wRC+ and accumulated 6.1 WAR thanks to career best defensive metrics at shortstop.
Since 2018, only Francisco Lindor and Trea Turner have accrued more WAR at shortstop and among all hitters, Bogaerts ranks 14th in WAR and tied for 19th in wRC+ with Ronald Acuña Jr., Vlad Guerrero Jr., and J.D. Martinez. Simply put, Bogaerts is one of the best hitters in baseball.
Since he debuted in 2013, Bogaerts has been the glue that has held the Red Sox together on and off the field and now after opting out of his player option, Bogaerts has the opportunity to seek a big payday. The question will be whether the Red Sox do whatever is necessary to keep the player that has been at the core of their success over the last 10 seasons or let one of the best shortstops in the game become another franchise's centerpiece.
The Problem With Getting Older
In the age of analytics and age curves, Bogaerts will be held under a microscope as he enters his age 30 season. By now I'm sure most of us are aware that 30 years old is a very significant number for baseball players. It's generally about the time that player value stops progressing and actually starts regressing. To show you what that means, below is an age curve with change in wRC+ by age.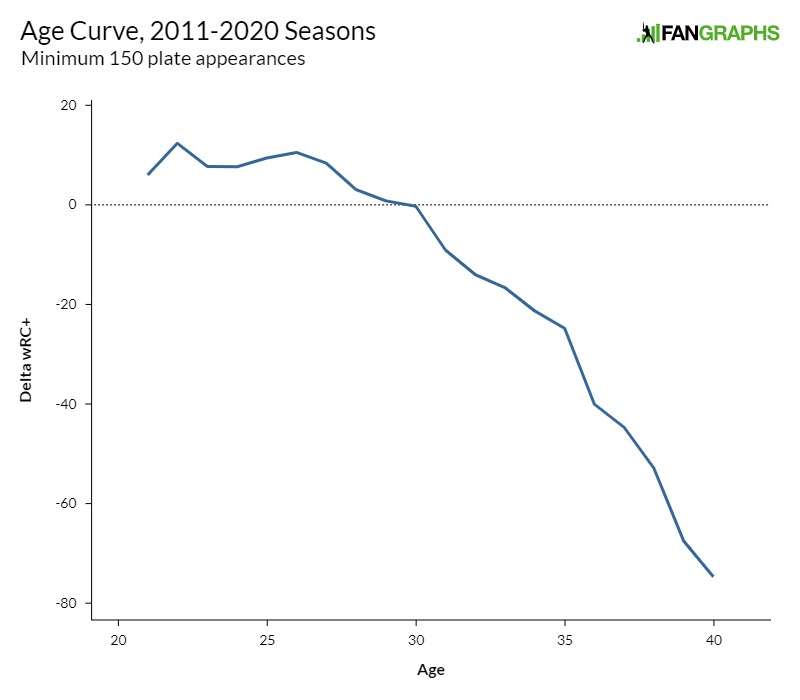 It becomes quite clear that when a player hits 30 years old, their value at the plate tends to take a dip and continue to fall in their late 30's.
The age curve above only accounts for offensive statistics, but you'd be correct if you guessed that as a player ages, their defensive abilities also take quite a drastic hit, especially for a shortstop like Bogaerts that doesn't have much range to begin with.
There will definitely be questions about Bogaerts ability to stick at shortstop not just for the next couple of seasons, but for the duration of a six year contract. It's hard to imagine a 35 year old Bogaerts still playing shortstop everyday in a post-shift era. Below is a tweet that summarizes how Bogaerts defense benefitted from the shift this past season.
In short, Bogaerts graded out as a below average defender when positioned at shortstop and with the shift ban in place in 2023, it will become harder to cover up Bogaerts defensive shortcomings.
Contract Projection
Bogaerts declined a player option that would have paid him $20 million dollars a year through 2025 with a vested option for an additional $20 million in 2026 if he reached 535 plate appearances in 2025. As mentioned, Bogaerts has declined the player option and will head to free agency where he and his agent, Scott Boras, will likely be seeking a contract that will pay Bogaerts close to $30 million a season.
For comparison, Francisco Lindor signed for $34.1 million a year and Corey Seager, who signed his deal last offseason, is making $32 million a year, so Boras will likely use those contracts as barometers for Bogaerts AAV despite Lindor and Seager both signing their deals as 27-year-olds.
Another contract that can be used for comparison is Trevor Story's six year, $140 million deal ($23.3 million AAV) given to him by the Red Sox last offseason. Story was signed to potentially take over the reigns at shortstop from Bogaerts after the season, but it's become clear that Story no longer has the arm to play short. The fact that Bogaerts has outperformed Story at the plate by a wide margin should justify the $28-30 million price tag per year that Bogaerts will likely warrant.
It now comes down to how many years will a team be comfortable giving Bogaerts at the close to $30 million a year price tag. History shows that signing a player in their 30's to a long term deal does not often pay off in the back half of the deal.
The biggest question for Bogaerts is if he will be able to retain his power heading into his 30's after posting his lowest slugging percentage and hard hit rate since 2017. Beyond the drop in power, Bogaerts also had a concerning gap between his wOBA of .363 and expected wOBA of .323. This was the seventh largest wOBA to xwOBA gap in baseball last year and could signal possible regression into next season if Bogaerts doesn't regain his hard hitting ways.
All in all, Bogaerts is a difficult player to project heading into free agency. His hitting resume speaks for itself despite the lag in power numbers this past season. The defensive shortcomings will likely become more apparent as the shift disappears and age catches up to him, so a move to third base or even DH could be around the corner, but paying $30 million for a DH that can't hit 25+ home runs isn't exactly ideal.
My contract prediction for Bogaerts is six years, $178 million ($29.66 million AAV).
Top Landing Spots
Boston Red Sox
Pretty simple explanation here: The Red Sox are the franchise that signed Bogaerts as a kid from Aruba, put their faith in him at age 20 to win them a World Series, and he has done nothing but produce for them over the last nine seasons. He is the current captain of the Red Sox and should want to stay with Rafael Devers for the long haul.
The question isn't whether Bogaerts wants to stay with the Red Sox; it's whether the Red Sox will be comfortable paying Bogaerts enough money to stay with the Red Sox. With Devers likely manning the hot corner in Boston for the foreseeable future, Bogaerts home beyond shortstop would likely be DH as he ages, so it's fair to wonder if the Red Sox will throw more money at Trea Turner, Carlos Correa or Dansby Swanson. Regardless, the favorite to re-sign Bogaerts is the Boston Red Sox.
Seattle Mariners
The Seattle Mariners are coming off of their first playoff berth in more than 20 years. They have an incredible mix of young talent like Julio Rodriguez, George Kirby and Logan Gilbert and veteran mainstays like Luis Castillo, Robbie Ray, Ty France and Eugenio Suarez. The one piece they are missing is a veteran star that knows what it takes to win a World Series. Xander Bogaerts is that and more.
Replacing J.P. Crawford, who is merely a league average hitter, with Xander Bogaerts could vault the Mariners from being a wild card team to a team battling it out with the Astros for first place.
Baltimore Orioles
The Baltimore Orioles had a bit of a premature breakout in 2022 and look poised to build on their first winning season since 2016. They have an incredible young offensive core in Adley Rutschman, Gunnar Henderson, Ryan Mountcastle and Cedric Mullins and could be just a couple signings away from being a playoff team in 2023.
Gunnar Henderson has the ability to play shortstop, but could slide over to play third base for a few years while Bogaerts remains in his prime. The Orioles have just $18 million committed into 2023 payroll as of now and could be prepared to spend this offseason on a shortstop like Bogaerts or Correa.
Philadelphia Phillies
The Phillies move into the 2023 season with the second highest payroll behind only the New York Mets, but coming off of a World Series loss to the Astros, Dave Dombrowski will be looking to improve his roster and what better way to do that than call on an old friend in Xander Bogaerts. If you'll recall, Dombrowski was the VP of Baseball Operations for the Red Sox from 2015 to 2019.
Signing Bogaerts would allow Bryson Stott to move over to second base and Nick Maton to the bench. The Phillies are in win-now mode and signing Bogaerts is just another piece to the win-now puzzle Dombrowski has built.
Minnesota Twins
Carlos Correa has officially opted out of his contract with the Minnesota Twins and looks to be in line for a $300 million+ contract similar to Lindor and Seager. If the Twins can't stomach a contract that big, which seems to be the case, they might consider Bogaerts who would gel with the Twins young offensive core at a lower price tag than Correa.
Final Projection
Xander Bogaerts signs a six year, $178 million deal with the Boston Red Sox.
John Henry isn't just selling Liverpool to buy a second 253 foot yacht, he's prepping to extend Rafael Devers and bring Xander Bogaerts back to Fenway for the next six years. Bogaerts loves Boston and it makes sense for both parties for him to stick around.