Analysis
2023 Free Agent Profile: Josh Bell
Despite his poor second half in San Diego, Josh Bell's big bat should earn him plenty of offers in free agency.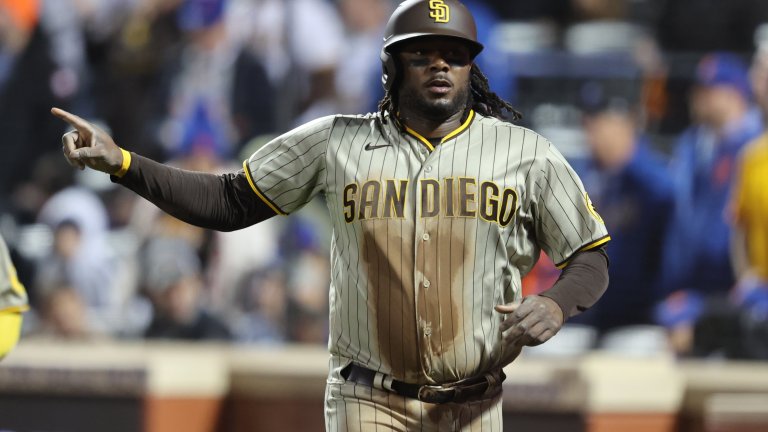 Position: 1B/DH
Bats/Throws: S/R
Age: August 14th, 1992 (30 years old)
Traditional Stats: .266/.362/.422, 17 HR, 49 XBH, 71 RBI, 78 R, 102 K, 647 PA
Advanced Stats: 15.8% K%, 12.5% BB%, 123 wRC+, .344 wOBA, 2.0 fWAR
Josh Bell's walk year got off to a terrific start. Before the trade deadline, he hit .301 with 14 home runs and a 143 wRC+ in 103 games. He ranked among the top 30 National League position players in FanGraphs Wins Above Replacement.
Then he was traded to San Diego.
In 53 games with the Padres he batted .192 and hit only three home runs. His -0.5 fWAR ranked among the bottom 15 players in the league and was second-worst among qualified batters.
Just this summer, Bell seemed certain to sign a large, multi-year contract this winter. Now, the market for his services seems a little less clear.
Josh Bell's Path to Free Agency
Bell was drafted by the Pittsburgh Pirates in the second round of the 2011 MLB Draft, and signed for $5 million – a record number for a second-round pick. He had been planning to honor his commitment to the University of Texas, thus why he fell to the second round of the draft, but Pittsburgh's offer successfully changed his mind.
Heading into the 2012 season, Bell was already considered a top prospect before he had even played an affiliated game. He impressed at all levels of the minor leagues, and in 2016, at 23 years old, he earned his first call-up to the show.
Bell struggled with inconsistency in his first few seasons, not quite living up to the top prospect hype, but he broke out in 2019. He hit 37 home runs that season, posted a .937 OPS, and was named to his first career All-Star team. And then the inconsistency reared its ugly head once again.
Josh Bell stunk in 2020, slashing .226/.305/.364. He was one of the least valuable players in the National League. The Pirates, not knowing what to do with him anymore (and presumably not wanting to give him a raise in arbitration), traded Bell away to the Nationals that offseason.
In his first season with Washington, Bell posted solid offensive numbers. He didn't look like a star, but he was hitting well enough to stick at first base. His 119 wRC+ ranked seventh among NL first basemen, and he earned another hefty raise the following winter.
Then, in 2022, he got off to the hottest start of his career. Bell was absolutely raking in Washington, and it looked like he was in line for a sizeable payday. His struggles with San Diego, however, have changed that a little.
Bell has proven himself to be a good hitter, and he has shown flashes of greatness, but he has demonstrated wild inconsistency. He can be the best hitter in your team's lineup, but he can also be the worst, and it's hard to know which version he'll be from one day to the next.
Josh Bell Contract Projection
Before the trade deadline, Josh Bell was probably looking at a contract similar to the one Kyle Schwarber signed with Philadelphia (four years, $79 million). After his second-half slump, however, he's unlikely to see any offers so high. A four-year deal still seems right, but it probably won't be worth more than $15 or $16 million. The four-year, $64 million deal Nick Castellanos signed with Cincinnati a few years back is a good comp – especially since Bell's agent Scott Boras also negotiated that deal.
There is a small (but non insignificant) chance Bell bets on himself and signs a one-year deal, hoping to increase his value with a strong 2023 season before taking one more crack at the free-agent market. However, given his struggles with inconsistency, he's probably better off taking the biggest multi-year offer he can get this winter.
Top Five Landing Spots for Josh Bell
St. Louis Cardinals
The Cardinals are losing their designated hitter this November, as Albert Pujols walks off into the sunset. While they might prefer not to sign a full-time DH, Bell could pique their interest if they want another impact bat for the middle of the lineup.
Milwaukee Brewers
The Brew Crew could use a new designated hitter next year, with Andrew McCutchen unlikely to return. If they want to field a competitive team to take back the NL Central crown, another bat for the middle of the lineup could really help. Josh Bell could be just what they're looking for.
Detroit Tigers
Many thought the Tigers could be surprise competitors in 2022, but they fell flat, in large part thanks to a league-worst offense that scored only 3.44 runs per game. Spencer Torkelson is penciled in at first base for years to come, but Bell could slot in nicely at designated hitter.
San Francisco Giants
With Brandon Belt and Joc Pederson hitting free agency, the Giants could be looking for a middle-of-the-order bat this winter. Bell could split first base and DH duties with J.D. Davis in 2023.
New York Yankees
Anthony Rizzo had a great year for the Yankees at first base, which means he's likely to exercise his player option this winter. If he leaves New York, the Yankees will surely be in search of another first base thumper, and Bell fits that bill.
Final Prediction for Josh Bell
Josh Bell signs a four-year, $62 million contract with the Milwaukee Brewers.
The Brewers have money coming off the books this offseason, and they need to make a move to keep up with the Cardinals. While many teams are shying away from full-time designated hitters these days, adding a powerful DH looks like Milwaukee's best way to improve.