Analysis
2023 Free Agent Profile: Justin Verlander
Houston Astros starter Justin Verlander could opt out of his contract this year and look to cash in on his Cy Young-caliber season.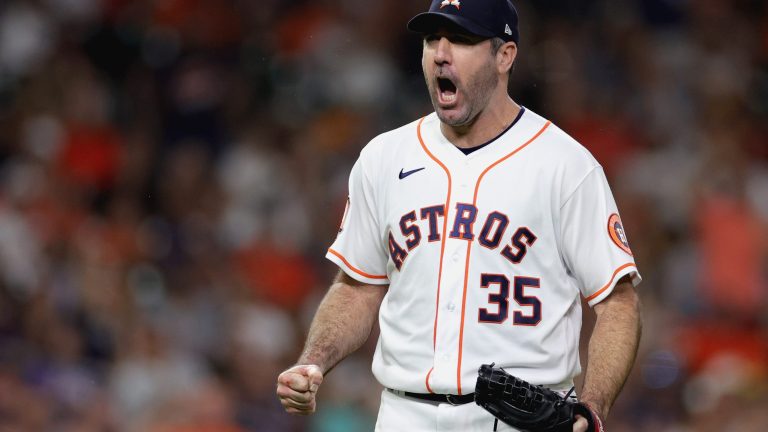 Position: SP
Throws: RHP
Age: February 20, 1983 (39 years old)
2022 Traditional Stats: 28 starts, 1.75 ERA, 175.0 IP, 185 K, 0.829 WHIP
2022 Advanced Stats: 31.1 K%, 4.4 BB%, 0.6 HR/9, 2.66 xERA, 3.23 xFIP, 6.1 fWAR
Comeback Player of the Year Campaign
Tommy John surgery is a scary endeavor for any pitcher, let alone at the age of 38. Justin Verlander only made one start in 2020, a six-inning affair that saw him allow only three hits and two earned runs against the Seattle Mariners, earning the win.
At first, it looked like a forearm strain that was just going to keep him out for a couple of months during the shortened season, but a setback late in recovery forced him to undergo the procedure and keept him sidelined for the entire 2021 campaign.
This was unfortunate for Verlander, who not only was coming off a Cy Young award-winning season in 2019 but also heading to free agency the same year he would be sitting on the shelf recovering. While his track record speaks for itself (2 x Cy Young, 8 x All-Star, World Series Champion, and Pitching Triple Crown amongst many others) any team willing to bring him on for the 2022 season was taking on some risk that he wouldn't be able to find that dominant form.
Verlander signed back with the Houston Astros on a two-year deal worth $50 million which includes a player option for the 2023 season. The right-hander has already eluded that he will be opting out of his current contract this winter, looking to cash in with what he hopes is a deal that will cover him for a few more seasons as he hits 40 years old in February.
The 6'5″ Virginia product was outstanding in 2022, authoring a league-leading 1.75 ERA through 175.0 IP, while also leading the MLB in ERA+ (220) and WHIP (0.829) to the tune of a 9.5 K/9 and 2.49 FIP. He could potentially bring home some hardware this offseason, as the Astros starter is likely going to earn Cy Young consideration.
Along with potentially locking up his third Cy Young, Verlander is now coming off his second World Series win, as the Houston Astros have won their second title since he came aboard at the trade deadline in 2017. After failing to do so in his first eight World Series starts, Verlander finally earned his first victory in Game 5, pitching five strong innings, in which he allowed just one run.
Hitting the Open Market
It isn't surprising that Verlander would be looking to hit free agency this offseason, especially since he bounced back well from a pretty serious injury that kept him out for almost two years. His market value per Spotrac is currently sitting between $41-42 million, similar to that of Jacob deGrom (who is also hitting free agency), and even though he will be turning 40 early next year, Verlander will likely be one of the top names in free agency.
He did have some calf problems toward the end of the regular season but that shouldn't hamper further contract developments. The right-hander will also not be attached to draft pick compensation via the qualifying offer, as the Astros presented him with one last offseason (which he declined).
Last winter, Verlander received interest from the Blue Jays and the New York Yankees before he rejoined the Astros. As per the right-hander, "As negotiations started going, they kind of fell off. Some other teams really started to show a lot of interest. I would say that the leader was probably Toronto… Ultimately, when it came down to it, Houston had the same offer. It was all kind of ballpark between them and Toronto, and New York (Yankees) was kind of always just a step behind."
It wouldn't be surprising if the Astros and Verlander find a way to restructure his contract and bring him back on a multi-year deal but it also wouldn't be that outrageous for another team to offer him more money this winter. Ultimately, if Max Scherzer is worth $43.3 million per season, Gerrit Cole at $36 million, and Stephen Strasburg at $35 million, one would think Verlander will slide in somewhere along that range, regardless of his age.
Verlander continues to be a quality pitcher and proved that Tommy John surgery wasn't going to set him back. A proven veteran with playoff experience who is heading toward the twilight of his career, Verlander shows no signs of slowing down, making it difficult to predict how is next contract will shape up if he does indeed opt out to test the market.