Analysis
2023 Free Agent Profile: Carlos Correa
After spending one season in Minnesota, Carlos Correa is back on the market to land the long-term contract that eluded him last offseason.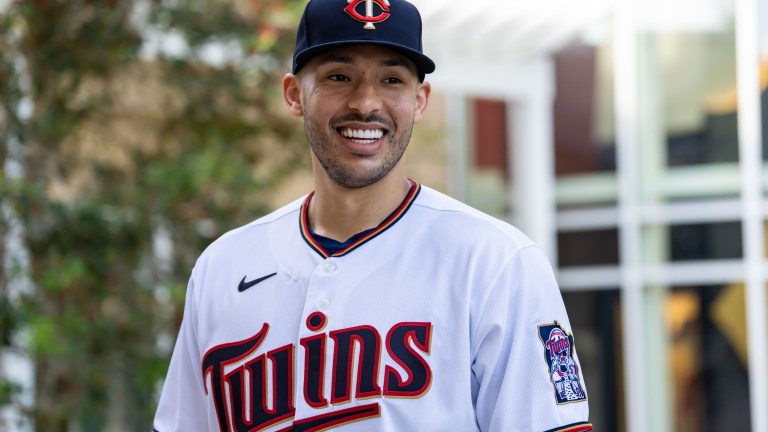 Position: SS
Bats/Throws: R/R
Age: September 22, 1994 (Current Age: 28)
2022 Traditional Stats: .291/.366/.400, 22 HR, 47 XBH, 64 RBI, 70 R, 121 Ks, 590 PAs
2022 Advanced Stats: 20.5% K%, 10.3% BB%, 140 wRC+, .363 wOBA, 4.4 fWAR
Carlos Correa is heading into free agency for the second-straight offseason after declining the remaining options he had on his contract with Minnesota.
Shocker, I know.
No matter how polarizing of a player he is, the talent is undeniable. Not only is he a feared bat in the middle of any lineup, but he is an elite defender at the position.
His agent, Scott Boras, is going to make sure he gets every dollar worth of value out of his star shortstop. Like Trea Turner, Correa will have his choice of landing spots.
Now, will he choose based on the team's proximity to winning a World Series, or will he just be looking to maximize the dollar figure? Needless to say, it is something that we will all be monitoring closely this offseason.
Path to Free Agency
Correa has been a player that we have all marveled at since being taken number one overall in the 2012 MLB Draft by the Houston Astros.
He was the first piece that they had brought in to signify the franchise's turnaround from the depths of the NL, then AL, Central division, all the way to the top of the baseball world. Since debuting in 2015, he has won the American League Rookie of the Year, multiple All-Star appearances, a Gold and Platinum glove in 2021, and, of course, the recipient of a World Series ring in 2017.
After entering free agency for the first time last season, Correa was one of the last dominos to fall after the lockout. Inking a three-year, $105.3 million contract with the Minnesota Twins that included opt-out provisions after each season. At the time, his AAV of $35.1M was the highest for an infielder.
After exercising his opt-out of Minnesota at the end of his first season, Carlos Correa will again have his choice of landing spots to choose from. With someone of his talents available, there is no denying that his addition to a lineup will have a significant impact.
Contract Projection
Correa was able to secure a three-year deal last off-season with a $35.1 million AAV. It would be hard to believe he does not get around the same figure this time around.
Last offseason, we saw Corey Seager sign for $325 million over 10 years. Trevor Story joined the Red Sox on a six-year, $140 million contract. Javier Baez became a Tiger at the same price.
Even throughout some early-season struggles in 2022, I cannot imagine it will hold an organization back from giving him, what they believe to be, top-dollar for his skill-set. When comparing him to the other shortstops that signed last season, I believe the AAV will be similar. The years, however, will likely be the median of the three.
A deal around eight years, $250 million is what I believe Correa will end up signing for, should he decide to lock himself into one spot for the rest of his career.
Top Landing Spots
Philadelphia Phillies
Even with them being in the World Series right now, we know the Phillies are going to look to spend in order to upgrade their roster for another deep run next season.
There has been a revolving door at the shortstop position in this organization since Jimmy Rollins vacated the spot. While Bryson Stott has filled in admirably since being recalled mid-season, Correa would undoubtedly be a huge upgrade for them on both sides of the ball.
With rumors swirling that Jean Segura could be out of Philadelphia next season, Stott would be able to slide over to second base in order to facilitate the signing of Correa.
Los Angeles Dodgers
Like the Phillies, we know the Dodgers love to spend.
A reunion with Trea Turner is still very much possible this offseason. There have been reports stating that they would love to have him back. However, if Turner decides to follow his heart back to the East Coast, LA could then pivot to Correa to man the position for them beginning in 2023.
The Dodgers are flushed with impact prospects throughout their organization, but shortstop seems to be open right now. Correa could likely be the one to get them back into the World Series after a disappointing end to 2022.
Atlanta Braves
Dansby Swanson was the one player the Braves did not look to give an in-season extension to in 2022. Does this indicate that they are willing to spend a little more at the position for someone who they see as a significant upgrade?
Similar to the Dodgers, the Braves were bumped early from the postseason after being one of the favorites to make it to the World Series. Now, Alex Anthopolous could be looking to make a splash in free agency by signing the prolific shortstop.
A long-term deal with the Braves would make them World Series contenders for quite a while with how long they have their core signed for.
I would not be surprised if this was the landing spot.
Dark Horse: Seattle Mariners
One of the more exciting teams in baseball could get even more exciting next season.
The Seattle Mariners are my dark horse team to make a significant run at Carlos Correa this offseason. Their roster looks well primed to be a thorn in the sides of every team for a long time with the youthful talent they are full of.
Also, who wouldn't love to see Correa return to the same division he called home for all but one season of his career?
If the Mariners are serious about overtaking the Astros, Correa can be the player to do so.