Analysis
2023 Free Agent Profile: Dansby Swanson
The former No. 1 overall pick was a steady anchor before taking the jump to stardom in 2022 with the Braves. How will he be paid, and where does he land?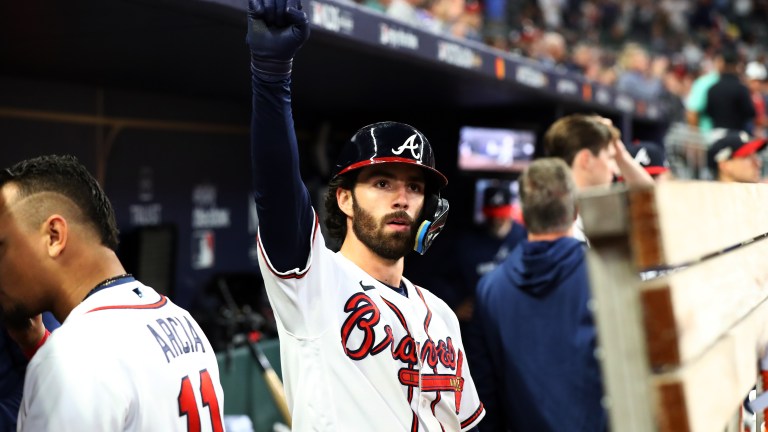 Position: SS
Bats/Throws: R/R
Age: 28 years old (February 11, 1994)
2022 Traditional Stats: 162 G, 696 PA, .277/.329/.447, 32 2B, 25 HR, 96 RBI, 18-25 SB
2022 Advanced Stats: 6.4 fWAR, 116 wRC+, 7% BB%, 26% K%, .337 wOBA, 21 OAA
Ahead of the 2022 season, many assumed that the upcoming free agent class was going to be chock-full of everyday-caliber shortstops, including the Atlanta Braves' Dansby Swanson. In early November with free agency fast approaching, Swanson has fully immersed his name into the "star free agent" conversation.
Not only is Swanson coming off of undoubtedly the best season of his career (his 2022 fWAR was three whole wins better than his previous career-high), but he just wrapped up arguably the best season by a shortstop in Major League Baseball this year. His 6.4 fWAR ranked second among all shortstops, only behind the Mets' Francisco Lindor, and his 21 Outs Above Average ranked second among all position players, only behind Detroit's Jonathan Schoop.
Swanson, a 2021 World Series Champion with the Braves, will have a tough decision to make. He was born in Kennesaw, Georgia. He played his high school baseball at Marietta High School just outside of Atlanta. Will Swanson look to remain one of the hometown kids alongside Matt Olson in Atlanta and stay with a proven annual contender, or jump for the chance to secure an even more eye-popping payday and be a true franchise centerpiece?
Path to Free Agency
The No. 1 overall pick out of Vanderbilt in the 2015 MLB Draft, Swanson captained a loaded Commodores team (with the likes of Walker Buehler, Kyle Wright, Bryan Reynolds, Jason Delay, and infielder Penn Murfee on the roster) to a runner-up finish in the College World Series to Virginia.
After being drafted by the Diamondbacks in June of 2015, Swanson, along with Ender Inciarte and pitcher Aaron Blair, were sent to Atlanta for Shelby Miller and pitcher Gabe Speier that winter. Swanson debuted in 2016 as a 22-year old and impressed across a small sample, hitting .302 with an .803 OPS in 38 games.
His pre-arbitration years didn't treat him too kindly, as he posted a .636 OPS and -0.2 fWAR in his first full season before failing to reach the .700 OPS threshold again in 2018. 2019 showed signs of viable shortstop play, as Swanson slashed .251/.325/.422 and posted a 2.0 fWAR.
2020's COVID-shortened season may have been initially perceived as a positive fluke, but hindsight tells us that the 60-game sprint was Swanson's breakout. Playing in all 60 games, Swanson bested his career-high in fWAR by nearly half of a win in 67 fewer games. The 26-year-old at the time slashed .274/.345/.464 with 15 doubles and 10 home runs.
Swanson posted a steady 2021, playing in 160 games and logging a .760 OPS and 3.4 fWAR. But in his contract year, Swanson blew everyone out of the water. On the heels on an impactful postseason for the Braves, 2022 marked Swanson's first All-Star appearance, first Gold Glove Award, a career-high OPS across a full season, career-highs in RBIs and stolen bases, and his 25 home runs were two off of his career mark that he set in 2021.
Contract Projection
Without sounding hyperbolic, there's a chance Dansby Swanson legitimately doubled his market value during the 2022 season. Ahead of this year, Swanson was likely to land somewhere slightly ahead of the deal that J.P. Crawford recently signed for five years and $51 million with the Mariners, but probably not touch the $100 million mark. Now, it'd be stunning if the currently-former Brave doesn't clear the six-year, $140 million deals that both Trevor Story and Javier Baez inked this past offseason.
As the old saying goes, "defense doesn't slump." Swanson could very well put Baez' number on the table and point to his objectively better offensive season. Coupled with him being the second-best defender in baseball by Outs Above Average, Swanson should clear that number by a wide margin.
As the 28-year-old Swanson inches closer to his 30's, he should be able to promise a fairly high offensive ceiling. However, his true value comes in his outrageously high floor; no other shortstop on the market this year has shown the consistent durability and defensive mastery that Swanson has.
The two best contractual comparisons may not even be shortstops. Ahead of the 2018 season, a 27-year-old Jose Altuve inked a seven year, $163.5 million extension with the Houston Astros, promising as well-rounded an offensive game as you'd find in baseball at the time.
However, the true value-tester would the deal that Marcus Semien signed with the Rangers this past offseason. Fresh off of a Gold Glove at second base and 45 home runs with the Blue Jays, Semien signed a seven year, $175 million deal at 31 years old.
While Swanson is three years younger than Semien at the time of signing and plays a more premium position, Semien's offensive toolbox won't dissipate with age and was fresh off of a third place finish in AL MVP voting. The long ball gets you paid; Semien hit the long ball, and he got paid. However, considering similar durability and age playing a factor, Swanson and his agent could put the Semien deal in front of teams (not named the Braves) and tell them that any proposed deal worth less than that would be a non-starter.
Top Landing Spots
Atlanta Braves
This feels like the shoe-in, but isn't that what we said about Freddie Freeman? Though Swanson and general manager Alex Anthopoulos have made it abundantly clear that they would like to come to agreement on a deal before Swanson hits the open market, Swanson has said that "it's business" when discussing said discussions.
Anthopoulos has become arguably the best executive in the game by striking long, mutually-beneficial deals with young players without much build-up in the press. In the one exception to that rule, the Braves came out of nowhere to trade for first baseman Matt Olson this past offseason and sign him to an eight year mega deal.
The Olson "trade-and-sign" marked an end to Atlanta's pursuit of former franchise cornerstone Freddie Freeman, who is the only major case of constant conversation surrounding impending free agency for a Brave in recent memory. While much more subdued, Swanson not being on the books through at least 2027 by now is not very Anthopoulos-esque.
Aside from the difference in talent and consistent production, Swanson is a Georgia boy. Plain and simple, he and his representatives at Excel Sport Management are likely having different conversations with the Braves than the rest of the field when it comes to financials.
Baltimore Orioles
Baltimore could get really fun, really quickly this offseason. The Orioles started to grab many more eyes on their telecasts and bodies in seats with the promotion of former No. 1 overall pick Adley Rutschman and the emergence and debut of top prospect Gunnar Henderson. With Just Baseball's top pitching prospect in Grayson Rodriguez prepped to join the Orioles rotation early in 2023, there's enough talent on the roster to compete for a Wild Card spot.
Late this summer, Orioles General Manager Mike Elias promised to "significantly escalate the payroll" this offseason. While Jorge Mateo has finally maximized his freakish athleticism, he may be best served as a Swiss Army knife of sorts for manager Brandon Hyde.
Adding Swanson to the fold would create as exciting a left side of the infield as there is in the American League with Gunnar Henderson likely making third base his consistent home. With Swanson slotting into a lineup with Rutschman, Henderson, Cedric Mullins, Austin Hays, Ryan Mountcastle, and others, the Orioles quickly go from a 2022 Cinderella to a team with legitimate aspirations to be playing in October.
Los Angeles Angels
Let's face it. This team, while featuring arguably the two best players in Major League Baseball, is devoid of healthy talent literally everywhere else. The "healthy" precursor negates third baseman Anthony Rendon, who may provide immediate production when he returns to the diamond. Big question is, how long will he stay on the field when he returns?
The Halos are running out of time and should feel as much urgency as any team in baseball to overhaul and immediately contend. Much of the focus should be on improving the starting pitching, but I'm not sure that general manager Perry Minasian will break the bank for a frontline ace with as much mid-rotation depth as there is on the market.
The splash needs to come in the infield. With Trout holding down an outfield spot, Taylor Ward and Jo Adell should continue to get more run in the other two. Top prospect Logan O'Hoppe, acquired from the Phillies at this year's deadline, should get the majority of reps behind the plate with Max Stassi serving as a wonderful backup.
With no intended disrespect to Andrew Velasquez or David Fletcher, a team hoping to be a front-runner in the American League needs quality shortstop play every night. Enter Swanson, who will provide not only consistency both with the bat and the leather, but incredible durability. In a lineup that features Mike Trout, Anthony Rendon, and a guy that pitches every fifth day, durability is of the utmost importance.
Los Angeles Dodgers
Hey, big spender! The Dodgers will naturally be in the conversation for every star free agent every single year, searching for the same reign of regular season dominance that is only replicated by the likes of Paris Saint-Germain and Real Madrid across the pond.
This fit, if Trea Turner were to sign his presumed $300 million deal elsewhere, would be as seamless as they come. Not only would the move reunite Swanson with dear friend and former teammate Freddie Freeman, but it would provide the Dodgers with a low-stress, low-risk defensive anchor.
Let's be honest: the Dodgers don't need more offensive firepower. At full health, this lineup is inarguably the best in baseball. If Swanson were to ink a deal with the Dodgers and president of baseball operations Andrew Friedman, he could legitimately hit seventh in manager Dave Roberts' lineup on Opening Day and no one would bat an eye.
Though they have yet to get over the hump of a World Series victory during a full season, this type of move would warrant the same "Dodgers gonna Dodger" reaction that we've become accustomed to over the last several years.
San Francisco Giants
It may not truly feel like it, but the Giants are in a wonderful position to spend, and spend big. Signing both Carlos Rodon and Joc Pederson to short-term deals worked well, but both are in the open market again, hunting longer-term contracts this go around.
The Giants' system experienced a collective down year in 2022, but left-hander Kyle Harrison proved to be arguably the best southpaw in all of Minor League Baseball. A rotation featuring Logan Webb and Kyle Harrison at the top is not too far away, and general manager Farhan Zaidi has successfully unearthed several diamonds in the rough to fill out the lineup card for Gabe Kapler.
Brandon Crawford, off of a surprise career year in 2021, showed his age a bit this past season. Crawford's 2023 season will not only be his age-36 campaign, but his final year on the books in San Francisco.
I understand the appeal of Crawford playing shortstop every day for the team that he's spent his entire career with, but if an upgrade is tangible, Zaidi needs to at least entertain the idea. If Swanson were to play short every night for San Francisco, Crawford could bounce around and play third, second, and take the days off that the Giants love to give their older guys.
Final Projection
Dansby Swanson signs a seven year, $158 million deal with the Atlanta Braves.
It really doesn't feel palpable to see Dansby Swanson in a jersey that doesn't have the script "Atlanta" across the chest.
Part of me was leaning towards putting down an identical contract to that of fellow Georgia-born Brave Matt Olson (eight years, $168 million) for the sake of aligning the "hometown discount". But, shortstops are more valuable on the open market than first basemen in terms of average annual value (AAV), and precedent sets a higher bar for the Braves to clear.
While it is a lower AAV ($22.5 million) than Semien's seven year, $175 million deal, said hometown discount will certainly play into negotiations, with the length of the deal being identical. Notably, this AAV for Swanson would come in about one million dollars short of both Story and Baez, but with one more year tacked on for Swanson.
Dansby Swanson has blossomed into one of the best shortstops not only in the National League, but in all of baseball. If the Braves truly want Swanson to be a veteran presence among a crop of young superstars, they can make it happen.