2024 MLB Free Agent Tracker: Updates on Every Signing and Trade
Live updates on every major trade and free agent signing made during Major League Baseball's offseason ahead of the 2023 campaign.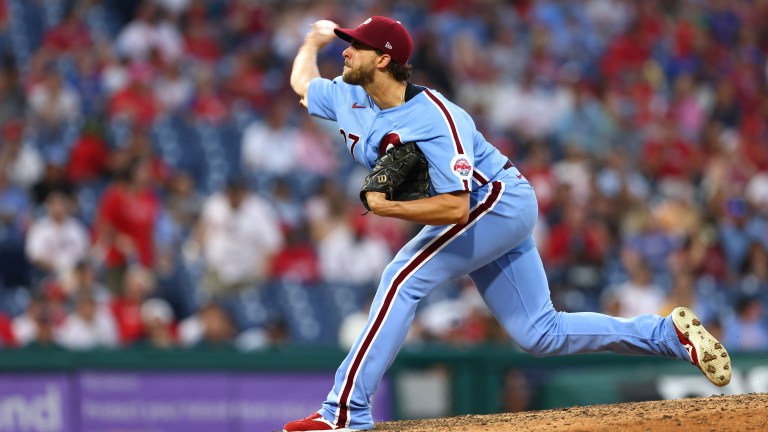 Updated November 27th
A big signing took place this morning, as the St. Louis Cardinals continue to rush the market for starting pitchers to bolster their rotation. Meanwhile, the Los Angeles Dodgers welcome back a veteran outfielder for another season.
Dodgers Re-Sign Jason Heyward
12:25 p.m. ET: The Dodgers have re-signed outfielder Jason Heyward to a one-year, $9 million deal, as first reported by Kiley McDaniel of ESPN
The 34-year-old is coming off a bounce-back season in which the Dodgers helped him rediscover his stroke at the plate. In 124 games, he slashed .269/.340/.473 with 15 home runs, good for 2.2 fWAR.
Cardinals Sign Sonny Gray
11:45 a.m. ET: The Cardinals have agreed to terms on a three-year, $75 million contract with Sonny Gray, per Ken Rosenthal of The Athletic.
9:30 a.m. ET: According to Jon Heyman, the St. Louis Cardinals may have found their new ace.
We will have more information and a full story written on this when more information comes to light as to Gray's new contract, if it is in fact with St. Louis. Assuming Heyman's report is accurate, the Cardinals will have added Gray, Lance Lynn and Kyle Gibson already in free agency, overhauling their rotation in the matter of a few weeks.
Update: November 26th
Thanksgiving weekend turned out to be a quiet one on the free-agent market with the only notable signing occurring at the end of the weekend.
Tigers Add Maeda to Rotation
On Sunday, the Detroit Tigers agreed to a two-year, $24 million contract with veteran starting pitcher Kenta Maeda. He'll remain within the division after pitching for the Twins in the past seasons and earn a quality payday after turning in a limited but decent season in Minnesota.
Maeda missed all of 2022 after undergoing Tommy John Surgery but returned to the mound in 2023 and pitched over 100 innings. He finished the year with a 4.23 ERA and a strikeout rate of 27.3% across 20 starts (and one relief appearance) for the Twins.
He has had a fascinating journey since coming to MLB from Japan in 2016. Maeda was consistent and productive for the Dodgers during his years there prior to being dealt to Minnesota. The peak of his career was an AL Cy Young runner-up finish in the shortended 2020 season when he finished with a 2.70 ERA. That year was an anomaly, but he proved that he could still miss bats and limit walks as a starting pitcher once he returned this season.
At his age with some injury risk involved, it was unlikely he was going to sign for more than two years. This move provides Detroit with a stable veteran in their rotation as they look to take the next step forward after surprisingly finishing 2nd in the AL Central with 78 wins.
Updated: November 22nd
The big news of the day was not on the free agent front, but rather on the trade market. The Arizona Diamondbacks have acquired a new starting third baseman in Eugenio Suarez, sending a pair of prospects to the Seattle Mariners in return. For a full breakdown of the trade, click here.
Update: November 21st
Two more veterans have found homes for the 2024 season as the market is slowly starting to develop with none of the major free agents switching teams yet.
Paul DeJong Takes Over at Shortstop for the White Sox
The White Sox are shifting gears this winter as they direct their focus to the next wave of talent while attempting to change the culture surrounding the team.
After declining Tim Anderson's team option, it became evident that they would have a different starting shortstop for the first time in just a little under a decade. As they started to plan for the arrival of top prospect Colson Montgomery, it was obvious that an addition was needed to fill the shortstop position in the short term for Chicago.
In a limited market for middle infielders, veteran Paul DeJong was one of the better options for a team in need of an experienced stopgap.
After an impressive rookie season that resulted in 25 home runs during the 2017 season, DeJong's offensive production has dipped every year. However, with new General Manager Chris Getz focused on defensive improvements DeJong fits right into the plan. He has been one of the most consistent defensive shortstops with a total of 18 outs above average in the past three seasons combined.
His offense has been below average for many years but he flashed some of his former self with a 94 wRC+ in the first half of the season with the Cardinals. After being flipped to the Blue Jays, he struggled heavily in place of the injured Bo Bichette and was ultimately released. He signed with the Giants and was released once again toward the end of the year.
It was a down year for DeJong, especially in the second half, but Chicago will certainly be paying him much less than the $14 million option they declined for Tim Anderson. The deal is currently unknown but will be a one-year agreement for the veteran and the White Sox.
Kyle Gibson Becomes the Second Arm to Join St. Louis
The Cardinals have wasted no time addressing their need for a starting pitcher as they have added two veteran arms this week as they got ahead of the pitching market. After agreeing to terms with Lance Lynn yesterday, they agreed to a one-year deal worth $12 million with Kyle Gibson. The deal also features a team option for the 2025 season.
The Cardinals fell well short of expectations in 2023 and it was largely due to a major lack of pitching depth throughout the roster. They were expected to be in play for some of the top starting pitchers on the market and they still be involved, but they prioritized affordable veteran options.
Gibson is coming off another one-year deal with the Orioles in which he pitched to a 4.73 ERA across nearly 200 innings. While he may not be an elite option right now at 36 years old, Gibson is a reliable arm with a proven record of being available.
With a FIP of 4.13 last year, Gibson may have been unlucky to a degree in Baltimore and has the ability to turn in a better year with the Cardinals. Both new additions to the St. Louis pitching staff are more safe floor pitchers as opposed to ones who could seriously elevate the team.
It feels like another pitcher, ideally a front-end one, needs to be added to the mix as the Cardinals will look to compete once again in the NL Central after a down year.
Lynn and Gibson leave more to desired and it feels like St. Louis may have jumped the gun on signing pitchers at the lower tier of the market before everything else plays out.
UPDATED: November 20th, 1:00 p.m. EST
Well, the Hot Stove is on and things are finally starting to happen in free agency. Today there has already been two significant signings, which follows yesterday's news on Aaron Nola.
Lance Lynn Returns to the St. Louis Cardinals
It is no secret that the St. Louis Cardinals need to add a lot of pitching this offseason, with a rotation that was in shambles for pretty much all of last year. Step one in their retooling plan appears to be reuniting with a familiar face. One who they drafted in the first round all the way back in 2008.
Lance Lynn spent the first decade of his professional career in the Cardinals organization, pitching parts of six seasons from 2011 through 2017. Across that time, Lynn pitched to a 3.38 ERA and was an All-Star in 2012.
The burly right-hander missed the 2016 season due to Tommy John surgery, but returned in 2017 to make 33 starts and pitched to a 3.43 ERA in over 180 innings pitched. He then became a free agent and signed a one-year, $12 million deal with the Minnesota Twins.
Since leaving St. Louis, Lynn has pitched for the Twins, Yankees, Rangers, White Sox and most recently the Los Angeles Dodgers. While his 5.73 ERA from this past season looks awful, as does the MLB-worst 44 home runs he gave up, Lynn still seems to have something left in tank.
His underlying numbers are a bit better than his actual numbers were (4.86 xERA, 4.50 xFIP) and he is still getting whiffs and is racking up strikeouts. Lynn hit 191 strikeouts over 183 2/3 innings pitched this past season.
Now returning to the Cardinals on a one-year, $10 million deal, Lynn brings an innings-eater if nothing else, and has the upside to be a little bit more. If this is the first of many moves the Cardinals make to address their pitching, this is a fine move.
Reynaldo Lopez Opens the Relief Market
Reynaldo Lopez had a real journey of 2023 season, which brought him across three stops, from the Chicago White Sox to the Los Angeles Angels and eventually to the Cleveland Guardians. With each stop, Lopez got better.
First he pitched to a 4.29 ERA with the White Sox, then improved upon that to pitch to a 2.77 ERA in 13 outings for the Angels. Finally, with the Guardians, Lopez did not allow a single run. Put it altogether and he hit free agency coming of a season where he pitched to a 3.27 ERA across 66 innings pitched. He struck out over 11 batters per nine, showcasing his elite stuff.
Featuring a fastball that averaged over 98 miles per hour and a slider that generated whiffs at a 38.7% clip, Lopez is exactly the type of reliever that is finding success in today's game with that two-pitch combo. Now he takes that approach to the National League, where he will pitch for one of the best teams in baseball.
Adding further intrigue to this signing, the Braves are apparently letting Lopez train to be a starter this offseason to maybe fill more of a swing-man role. Will be very interesting to see how that shakes out next season. Regardless one of the top arms is off the board.
Original Post: The MLB Hot Stove is finally heating up, as the first top tier free agent has been signed, with Aaron Nola returning to the Philadelphia Phillies on a seven-year deal.
With Nola's deal we now open up our free agent tracker, where you can come throughout the offseason to find a recap of all the major signings and trades that have taken place.
Thus far, Nola is the only major signing of note, and you can find a full article on the signing that we just published right here. The other major news from this past week was the peculiar trade that sent Aaron Bummer to the Atlanta Braves in exchange for five players and a recap of all the players who were cut at Friday's non-tender deadline.
Throughout the coming days, weeks and months, you can open up this master article and find it updated every time a major MLB transaction takes place. Make sure you bookmark it and check back frequently to never miss out on any of the Hot Stove news this winter.