Analysis
WBC Roster Preview: Team Korea Has Talent All Over
Team Korea is a powerhouse on the world baseball stage, and they'll look to put their early exit in the 2017 WBC behind them.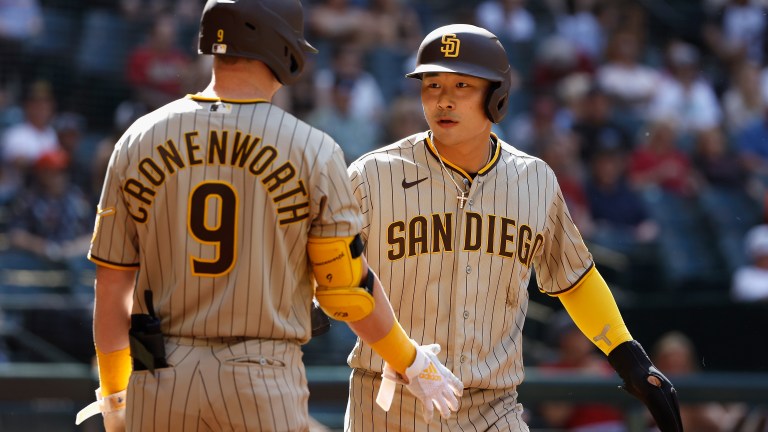 Baseball is a sport of importance in Korea, and their national team has historically been a powerhouse in international competition. While they boast one of the most talented rosters every year, they haven't made it out of the first round in the last two World Baseball Classics.
They were a victim of one of the biggest upsets in WBC history when they lost to Team Israel in 2017, but they're back with a much-improved roster this time around.
While Japan is the favorite in this group — as they are in their respective group every year — Team Korea isn't far behind and has a real shot to win this whole thing.
Position Players for Team Korea
This group is filled out with a combination of a few MLB studs and tons of elite players from the Korean Baseball Organization. This level of elite talent throughout every positional group is something that very few teams feature and will be a huge advantage for the Korean team.
There are very few holes you can find in this lineup, as every starter has been either an MLB regular or a star in the KBO throughout their career. They have multiple KBO MVPs, some of whom will likely make their way to Major League Baseball soon.
Catchers
Eui-ji Yang, Ji-Young Lee
It's always good to have the best catcher from your respective country starting, and Team Korea has got that. Yang is a two-time MVP winner with five Golden Glove awards and has consistently been one of the best catchers for a decade. He has hit over .300 throughout his career with a slugging percentage over .500 as well, thanks to his 228 career home runs. He's going to be one of the best catchers in the tournament, regardless of the fact that he's at a later point in his career.
Lee is nowhere near the offensive player Yang is, but he'll provide steady defense and a veteran presence to this team. All he'll have to do while playing behind a legend is provide insurance and help pitchers get ready.
Infielders
Tommy Edman, Ha-Seong Kim, ByungHo Park, Jeong Choi, Baek-Ho Kang, Hye-Seong Kim, Ji-Hwan Oh
The talent continues here for Korea, as their full starting infield (including Yang at catcher) is elite at every position.
Tommy Edman and Ha-Seong Kim are current MLB players, and both had big seasons in 2022. Each has the ability to continue improving, too. Both players were in the elite tier of defenders last season, and both spent the majority of their time at shortstop. With Kim sliding over to second base for the Padres, that will likely be where he plays in the WBC. While neither are elite hitters, they will form the best defensive infield in the tournament and still provide quality at-bats for a team loaded with powerful KBO hitters.
The hot corner will be manned by Jeong Choi, who is one of the greatest KBO hitters of all time. He's got 429 career home runs and an impressive .917 OPS across nearly two decades in the league. The other corner infield spot will belong to another KBO great, ByungHo Park. He briefly made his way over to the Minnesota Twins for one season in the majors and parts of two seasons in the minors, but he never found success. However, he's another KBO star with 349 career home runs in Korea.
This team will have more high-quality options off the bench as well. Baek-Ho Kang is an up-and-coming KBO star who has hit for a .317 average over his first five seasons — and he's still just 23 years old. The fact that Kang may not even start on this team is a testament to how deep of a roster Korea has this year. He may get time in the corner outfield spots or a start at first, allowing Park to DH. Ji-Hwan Oh will provide defense and speed off the bench as the veteran shortstop has 240 stolen bases in his KBO career.
Outfielders
Jung-Hoo Lee, Sung-Bum Na, Hyun Soo Kim, Hae-Min Park, Kun-Woo Park, Ji-Hoon Choi
If you haven't heard of Jung-Hoo Lee, I encourage you to look into him further right now. He's coming off a 2022 KBO MVP season in which he led the league in a multitude of categories, such as batting average, RBIs, and many more. He hit .349 last season with a .996 OPS and has a career batting average of .342 in his six KBO seasons. While he didn't possess much power earlier in his career, he hit a career-high 23 home runs during his MVP season last year. Oh, and he's only 24 years old and is expected to get posted to MLB next winter. He's a must-watch player.
There's plenty of additional talent to surround Lee, who will likely start in center field. Sung-Bum Na and Hyun-Soo Kim are powerful veteran KBO bats that seem likely to start in the corners. They both have over 200 career home runs and have valuable experience from their extensive careers. Kun-Woo Park is one of the best contact hitters in the KBO and will certainly have a role on this roster.
Veteran Hae-Min Park and youngster Ji-Hoon Choi will provide depth to this roster with their speed and defensive ability. This team has plenty of options and will feature numerous very good KBO players off the bench.
Pitchers for Team Korea
While this team's firepower may come from their offense, the best pitchers in the KBO will lead a very strong pitching staff that will only be helped by an elite defensive middle infield.
They'll have ample starting options, each one of whom has fared well in the past few years. The staff features a blend of proven veterans and young stars who will all have opportunities to display their abilities on the big stage.
Starting Pitchers
Kwang Hyun Kim, Hyeong-Jun So, Eui-Lee Lee, Chang-Mo Koo
This team has more possible starters, but these four guys figure to be the first in line to start games. They're all established star pitchers in the KBO and are coming off excellent 2022 seasons.
Kim pitched for the Cardinals in 2020 and 2021 and was very solid during his MLB stint, pitching to a 2.97 ERA in his time with St. Louis. He returned to dominate even more back in the KBO in 2022. He finished with a 2.13 ERA last season, and his MLB experience likely makes him the lead candidate to start game one for this team.
Koo is coming off two huge breakout seasons following a shaky start to his career. He finished with a 2.10 ERA last year despite injury issues. Lee is a young strikeout artist who recorded 161 strikeouts at just 20 years old last season. He's a rising star in the KBO and will have the potential to eventually come overseas given his elite stuff at such a young age.
So is a former Rookie of the Year who is coming off of his best season yet and is only 21 years old himself. He's another young star in the KBO. In addition, this pitching staff has ample talent available to utilize behind these four arms.
Bullpen Pitchers
Woo-Suk Go, Been Gwak, Yong-Chan Lee, Cheol-Won Jeong, Hyeon-Jong Yang, Woo-Young Jung, Won-Jung Kim, Yun-Sik Kim, Young-Pyo Ko, Se-Woong Park, Tae-in Won
The talent on this roster continues with this deep bullpen of arms. They have numerous relievers that led their respective bullpens in the KBO, so Team Korea should be able to pitch various guys in different situations as needed.
Woo-Suk Go was the best closer in the KBO last season, as he finished with 42 saves and a superb 1.48 ERA. He's just 24 years old but has been closing at an elite level for the LG Twins for four years. Yong-Chan Lee figures to get late-inning work as well, as he was another one of the KBO's best closers. He finished with a 2.08 ERA last season and closed out 22 games.
Before they get to those two, this team will have the 2022 Rookie of the Year, Cheol-Won Jeong, setting it up for them. He had a 3.10 ERA last season during his rookie campaign. Been Gawk is another arm with electric stuff and a high-velocity fastball. He's been a starter the past two years, but he could profile as an awesome reliever during this tournament.
Team Korea will have plenty more middle-inning options, as many of the other pitchers are primarily relievers and should help the team overcome any issues early in games. Woo-Young Jung is another young arm that boasts a career 2.94 ERA solely as a relief pitcher. Hyeon-Jung Yang has had an up-and-down career, but he has MLB experience as he pitched for the Rangers in 2021. His veteran experience is an asset.
Korea has tons of pitchers to call upon and appears to be one of the deeper teams in this WBC. They'll be hungry to perform better than in the past few tournaments, and I expect them to do so with the talent they have on the roster.