Analysis
Odd First Trade of the Offseason: Braves Acquire Aaron Bummer
The Braves and Chicago White Sox made a surprising first trade of the offseason last night, sending Aaron Bummer to Atlanta for five players.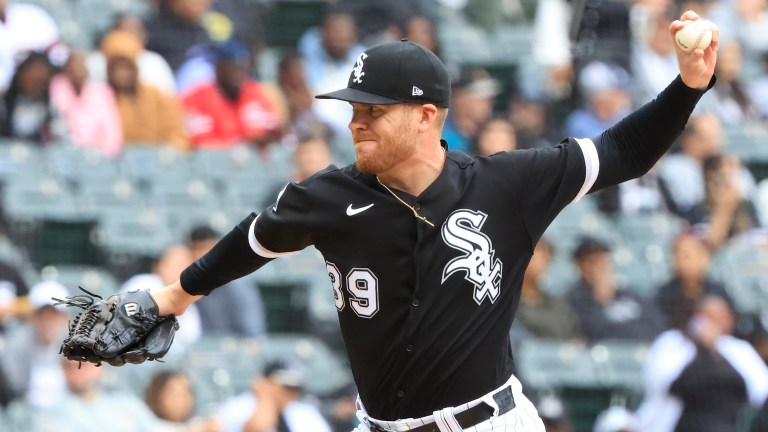 When's the last time a five-for-one deal went down for a player that many across the baseball world aren't even familiar with?
If anyone knows the answer, I would love to know. But this deal made between the Atlanta Braves and Chicago White Sox was definitely not the type of deal most envisioned starting a winter in which we expect numerous big trades.
The Braves brought in a relief pitcher in Aaron Bummer with possibly the biggest discrepancy in baseball between his real and expected stats in 2023. Bummer was a consistent force out of the White Sox bullpen with an ERA under three from 2019-2023. It was at or below a 2.36 mark in 2019, 2020, and 2022 as he was frankly one of the better left-handed relievers in the game.
For Atlanta, the organization had a need to clear space on their 40-man roster as they head into a time where they will be solely focused on supporting their loaded roster to have a better shot at winning it all next season. This was the perfect time for them to buy marginally low on a reliever that has three years of affordable team control.
Bummer finished the season with a rough 6.79 ERA and a walk-rate well above his career numbers at 13.5% this year. Now, this is the point where you may be wondering how the White Sox were able to get five players, regardless of their pedigree, for a pitcher who at the surface level was not productive last season.
When you consider Bummer's past resume in addition to his underlying metrics, it becomes more understandable why the Braves wanted to acquire Bummer. Also, clearing that many spots on their 40-man roster was probably attractive in some respects as well.
Bummer's 3.53 xERA and 3.58 FIP are over three points lower than his actual ERA and his strikeout rate of just below 30% ticked up nearly 4% from the previous season in 2022. Furthermore, he allowed just 0.62 home runs per nine innings this past season, which is a testament to his ability to keep the ball on the ground. His groundball rate dropped below 60% for the first time since his brief rookie campaign but that should even itself out soon.
He also had an extremely high batting average on balls in play (BABIP) against him as hitters hit .340 when putting the ball into play. This was likely in part due to the defense behind him in addition to simply some poor luck.
Bummer's command will need to improve in Atlanta, but he was definitely a victim of the horrendous season altogether in Chicago. The defense behind him in Atlanta will be a massive upgrade over what he was working with in Chicago and the overall team should help build his confidence back up next season.
With club options just above the $7 million range for 2025 and 2026, the Braves will have the chance to assess Bummer within their own organization this season and could make him a staple of their bullpen for the next three seasons.
For the White Sox, it's time to sell off some assets and adjust the roster to enter a new era of competition in the next few years. New General Manager Chris Getz is determined to shift the culture and change the dynamic after a brutal 101-loss season in 2023.
No player in this five-player return is necessarily a headliner for Getz's new roster, but the chance that any of them become a big-league contributor is well worth this move. For a team without nearly enough organizational depth, adding two pitchers and two middle infielders who spent time at the MLB level in 2023, in addition to a young arm is a great get for the current status of the team.
Mike Soroka is the biggest name heading back to the South Side as he was one of the best young pitchers in the National League in 2019 with a 2.68 ERA with a 1.11 WHIP across 29 starts in his first full season with the Braves. He was considered a core part of the Atlanta rotation at the time but missed all of 2021 and 2022 while dealing with an Achilles injury and looked like a shell of himself in his work back at the MLB level in 2023 before being shut down with a forearm injury.
He only threw 32.1 innings with the Braves in 2023, so it's worth keeping an eye on a pitcher who looked like a high-end MLB pitcher his last full season. I wouldn't expect him to ever get back to that elite level, but he'll get a shot to return to form to some extent within a roster that lacks much of any starting pitching necessary to field a team.
Jared Shuster entered the year as a legit option for the back of the Atlanta rotation, given some of their injuries. He was phenomenal at the Double-A level in 2022 and made his way to Triple-A to finish off the season. He made 11 starts for the Braves last season while bouncing back and forth from the MLB team and Triple-A. He pitched to a rough 5.81 ERA and wasn't much better at Triple-A when pitching there.
His strikeout rate was just 13%, which is not going to cut it at the highest level, but he had a mark of 30% in Double-A just a year ago. Shuster could be a guy who is unable to find success at the higher levels but he was a top-10 prospect within the Braves' system in 2022 and could be at least an option to make starts for the White Sox next year.
Chicago also added two defensive-minded middle infielders as Getz has made it clear that the team will attempt to drastically improve team defensive metrics. Nicky Lopez, a local player from near Chicago, is likely no more than a utility bench piece but will give the White Sox immediate help at shortstop and/or second base this season.
With Tim Anderson no longer with the team, the White Sox face a complicated shortstop situation as they await top prospect Colson Montgomery. Lopez could be part of a shortstop platoon this year.
Braden Shewmake is a soon-to-be 26-year-old shortstop who made his MLB debut last season but hasn't shown enough offensive upside in the past few seasons to be in serious consideration as a big-league contributor. He's known for his defense and could possibly earn some reps at shortstop in Chicago, but is more of a guy that the Braves needed to clear from their 40-man roster.
The last piece in this deal was pitching prospect Riley Gowens, who was drafted this year out of University of Illinois. While he is already 24 years old, Gowens had a 1.15 ERA across 15.2 innings between Rookie Ball and Low-A this season in his professional debut. He's another arm to add to a system that needs pitching at every level.
Ultimately, I see this funky trade as a win-win given that Aaron Bummer was unlikely to change the status of the White Sox anytime soon, considering their need to retool, and they were able to take a flier on a variety of players that could possibly be part of the MLB team this year.
The Braves add a left-hander to their bullpen in Bummer, who is due to a lot of positive regression, and get some additional 40-man roster flexibility ahead of the non-tender deadline.