Analysis
Top 15 Free Agent Starting Pitchers for the 2023-24 Offseason
From top-of-the-line talent, to capable mid-rotation arms, to back-end inning eaters, the 2023-24 free agent market has it all.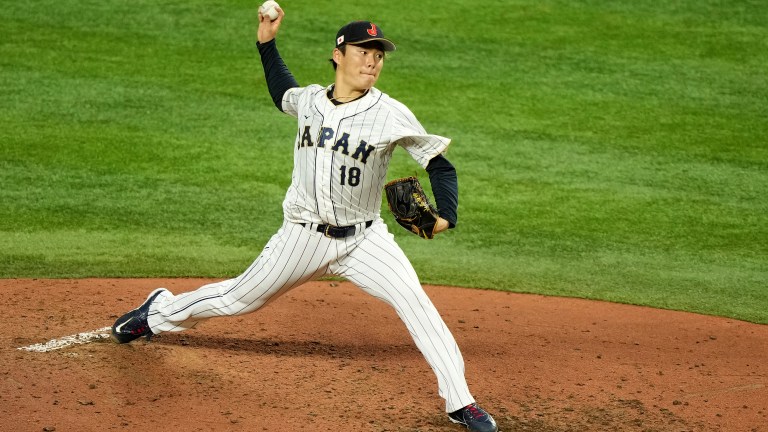 For teams in need of offense this winter, options are few and far between – especially if those teams aren't in the market for a certain two-way superstar. As for pitching, however, there is no shortage of options available.
From top-of-the-line talent; to high-risk, high-reward gambles; to capable mid-rotation arms and back-end inning eaters, this market boasts it all. I'm going to outline the top 15 in this piece, but it was no easy task to narrow down the list.
Before I dive right in, I want to make a couple of things clear.
First of all, these rankings are all me. That means they're independent of the Just Baseball Top 25 Free Agents list. It also means I'm not ranking these pitchers based on any specific criteria. It's not about projected earnings or projected performance. Rather, as Ben Clemens put it in his preamble for the FanGraphs Top 50: "The players are ranked in the order in which I prefer them."
For that reason, you shouldn't put too much stock in the exact rankings. On this particular list, there's a meaningful difference between the guys ranked three and four, and those ranked five and six, but for the most part, you could move anyone up or down a spot or two and it wouldn't really make a difference.
One last thing: I want to touch on the big name you won't see. Yes, Shohei Ohtani is, in fact, a starting pitcher. But teams aren't targeting him this winter because they need another starter; they're going after him because they want a game-changing superstar on both sides of the ball. Besides, he won't even pitch in 2024.
And now, with all that out of the way, I present the top 15 free agent starting pitchers of the 2023-24 offseason.
1. Yoshinobu Yamamoto
2023 Stats (NPB): 16-6, 1.21 ERA, 164 IP, 6.29 K/BB
It's important to practice caution with star players coming over from foreign leagues. Yet here's the thing – even by the most conservative projections for Yamamoto, he belongs in the top spot on this list. He's just that good.
Free agents this young are almost unheard of. And this isn't just some kid we're talking about. Yamamoto has won the Triple Crown in Japan for the past three consecutive seasons. He has a career 1.82 ERA in NPB, and he's averaged over 7 IP per start over the past three years. He dominated in the World Baseball Classic, too, striking out 12 of the 27 batters he faced.
Even if his ERA doubles once he arrives in MLB, I wouldn't regret putting Yamamoto first. If he reaches his full potential, he'll be one of the best pitchers in the league. If not, his floor is that of a reliable mid-rotation starter. And because he's still so young, he could be that guy for the next decade, if not longer.
2. Blake Snell
2023 Stats: 14-9, 2.25 ERA, 180 IP, 3.44 FIP, 3.77 xERA, 4.95 K/BB, 4.1 fWAR
Picking between Snell and Nola was the hardest decision I had to make. My lizard brain wanted to go with Nola, while my prefrontal cortex insisted I was just a biased Phillies fan. Ultimately, I chose Snell because I think his excellent walk year gives him a slight edge, even if the two are likely to have similar careers going forward.
The lefty is almost certainly due for some regression next season, but his ERA could rise a full run and he'd still be one of the better starting pitchers in baseball. The only downside with Snell is his lack of durability. He has dealt with various injuries throughout his career, and even when he's healthy, he rarely pitches past the sixth inning. Then again, that's precisely why his walk year was so important: He made 32 starts and avoided the injured list entirely.
3. Aaron Nola
2023 Stats: 12-9, 4.46 ERA, 193.2 IP, 4.03 FIP, 3.77 xERA, 4.49 K/BB, 3.9 fWAR
Aaron Nola is coming off a rough year, and inconsistency has long been a problem throughout his career. That said, if 15 quality starts, an ERA in the mid-fours, and the fifth-most innings pitched in the National League is the worst you're going to get, I'd bet on Nola ten times out of ten. Besides, if you include his postseason numbers, Nola put up a 4.24 ERA in 216.2 IP this year. For a pitcher with his All-Star upside, that's really not so bad.
Update: Aaron Nola has signed a seven-year, $172MM contract with the Phillies.
4. Sonny Gray
2023 Stats: 8-8, 2.79 ERA, 184 IP, 2.83 FIP, 3.69 xERA, 3.33 K/BB, 5.3 fWAR
Picking Gray over Jordan Montgomery is probably my first controversial decision, but I'm sticking with it. The elder pitcher won't command as much money, but I think he'll be a higher-impact arm in 2024.
What's more, he should draw plenty of interest from teams who prefer to offer a three- or four-year deal rather than a five- or- six-year pact. In other words, even if he's unlikely to break the nine-figure threshold, Gray could be a hotter commodity than Montgomery.
After all, he's coming off a season in which he made 32 starts with a 2.79 ERA and finished top-three in AL Cy Young voting.
5. Jordan Montgomery
2023 Stats: 10-11, 3.20 ERA, 188.2 IP, 3.56 fip, 4.04 xERA, 3.46 K/BB, 4.3 fWAR
Unlike the pitchers above him on this list, Montgomery has never quite pitched at an ace level across a full season. Indeed, I think a lot of people are a bit too high on the southpaw these days after all his postseason success.
That said, he has proven himself to be a consistent and reliable arm over the four seasons since his Tommy John surgery. Dating back to 2020, he ranks ninth in the majors in starts, and he has posted an ERA in the threes in each of the past three seasons. Still just 30 years old, that kind of production is going to get him a sizeable long-term deal.
6. Eduardo Rodriguez
2023 Stats: 13-9, 3.30 ERA, 152.2 IP, 3.66 FIP, 4.04 xERA, 2.98 K/BB 3.0 fWAR
It feels like Rodriguez has been around for a long time, but he won't turn 31 until next April. That should put him in a good position to earn a four- or five-year deal this winter.
Unfortunately for Rodriguez, he's only the second-best 30-year-old left-hander without a qualifying offer on the market. That means he'll probably be many teams' second choice after Montgomery. That's not the best position to be in, but then again, if J-Mont sets the market high, E-Rod could reap the rewards.
7. Marcus Stroman
2023 Stats: 10-9, 3.95 ERA, 138.2 IP, 3.58 FIP, 4.18 xERA, 2.29 K/BB, 2.7 fWAR
Stroman is a groundball pitcher, and occasionally, he'll have enough good fortune on batted balls to look like an ace. In truth, he's more like a No. 2/3, but I'm not saying that's not a bad thing. He's a durable and consistent pitcher, good for an ERA somewhere in the threes and 2-3 WAR every season.
For teams hoping to make a deep postseason run, Stroman makes more sense as a number three starter. Still, he'd be the second-best starter on plenty of contending teams right now.
He'll come a little cheaper than all the guys ahead of him on this list, so he should drum up plenty of interest from suitors who aren't looking to break the bank.
8. Shota Imanaga
2023 Stats (NPB): 7-4, 2.80 ERA, 148 IP, 7.25 K/BB
Imanaga is a bit of a wild card, which is why I've slotted him in between the more proven top-of-the-rotation arms and the question mark section of the list.
The lefty has had an excellent career in NBP, pitching to a 3.18 ERA in over 1000 innings of work dating back to 2016. However, he isn't quite as dominant as Yamamoto, so it's harder to guess how well his stuff will play overseas.
9. Lucas Giolito
2023 Stats: 8-15, 4.88 ERA, 184.1 IP, 5.27 FIP, 4.61 xERA, 2.79 K/BB, 1.0 fWAR
If Giolito has left a bad taste in your mouth the last two seasons, I can't blame you. But one only has to look back at his numbers from 2019-21 (3.47 ERA, 11.3 fWAR in 72 starts) to realize why he's a top-ten free agent starter this winter.
Giolito has No. 2 potential, and he won't turn 30 until next summer. At his worst, he's a capable innings eater, and at his best, he can start in a playoff series. He might choose to sign a one-year contract to re-establish his value, but if he wants to maximize his return this winter, he'll be able to find a three- or four-year deal.
10. Clayton Kershaw
2023 Stats: 13-5, 2.46 ERA, 131.2 IP, 4.03 FIP, 3.82 xERA, 3.43 K/BB, 2.3 fWAR
It's anyone's guess when Kershaw will return to the mound after his shoulder surgery this offseason. But here's the thing: Kershaw was only ever going to sign a one-year deal with a contender. So although he might only make 10-12 starts, those starts are going to come down the stretch and in October. That's far more valuable than 10-12 starts in April and May.
Teams will pony up the dough for the chance to stash a future Hall of Fame ringer on their roster as a secret weapon for the postseason chase.
11. Seth Lugo
2023 Stats: 8-7, 3.57 ERA, 146.1 IP, 3.83 FIP, 4.48 xERA, 3.89 K/BB, 2.8 fWAR
Lugo had his doubters entering the 2023 season, myself among them, but he proved us all wrong. After five years as a primary reliever, he returned to the rotation in a full-time role, pitching to a 3.57 ERA in 26 starts.
Unfortunately for Lugo, he's already entering his mid-thirties, so teams will be wary about his aging arm. Still, if he can repeat his performance from last season, he'll be a strong No. 3 for a postseason club.
12. Michael Wacha
2023 Stats: 14-4. 3.22 ERA, 134.1 IP, 3.89 FIP, 4.30 xERA, 2.88 K/BB, 2.6 fWAR
Wacha has been a solid big league starter for more than a decade, and he only turned 32 this past summer. After a few rough seasons with the Cardinals, Mets, and Rays in 2019, '20, and '21, respectively, the journeyman turned the corner with the Red Sox in '22 and the Padres in '23.
Across those two seasons, he has a 3.27 ERA, 4.01 FIP, and 4.1 fWAR in 47 starts. His rough patch from 2019-21 will give some suitors pause, but even if things go wrong, he can still eat innings or pitch out of the 'pen.
13. Nick Martinez
2023 Stats: 6-4, 3.43 ERA, 110.1 IP, 3.92 FIP, 4.10 xERA, 2.65 K/BB, 1.4 WAR
Martinez has primarily been a relief pitcher over the past two years, but he can start, too, and his ability to move back and forth between the bullpen and the rotation will make him a popular target this winter.
Dating back to 2022, Martinez boasts a 3.41 ERA in 19 starts and a 3.48 ERA in 91 appearances out of the 'pen. He's a unique arm, and having just turned 33, I think he can land a three-year deal that runs through his age-35 season.
14. Kyle Gibson
2023 Stats: 15-9, 4.73 ERA, 192 IP, 4.13 FIP, 4.73 xERA, 2.85 K/BB, 2.6 fWAR
Gibson's age means he'll probably have to settle for another one-year deal. That said, he hasn't shown any signs of age-related decline thus far. Indeed, he has been one of the most durable pitchers in the game over the last decade, even if he's never been a star.
Since his first full season in 2014, Gibson has made 284 starts, more than any other starting pitcher in that time. His 1645 innings pitched rank fourth. The only significant IL stint of his career was back in 2016, when he missed 48 days with a shoulder strain.
Plenty of teams like the idea of a single-year stopgap, and Gibson is the best option for such a role.
Update: Kyle Gibson has signed a one-year, $12MM contract with the Cardinals.
15. Kenta Maeda
2023 Stats: 6-8, 4.23 ERA, 104.1 IP, 4.02 FIP, 3.77 xERA, 4.18 K/BB, 1.5 fWAR
Kenta Maeda could be the backup plan for teams that miss out on Gibson. He hasn't been quite as durable throughout his career, but he comes with a bit more upside; his career 3.92 ERA is more than half a run lower than Gibson's.
At 36 years old, it's hard to imagine Maeda signs more than a one-year guarantee. However, I wouldn't be surprised to see him sign a complex, option-laden deal contingent on his health and success in 2024.