Analysis
Biggest Winners and Losers at the MLB Trade Deadline
The San Diego Padres won the trade deadline, forming baseball's best trio of superstars with Juan Soto, Manny Machado and Fernando Tatis Jr.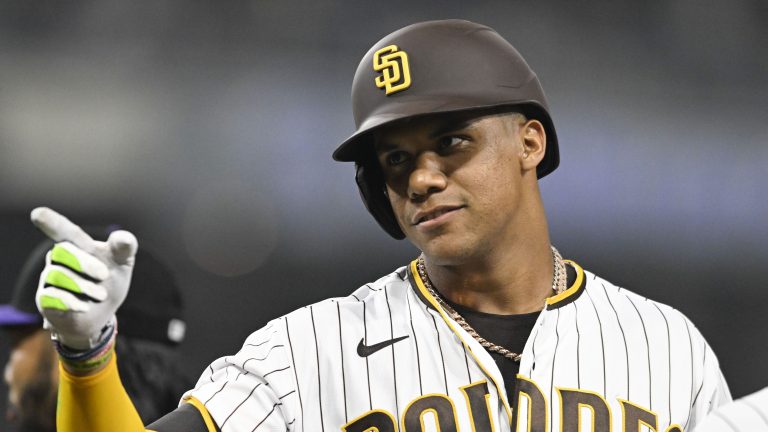 After 48 crazy hours of transactions, the MLB Trade Deadline has finally come to past.
As the dust settles, we can now look back at all the moves that were made and try to distinguish how they will impact the playoff race this season and beyond with some of the franchise-altering moves that took place.
Players like Juan Soto are not often dealt, so to see that level of a blockbuster take place immediately made for a deadline we will never forget. Along with Soto, we saw some other amazing players dealt like Josh Hader, Luis Castillo, Frankie Montas, Jorge Lopez, Trey Mancini and others.
As we look back, there are some teams who fared better than others at this year's deadline. Here are some of the biggest winners and losers from all the movement that just took place around the league.
Winner: San Diego Padres
Arguably the biggest trade deadline winner ever: the 2022 San Diego Padres.
The Padres started off the deadline period by making a shocking move to bring in the game's top closer in Josh Hader. While Hader is just coming off the worst month of his career, he becomes a huge upgrade in the back of the Padres bullpen. They moved multiple key prospects in addition to their current closer, Taylor Rogers, in an effort to build a playoff-ready bullpen led by the best closer in baseball.
They proceeded to completely one-up themself by making the biggest trade in the history of baseball. They were able to acquire superstar Juan Soto AND productive veteran Josh Bell from the Nationals in exchange for a massive package of prospects headlined by C.J. Abrams, Robert Hassell, and others. This deal held the attention of the entire baseball community for hours due to the Eric Hosmer drama and the details being finalized.
Just when you thought they were done, they made another move. In the final hours of the deadline, they struck a deal with the Reds for veteran Brandon Drury. He adds another versatile bat to a lineup that has the potential to be the best in the league.
The Padres are now officially all-in. There is no way any other team could possibly be considered more of a winner than this one. They added four elite pieces, including one of the best players in the league that happens to be only 23 years old. Not to mention that they're currently awaiting the return of Fernando Tatis from his wrist injury. The championship window has opened for the Padres and expectations will be high after one of the greatest deadlines of all-time.
Loser: Los Angeles Dodgers
The Los Angeles Dodgers rarely find themselves in the "loser" category of any free agency or trade deadline. But when your biggest rival goes out and gets a generational talent, an elite closer, and two big veteran bats, that's where you may end. This deadline wouldn't necessarily be considered a loss for most teams, but this is the Los Angeles Dodgers after all.
For the first time in a while, the Dodgers didn't reel in any of the big fish on the market. They were considered to be in the race for just about every star player but weren't able to bring any to Los Angeles. For a team that is bursting with talent and win-now pieces, it was widely expected that they'd add an impact player.
The only additions made to the Major League roster were struggling outfielder Joey Gallo and veteran reliever Chris Martin. Otherwise, they shipped away a few depth players as they plan for the return of many injured players.
The major additions to this team will likely come in the form of Walker Buehler, Dustin May, Blake Treinen, and others returning from injury. However, when your "biggest" addition at the deadline is one of the worst qualified hitters in baseball, it leaves a sour taste. If the Dodgers are able to get the Rangers version of Gallo, they'll be adding another bat with some serious pop to their lineup. However, if Gallo continues his play from this year, this deadline could be looked at as a huge bust.
For a team that is focused on winning a World Series, they didn't seem too worried about the deadline compared to in previous seasons. If their injured players return and help lead them deep into the playoffs, nobody will care that they remained quiet this year. However, for now, we have to consider them a big loser for their lack of acquisitions while the Padres went out and killed it.
Winner: New York Yankees
The Yankees have been cruising through the regular season so far behind a dominant roster that looks ready to compete for a World Series. But that didn't stop Brian Cashman from making move after move to bolster the roster and gear up for the playoffs. This type of deadline had to happen and the Yankees deserve recognition for going through with it.
They started a week early with the trade for Royals outfielder Andrew Benintendi. The Yankees lineup has been mashing all year but the thing they lacked the most was a contact bat and especially one that hits from the left side. They got exactly that in Benintendi. They parted with three low-ranked prospects in the process but solidified their outfield with an All-Star bat.
With the injury to Michael King and the struggles of some veterans, it became clear the last few weeks that the Yankees would be in the bullpen market. They started this search by sending a highly-regarded prospect to the Cubs in exchange for Scott Effross to add bullpen depth. Effross is having an excellent year and is under team control for five (!!!) more seasons. This type of control for a quality pen arm is what gave the Yankees the comfort to part ways with a quality young arm.
The big move for the Yankees came the day before the deadline. After watching Luis Castillo head to Seattle, the Yankees shifted focus to the other elite starter on the market, Frankie Montas. They were able to acquire not only Montas but also teammate, Lou Trivino, without parting ways with any of their top five prospects. This deal felt like a huge win at the time and still should be looked at as such if Montas provides quality innings for them down the stretch.
The Yankees continued to make adjustments to their roster by giving up on Joey Gallo and making a one-for-one swap with the Cardinals. It was clear that the Gallo era needed to end in New York and they were able to ship him to Los Angeles and even got a quality prospect back in return. The Yankees finished off their deadline by sending starter Jordan Montgomery to the Cardinals in exchange for outfielder Harrison Bader. With Montas in the fold, the Yankees didn't feel the need for Jordan, which allowed them to bring in a defense-first outfielder that can help in the playoffs.
While they didn't get their number one target, Luis Castillo, the Yankees executed a very efficient deadline and addressed all of their main needs. They were able to finally bring in a surefire number two starter, in addition to adding logical pieces in the outfield and bullpen. The best team in baseball this year stocked up on useful talent as they have one goal and one goal only: their first World Series since 2009.
Loser: Chicago Cubs
Oh, the Cubs. The Chicago Cubs entered the deadline as one of the few teams that were essentially guaranteed to sell. And while they technically did sell, they didn't move the pieces that could actually net them a big return.
Willson Contreras was one of the most likely players in the whole league to get moved and Ian Happ wasn't far behind. We even saw the two of them share an emotional hug in their last game at Wrigley prior to the deadline. Yet, here we are after the deadline has passed and they both remain members of the Cubs.
While fans are happy to see these long-term players stick around, the club missed an opportunity to finally commit to a proper rebuild. Happ has another year of control that allows the team to explore options in the offseason, but Contreras does not. He's set to be a free agent at the end of the year and instead of capitalizing on his value as an elite catcher, the Cubs will risk losing him for nothing more than a draft pick if they can't agree to an extension.
The Cubs were able to bring in some young arms by trading half of their bullpen, including closer David Robertson. These moves all brought back some intriguing prospects that could factor into the future of this team, but they did not bring in any top-end young talent.
They didn't necessarily make any bad deals, but this deadline certainly feels like a missed opportunity for a team that lacks a sense of direction. They had the chance to cash in on two of their stars and set themself up for the future, but couldn't pull the trigger. As much as teams dread rebuilding, it's an important part of building a championship organization. The Cubs now face another offseason without an obvious plan of action.
Winner: Minnesota Twins
The calendar has flipped to August and there appears to be only one division with three legitimate potential division winners. The Twins have been in control of this messy division for a while and they certainly cemented themselves as the favorite this week. We'll get to the actions of the other two teams in a bit, but let's look at the big moves Minnesota made this week.
While the lineup has been productive and should only get better, the Twins were clearly in need of some impact arms. They made a huge splash early in the day on Tuesday by bringing in All-Star closer Jorge Lopez in exchange for a package of four prospects. They have a few trusted arms, but will gladly welcome a lockdown back-end piece as they look to protect their small division lead. They continued to add by bringing in Michael Fulmer from the in-division Tigers. Lopez and Fulmer should make this bullpen a lot scarier and deeper over the last two months of the season.
The Twins have gotten solid production out of guys like Joe Ryan, Devin Smeltzer, and Chris Archer, but they were in desperate need of a proven arm to slot in behind Sonny Gray in this rotation. They made their splash by adding Gray's former teammate, Tyler Mahle. They sent a package of multiple highly-touted prospects back to Cincinnati, but it was a move that had to be made. Mahle hasn't had the best year, but he has a very strong track record and should be a consistent addition to the rotation.
Minnesota did what borderline teams are supposed to at the deadline. They went out and addressed their biggest needs and prepared to go win this division. Part of what really makes them a winner though is the lack of anything from their divisional foes. The Twins added onto a roster that already had a chance to win the division, while the others failed to do so.
Losers: Cleveland Guardians/Chicago White Sox
Speaking of those divisional rivals of Minnesota. The White Sox and Guardians are both currently within just a few games of the Twins but essentially stood pat at a crucial deadline. This division is the only one with three true contenders and because of the immense talent in the other divisions, there will likely be only one playoff team that comes from the American League Central. This makes it even more confusing as to why these teams did practically nothing this week.
The White Sox ran away with the division last year, but have dealt with issues in every single aspect of the team this year. The Guardians, on the other hand, have a loaded farm system and a talented core group of players. Cleveland's only move was sending catcher Sandy Leon to Minnesota of all teams. Meanwhile, the White Sox sole trade was flipping catcher Reese McGuire for left-hander Jake Diekman. Chicago desperately needed a left-handed arm, so Diekman should fill a role. However, neither team did anything that moves the needle.
This deadline feels like a complete failure for both of these teams. The White Sox were supposedly talking to the Angels about Shohei Ohtani (Ok, sure) and were also in pursuit of numerous bullpen arms. Cleveland was one of the main suitors of catchers Sean Murphy and Willson Contreras and failed to bring in either. Furthermore, they both watched Minnesota bring in three key pitchers and still did nothing.
These organizations will now rely on in-house improvement to propel them down the stretch. The White Sox are right in the middle of what's supposed to be their contention window and the Guardians had the ability to make huge moves. They will now both face an uphill battle against an improved Twins roster when they could've made moves to improve their teams. If the Twins win this division, the deadline will likely be a big reason why they did.
Winner: Cincinnati Reds
Say what you want about the Cincinnati Reds, at least they have a direction and are sticking to the plan. A team that traded key pieces in the offseason, the Reds continued their sale at the deadline, flipping Luis Castillo, Tyler Mahle and Brandon Drury for a treasure trove of prospects.
The biggest deal was obviously the one that sent Castillo to Seattle, and in exchange the Reds received a package of prospects that was headlined by Noelvi Marte, who was ranked 21st in our top 100 this offseason.
Along with the return they got on Castillo, the Reds cashed in on Tyler Mahle for three prospects, with third baseman Spencer Steer being the real prize of that deal. Cincinnati even got two promising teenage prospects from the New York Mets in exchange for Tyler Naquin and another from the Padres for Brandon Drury.
All told, the Reds added 10 prospects to a farm system that was already among the best in baseball. After all these moves, the Reds farm is sure to be widely considered a top-two or three system in the game.
Loser: Colorado Rockies
The Colorado Rockies are losers because they are completely different from the team we just broke down in Cincinnati. This is a bad baseball team that has no direction. Are they really winning anything of significance in the next three years?
If the answer is no, which we certainly believe is the case, then why are they extending 37-year-old relievers?
The Rockies had one of the top trade assets on the market in closer Daniel Bard, but instead of cashing in, they gave him a two-year extension. Bard is a fine pitcher who can help them greatly over the next few years. Still, it would have made far more sense to deal him now and get a return on a reliever who really came out of nowhere to find success in Colorado.
Along with Bard, the Rockies could have dealt All-Star C.J. Cron to get a nice package as well, yet they decided to just sit on their hands and do nothing. The Rockies actually have a sneaky good farm system, so bright times could still be ahead, but this deadline was a missed opportunity to get some more pieces for the future.
Winner: Seattle Mariners
The Seattle Mariners are going for it and we absolutely love to see it!
With one of the best young stars in baseball in Julio Rodriguez, the Mariners added a legit ace to pair with free agent acquisition and reigning AL Cy Young Robbie Ray atop the rotation.
The trade to acquire Luis Castillo came at a steep cost, as they had to send out a package of four prospects that included one of the best in baseball in Noelvi Marte, but it was worth it to land a pitcher that could change their fortunes this season.
Along with acquiring Castillo, the Mariners grabbed quality veterans with third baseman Jake Lamb and catcher Curt Cassali coming over at the deadline as well. Not to mention adding another arm in the trade with the Giants for Cassali, as left-hander Matt Boyd came back in that deal as well.
The Mariners are currently holding the second Wild Card spot in the American League and have a game lead over the Tampa Bay Rays who hold final spot. Behind Tampa, the Guardians, Orioles, White Sox and Red Sox all sit within three games of the Rays.
In what will be a very competitive race down the stretch, every win is vital. There is no doubt the Mariners will be winning a lot of games when Castillo is on the mound, which makes this a fantastic deadline for Seattle.
Loser: Washington Nationals
The Washington Nationals did about as good as they could have possibly done in the Juan Soto trade. They received a cost-controlled rookie starter in MacKenzie Gore and two consensus top-30 prospects in shortstop C.J. Abrams and outfielder Robert Hassell III.
The big coup of the trade though was the inclusion of last year's second round pick, 6'7″ outfielder James Wood. In his first full season of professional baseball, Wood has been unstoppable. In 50 games with Low-A Lake Elsinore, Wood is slashing .337/.453/.601 (1.054 OPS) with 10 home runs, 45 RBI's, and 15 stolen bases.
Along with the three real blue chip prospects, the Nationals also received a lottery ticket in 19-year-old right-handed pitcher Jarlin Susana, as well as veteran first baseman Luke Voit. Still holding control over Voit, the Nationals could flip him for additional prospects in the offseason or at next year's deadline.
So considering the historic haul they received, how are the Nationals listed as losers again?
Oh yeah, it's because any team that trades a generational 23-year-old talent like Juan Soto is a loser. You can't win, regardless of how steep the return was, in a trade that gives up a future Hall of Famer, who is likely to be the best bat in baseball for the next decade.
Considering they felt like Soto was as good as gone, they did a nice job recouping plenty of value from the asset, but extending him still would have been the better move for this franchise long-term.