Analysis
Why Andrew Benintendi is Perfect for the New York Yankees
The first move the Yankees made before the deadline might have been their most impactful, as Andrew Benintendi fills the lineup greatest need.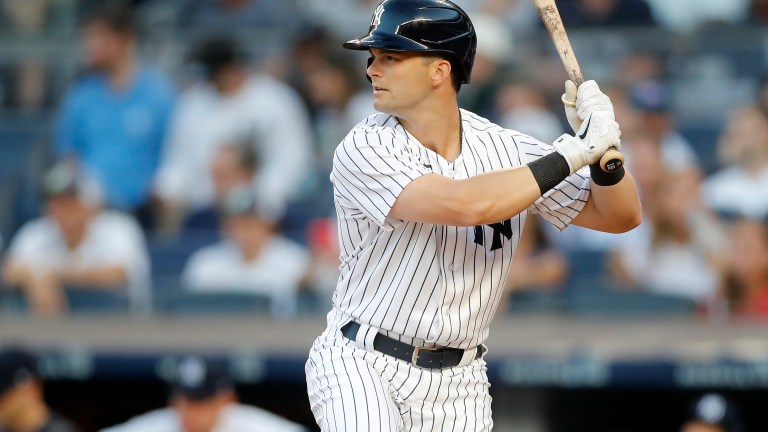 After dropping both games in the Subway Series Wednesday night, the New York Yankees made a blockbuster trade, acquiring corner outfielder Andrew Benintendi for three pitching prospects. Benintendi is no stranger to the Bronx Bombers, as his roots in the bigs began as a member of the Boston Red Sox. During his tenure in Boston, he smacked seven home runs at Yankee Stadium.
The outfielder made his first All-Star appearance just a few weeks ago after a stellar start to his 2022 campaign. With the Royals, Benintendi slashed an incredible .320/.387/.785 with a 125 wRC+.
With an expiring contract, it seemed likely that the 28-year-old would find a new home this week with a contender. He just so happened to land with the team who needed him the most, the New York Yankees.
During his first series as a Yankee this past weekend, the left fielder only produced one hit, but was able to get on-base seven times in 17 plate appearances with six walks. He also played a good corner. The first of Brian Cashman's 2022 trade deadline moves might be one of his best yet, so let's discuss why Benintendi is a perfect fit on this Yankees roster.
A Complete Mentality Shift
Andrew Benintendi has seen a complete mindset shift at the plate in 2022. A player with just three home runs and a lowly .778 OPS isn't the caliber of player of which typically gets an All-Star nod in today's game. Teams are focused on sluggers and home run hitters in this day and age. Despite this, Benny is impacting the game in a different way, with an incredible ability to get on-base.
At his peak, the left fielder was a 15-20 home run guy per season, would consistently clip above a .360 OBP but his highest average in a season was .290. In 2022, he's a completely different player. Benintendi's bat-to-ball skills have shined through his first 400 plate appearances, with his .314 batting average being the sixth-highest mark in the entire sport. Oh, and a career-high.
As the power numbers have decreased this season, everything else across the board has shot up. His three home runs, .389 slugging and isolated power of .076 are all career-lows. But he's currently setting career-highs in average (.314), on-base percentage (.388), BABIP (.357), wRC+ (125), BB% (11.1%), and a career-low in K% at 13%. Incredible stuff.
Forget about the power. Throwback Benny is here.
High average players are typically frowned upon in today's game, but Benintendi has turned in a spectacular start to 2022 with these adjustments at the plate. He barely strikes out, walks 11% of the time and is spraying the ball all over the diamond. He isn't hitting the ball particularly hard, ranking in just the 36th percentile in average exit velocity. But with an insanely high BABIP, he's a singles machine. And that right there, is exactly why he's perfect for this New York Yankees lineup.
Balancing out the Bronx Bombers
The New York Yankees have one of the most elite power lineups in the entire sport. They've hit the most home runs of any team at 177, lead the league at 551 runs scored and have the highest wRC+ as a squad at 121. All they do is mash. Sluggers Aaron Judge, Anthony Rizzo and Giancarlo Stanton have pounded baseballs in 2022, blasting a combined 91 homers between the three.
The return of Gleyber Torres and the emergence of catcher Jose Trevino have also been pivotal to the Yankees success. Power oozes out of this team. Unfortunately, the bats seem to shrink against top-tier pitching in the playoffs without an abundance of contact hitters, something this Yankees team has experienced over the past few seasons.
Leadoff hitter DJ LeMahieu is really the only hitter in this lineup who represents a contact-first approach at the plate. He's been key for this Yankees team this year, slashing .290/.394/.428 with a whopping 141 wRC+. A .394 OBP at the top of this order has been incredible!
After a season of mediocrity in 2021, DJ is back. As I mentioned before, he's really the only player with this type of profile at the plate. To round out this order, this organization needed to add another player just like DJ. A player that prioritizes getting on base with incredible bat-to-ball skills. And guess what? Andrew Benintendi fits perfectly into that description.
Benintendi denies redundancy in this order with his hitter profile. If the big bats of Judge, Stanton and Rizzo aren't pulling through, both LeMahieu and Benintendi will continue to provide opportunities for the rest of the guys. You can lead him off, hit him in the five-hole, hell he can be anywhere to separate the sluggers. After seeing the Yankees continuously trot out power bat after power bat in a playoff series, the left fielder will be prominent in this order. He is quite literally the perfect player for this team.
The Gallo Replacement
Admittedly, Joey Gallo's tenure as a Yankee was disappointing to say the least. Gallo was quite literally one of the worst players in the sport in 2022, slashing an abysmal .159/.282/.339 with a 82 wRC+. The outfielder only accumulated 37 hits this season, six less than the amount of times teammate Aaron Judge has homered.
The power had dried up, with his .180 ISO being the lowest of his career. And he was striking out more than ever, with his 38.8% K rate, which was the highest among all qualified hitters. Gallo was dealt to the LA Dodgers yesterday, following the arrival of Benintendi.
Benintendi is quite literally the exact opposite of Joey Gallo. Gallo doesn't hit for average whatsoever; Benny has one of the highest in the league. While Gallo struggles mightily with strikeouts, Benintendi hardly does. It's a complete switch up from the woeful Gallo, who never found success as a Yankee, and adds way more diversity.
It was always hard to imagine Joey Gallo taking playoff at-bats in a Yankee uniform with such inconsistencies at the dish. Comparatively, Benintendi's style of play is perfect for a playoff series, making him an incredible fit. Cashman packing up his loss on Gallo for a completely different player was an amazing step in the right direction. While I wish Joey Gallo nothing but success for the rest of his career, it just wasn't working in New York.
Andrew Benintendi's combination of defense, bat-to-ball, and plate discipline should cause nothing but happiness for Yankees fans everywhere. He is quite literally the perfect get for this roster. While the front office has made some incredible moves during this year's trade deadline, there's a legitimate possibility that we look back on this move as the best one.