Analysis
One Reason to Watch Every Team During the 2022 MLB Season
To get you ready for Opening Day here are some things to watch for every team in Major League Baseball this season.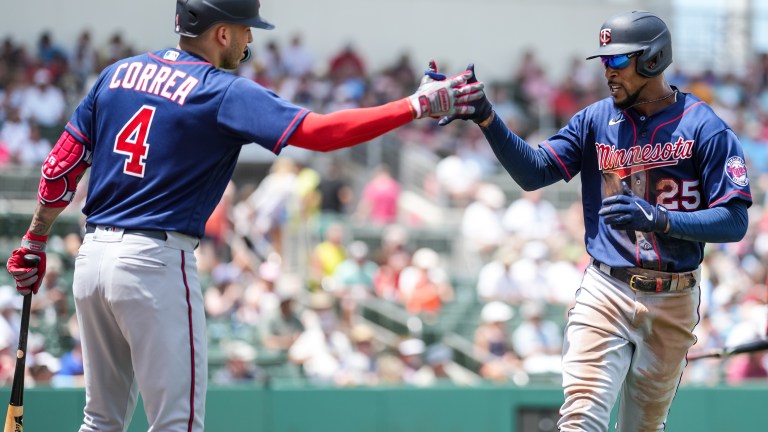 It felt like today never would come. At one point it seemed nearly impossible. In the offseason, the 99-day lockout felt like an eternity. However, as the great Vin Scully would say, winter has given way to spring, and it is finally time for baseball.

While Opening Day should be declared a national holiday, not every baseball fan may be particularly optimistic about their team's chances this season. Still, as we begin the MLB regular season, there is reason for every baseball fan, regardless of which team you root for, to be excited for the start of another 162-game marathon. Here are some reasons why you should tune in to watch your favorite team this season.
Toronto Blue Jays – AL World Series Favorites
The Toronto Blue Jays have every piece they need to be a World Series champion. Even after losing Robbie Ray and Marcus Semien, they replenished the rotation with Kevin Gausman and Yusei Kikuchi. They'll have full seasons from Jose Berrios and Alek Manoah. They acquired Matt Chapman, an excellent defender and power hitter that will immediately make an impact in a stacked Toronto lineup. These guys are for real.

Baltimore Orioles – Youth Movement
The Orioles may finish last in the AL East. That doesn't mean this season is going to be a waste for the organization. Ryan Mountcastle and Austin Hays will prove why they were hyped prospects for years. Cedric Mullins is looking to put together another 30-30 season. Trey Mancini won the AL Comeback Player of the Year last season hitting 21 home runs in his return to the field after battling cancer and will be looking to blast plenty of home runs this season as well.
Of course, the big names everyone is looking forward to are Adley Rutschman and Grayson Rodriguez. Both top prospects should make their debuts in 2022 and immediately play a role for the team. Things are looking up in Baltimore.
Tampa Bay Rays – Full Season of Wander Franco
This year should be fun to watch an entire season of the phenom shortstop after the Rays extended Wander Franco to an 11-year contract guaranteeing him at least $182 million. Franco legally was able to have his first beer on March 1st and will legally destroy American League pitching throughout this season and beyond. Oh, by the way, he will hit in the heart of an incredibly underrated lineup including Randy Arozarena, Brandon Lowe, and top prospect Josh Lowe.
Boston Red Sox – Time to Write a New 'Story'
Boston was so close to reaching the World Series in 2021 and they are sure to be right in the thick of things again in 2022. The acquisition of Trevor Story is not something to sleep on for Boston. The team signed the shortstop to a six-year, $140 million contract to slide over to second base. The lineup is much deeper and if Story can put together a season like what we've seen prior to his down-year in 2021, this could very well be the team that makes it out of an extremely stacked AL East.
New York Yankees – Bronx Bombers Hitting Bombs
The Yankees will be hitting home runs this season. A lot of them. The acquisition of Josh Donaldson as well as a full season of Anthony Rizzo and Joey Gallo should only add to the ridiculous number of homers that Aaron Judge and Giancarlo Stanton are capable of hitting. If Gleyber Torres can somehow figure out to return to his 2019 form, in which he hit 38 homers with a .278/.337/.535 slash line, then the league will be on notice. Meanwhile, Gerrit Cole should still be the favorite to win the AL Cy Young.
Cleveland Guardians – No Shame in the Name
The Cleveland Guardians is a name we are going to all have to get used to. For the city of Cleveland, they might as well welcome it since their previous name hadn't produced a World Series title for them since 1948. The organization is in a bit of an awkward state at the moment; however, Jose Ramirez and Shane Bieber remain two of the more prominent names in the game and should easily be two reasons why Cleveland fans will want to don the new Guardians gear.
Want one more? Cal Quantrill may be the most underrated starter in baseball after posting 2.89 ERA in 2021. The Guardians rotation should continue to succeed in 2022.
Kansas City Royals – Bobby Witt Jr.
This one is fairly simple. The Royals have the best prospect in Major League Baseball at shortstop in Bobby Witt Jr. The swing is nearly identical to that of Mike Trout's and the speed is there as well. This kid is going to be one special player for years to come and the Royals will be building around him in the process. On the complete opposite spectrum, 38-year-old Zack Greinke is returning to the team he once called home. Expect Greinke to make it home once again and bring back the memories in the process.
Detroit Tigers – Spencer Torkelson
The Tigers are getting ready to roar in the Motor City. It's hard to say how well they will play this year, however, there is certainly a lot of excitement around this team. Javier Baez is now the new man at shortstop and El Mago has proven he can be as exciting as anyone in the game.
Many eyes will be on top prospect Spencer Torkelson, who will be opening the season on the MLB roster. Top prospect Riley Greene will follow some time in the summer after recovering from a fractured foot he suffered in Spring Training. Finally, we must enjoy the last days of future Hall of Famer Miguel Cabrera playing the game of baseball. Miggy currently is 13 hits away from 3,000 and you can almost guarantee he will be making history in April.
Minnesota Twins – MVP Duo
Minnesota might be the most interesting team in baseball after signing star shortstop Carlos Correa to a three-year, $105.3 million deal. Prior to the lockout, the Twins extended star outfielder Byron Buxton to a seven-year, $100 million deal as well.
If Buxton and Correa are both healthy and playing at their best, there might not be a better all-around combination up the middle in baseball. These two starts each bring Platinum Glove potential, with an ability to win an MVP on any given season. Factor in offseason veteran additions of Sonny Gray, Dylan Bundy, Chris Archer, and Gary Sanchez and suddenly the Twins look like an actual contender. Nobody saw this coming, not even Twins fans. Maybe, just maybe this is the year the Twins win a playoff game.
Chicago White Sox – AL Central Favorites
The Minnesota Twins have made it clear they are looking to contend this season, but make no mistake, this is still the Chicago White Sox division to lose.
Eloy Jimenez and Luis Robert are two young bats for the White Sox that are going to be incredibly fun to watch this year as Chicago looks like an offensive juggernaut with the lineup they have been building. Outside of the two young bats, the team features former MVP Jose Abreu, Yasmani Grandal, Yoan Moncada and a new face in AJ Pollock taking over right field.
The White Sox pair their potent lineup with a strong rotation featuring Lucas Giolito, Lance Lynn (when healthy), Dylan Cease, Michael Kopech, and Dallas Keuchel. This team could be the first in franchise history to win two consecutive division titles.
Los Angeles Angels – Trout in October
Shohei Ohtani is playing baseball in America and that alone is something to celebrate. This man is a generational talent we will be talking about for decades to come. Let's also not forget the reigning AL MVP is on the same team as another MVP. Mike Trout has had a rough couple of years dealing with injury. Seeing Ohtani and Trout in the same lineup will be a spectacle. If Anthony Rendon and Noah Syndergaard can stay healthy, this team might have a real shot at making a playoff run in 2022.
Houston Astros – Verlander's Return
After falling in the 2021 World Series to the Atlanta Braves, the Houston Astros remain one of the favorites to return to the Fall Classic this year. The Astros lost Carlos Correa to free agency, however, prospect Jeremy Peña looks like he very well could take over the role in fine fashion.
Outside of that change, the defending American League champs have very few holes. Despite the fact that he is coming off Tommy John surgery at 39 years old, no one is going to bet against Justin Verlander returning to vintage form. The young core of Kyle Tucker, Yordan Alvarez, and Alex Bregman paired with veterans Jose Altuve, Michael Brantley, and Yuli Gurriel make this team as scary as ever moving forward. Also, their manager has a great name.
Oakland Athletics – Another Reset Towards Contention
Okay, let's be honest here. The Oakland Athletics will not be a good baseball team in 2022. They have sold off numerous key pieces with Frankie Montas the last remaining key trade piece that will most likely be dealt at the deadline. However, there is a silver lining for this team. The trades they made have led the organization to acquire solid young pieces that could contribute to the MLB club sooner rather than later.
Expect names like Shea Langeliers, Cristian Pache, Daulton Jeffries, A.J. Puk, Kevin Smith, and Cody Thomas to all make the club at some point this season. It's going to be a tough year for A's fans from the winning side of things. However, they'll get their first glimpse into the future faces of the organization and may add to that by landing a top draft pick for 2023.
Seattle Mariners – Sleepless October in Seattle
Seattle hasn't made the playoffs since 2001. They've heard about that for 21 years. That ends this year. The Mariners roster is arguably the most exciting it has been since that 2001 season and a new Rodriguez is about to emerge with Julio cracking the Opening Day roster.
The top prospect joins Jarred Kelenic as two of the most exciting young players in the game to keep an eye on. The Mariners also had an incredible offseason, reeling in Cy Young winner Robbie Ray as well All-Star outfielder Jesse Winker and infielder Eugenio Suarez from the Reds.
This team has an intriguing bullpen with plenty of options from the 6th inning on (Paul Sewald, Diego Castillo, Drew Steckenrider, and Andrés Muñoz being the standouts) and should be a very difficult team to defeat in low scoring games. The Mariners have a scary roster and should be a real threat after being so close to playoff contention in 2021.
Texas Rangers – Half a Billion Dollar Middle Infield
Corey Seager and Marcus Semien might just be the best double play combination in baseball. Good thing it only cost the Texas Rangers a combined $500 million to add them to their roster this offseason. They may not have been cheap purchases, but with a brand new ballpark, the Rangers are giving their fans a microwave contender and that is exactly what more teams in baseball should be doing.
The acquisition of Mitch Garver will add some much-needed pop in the middle of order and Jon Gray should add some firepower at the top of the rotation. This might not be the Rangers year to win the AL West, but they are moving in the right direction and certainly have a chance to contend for a Wild Card spot. With Correa and Semien under contract, the future is suddenly bright in Arlington.
Atlanta Braves – Defending Champs
The Braves 2022 roster has one obvious and glaring difference from their World Series title run in 2021. Superstar Freddie Freeman has headed to Los Angeles and Matt Olson will take his place at first base when the Braves accept their World Series rings.
While Braves fans may hang their heads missing Freddie, Matt is a fantastic replacement and could put up massive numbers in 2022 now that he is hitting in a more favorable lineup and ballpark than what he had in Oakland. Olson could very well hit 50 homers this season based on the power we've seen from him.
Ronald Acuña Jr. will additionally return back to the top of the order and Kenley Jansen will take the 9th inning for the best bullpen in all of baseball. It would be no surprise if this team finds themselves back in an NLCS rematch once again with the Dodgers and, this year, it would be even more personal.
Miami Marlins – Best Young Rotation in Baseball
The pitching rotation in Miami is absolutely fantastic. Sandy Alcantara, Pablo Lopez, Trevor Rogers, Elieser Hernandez, and Jesus Luzardo is about as deep of rotation as there is in all of baseball. Expect top prospects Edward Cabrera and Max Meyer to also play a key role in this loaded Miami rotation.
The offense won't be world-beaters but at least is should be a lot more fun to watch than last year's Marlins. Free agent additions Avisail Garcia and Jorge Soler give the middle of the lineup some punch and Jazz Chisolm has a chance to put up a breakthrough sophomore season with his power-speed combination. Miami also features an incredibly underrated bullpen that, just this week, added Cole Sulser and Tanner Scott to an arm barn consisting of Anthony Bender, Dylan Floro, and Anthony Bass. This team is certainly not about to lose 95 games like they did last season.
New York Mets – Max Scherzer's a Met
The New York Mets were one of the most active teams this offseason, as Steve Cohen is all-in on trying to win-now. Part of that all-in approach was giving future first-ballot Hall of Famer Max Scherzer a blank check to come pitch in New York. That decision is already proving to be a wise one, considering the recent news that Jacob deGrom could be out of the rotation until the summer.
Luckily the Mets have Scherzer to carry the load in the meantime, as well as the the trade addition of All-Star Chris Bassitt. Along with the rotation additions, the Mets signed veterans Starling Marte, Mark Canha and Eduardo Escobar to overhaul their starting lineup. They join Francisco Lindor, Pete Alonso and Brandon Nimmo to form a lineup that should be able to contend with the Atlanta Braves atop the NL East.
Washington Nationals – Juan Soto Breaking the OBP Record
In 2004, Barry Bonds broke his own record for the best single-season on-base percentage in MLB history. During that MVP season, Bonds was walked a whopping 232 times in 617 plate appearances. That means he had a .376 OBP before recording a single hit. Bonds set the record with his .609 on-base percentage and Juan Soto could conceivably break that absurd record this season.
Soto is a generational talent and will be the face of Washington D.C. sports for as long as the Nationals want him to be. To be honest, they should already be handing him a blank check. However, you can't win a baseball game with one young stud. The Nats made a surprising move and brought in the ageless wonder, Nelson Cruz, to join Josh Bell in protecting Soto in the lineup. Keibert Ruiz should be a fun young piece to watch bloom into an every-day catcher and the arrival of top pitching prospect Cade Cavalli should create a buzz in the capital.
Philadelphia Phillies – Always Bet the Over
Nick Castellanos lives for chaos and hits homers at completely inappropriate times. Kyle Schwarber is a maniac at the plate and has the capabilities to hit 40-plus homers in a season. This Phillies lineup is going to be scary adding these two with Bryce Harper, Rhys Hoskins, and J.T. Realmuto in the heart of the order. The problem with this star-studded lineup is that they have the potential to be one of the worst defensive teams ever assembled.
From a pitching standpoint, Zack Wheeler, Aaron Nola, Ranger Suarez, Kyle Gibson and Zach Eflin make up a quality starting rotation and the additions of Corey Knebel, Jeurys Familia and Brad Hand should provide a bit of a stability to what was one of the worst bullpens in baseball last season.
Milwaukee Brewers – Best Trio of Starters in Baseball
The Milwaukee Brewers have assembled one of the greatest collections of pitching talent in the game right now. Corbin Burnes was the best pitcher on the planet last season, Brandon Woodruff is not far behind, and Freddy Peralta could be the best number three starter in the game. Adrian Houser, Eric Lauer and Aaron Ashby fill out the back-end of arguably the best rotation in the game.
The bullpen consisting of Josh Hader and Devin Williams should be filthy as always. If the Brewers lineup can manage to put some runs on the board, with new additions Andrew McCutchen and Hunter Renfroe in the heart of the order, this team should win the NL Central.
St. Louis Cardinals – One Last Flight
This year will be emotional for Cardinals fans. It was already set to be the end of an era, with longtime battery mates Adam Wainwright and Yadier Molina signed on for one last season. The swan song only get more special for Cardinals fans with the return of Albert Pujols, as the future Hall of Famer looks to close out his career with his fellow 2006 World Series champion teammates.
While the emotions will run high throughout the year, Cardinals fans should also be excited to have a full year of Tyler O'Neill mashing in the heart of the order with Nolan Arenado and Paul Goldschmidt hitting around him. There also should be more buzz around 23-year-old Dylan Carlson, who could have a very special year this season in one of the more underrated lineups in baseball. The St. Louis Arch will be overlooking a historic season below that could lead to a deep playoff run.
Chicago Cubs – Seiya Suzuki Show
If there is one reason to tune into the Chicago Cubs this season, it is to watch the game's newest international star, Seiya Suzuki. The 27-year-old was a career .309 hitter in Japan and slugged 38 homers this past season before making the move to Chicago.
Suzuki may be joined in the outfield at some point this season by young star Brennen Davis, the top prospect in the Cubs system, giving them an outfield to build around in the future. Also, Frank Schwindel may be the most underappreciated player in the league after posting a .326/.371/.591 slash line in 2021. The Windy City will be having a lot of baseballs flying through the wind in 2022.
Pittsburgh Pirates – Oneil Cruz
The haze may be fading and the sun is shining brighter than it has in recent years for Pittsburgh baseball. The Pirates have a ton to look forward to in 2022 thanks to their tremendous development of young talent in recent years. Ke'Bryan Hayes and Bryan Reynolds should lead the young Pirates team in the right direction to open the year. However, it will be the arrival of Oneil Cruz that should send a message to the league that Pittsburgh is trending in the right direction.
The 6'7″ shortstop has a chance to be one of the best hitters in the game, posting a max exit velocity of 118.2 miles per hour, the seventh-highest in 2021. Don't be shocked when young studs like Nick Gonzales, Roansy Contreras, and Travis Swaggerty play a role in the rebuild this season as well.
Cincinnati Reds – Joey Votto's TikTok
Considering the current state of the Cincinnati Reds after their latest teardown, the best thing to follow with this team in 2022 is Joey Votto's burgeoning career as a Tik Tok star.
The future Hall of Famer finds ways to put a smile on the faces of Reds fans even when it seems impossible. While this team may not be as watchable as Votto's TikTok, there is still plenty to look forward to. Rookie of the Year Jonathan India is returning for an entire season, Hunter Greene is making his MLB debut, and Tyler Mahle looks like a future ace. It was a tough offseason but probably the right direction for this team in the long run.
Arizona Diamondbacks – Fantasy Catcher Daulton Varsho
The D-Backs will not win the NL West. They may not be particularly competitive. However, Arizona actually has some intriguing pieces to watch for this upcoming season, including young outfielder Daulton Varsho. If you play fantasy baseball, you might notice he is being drafted exceptionally high since he also qualifies at catcher. He should provide a great combo of power and speed to provide value alongside star second baseman Ketel Marte. The arrival of prospect Alek Thomas should be fun for fans to get a first look at what the future may hold in the desert.
Los Angeles Dodgers – Freeman in Dodger Blue
Arguably the biggest signing of the offseason was made by the Dodgers, adding All-Star and reigning champion Freddie Freeman to a six-year, $162 million contract. Freeman will take over at first base and is essentially replacing the production they are losing from Corey Seager after his massive contract landed him in Texas.
While the Dodgers lost their greatest closer in team history, Kenley Jansen, they went out and acquired another future Hall of Famer in Craig Kimbrel to hold down the 9th inning. The question in the rotation remains what will happen with Trevor Bauer, who the Dodgers inked to a three-year, $102 million deal a year ago.
If Bauer is not cleared to return by the MLB on April 16th, there is a chance we see young pitching prospects Bobby Miller and Ryan Pepiot starting in the rotation sooner than expected in order to take innings off of the shoulders from Walker Buehler, Julio Urias, and Clayton Kershaw. The stars will be shining in Los Angeles as the Dodgers eye a fourth World Series appearance in six years.
San Francisco Giants – The BART Will Be Active
What an amazing marketing opportunity the Giants have in their hands. For those that have never been to San Francisco, the public transportation system is called the BART. It just so happens the future of the Giants could be behind the dish on Opening Day, Joey Bart.
Bart exploded in Spring Training and is expected to take over for Buster Posey as the next young stud at the catcher position. What will be even more fun is watching who will be pitching to him, as newcomers Carlos Rodon and Alex Cobb should play key roles in a Giants rotation that is one of the deepest in the game. A whole season of ace Logan Webb doing what he did in the 2021 playoffs and a healthy Rodon could be devastating for the division rival Dodgers.
San Diego Padres – Star-Studded Starting Rotation
San Diego is not short of options when it comes to the pitching rotation in 2022. As it stands right now, Yu Darvish, Blake Snell, Joe Musgrove, Sean Manaea (recently acquired from Oakland), and Mike Clevinger should stack as their starting five. However, former top prospects MacKenzie Gore and Ryan Weathers could make some noise in the rotation as well.
From an offensive perspective, the Padres will hope Luke Voit's 2020 version of himself comes to Petco Park after a change of scenery from the Bronx. Top prospect C.J. Abrams should play a key role immediately upon his arrival with his power and speed combo. When Fernando Tatis Jr. returns in the second half of the season, the Friars will look to meet the expectations set for them back in 2021.
Colorado Rockies – Kris Bryant
The surprising signing of Kris Bryant to a seven-year, $182 million deal sent shockwaves throughout baseball. The Rockies then acquired Randal Grichuk, a home run-or-bust hitter, in exchange for Raimel Tapia. It's hard to understand what the Rockies are doing, but at least they are trying to be competitive. C.J. Cron quietly posted a .905 OPS in 2021 and at this point it is a good bet that the Rockies will be one of the league leaders in home runs at the end of the year.

Regardless of what team you are a fan of, I expect nothing less than complete and utter enthusiasm for the return of baseball. This is the game that stands the test of time. Even in the darkest times, baseball has been there to help give us hope for a better tomorrow. In the world we live in, we really need something to all root for. Congratulations, we have what we all begged and pleaded for: Baseball is back!