Analysis
Kris Bryant Cashes in With Colorado Rockies
In a move that shocked the baseball world, Kris Bryant is heading to Colorado. Here is all you need to know about this head-scratching move.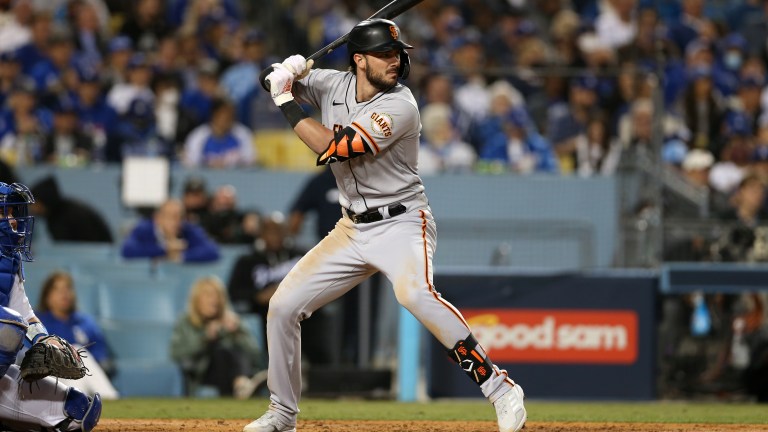 Kris Bryant and the Colorado Rockies have agreed to a seven-year deal worth $182 million, according to ESPN's Jeff Passan.
Bryant turned 30 in the offseason and is coming off another sneaky good year. The Las Vegas native had an .835 OPS and 123 wRC+ while clubbing 25 homers and accumulating 3.6 fWAR.
Once heralded as the forever face of the Chicago Cubs, Bryant was shipped to San Francisco at last year's trade deadline. Bryant was productive by The Bay and turned in a tremendous NLDS, racking up eight hits including a homer in the series.
Now his career takes a new route as he will spend the entirety of his prime in Colorado. It is certainly an interesting decision for both sides. After trading Nolan Arenado before last season, and seemingly letting Trevor Story walk this year, the Rockies seemed primed for yet another lengthy rebuild.
However, they have now shelled out a massive price tag for Bryant that suggests they could be getting back in the game. Story is still available and nobody has said the Rockies cannot bring him back. The possibility of pairing him with Bryant has to be incredibly intriguing for fans in the Mile High City.
It is easy to forget that Bryant still has plenty of good years ahead of him. Fans seemed to have written him off because he has not been an MVP type like he was in 2016, but his talent remains enormous.
Excluding the COVID-shortened 2020 season, Bryant's 123 wRC+ last year was the lowest of his career. He also saw time at every position except second and catcher last year, bringing huge defensive versatility to the Rockies.
He is still a really good player, and the Rockies have mightily improved their roster just by bringing him in.
Mile High Question Marks
So where does Colorado go from here? That may just be the question of the offseason.
C.J. Cron had a breakout 124 wRC+ last year, but Charlie Blackmon is aging and who knows what will happen with Story. He and Cron were the only qualified players in their lineup that had 100 wRC+ or more.
Brendan Rodgers has not reached the star potential he once had, Ryan McMahon was a revelation early on but fizzled out and it is never easy to get pitching in Denver.
Plus, the starting pitching market is pretty much depleted. It will be very difficult for the Rockies to find a starter that really moves the needle, and they have just two pitchers in their Top 10 prospects according to MLB Pipeline.
There is a reason nobody really took the Rockies signing Kris Bryant seriously until it happened.
However, the move does make sense for Bryant. He has absolutely maximized his value on the open market, and also gets to stay close to home. He and his wife, Jess, are adding twins after welcoming their first child in 2020.
Bryant has always been a west coast guy, so staying close to home with two more kids on the way is an understandable move.
What About The Giants?
When I wrote my free agent profile on Kris Bryant, I said returning to San Francisco made the most sense. It is about two hours closer to home than Denver and the Giants were a natural fit.
However, it seemed San Francisco backed off their aggression to bring Bryant back. Why they did does not make a whole lot of sense.
They have a need at third base with Evan Longoria always getting older, and the DH gave them a chance to get both in the lineup everyday. Also, Bryant's positional versatility is something the Giants have always valued and fit in naturally with what they love to do.
The Giants also have a ton of space under the luxury tax this year and so far have not been super aggressive with it. Bryant seemed like the perfect guy to splash the cash for and solidify the third base spot for the majority of the coming decade.
Now the Giants pivot and there is work to be done. The stove is extremely hot, there are plenty of big names still available and the Giants still have plenty of cash. They have solidified the rotation and now the offense needs to be the focus.
They reacted quickly and signed Joc Pederson, according to Jon Morosi, in a keen move to add offense.
However, to keep up with the Dodgers again in 2022 they are going to need to continue to add help.
Outlook For Bryant
Kris Bryant has played just 16 games in Coors Field in his career and they have not been as one might expect. His slash line at Coors is .263/.354/.404/.757 and he has just hit two homers.
However, over the course of seven years there is no doubt he will get a huge boost from playing at mile-high altitude. He has not gone over 30 home runs since 2019, when he hit 31, but that is about to change. Remember, Bryant hit 36 home runs in his MVP year, so he is more than capable of putting up huge numbers at altitude.
Bryant is already at 31.8 fWAR for his career. He has a Rookie of the Year, an MVP and a World Series ring. Now he will spend the remainder of his prime in arguably the best hitter's park in the league.
It will be important to see what the Rockies put around Bryant. If he is going there to cash out and put together a Hall of Fame case, that is awesome. If he is going there to do that and be a part of a future contender, a lot has to change with the franchise to make that a reality, no matter how good he is individually.
Whatever the case, the Rockies have a massive overhaul ahead of them and Bryant could be a great first building block.