Rankings
Top 10 Starting Rotations in MLB For 2023
Ranking the top starting rotations in baseball before Opening Day.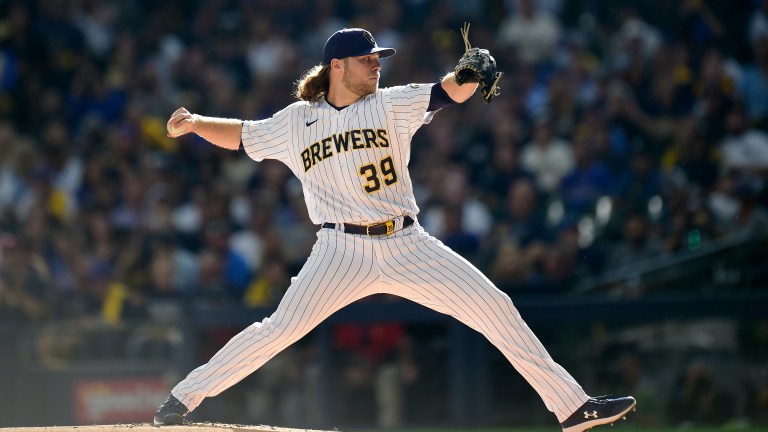 The best way to predict which teams will be successful heading into any season is to take a look at their starting rotation, as the old adage pitching wins championships always proves to be true.
Right now, there is an overabundance of talented starting pitchers in the game, with many teams featuring a group of five that could carry them into October. Still, there are 10 rotations that stand out above all the rest as the best in game heading into the 2022 season.
Here is our list of the top starting rotations in baseball ahead of Opening Day.
10. San Diego Padres
Joe Musgrove
Yu Darvish
Blake Snell
Mike Clevinger
MacKenzie Gore
On paper this is one of the best rotations in baseball and if everyone performs at their absolute best, we could be talking about the best rotation in baseball by season's end. But that would require a lot to go right after a lot has gone wrong with this group over the last few years.
Joe Musgrove was the one constant in the Padres rotation last season. Not only did he throw the first no-hitter in franchise history, but Musgrove also lead the Padres with a 3.18 ERA across 181 1/3 innings pitched. Musgrove is the de facto ace and likely Opening Day starter for the Padres, but if they are going to really contend it is going to require a return to form from Yu Darvish and Blake Snell.
Darvish was the runner-up for the Cy Young in 2020, pitching to 2.01 ERA for the Cubs. In his first season with the Padres, Darvish underwhelmed by pitching to a 4.22 ERA across 166 1/3 innings pitched. Snell had a similar first season with the Padres, pitching to a 4.20 ERA across just 128 2/3 innings.
At the back-end of the rotation, the Padres have great upside options with Mike Clevinger and MacKenzie Gore. Clevinger will return to the mound after missing all of last season recovering from Tommy John surgery. The 31-year-old has a 3.19 career ERA.
Finally, Gore is a real X-factor for this rotation, as the Padres top pitching prospect looks to bounce back after a down 2021 season in the minors to break through at the MLB level. Gore has turned some heads in spring training so far, and could make his debut sooner rather than later.
9. Chicago White Sox
Lance Lynn
Lucas Giolito
Dylan Cease
Dallas Keuchel
Michael Kopech
The Chicago White Sox starting rotation pitched to a 3.57 ERA last season, which was the best mark for any team in the American League. Losing Carlos Rodon from the rotation is a big blow, but one they can absorb due to the strength of their top three starters.
Lance Lynn pitched to a career-best 2.69 ERA last season, making his first All-Star appearance since 2012. Lucas Giolito is the 1B to Lynn's 1A, as the 27-year-old has quietly become one of the most consistent starting pitchers in baseball.
Giolito has four healthy seasons in a row under his belt, proving he can be durable for Chicago. Since 2019, Giolito has pitched to a 3.47 ERA, the sixth-best mark in the American League.
One of the real X-factors in this rotation is Dylan Cease. In his first full 162-game season, Cease pitched to a 3.91 ERA across 32 starts. Even more impressive, the right-hander struck out 31.9% of the batters he faced last season. Cease has the potential to be an All-Star for the White Sox.
Behind their top three, the White Sox are hoping for a resurgence from Dallas Keuchel, as the left-hander pitched to a 5.28 ERA last season. They also have high hopes for flamethrower Michael Kopech, who proved his stuff can play up out of the bullpen last season, but will once again try to crack their starting rotation.
8. Houston Astros
Justin Verlander
Framber Valdez
Lance McCullers Jr.
Luis Garcia
Jose Urquidy
If Justin Verlander can make a return to 2019 form coming off Tommy John surgery, the Houston Astros could have a top-five rotation in baseball. That is just a lot to ask for a 39-year-old.
Behind Verlander, the Astros have four starters who pitched to a 3.62 ERA or better last season. Lance McCullers can be great if he's healthy, and Framber Valdez and Luis Garcia both had breakout seasons last year.
This rotation feels like four or five starters that would be really great No. 2s or No. 3s on a championship-caliber team. If Verlander or one of the young starters can assert themselves as a bona fide ace this season, Houston could have a better rotation than we are projecting right now.
7. Atlanta Braves
Max Fried
Charlie Morton
Ian Anderson
Huascar Ynoa
Tucker Davidson
The Atlanta Braves have as much starting rotation depth as any team in baseball. Max Fried is one of the game's best young left-handed pitchers, having pitched to a 2.84 ERA (5th-best) over the last two seasons.
The Braves pair Fried with veteran Charlie Morton atop the rotation, giving them two starters who can be counted on to give Atlanta a great chance to win every fifth day. Ian Anderson is coming off a breakout season in 2021, where he pitched to a 3.58 ERA across 24 starts. The 23-year-old has plenty of upside to be even better moving forward, giving the Braves a trio they can count on in 2022.
Beyond those three, the Braves rotation is full of question marks, but there are enough options that they should have plenty of depth to make it through the 162-game season. Huascar Ynoa and Tucker Davidson each showed flashes last season, and the long-awaited return of Mike Soroka has the chance to vault this rotation to another level.
6. Toronto Blue Jays
Jose Berrios
Kevin Gausman
Hyun-jin Ryu
Yusui Kikuchi
Alek Manoah
The Toronto Blue Jays enter this season as legitimate World Series favorites coming out of the American League, as they were the top ranked AL team in our first MLB Power Rankings. That ranking is largely due to their immense offensive talent, but Toronto has done a great job building a rotation to compliment that offense as well.
The first addition came at last season's trade deadline, when they acquired ace Jose Berrios from the Minnesota Twins. In November, the Blue Jays extended Berrios on a seven-year, $131 million contract. Then in free agency, Toronto signed Kevin Gausman to a five-year, $110 million deal to be the 1B to Berrios 1A atop their rotation.
Yusui Kikuchi was a solid depth signing Toronto made this offseason as well, giving them another left-handed starter who has shown an ability to rack up strikeouts when he is right. The ceiling of this rotation could be tied to unlocking something more with Kikuchi or the continued progression of young stud Alek Manoah, but the floor of this group in undeniably high and should be enough to keep them as the favorites in a loaded AL East.
5. Miami Marlins
Sandy Alcantara
Trevor Rogers
Pablo Lopez
Elieser Hernandez
Jesus Luzardo
The Miami Marlins have a starting rotation that could be the best in baseball this season. That is how talented their crop of young hurlers could be if they hit their ceiling.
Sandy Alcantara has proven to be a legit ace that can lead a staff, having eclipsed over 400 innings combined over the last two full seasons in 2019 and 2021. The 26-year-old has pitched to a 3.49 career ERA and is coming off a season where struck out 201 batters.
Trevor Rogers was the runner-up in the NL Rookie of the Year voting last year, but he may have won the award if he stayed healthy. The left-handed starter struck out 28.5% of the batters he faced in 2021 and pitched to a sparkling 2.64 ERA in 133 innings pitched.
Both Alcantara and Rogers were All-Stars last season, giving the Marlins one of the best one-two punches in baseball. Behind them, Pablo Lopez is one of the most underrated starters in the game, as he pitched to a 3.07 ERA in 2021.
Elieser Hernandez and Jesus Luzardo provide some real upside for Miami at the back-end of their rotation, and they also have prospects like Edward Cabrera, Max Meyer, and Jake Eder who could factor into their plans in 2022 as well.
4. San Francisco Giants
Logan Webb
Carlos Rodon
Anthony DeSclafani
Alex Wood
Alex Cobb
The San Francisco Giants have figured out how to get the most out of their pitching over the last few seasons, to the point where they are starting to earn the benefit of the doubt that they will have a top-five rotation every season.
Last season, the Giants starter ERA was 3.44, the third-best mark in baseball. They return ace Logan Webb, Anthony DeSclafani and Alex Wood from last year's rotation and have added Carlos Rodon and Alex Cobb in free agency to replace what they are losing with Kevin Gausman and Johnny Cueto.
Rodon could be a real X-factor for this rotation, as he is arguably an upgrade over Gausman if healthy. The left-hander struck out 34.6% of the batters he faced last season and pitched to a 2.37 ERA. Pair that with Webb, who is a budding ace himself (3.03 ERA), and DeSclafani, who is coming off a strong season (3.17 ERA) and the Giants look primed to feature one of league's top rotations.
3. New York Mets
Jacob deGrom
Max Scherzer
Chris Bassitt
Carlos Carrasco
Taijuan Walker
You know you have an embarrassment of riches when Max Scherzer is your No. 2 starter. The New York Mets have the greatest pitcher in baseball in Jacob deGrom and the greatest pitcher of the past decade in Scherzer. Factor in another All-Star with their recent addition of Chris Bassitt and the Mets have a trio that can do big things in the National League this season.
There are maybe more question marks with this Mets staff than any of the teams in the top five, but their ceiling could be the highest as well. DeGrom needs to prove he can be healthy and the Mets are going to need a lot more out of Carlos Carrasco and Taijuan Walker than they got in the second half last year.
Still, Carrasco is just a season removed from pitching to a 2.91 ERA in 2020, when he was healthy enough to make all 12 starts for Cleveland. Taijuan Walker was an All-Star last season for his performance in the first half, where he pitched to a 2.66 ERA. If the Mets get a return to form from either of them, and get what we expect out of their top three, this could be the best rotation in baseball come the end of the season.
2. Los Angeles Dodgers
Walker Buehler
Julio Urias
Clayton Kershaw
Andrew Heaney
Tyler Anderson
The Los Angeles Dodgers starting rotation pitched to a 2.93 ERA last season, which was by far the best mark in all of baseball. They bring back mostly the same group this season, with the some depth additions like Andrew Heaney and Tyler Anderson filling out the back of the rotation.
Still, there is a massive elephant in the room with this Dodgers rotation. One that if cleared up could give them the no-doubt best starting rotation in baseball. That elephant is the status of Trevor Bauer.
When on the mound, Bauer is one of the best pitchers in baseball. What we don't know though is when he will be allowed back on the mound. Major League Baseball has placed him on administrative leave through April 16th as the league considers suspending him due to allegations of sexual misconduct. In February we learned that Bauer won't face criminal charges for these allegations, but that does not absolve him from a potential suspension.
Even without Bauer, you would be hard-pressed to find a better trio atop a starting rotation than Buehler, Urias and Kershaw. Buehler and Urias were both listed in our top 20 starting pitchers and Kershaw is a first ballot Hall of Famer.
Factor in the immense depth the Dodgers have with arms like David Price, Tony Gonsolin and Dustin May all expected to make starts this year and you have one of the safest rotations to bet on this year.
1. Milwaukee Brewers
Corbin Burnes
Brandon Woodruff
Freddy Peralta
Eric Lauer
Adrian Houser
The Milwaukee Brewers have earned the distinction of having the best starting rotation in baseball after a remarkable season by this group in 2021. Headlined by the reigning NL Cy Young, the Brewers have one of the best and most underrated 1-2-3 punches of any rotation in baseball.
Corbin Burnes is coming off a season where he posted video games numbers, leading MLB with his 2.43 ERA and 7.5 fWAR. Even better, his xERA (2.00) and xFIP (2.30) tell us that Burnes was every bit as good as that ERA would indicate, if not even better.
Milwaukee's rotation also featured another starter who finished in the top-five of Cy Young voting, as Brandon Woodruff had an excellent season as well. The right-hander pitched to a 2.56 ERA (fourth-best) and led the Brewers with 179 1/3 innings pitched.
Freddy Peralta is the final piece of the Brewers elite triumvirate. If the 25-year-old had five more strikeouts, the Brewers would have featured three starting pitchers with 200 K's. Still, they had three guys with sub-3.00 ERA's, as Peralta pitched to a 2.81 ERA across 144 1/3 innings.
Along with that great trio, the Brewers feature two top-notch back-end starters in Eric Lauer and Adrian Houser as well. Lauer and Houser pitched to 3.19 and 3.22 ERA's respectively, giving the Brewers a fantastic rotation one through five.
The only hole in their rotation last year was Brett Anderson, who was the final piece of a six-man rotation. Anderson pitched to a respectable 4.22 ERA in 20 starts, but is now a free agent. If the Brewers can stick with a five-man rotation this season and that group stays healthy, it's the best group in baseball no question. c