News
Jacob DeGrom Shut Down Four Weeks with Shoulder Injury
The Mets ace is heading back to the Injured List, as arm issues continue to plague the two-time Cy Young.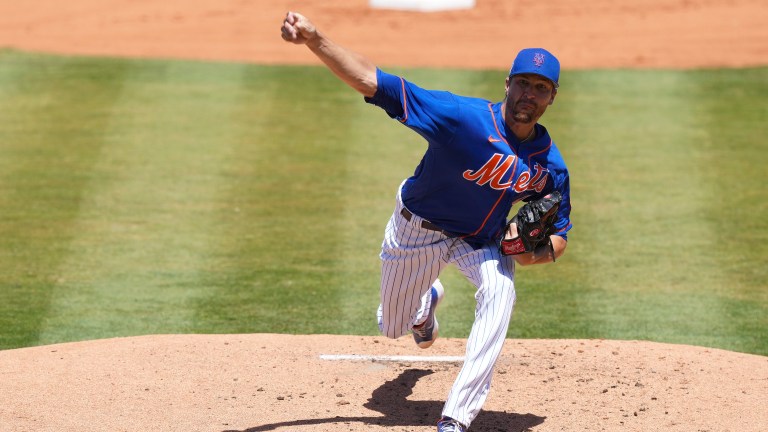 The New York Mets came into spring training with as much optimism as any team in Major League Baseball, as they dreamed about the potential of their new starting rotation.
All-Stars Max Scherzer and Chris Bassitt were set to a join a rotation that already featured the best pitcher in baseball with Jacob deGrom, giving the Mets a dynamic trio atop their rotation. Still, there was always a lingering concern at the back of everyone's mind when it came to the ace, as deGrom did not throw a pitch in the second half last season due to injuries.
Unfortunately the injury bug has resurfaced once again, with the latest news that deGrom is being shut down for four weeks due to a stress reaction on his right scapula.
Suddenly the Mets are right back to where they started with deGrom, having no certainty regarding when he can get back on the mound this season. DeGrom had looked great in his early work in spring, striking out 10 of the 15 batters he faced across two starts. He was set to make his final spring start today, and would then take the ball ready to throw around five innings on Opening Day.
Now the best case scenario for deGrom is for him to be able to restart his throwing program from scratch in a month, and that is only if his next MRI comes back clean. Even if everything breaks right, it is unlikely that we will see deGrom pitch in a game for the Mets until the mid-to-late May, if not much later.
Where Do the Mets Go From Here?
This is exactly why Steve Cohen gave Max Scherzer a blank check to come pitch for the Mets, as he will be worth every penny of the $43.3 million he is owed this season. Scherzer is already up to 90 pitches in spring, so there is no doubt in his ability to lead this rotation out of the gates.
Behind Scherzer, Chris Bassitt is more than capable as a No. 2 for the Mets, having just come from a situation where he sat atop the Oakland Athletics rotation prior to the trade. Bassitt made 27 starts last season and pitched to a 3.15 ERA. He has shown to be durable over the last three seasons and the Mets desperately need that to continue into 2022.
Prior to deGrom's injury, there was some concerns with the back-end of the Mets rotation, as Taijuan Walker and Carlos Carrasco are coming off shaky performances in the second half of the 2021 season.
Walker was an All-Star last season, pitching to a 2.66 ERA prior to the break. After making that All-Star appearance, Walker crashed back down to earth, pitching to a 7.13 ERA over his final 13 starts. Walker had surgery this offseason to clean up his knee, so there is chance that injury could explain some of his woes down the stretch.
Speaking of injuries, Carlos Carrasco was barely available for the Mets last season, as the 35-year-old blew out his hamstring last spring and did not return to the mound until the end of July. When he did get back on the mound, Carrasco was still not at full strength and struggled to adjust to big league competition on the fly. He ended up 6.04 ERA over 12 starts and 53 2/3 innings pitched.
Carrasco is not far removed from pitching to a 2.91 ERA during the COVID-shortened 2020 season, when he made every start for Cleveland. The Mets are now counting on Carrasco to return to that form and become the No. 3 in their rotation.
With deGrom out, this now opens the door for one of the Mets young starters to join the Opening Day rotation and Tylor Megill is the front-runner to take that spot.
Megill made 18 starts for the Mets last season and pitched to a 4.52 ERA. The 6'7″ hard-throwing right-hander did show flashes last season, as he pitched to a 1.05 ERA across five starts in July, but then struggled down the stretch and pitched to a 6.13 ERA over his final 10 starts to close the season.
The one thing to account for with Megill is the massive innings jump he took last season, having never thrown more than 35 innings in a single season of his professional career, before jumping to 130 innings pitched last season. His 3.84 xERA and 3.92 xFIP indicate some more upside with Megill, but certainly not enough to feel confident in his ability to run away with this job.
Outside of Megill, the Mets have left-handed starter David Peterson as another rotation option, although he too is coming off a down-year. Trevor Williams is a veteran with 109 MLB starts under his belt, but he also has a career 4.42 ERA.
Bottom line, the Mets can get by for an extended period of time with the depth that they have, but they are going to need a lot more out of their back-end options than they were expecting coming into this season.
Scherzer and Bassitt are good enough to carry this rotation without deGrom, but the Mets chances to win the NL East take a massive hit without their best pitcher in the mix to start the season.