Analysis
Is Luke Voit Enough to Save the San Diego Padres?
While he isn't the flashiest name, Luke Voit is a solid buy-low acquisition for a Padres team that doesn't have quite as much roster flexibility as it once did.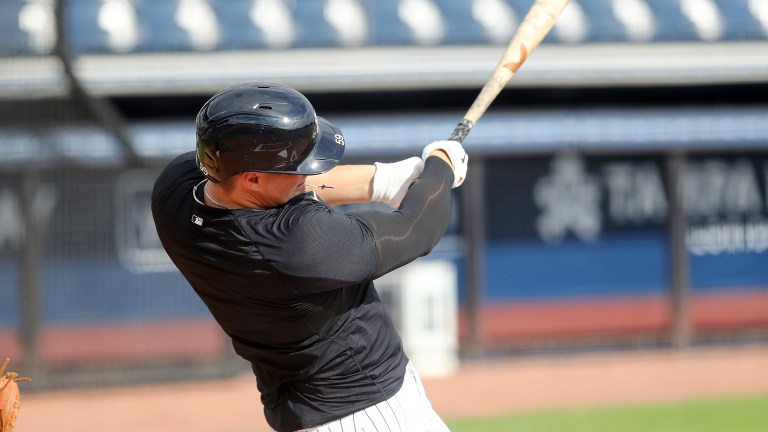 It took a while — and a slew of other big names to get snatched off the market — but the San Diego Padres have made their first major post-lockout move.
It might not have been a move that many of us would've predicted months ago, but the Padres have acquired New York Yankees for first basemen Luke Voit in exchange for pitching prospect Justin Lang.
Despite being dubbed the Slam Diego Padres in 2020, last year's Padres offense was outright anemic at times. Most notably, though, it was in the power department.
Despite boasting arguably the best corner-infield in baseball with Fernando Tatis Jr. and Manny Machado, the Padres struggled to hit water with a paddle, let alone grand slams. And it wasn't due to the latter of the two's contrived "lack of hustle" narrative; their offense ranked 23rd in HRs and 21st in slugging in 2021.
Underperforming players like Trent Grisham and Wil Myers contributed to this, as well as their much-maligned — by fans, at least — first basemen Eric Hosmer, who has hardly ever provided the type of power that is typically associated with the position. So, naturally, the Padres have been linked to nearly every power-hitter that's been available.
While he isn't the flashy name, Luke Voit is a solid buy-low acquisition for a Padres team that doesn't have quite as much roster flexibility as it once did. Over the course of 242 games played from 2019 to 2021, Voit slashed a solid .261/.356/.494, and hit 54 home runs. A lot of his power potential was showcased especially in the shortened 2020 season, when he became one of the most unexpectedly powerful hitters in a Yankees lineup that featured Aaron Judge and Giancarlo Stanton.
On top of that, his 129 wRC+ and .233 ISO suggest that the power production wasn't simply due to calling Yankee Stadium home. With the National League finally submitting to reason and implementing the universal DH in 2022, Voit is a great flier to take especially considering the Padres weren't able to acquire Nelson Cruz, who ended up signing with the Washington Nationals instead.
And given the Padres financial constraints, giving up prospect Justin Lang — who is hardly in the top-tier of prospects the Padres system currently holds — makes the move even better. Are the Padres notoriously bad at developing pitching and this could mean Lang is a lot better than we think? Yes!
But for a team in a win-now position, you can't be too picky. Plus, he's absolutely jacked:
Does This Mean an Eric Hosmer Trade is Imminent?
Considering that, prior to the trade for Anthony Rizzo, Luke Voit spent a lot of time playing first base for the Yankees, it's only natural to wonder whether or not the Padres will use him the same way. But with Eric Hosmer currently slated to be the starter there, such a proposition is unlikely to happen barring a trade. So, how likely is such a scenario to unfold?
The short answer: highly unlikely!
Eric Hosmer still has four years left on his albatross contract, and is one of the least productive players at his position in baseball (0.0! fWAR! in 151 games! in 2021). The interest in acquiring him is about the same as the Avatar sequels.
If the Padres were somehow able to find a suitor, it would likely feature some high-level prospects being attached in order to sweeten the deal. Players like CJ Abrams, the Padres #1 prospect and #11 on Just Baseball's Top-100, is said to be untradeable, but a player of his caliber is something teams would likely covet given that the Padres aren't exactly in the driver's seat in this scenario. It would be foolish for teams not to play hardball given how openly they want to move on from Hosmer.
There are some possibilities, like a swap involving Hosmer and Jason Heyward of the Chicago Cubs, that could make sense. Or, if you're a Padres fan hoping to bank on other dysfunctional teams continuing to be dysfunctional, the Colorado Rockies could be a spot to look into as well.
But in actuality, Luke Voit is likely going to be the almost-always full-time DH for the 2022 Padres. Perhaps a more liberal interpretation could say Voit's arrival adds some pressure to Eric Hosmer to perform, but that's a giant stretch to make. The Padres losing the remaining golden eggs in a depleted farm system may end up being a bad move.
Will the Padres Make Another Splash?
The Padres have, thanks to general manager AJ Preller, spoiled fans a bit when it comes to making blockbuster moves. Whether it be the signing of Manny Machado, or the trades for pitchers Yu Darvish and Blake Snell in just a 24-hour span, the Padres have shown they aren't afraid to pull the trigger at any given moment.
But thanks to the aforementioned farm system being weaker than it used to, and a payroll that's the fourth-highest in baseball, they've found themselves backed into a corner. With one of the biggest free-agent classes we've seen in some time, the Padres don't seem to have been in on many of the big names.
It's frustrating, sure, that even the Colorado Rockies have made a splash with their signing of Kris Bryant, but that's just the reality of the situation. Wheeling-and-dealing is fun, but you have to be prepared for the consequences that aren't always so recognizable in the moment.
After a wave of signings last night that have landed Nick Castellanos with the Phillies and Carlos Correa with the Twins, there is not much left in free agency for the Padres.
There's Michael Conforto, who could sign on a one-year, prove-it deal. FanGraphs predicts that an AAV of around $16-18 million could be in store, and that's a lot easier of a deal for the team to give as opposed to what Castellanos just got.
Then there's Bryan Reynolds, who would likely cost a treasure trove of prospects given his excellent abilities as an offensive AND defensive player with four years left of team control. There is doubt though as to if Pittsburgh is really even seriously considering offers for Reynolds, which makes a trade highly unlikely before Opening Day.
Basically, this is all to say that the Padres don't have too many moves left to make. And when you take that into consideration, adding a bat like Luke Voit for a minimal prospect return was a great move. Only time will tell though if Voit is enough to keep the Padres in the thick of what is sure to be a very tough NL West division race.