Analysis
MLB Best Bet: Toronto Blue Jays vs. Minnesota Twins, Wild Card Picks, October 3, 2023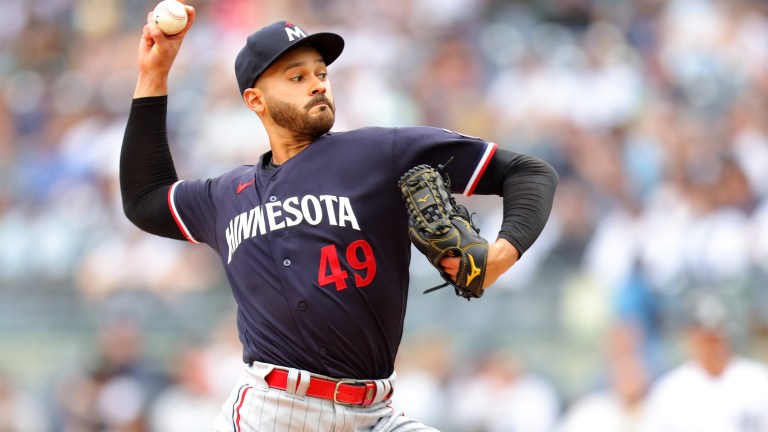 The regular season did not go well for me. Luckily, football and our futures have returned those units, but the record is the record. That record was bad.
We made just over six units in the post-season last year, and I'm excited to dive into this one. Let's start the day with a win.
Check out my MLB future on this series for more data.
2023 MLB Regular Season: 154-165 (-11.66 U)
2023 MLB Playoffs: 0-0
Toronto Blue Jays vs. Minnesota Twins @ 4:30 PM EST
Pitching Matchup:
Pablo Lopez (MIN): 3.66 ERA, 2.98 xERA, 3.33 FIP, 3.29 xFIP, 3.37 SIERA
Kevin Gausman (TOR): 3.16 ERA, 3.82 xERA, 2.97 FIP, 3.22 xFIP, 3.34 SIERA
I am already invested in the Twins to win this series, but my plan is to bet them every game. I think they are the better team on every side of the ball right now, and while the Blue Jays have great pitching, it's hedged with a better offense in the Twins and a fantastic rotation. This is how I bet in the wild-card round. I will continue to bet when I feel like I know who the better team is. Here's why I think I'll be right.
Gausman owns the advantages in FIP due to his incredible ability to limit walks and rack up the strikeouts, but when we look at contact quality, Lopez can hang with him. That's why we see a similar SIERA and xERA.
Lopez faced the Blue Jays back in May. Lopez only allowed five hits, but two of those hits were home runs. Bichette killed him, starting his day with a home run and then adding a triple that plated two Jays. The rest of the lineup didn't have much success, ending his day with four earned runs over 5.2 innings.
If Lopez can pitch around Bichette, he should have a nice day. Lopez has been exceptional against right-handed bats, holding them to a .597 OPS compared to lefties with a .754 OPS. The Blue Jays' starting lineup features three lefties: Brandon Belt, Cavan Biggio, and Kevin Kiermaier. There is the potential for Dualton Varsho to start, but overall, this is a right-handed dominant lineup.
The way to beat Lopez this season is by the long ball. He's allowed 24 home runs this season. When the Blue Jays faced him in May, they were one of the better slugging teams in the league. Since August 1st, they rank 16th in ISO, 20th in SLG, and 22nd in Hard-Hit rate against righties. They did look better in September, climbing into the bottom of the top 12 in those metrics, except for Hard-Hit rate, where they sit in 15th.
Gausman is a pitcher that I personally love, but I think he's overvalued in the market. It's not even all his fault. I wrote about this in my future article, but the lack of run support he gets is so strange. He got outdueled by Michael King against the Yankees in his last start. Not because he pitched poorly but because the Jays refused to score.
The Twins have seen Gausman twice. In his first start, he pitched well, only allowing one run in 5.1 innings. In his second start, he got pummeled, allowing six earned in 4.2 innings. Similarly to Lopez, Gausman has a splits issue; lefties see him well. They have posted a .731 OPS compared to righties at .618.
The OPS is near .731 due to the power. Lefty power bats have been Gausman's Achilles heel this season, and the Twins have plenty of them. Julien, Polanco, Kepler, Wallner, Kirloff, Larnach, and potentially Willi Castro have all shown a power stroke this season and could be in line for extra bases. I highly doubt they all play, but they do have the ability to stack lefties against Gausman.
The Twins have power from the left side, and everyone in their lineup can mash. The Twins come into this game with the third-highest Hard-Hit rate, fifth-highest ISO, and SLG against right-handed pitching. Gausman is a better pitcher than Lopez, but the Twins have the offensive advantage in this one.
Against right-handed pitching at home this season, the Twins are the third-best team in baseball by wRC+ at 124, only trailing the Braves and the Rangers. Against right-handed pitching on the road this season, the Blue Jays have a 107 wRC+. The Twins have the offensive advantage regardless of the park, posting a 111 wRC+ compared to the Blue Jays at 106 against righties this year.
The bullpens are interesting. The Twins come in with the second-best SIERA in the bullpen since August 1st, but the Blue Jays have had the better bullpen over the entire season. Since August 1, they have the exact same ERA at 3.85. The Twins added reinforcements back from injury in Brock Stewart and Cleb Theilbar, and they can move Kenta Maeda and Bailey Ober, two solid starters, to the later innings. Both bullpens are very good, so there is no real edge in the later innings.
Here's a cool umpire stat that doesn't matter, but I thought I'd share. In games where Andy Fletcher is behind home plate, the home team is 291-240 (54.8%).
Bottom line. I believe the Twins will win this series. If they win in two games, we'll net about three units. If they win in three, we net about two units. If they lose in two, we lose three units. If they lose in three, we lose two units. I think they sweep.
I think the Twins should be -120 in this matchup. I would bet them up to -115, available on BetMGM.
The Pick: Minnesota Twins ML (-108) Risk 1 U