Analysis
Predicting 2022 MLB Awards: MVP, Cy Young, ROY, Stat Leaders
Just Baseball's breakdown of the best future bets ahead of Opening Day.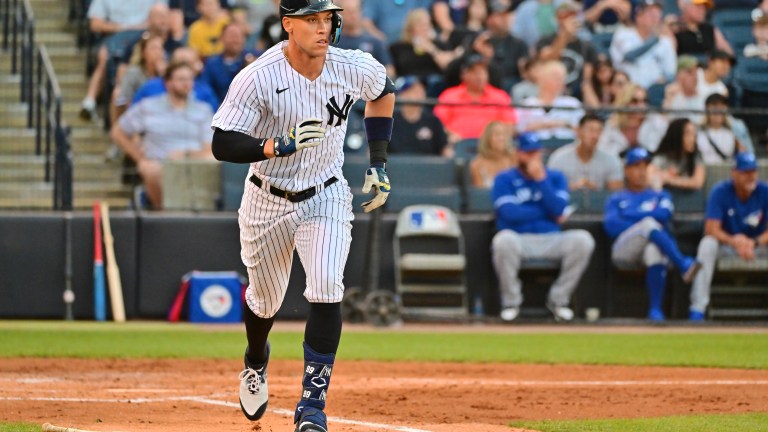 Major sportsbooks have released their odds for the MLB 2022 regular season as Opening Day approaches. Those odds include projected lines for the American and National League 2022 awards.
In this article, you'll find my picks for each league's MVP, CY Young, and Rookie of the Year award winners, as well as who I think will lead the league in home runs, strikeouts, and stolen bases.
My favorite will be the pick I'm betting on (0.5 units), while the value picks deserve a sprinkle (0.1 units). Typically, these picks are challenging. We can't predict injury or how the voters will decide at the end of the year.
Last year, I chose Gerrit Cole to win the CY young and he ended up finishing second to Robbie Ray. When you compare peripherals, Gerrit Cole should have won. But Robbie Ray took home the award, and I lost that bet. Anything can happen in a season, so take these picks lightly and make sure to do your own research. All odds are current up to the release of this article. In the video below, you'll find Jack McMullen and Aram Leighton's picks for each award on top of my predictions.
American League MVP
Best Pick: Aaron Judge (+1800)
Value Pick: Kyle Tucker (+3000), George Springer (+5000)
I'm starting off with my least confident play. Not a great start to the article, but hear me out.
Shohei Ohtani has all the buzz right now. He's the odd-on-favorite at +400 for good reason. He had arguably the greatest season of all-time last year and projects to do a lot of the same. The "same" is unprecedented. It's totally possible that he hits 46 HR and pitches to a 3.18 ERA again, but he's someone I'd rather not put money on. We've never seen anything like this, how likely is it that he does it two years in a row?
Not enough for +400 in my opinion.
Mike Trout is next at +450. He's Mike Trout, of course, he could do it. Injury woes concern me as Trout has struggled to stay on the field in recent years. He's not the same base-runner he once was or the same defender. I don't love +450 for him.
Vladimir Guerroro Jr checks in at +450 as well, and for good reason, he rakes. My thinking with Vladdy is that he regresses slightly from last year but will still be in the MVP discussion. He'd be my pick if that value for him wasn't so low at +450.
Now we get to the fourth-best odds at +1800 with Aaron Judge. Quite the jump from +450, but he has as much of a shot as anybody. He finished second in his rookie year and has established himself as one of the best players in the sport. We know all about the bat, but his speed and defense remain underrated. What is most interesting about Judge is the contract talks. The Yankees want to extend him, and Judge wants to stay a Yankee.
An agreement has not been reached, meaning Judge will most likely test the free-agent market. This is his contract year, he looks healthy and strong in spring training, and the Yankees will be in the thick of the postseason race. I think this is the year that Judge get's his first MVP.
Value Picks: Kyle Tucker was phenomenal last year with the Astros, and projects to be the best hitter in their lineup. George Springer's injury kept him out of the limelight last year, but a healthy Springer is one of the best players in the league. I could see Springer topping the WAR leaderboards next year, and taking home his first MVP.
National League MVP
Best Pick: Bryce Harper (+900)
Value Pick: Manny Machado (+3500)
I've been on the Ronald Acuna Jr train for National League MVP for a while now, but his lack of spring training games and questions about the torn ACL is getting to be too much for me to stomach putting my money on him. He's currently +700 with the second-best odds to win it. If his odds fell I'd reconsider, but I just can't do it this year at the current price. He could still win it, and now that I'm "writing him off" he probably will.
Juan Soto leads the pack with +280 odds to take home the National League MVP. Let's get one thing straight. He's the best hitter in the National League, and arguably the best in the sport.
Ok, now that that's out of the way, let me tell you why he won't win.
He's on the Nationals, a team with one of the lowest projected win totals. Just on that alone, you could eliminate him from the MVP. Last place teams don't normally garner an MVP winner, but Soto is so good that you can't entirely do that. The one question with Soto is if he'll even get pitched to this year.
Signing Nelson Cruz will help, but if I'm a pitcher facing the Nationals, I'm giving him nothing to hit. Make somebody else beat me. We saw it last year, and we'll continue to see it again this year. He might record a .500 OBP, but I don't think he'll win the MVP.
Bryce Harper checks in with the third-best odds at +900, and he's my favorite to win it. He's looked phenomenal in Spring Training so far. Evaluating a veteran on their stats in spring training isn't a good way to project success, but I'm attracted to something else. Harper looks leaner. His swing looks shorter, more compact, and dare I say more powerful. He's coming off an MVP, and his lineup will protect him more than last year. The Phillies should also be much better than last year. There isn't a ton of precedent for back-to-back MVP winners, but Harper has all the talent to repeat.
Value Pick: Manny Machado's odds are way too high. He has higher odds to win the award than Jacob deGrom (out at least a month) and Ozzie Albies who has no real shot of winning it. Fernando Tatis Jr is out three months, so Machado will be tasked to lead this Padres offense. He's already got the whole defense thing figured out, and all the numbers point to better offensive production this year. This is a value play definitely worth a sprinkle.
American League Cy Young
Best Pick: Gerrit Cole (+425)
Value Pick: None
I'm willing to be heartbroken again. Gerrit Cole was my pick last year, and he finished second to the Blue Jays Robbie Ray. He's the odd-on-favorite to win it, and my personal pick as well.
Shane Bieber is second in odds at +700. When Bieber is healthy, he's a top-five pitcher in the game. He proved it in 2020, taking home his first Cy Young award, albeit in a shortened season. He was bogged down by injuries in 2021 and didn't look like himself. His velocity was down, and the command of the strike zone wasn't quite there.
Bieber has looked great in spring training so far, routinely pitching in the mid-90s. He's my second favorite to win it, but the injury concerns have me slightly backing off. I have no real holes to poke besides that one, but when it's between these two, give me the more durable option.
When I look at the rest of the field, I don't see anyone else I would take. I think Dylan Cease will take a step forward this year, but he has the sixth-best odds. I don't see a ton of value there, especially because his teammate Lucas Giolito is fourth in odds. I don't see either of them taking the next steps to becoming the Cy Young in 2022.
Robbie Ray checks in with the third-best odds at +900. I like Ray a bit more than most, as I think he made tangible changes in Toronto with the help of pitching coach Pete Walker. With that being said, I don't think he replicates his 2021 season, winning a consecutive Cy Young. A lot has to go right, and those odds don't do it for me.
It has to be Cole or Beiber, and I'm rocking with Gerrit Cole.
National League Cy Young
Best Pick: Walker Buehler (+900)
Value Pick: Julio Urias (+2500)
It's all Dodgers for the National League Cy Young. My best pick lies with Walker Buehler, someone I think will establish themselves as the best pitcher in the National League, or at least right in the middle of the conversation.
He's on the outskirts at the moment. Although injured, Jacob deGrom holds the crown, with Corbin Burnes not far behind. Walker Buehler has all the makings of the "best pitcher in baseball." He has the high-90s fastball, the devasting breaking ball, and command of all of his pitches. He reminds me of a young Justin Verlander and I'm not just talking about the tight pants.
I really like Corbin Burnes at +800, but the bump to +900 moves me to Buehler because of how close I believe the competition will be. Max Scherzer could totally do it as well, but he's injured to start the season. Jacob deGrom will also be out 6-8 weeks, so he won't get any of my hard-earned money. Zack Wheeler is another pitcher dealing with a shoulder issue, so I'm staying away from him as well.
Logan Webb is one of my favorite selections, but I wish his odds were a bit better than +1600. That's the seventh-lowest odds which feels about right, but I do think Buehler is farther along in his development and will have a better season than Webb.
Value Pick: Julio Urias is my pick at +2500, situated right between Joe Musgrove and Jack Flaherty. I think his odds should be closer to Logan Webb, as we think he's a top-10 pitcher in the game. He was the lone 20-game winner last year, and one of my picks to lead the league in wins again at +2000. I also tailed Walker Buehler to lead the league in wins at +750.
American League Rookie of the Year
Best Pick: Spencer Torkelson (+450)
Value Pick: Kevin Smith (+7500)
I'll admit, there is really no wrong answer for the Rookie of the Year in the American League. Bobby Witt Jr has the best odds of anyone at +300, and he has plenty of talent to win it. The only worry is that the hit tool is not "plus" yet, but everything else is.
Adley Rustchman is the best catching prospect in a long time, but he'll start the season on the IL with a triceps injury. He shouldn't be out for long, and he'll make an immediate impact with the Orioles once healthy. Julio Rodriguez is my personal favorite prospect, and we just found out today that he'll make the team. I put an additional bet on Julio Rodriguez, but my official pick is Spencer Torkelson of the Detroit Tigers.
Tork has a special bat. He's not just a slugger, he has excellent bat-to-ball skills that have carried over to every level of the minors. At this point, he has the best pure bat in this rookie class, although an argument can be made for Julio Rodriguez.
Miguel Cabrera passed the ceremonial torch to Torkelson, and I think he'll ride that to the American League Rookie of the Year. Imagine having one of the greatest first basemen of all time talking with you in the locker room every step of the way.
I really liked Riley Greene initially, because he was also slated to start Opening Day with Torkelson. The only problem is that he will be sidelined for at least a month with an injury.
Value Pick: Kevin Smith was traded to the A's in the Matt Chapman deal, and as Oakland tears it all down, he will get plenty of playing time. His +7500 odds are criminal for the expected starting shortstop for Oakland.
Whether he struggles or not won't matter, which is great for a rookie. He won't have the same pressures to perform as some prospects on contending teams. Colby mentioned Jeremy Pena at +1200, who will start the season as the Astros shortstop. He's a glove-first guy who added a ton of muscle and we are seeing that carry over into his exit velo's. If he can hit in the bigs, he has as much of a chance as any of the top guys.
National League Rookie of the Year
Best Pick: Seiya Suzuki (+380)
Value Pick: MacKenzie Gore (+4500)
My thoughts on Seiya Suzuki have been well-documented, as I've been following the NPB star for some time now. I was completely off on my prediction for where he would sign, and I hope that doesn't carry over into his play. I compared him to Hideki Matsui, as their career numbers in the NPB are almost identical. He's had some success in spring training so far as scouts have been raving about his power. I think his final slash line will resemble .270/.340/.470 with 25 home runs in his first season with the Cubs. Jack is also on Seiya Suzuki to win Rookie of the Year.
O'Neil Cruz is his top competition according to the odds, but he will start the season in Triple-A. He is an incredible talent and could push his way to the award. I think Seiya is a much safer bet though, and at the same value, I lean toward the established professional hitter.
Aram mentioned in the episode that he is waiting on O'Neil Cruz's odds to spike before he places a wager.
Bryson Stott at +900 is Aram's value pick, and he has every opportunity to win it. According to reports, Stott should play third base this year, challenging Alec Bohm for his spot. He's played shortstop for most of his minor league career, so a sudden change in position could carry over to the plate. This is a great pick considering he'll get plenty of playing time, but again, I think Suzuki will turn in a better season this year.
Value Pick: MacKenzie Gore (+4500) is my play, although I'm not putting much on it. We saw glimpses of greatness in spring training, but he has yet to prove he can put it together on a big-league mound. He's an intriguing candidate considering his pedigree as a top pitching prospect, and +4500 seems too high to not garner a sprinkle. Jack likes Nick Lodolo at +4000, which is a great value pick if Lodolo does in fact start the season in the Reds rotation.
2022 Home Run Leader
Pick: Pete Alonso (+1100)
Value Pick: Ronald Acuna Jr (+3500)
Pete Alonso is one of the premier power bats in the sport. He hit 53 home runs in 2019, was on pace for 45 home runs in 2020, and hit 37 last year. You see a downward trend here, but I believe that'll reverse this season and we'll see 50+ homers from Alonso.
Ronald Acuna Jr is my value pick. Acuna is underrated as a power hitter, hitting 41 bombs in 2019, on pace for 49 home runs in 2020, and had 24 home runs in 82 games before going down with an ACL tear in June. The odds reflect the injury, but if anyone has the potential to bounce back, it's Acuna.
2022 Strikeout Leader
Best Pick: Corbin Burnes (+1100)
Value Pick: Dylan Cease (+1500)
Corvin Burnes finished first in K/9 last year, finishing top-five in strikeout percentage. He finished fifth in strikeouts while only pitching 167 innings. He throws a high-90s cutter with multiple offerings that he commands exceptionally well. This led to a Cy Young finish in 2021, and with a few more innings, he's a great bet to the league in strikeouts this season.
Dylan Cease finished second in K/9 last year with filthy stuff. He finished seventh overall in strikeouts while throwing less than 170 innings. The time is now for Cease to make the jump in innings, and with that comes a ton of strikeouts.
2022 Stolen Base Leader
Best Pick: Whit Merrifield
Value Pick: None
This one is hard to predict, so I'm riding the safest option in Whit Merrifield. He finished second in stolen bases in 2021 with 40 and finished fourth in 2020. He's incredibly durable, he hasn't missed a game in three years. I know he's going to be on the field and running, while the other options scare me. Aldaberto Mondesi is the favorite, but he has an extensive list of injuries. Starling Marte led the league last year, but I don't see him running quite as much with the Mets.