Analysis
2023 Opening Day Best Bet: Blue Jays vs. St. Louis Cardinals
Alek Manoah and Miles Mikolas are set to square off in an interleague matchup between the Blue Jays and Cardinals on Opening Day.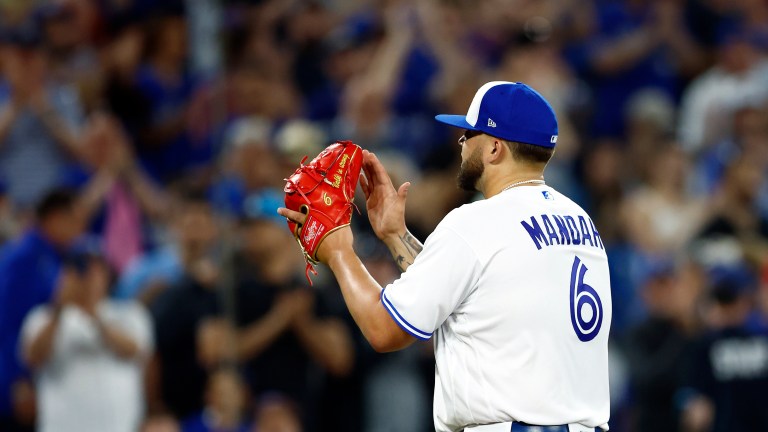 There isn't many days in a year I look forward too more than MLB's Opening Day. From the sound of the National Anthem to the pop of the catchers mitt catching the first pitch. The whole experience gives me goosebumps every year.
When I looked at the board I wanted to place a bet on every single game. We all love this sport so much because its 30 teams battling through a grueling 162 game season. The MLB season is truly a marathon and we must treat it like that.
My best bet is in the matchup between the St. Louis Cardinals and the Toronto Blue Jays. It will be Miles Mikolas on the mound for the Cardinals with his counterpart Alek Manoah for the Toronto Blue Jays.
Lets start with Manoah and the Blue Jays. The Blue Jays made some changes to their lineup this offseason bringing in: Brandon Belt, Daulton Varsho and Kevin Kiermaier. Varsho, who is most known for his elite defensive versatility, can also swing the bat. These three additions fulfilled a much-need lefty presence in the lineup Toronto desperately needed.
Alek Manoah will be making the first Opening Day start in his early career. He finished last season with a fantastic 2.24 ERA, however that was a big difference compared to his 3.31 xERA. His xFIP last season was a 3.97, which is right at the 4.00 league average. He is a pitcher that was exceptional at using the shift to his advantage but with the MLB banning the shift, I expect some real struggles early into the year for him.
Fangraphs has Manoah projected at a 3.43 ERA this season and other projections are only worse. Steamer who has really respected projections has him at a 4.06 ERA and I agree with them.
Miles Mikolas had his breakout year for the Cardinals last year. He threw over 200 innings for St. Louis and finished with a 3.29 ERA. Mikolas was another pitcher that pitched well above his expected numbers. His 3.89 xERA and 3.80 xFIP were just a tad better than league average.
A big hit to the Cardinals rotation this year will be the lost of the legend Yadier Molina who retired at the end of last season. In 22 appearances without Molina in 2022, Mikolas pitched to a 3.87 ERA. In his 12 appearances with Molina behind the plate, he pitched to an elite 2.35 ERA. Molina has been replaced with Wilson Contreras who is a fantastic hitting catcher, but he doesn't grade out as the good defensive catcher.
The Cardinals are bringing back all their heavy hitters from last season, and with the additions of Contreras and ROY favorite Jordan Walker, this lineup has a solid shot at being the best lineup in baseball. I expect both pitchers to struggle early in the game and for this reason my first Best Bet of the 2023 Season is the Blue Jays and Cardinals F5 over 3.5 -118 1.18u to win 1u