Analysis
What's Going on With the Colorado Rockies?
How the Colorado Rockies went from a playoff contender to the laughing stock of baseball.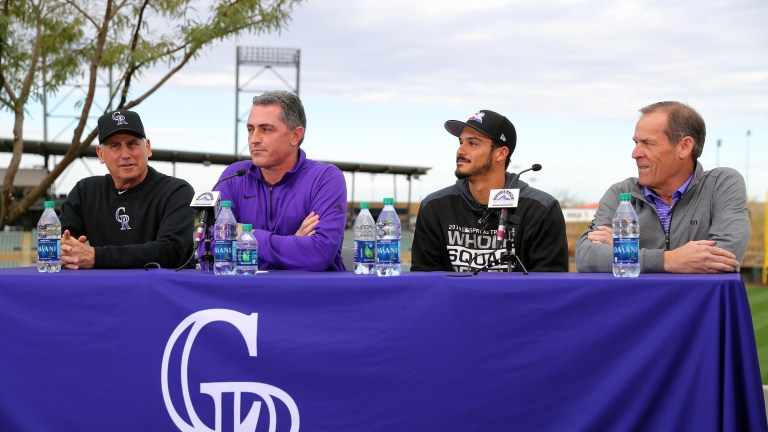 There's rebuilding, then there's whatever the Colorado Rockies are doing.
After General Manager Jeff Bridich and the Rockies mutually agreed to part ways a month before the start of the 2021 season, Scouting Director Bill Schmidt stepped in on an interim basis. Schmidts audition was filled with questionable decisions that left many wondering what was going on in Colorado. Including their own shortstop.
"I'm confused, and I don't have really anything good to say about the situation and how it unfolded"

Trevor Story after not being traded at July's Deadline
Not extending Story is a decision that we cannot really fault the Rockies for. We see small market teams avoid paying their stars annually. The difference is, the Indians traded Francisco Lindor, the Orioles traded Manny Machado, even the Red Sox traded Mookie Betts.
In all of the aforementioned instances, it was common knowledge that each of the players would not be signing extensions with their teams. A lame duck player without control is always going to have less trade value than his talent or production would imply, but anything is better than losing a guy to free agency.
Trevor Story was in the midst of a bit of a down year, which did not help his trade value either, but the idea that Story couldn't fetch more value than the draft pick that they will recoup after he turned down their Qualifying Offer is simply hard to believe.
The Rockies also opted to hang onto starting pitcher Jon Gray, during a season in which it was a seller's market for starting pitchers. For a team in rebuild mode, it would obviously make sense to part with a 30-year-old Gray. However, Gray expressed a desire to remain with the team long-term, prompting the Rockies to hold onto him in the final year of his contract.
Despite having the entire season to negotiate with Gray, the Rockies did not make him an official offer until the final week of the season. The offer was reported to be around three-years, $35-40 million, which Gray quickly declined. Not even a few weeks later, Bill Schmidt decided not to tender a Qualifying Offer to the impending free agent Gray, leaving the Rockies with nothing if the right-hander is to sign elsewhere.
Under the presumption that Gray signs elsewhere, the Rockies will have one competitive balance pick to show for both Trevor Story and Jon Gray.
The Rockies arguably gave up more than that in a pointless 2020 trade for reliever Mychal Givens, sending over prospects Terrin Vavra, Tyler Nevin and Mishael Deson. I say the trade was pointless because the Rockies weren't competitive in 2020, yet the team parted with some decent prospects from its already thin system for a 30-year-old reliever.
Terrin Vavra is a top 15 prospect in a loaded Orioles system, Tyler Nevin–a competitive balance pick by the Rockies in 2015-hit enough to earn a big league appearance and Deson is at the very least an the intriguing lottery ticket type that the Rockies should be stockpiling.
Givens was later traded by the Rockies this season for a lesser prospect return from the Cincinnati Reds.
One step forward, two steps back. That seems to be what the Rockies continue to do whether Jeff Bridich or Bill Schmidt are at the helm of the GM position.
Inherited Mess
To blame Schmidt for the Rockies current situation would be unfair. Bridich left the franchise in shambles. He sunk the boat and sailed off in the life raft.
After getting swept in the 2018 NLDS at the hands of the Brewers, things began to unravel for Bridich and the Rockies. The team let DJ LeMahieu walk via free agency, signing with the Yankees for two-years, $24 million. Bridich replaced LeMahieu with 34-year-old Daniel Murphy, who he signed for three-years…$24 million.
Their 92-71 season was followed up with a 71-91 campaign in 2019, with limited reinforcements in sight. Still, a positive from 2019 was the fact that the Rockies locked up their franchise player, signing Nolan Arenado to an eight-year, $260 million extension.
While the record-setting deal for the franchise was worthy of celebration, the confetti would quickly be swept away, along with the promises the team made to their franchise player.
"There's a lot of disrespect from people there that I don't want to be a part of…You can quote that."

Nolan Arenado told MLB.com in January, 2020
Arenado never went into specifics of what he meant about the "disrespect" he felt, but I'd venture to guess that the front office not fulfilling its promise to invest in a good team around Arenado played a part.
Former GM Jeff Bridich and Nolan Arenado's relationship continued to spiral. Strange details would surface like the fact that Bridich was actually the one who pushed for a player opt out in Arenado's deal. Eventually, things between Bridich and Arenado became so fractured that he made it clear that he didn't want to be there anymore.
"Dumbest Trade in Denver Sports History"
The Arenado/Bridich situation may not have been as simple as "him or me" for Rockies owner Dick Monfort, but he stuck behind his then-general manager, giving the green light on trading the team's franchise player to the Cardinals. Maybe things were beyond repair between Arenado and the organization, however I'd imagine a lot had to happen behind the scenes in the nine months between the ink drying on the extension and the eventual trade request.
The trade itself made no sense. When things become untenable with a star player it is understandable to make a move, but the way the Rockies went about it is nothing shy of mind blowing.
The Rockies sent Arenado and $51 million to St. Louis for Austin Gomber, Elehuris Montero, Jake Sommers and Tony Locey.
Gomber is a solid back-end of the rotation arm, and Montero enjoyed a strong 2021 season, however $51 million is a huge undertaking for a small market team to add those two pieces. The opt-out that Bridich clamored for probably impacted the value of the deal a little bit for teams who didn't want to part with significant assets just to lose Arenado to free agency.
Still, for a team that cites its inability to go after big-time free agents because of financial restrictions, it would probably have been better off letting Arenado just opt out. If there truly wasn't a team willing to bite on paying Arenado's entire contract–which I find hard to believe–the team might've been better off just letting him opt out than paying $51 million for a mediocre package that was highlighted by a back-end starter and a bat-first prospect.
Ending Up With Neither
After Dick Monfort seemed to be behind Jeff Bridich going into the 2021 season, the Rockies and Bridich mutually decided to part ways three weeks into the season. The Rockies scrambled within the organization for an interim replacement, going with Scouting Director Bill Schmidt who now is the full-time GM.
"What he did over the four months–and then it just kept building–he didn't give us a choice," said Rockies President and COO Greg Feasel.
Given Schmidt's deadline silence and questionable decisions on Story and Gray, Feasel may just be happy with a GM who isn't divisive. In October, The Athletic reported that multiple assistant GMs had resigned and that Bridich did not only alienate his franchise player.
Where Schmidt brought something refreshing and new was his ability to connect with employees of all ranks within the organization to as he put it, "all pull in the same direction." Still, Schmidt has his work cut out for him with an organization that squandered many of its big league assets that could have helped improve an otherwise mediocre farm system.
"We're not the Dodgers," Schmidt said. "We're the Colorado Rockies. We scout, draft and develop."
Schmidt isn't wrong, that is exactly what they have to do, but the franchise has been as bad as any in baseball in those three departments. From 2015-2018, the Rockies made six first round selections. Of those six, three have retired (Mike Nikorak, Riley Pint, Robert Tyler) and Tyler Nevin was traded in the Mychal Givens deal.
That leaves Brendan Rogers and Ryan Rollison, two players who still offer some hope, but have seen their value dip as well. A new General Manager is just one piece of the puzzle. Even if Bill Schmidt is a great GM, he cannot put the aimless Rockies back on track by himself.
Time will tell on Schmidt's ability to turn things around, however I think time has already told us enough about Dick Monfort and until he is out of the picture, it may not matter who the GM is.