Analysis
What Has to Happen For This Reds Rebuild to Be Successful
A look into the Cincinnati Reds future after their latest fire-sale.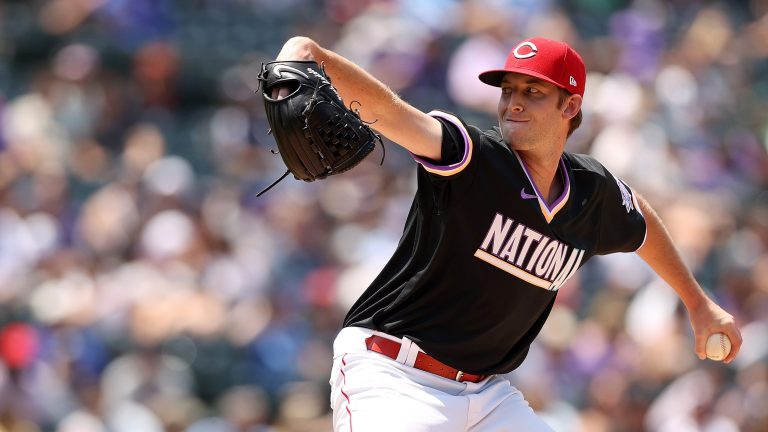 While the Bearcats and Bengals were enjoying deep playoff runs over the last few months, a question was always looming in the back of every Cincinnati sports fan's mind.
What direction would the Reds go once the lockout ends?
Coming off an 83-win season, with an established core combined with young talent and promising prospects on the horizon, fans had reason to be excited but also reason to be worried.
Before the 2020 season, Cincinnati spent in free agency to the tune of $164 million dollars, a franchise record. Nicholas Castellanos, Mike Moustakas, Shogo Akiyama, and Wade Miley all looked like savvy moves that would propel the Reds to the top of the division. For the first time in years there was a buzz around this fanbase and city. Finally, Cincinnati has a team that's built to win.
Unfortunately what was seen as the end of a rebuild and beginning of a competitive window for many years to come has ended before it ever really started. One expanded playoff appearance was the climax of a five-year rebuild. Instead of continuing build off the season the Reds just had, and even add to the team in free agency, ownership has decided to cut salary and once again rebuild.
The first cost-cutting move was putting Wade Miley on waivers to get out of paying his $10 million salary in 2022. A division rival gladly picked up Miley, as the Cubs scooped up the left-hander after watching him pitch to 3.37 ERA with the Reds in 2021.
Just the threat of having to pay Miley's salary forced Cincinnati into a bad baseball ops decision, when we just watched Chris Bassitt and Sonny Gray get traded for significant prospects. This brings us to the Reds maneuverings post-lockout, with two cost-cutting trades made and many more potentially on the way.
Fire-Sale Post Lockout?
Had the expanded playoff been in place last season, the Cincinnati Reds would have made it as a Wild Card team. Should they have built off that season and gone for it to make the playoffs in 2022?
Of course they should have. You didn't have to squint too hard to see a team close to being good enough to win the division. Instead, the Reds decided to focus on the future and enter a "rebuild" or "retool".
Sonny Gray, Jesse Winker and Eugenio Suarez make up the first wave of the latest rebuild trades, shaving about $60 million in future payroll.
If reading those names hurt Reds fans, just wait, there could be more trades coming. Luis Castillo and Tyler Mahle have both been rumored to be on the block as well. Bob Castellini and Company will likely continue to shed salary and acquire prospects.
However, I do not see this as a five-year type of rebuild. While I am not happy about the direction the team is headed for 2022, there's enough young talent and promising prospects that could shorten this rebuild.
The Reds could be primed to be competitive as soon as 2024. Joey Votto and Mike Moustakas' contracts can come off the books after the 2023 season, freeing up $43 million of salary. No current Reds player is under contact past 2023, while many young players will still be under team-control.
Hunter Greene, Nick Lodolo, Jose Barrero, Brandon Williamson, Matt McLain, Graham Ashcraft and other promising prospects are expected to full-time major leaguers with some reps under their belt by 2024. Cincinnati will be in a great position to either add via free agency or trade from a farm system they are building up. This, of course, requires the front office to be okay with spending money. Something they have not proved often over the past decade.
If the plan is to gear up for 2024, here some things that need to happen in 2022 for the Reds to be better prepared for the future.
Make Jose Barrero the Everyday Shortstop
The start to Jose Barrero's career with the Cincinnati Reds has not been ideal. After being called up far too early in the COVID season, he's struggled to find a consistent spot in the lineup. His career .197/.242/.248 slash line is ugly, but we are talking about 124 plate appearances.
Barrero impressed across Double-A and Triple-A in 2021 slashing .303/.380/.539 adding 19 home runs and stealing 16 bags. With nothing left to prove in the minors, it's time to give him regular at-bats at the major league level.
It is still too early to give up on a top-tier prospect, especially if you are trying to build for the future. Barrero will turn 24-years old on Opening Day and his time is now. Allow him to learn, make mistakes, and see if he is the answer at shortstop going forward.
Start the Young Arms
Cincinnati fans have been hearing Hunter Greene's name for several years. Nick Lodolo has received plenty of praise as well. Innings will be available in the rotation and the Reds need to find a way to get these prospects, and other younger options, starts. The Reds have enough young starters to share the load.
In 2021, we saw the Tigers spread out starts and have young starters go three or four innings to reduce injury risk and build towards a higher inning workload in the future. The Reds have this option with Reiver Sanmartin, Graham Ashcraft, Hunter Greene, Nick Lodolo, Brandon Williamson, and even a James Marinan.
As soon as 2023, the Reds could be sporting one of baseball's most exciting young rotations. Williamson slots in at No. 3 in Just Baseball's Reds top prospect rankings and the two arms above him–Lodolo and Greene–also enjoyed success in Double-A and above last season. This rotation would also be cheap, potentially allowing the Reds to allocate more resources towards the offensive side of things.
Unfortunately, 2022 may be a big development year for the Reds. But with several impact arms on the cusp of breaking into the big leagues next season, it could be a great opportunity to help establish these young pitchers as major league starters and see who pulls away from the pack.
Consider Contract Extensions Before Arbitration
We have seen this become more of a trend over the past few years. Teams getting out ahead and extending young players before they approach the end of their arbitration years. We saw this with Wander Franco, Luis Robert, Fernando Tatis, and other young stars. While the Reds might not have anyone of that caliber, it could be a win-win for the player and organization.
If Jonathan India and/or Tyler Stephenson continue to develop the Reds could look to lock them up long-term. Knowing you have a leadoff hitter and catcher squared away for the future, along with cost-certainty with their contracts, will help the front office build around them. While it is risky to an extent, a small market team must take calculated risk to improve their chance to compete.
Seeing a front office punt on a team with talent is disappointing. No fan wants to see their owner go cheap. We know the 2021 Reds team had flaws and the previous rebuild did not produce the talent fans had hoped for. Maybe trading off talent closer to their ceiling is the right move. Time will tell. Now it's up to the front office to prove they are capable of building back up and spending what it takes to get Cincinnati baseball back to where it once was.