New York Mets Land All-Star Chris Bassitt From Oakland Athletics
Do the Mets have the best rotation in baseball after acquiring Chris Bassitt and Max Scherzer in the same offseason?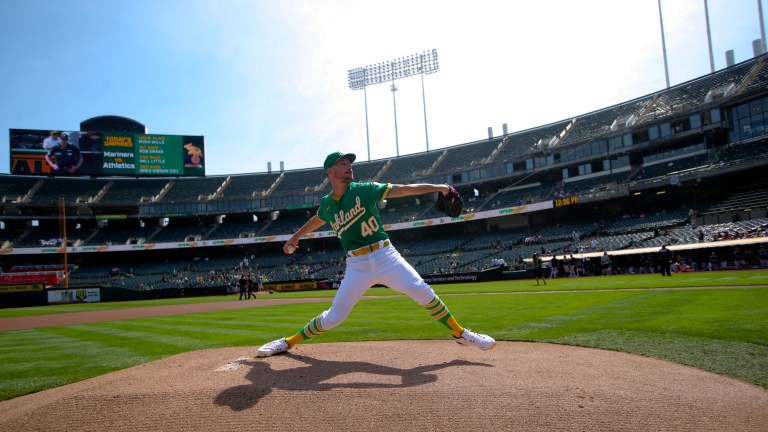 We all wondered how long it would be for the New York Mets to make their next big splash. Steve Cohen shelled out a quarter of a billion dollars in free agency earlier this offseason and no CBT threshold was expected to stand in his way of spending more.
Instead of going back to free agency though, the Mets went to the trade market to land their next big fish, adding All-Star Chris Bassitt in a deal with the Oakland Athletics.
The Mets sent two pitching prospects to Oakland in the deal, with top 10 prospect J.T. Ginn headlining the package. Ginn was drafted by the Mets in the second round of the 2020 MLB Draft and just came off a strong first season in 2021. The 22-year-old pitched to a 3.03 ERA in 18 starts, splitting his time between Low-A and High-A.
Adam Oller is the other prospect heading to Oakland in this deal, giving the Athletics a pitcher that is at least close to the big league level. Oller was added to the Mets 40-man roster this offseason, after a breakout season in 2021.
Oller is an older prospect at 27 years old, but pitched to a 2.45 ERA in eight starts after a promotion to Triple-A last season. Oakland is getting a few arms in this deal that have promise for sure, but the Mets still steal all the headlines by acquiring an arm like Bassitt.
Even with the addition of Max Scherzer, the Mets rotation still had some big question marks. Jacob deGrom and Carlos Carrasco are both coming off injury-plagued seasons and Taijuan Walker pitched to an ERA over 7.00 after the All-Star break.
New York needed to find another anchor to build their rotation alongside Scherzer and that is exactly what they are getting in Bassitt.
Bassitt made his first All-Star appearance last season, pitching to a 3.15 ERA across 157 1/3 innings pitched. The 33-year-old dealt with injuries early in his career, but is now over five years removed from Tommy John surgery.
Over the last three seasons, Bassitt has pitched to a 3.26 ERA, which is the 10th-best mark in baseball among pitchers who have thrown at least 350 innings. Bassitt is sure to be locked in as the Mets third starter behind deGrom and Scherzer this season.
The one knock you can have on this deal for the Mets is the fact that Bassitt will be a free agent after this season. But for a team that is as win-now as the Mets, this is a trade you make 10 times out of 10.
Make sure you follow our Free Agent Thread to stay tuned for any moves the Mets may make next or for a breakdown of what has happened so far in the first 48 hours of free agency.