Rankings
Baltimore Orioles Top 10 Prospects
Baltimore Orioles Top 10 Prospects for 2021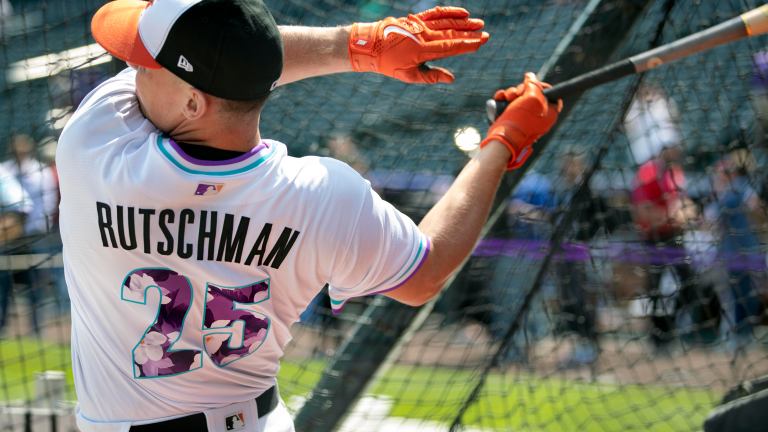 One of baseball's most talented farm systems, the Baltimore Orioles have loaded up through having a top five pick in the last three MLB Drafts as well as seeing selections from prior years like Grayson Rodriguez and Gunnar Henderson develop into prospects O's fans should be very excited about. Strong picks after the first round in the last couple drafts have helped bolster this loaded top ten for the Orioles.
Age: 23 | Height/Weight: 6'2′, 220 | Bat/Throw: S/R | 1st Round (1), 2019 (BAL) | ETA: 2022
| | | | | | |
| --- | --- | --- | --- | --- | --- |
| HIT | RAW POWER | GAME POWER | RUN | FIELD | FV |
| 50/60 | 60/65 | 55/60 | 40/40 | 60/70 | 70 |
Offense
Very simple setup and load from both sides of the plate. Starts slightly more open from the left side but other than that there are no significant differences in his left swing versus his right. He uses a small leg kick to create rhythm and timing and the balance he displays in his swing from both sides of the plate is truly spectacular, he's always aware of where his body is at and has a knack for getting his 'A' swing off against pitcher's pitches. His awareness and control of the strike zone sets him apart from nearly every other minor league player.
Rarely does he chase out of the zone and rarely does he take a pitch that he can drive. He creates easy plus power from line to line that starts with his XXL frame and long levers that create easy plus bat speed as well as tremendous leverage. He has a knack for back spinning the ball to all fields with a slight preference to inflict pull side damage, especially early or ahead in the count. His in-game adjustments are fantastic for a player with under 100 minor league games, which can be attributed to his ability to slow the game down and understanding how a pitcher is attacking him.
There isn't a lot of swing and miss in his profile, though as he advances through the higher levels it would do him good to let his athleticism and lower half adjustability work more as he gets behind in counts. Due to his lack of speed and preference to pull the ball, the shift could eat away at his batting average at the big league level, however, you can still expect batting averages in the .260-.280 range with top of the line on-base numbers and anywhere from 25-35 homers on an annual basis.
Defense/Speed
In addition to owning one of the most potent bats in all of the minor leagues, Rutschman's defense behind the plate has the potential to be elite as well. A kicker in his early years at Oregon State, Rutschman is extremely agile and athletic for his size and he possesses soft hands that create framing that could be elite as well. Rutschman also displays a plus arm and exchange behind the dish that should neutralize the running game even at the highest level. Rutschman's instincts, feel for the game and leadership truly stand out behind the plate, and he's exactly the kind of player that a team dreams of in terms of leading a pitching staff.
Outlook
Rutschman's combination of potentially elite hitting, elite fielding as well as elite makeup are rarely seen across the sport, and perhaps have never been seen before at the catching position. Adley has the kind of special skill set where essentially any comp isn't crazy. Name a catcher and there's a reasonable hope that he can attain that ceiling. Catchers who impact the game on both sides of the ball are just too rare nowadays. One hair splitting thing to watch: Rutschman's OPS from the right side this year is about 300 points higher than the left side, though his swing from both sides looks great. Expect to see him with a chance to crack the Opening Day roster for the Orioles in 2022.
2. Grayson Rodriguez – RHP – (Top 100 Rank: 6)
Age: 21 | Height/Weight: 6'5′, 225 | Bat/Throw: R/R | 1st Round (11), 2018 (BAL) | ETA: 2022
| | | | | | |
| --- | --- | --- | --- | --- | --- |
| Fastball | SLIDER | Curveball | Changeup | Command | FV |
| 70/70 | 55/60 | 50/55 | 55/60 | 45/55 | 60+ |
Arsenal
High ¾ arm slot with consistent, medium-effort mechanics and tons of arm speed. Rodriguez's repertoire starts with his mid to upper 90's fastball that features ample amounts of both ASR and sink. It's an explosive and heavy offering that he commands well and it plays up when located down and to his arm side. It creates tons of soft contact early in counts and he also has shown advanced feel for locating it at the top of the zone for swings and misses. Rodriguez stands at 6'5" tall, creating an extremely tough angle for hitters; right handed hitters in particular really struggle with his heater. As Rodriguez continues to refine his command of the fastball, it will become a nightmare in regards to missing barrels.
Rodriguez has a vast assortment of secondaries that flash plus at their best, with his mid 80's changeup leading the charge. It's thrown with good arm speed and features nasty ASR and sink. He already has feel to land it for strikes at the bottom of the zone as well as miss bats with it late in the count. He deploys it against lefties and rigthties alike, transforming the pitch into his most lethal current offering.
Rodriguez also throws a two breaking balls featuring his low to mid 80's slider as the most used and effective out of the bunch. Its deceptive nature leaves hitters taking consistently bad swings when located down and to his glove side. He also has the ability to throw it for strikes early in the count against both left and right handed hitters as well as manipulate it to a tighter, harder more cutter-ish pitch. The curveball has tons of drop and he buries it in the dirt late in the counts and generates swings and misses.
Outlook
There's a reason why G-Rod is our No.1 pitching prospect in all of baseball. Rodriguez's combination of stuff, size and command don't come along often. He is already showing an ability to mix at a high level and can throw four pitches for strikes. Depending on the day, any of them can miss bats. The 21-year-old has had his velocity increase as the Minor League season has endured over the last couple years, leaving optimism for how he can endure the marathon that is a big league season without fading. Rodriguez has elite starting pitcher potential and could be in Baltimore as early as Opening Day 2022.
Age: 22 | Height/Weight: 6'2, 195 | Bat/Throw: L/R | 1st Round (21), 2017 (BAL) | ETA: 2023
| | | | | | |
| --- | --- | --- | --- | --- | --- |
| FASTBALL | SLIDER | Curveball | CHANGEUP | COMMAND | FV |
| 70/70 | 60/60 | 50/55 | 45/55 | 35/45 | 55 |
Arsenal
Long arm action. Very athletic and whippy athlete who gets great extension and features big time arm speed. The fastball is thecalling card for Hall, as the 6'2" lefty routinely sits in the mid to upper 90's with arm side run and sink. Hall's command of the heater is fringe average with a tendency to miss arm side due to the heavy run he produces when he flies open too early. Hall has trouble consistently locating it to his glove side, something he will need to shore up in order to reach his ceiling.
The fastball plays double plus when he is locating it down and to his arm side where it produces tons of soft contact as well as swing and miss. If Hall can achieve average command of his big time fastball, he will become a tremendous arm.
Hall's slider is his best secondary offering with sharp, late bite in the mid 80's. The southpaw leans on the pitch much more frequently left on left, holding opponents to a meager .385 OPS on the pitch last season.
Hall also has a 'slurvy' type breaking ball that features 10-4 break in the low 80's. The lefty's two breaking balls used to have more of a tendency to blend together, however he has focused on distinguishing the two offerings. Hall's curveball lacks the tightness of his slider and is a bit more of a hittable pitch, but still is an above average secondary.
The changeup gives Hall another potentially above average secondary thrown in the mid 80's that features lots of arm side run and some sink. He throws the pitch with good arm speed creating lots of deception making it his go to secondary against right handed hitters. The change has the ability to miss bats, however, it specializes in inducing soft contact.
Outlook
Hall saw his 2021 season cut short due to a stress reaction in his elbow, but he has looked to be just fine in Spring Training already touching triple digits on the gun. He has the makings of an impressive repertoire and is clearly the second best pitching prospect in the Orioles farm system. The raw movement on his pitches are great, however, he will have to continue to make strides with his command in order to reach his frontline ceiling. Hall showed improvements in that regard last season and we will see if he can continue to build on that in 2022.
Age: 21 | Height/Weight: 6'3′, 195 | Bat/Throw: L/R | 1st Round (5), 2021 (BAL) | ETA: 2023
| | | | | | |
| --- | --- | --- | --- | --- | --- |
| HIT | RAW POWER | GAME POWER | RUN | FIELD | FV |
| 50/65 | 40/55 | 30/45 | 60/55 | 45/50 | 50+ |
Offense
Upright stance from the left side and a simple swing geared for line drive contact. Cowser's limited movement allows him to be on time more often than most hitters, but his swing lacks the violence you'd like to see from a 6-foot-3 outfielder. Unsurprisingly, scouts loved Cowser's feel to hit and strong approach (76 BB/70 K in college), and he showed flashes of enough pop in his junior season to force his way into the top five picks of last year's draft–albeit under slot.
Cowser continued to just put the bat on the ball and get on base in his 25 Low-A games this year. The 21-year-old walked more than he struck out and slashed .347/.476/.429 in his 124 PA's. As impressive as Cowser's line was in his professional debut, it will be very interesting to see how the Orioles' top draft pick will return in 2022 physically. Yes, Cowser's hit-tool and well-rounded game is valuable and give him a high floor, but for the O's to take him 5th overall, I'd imagine that they see this kid filling out some more and adding above average power.
The more Colton Cowser I watch, the more I like. He does things in the box that you can't teach; his ability to make adjustments between pitches, control the barrel, and his general feel for the strike zone are all things players go entire careers trying to master. The track record of hit-tool guys with room to add power is a lot stronger than vice versa.
Defense/Speed
Cowser moves a lot better in center field than I initially thought he would. In admittedly limited looks on my end, he seemed to make good reads and showed good closing speed. Cowser's arm is above average for center as well.
A strong runner, Cowser was said to have recorded a pretty steady number of plus run times in his professional debut, which helps his center field outlook a ton. Cowser's long strides and savviness on the base paths should allow him to bring value in that regard as well. In his collegiate career, Cowser was 31/36 on SB attempts, and 7/11 in his professional debut. I don't expect stolen bases to be a huge part of Cowser's game–as his swipes were against mid-major catchers and pitchers–but he knows the right pitches to run on and should be able to do the same as he climbs through the minors.
If Cowser adds some weight to his 6-foot-3, 195 pound frame, he could lose a step, but he is an athletic outfielder who should have a good chance to stick in center. If not, he will be an above average corner guy.
Outlook
Every farm system needs a Colton Cowser. In the volatile world of prospects, Cowser offers a rare level of safety while still providing enough projection to get excited about. If Cowser can stick in center field, that would take a bit of the pressure off of his bat in the slugging department while maximizing his value. I see some Brandon Nimmo similarities.
Age: 20 | Height/Weight: 6'2′, 210 | Bat/Throw: L/R | 2nd Round (42), 2019 (BAL) | ETA: 2023
| | | | | | |
| --- | --- | --- | --- | --- | --- |
| HIT | RAW POWER | GAME POWER | RUN | FIELD | FV |
| 35/50 | 50/60 | 40/55 | 50/45 | 40/55 | 50+ |
Offense
Simple set up with a slight weight shift into his back side and short stride, Henderson has a naturally sound swing from the left side that is geared for power to all fields. Henderson produced 17 homers in 105 games across Low, High, and Double-A, but I think there is even more pop in the tank.
Henderson's swing is explosive and his lower half often times struggled to keep up this year. His swing seems geared for pull side bombs, but too often pitches that I would expect him to get around on would crowd him inside. Without speculating too much, I'd guess that the issue stems from Henderson being able to rely on his ridiculous bat speed for so much of his amateur career. It really isn't a matter of Henderson having issues controlling his lower half, but rather getting it to work in congruence with his upper half, which is why I am not worried about the 20-year-old continuing to iron that out.
The O's have a lot of confidence in their 2019 2nd Round pick, promoting him to High-A before his 20th birthday and getting him a taste of Double-A before the end of the year. While Henderson's strikeout rate is a tad high at 30%, he was consistently playing against older competition and offset the K's with a strong 12% walk rate.
Henderson has a chance to be a major impact bat; I really think he really is an adjustment away from putting it all together. Remember, this was Henderson's first full professional season and he already showed enough to earn a cup of coffee in Double-A. The infielder has 25+ home run pop with a solid feel to hit.
Defense/Speed
Henderson made 62 starts at shortstop this year and 35 starts at third base. The Orioles aren't ready to fully move him to third base, and I'd guess that the organization is waiting to see which of him or Jordan Westburg show more promise at short. From what I have seen, I think Henderson is more than capable of staying up the middle. While he is not a burner, Henderson is a good athlete who moves well for his size and has the arm strength to compensate for his average range. Should Henderson move to third base, his bat would be more than capable of producing to scale.
He is maybe a tick above average when it comes to speed on the base paths, and will likely be an average runner by the time he gets to the big leagues.
Outlook
A 2019 draft pick, it feels like Henderson has been around for a little bit, but it is important to note that the 20-year-old has only played 134 professional baseball games. For a player very early in his development when it comes to experience, Henderson is in a great spot.
Already showing a knack for getting on base despite some swing and miss, I expect Henderson to grade out as an above average hitter when we check back in this time next year. As mentioned earlier, Henderson is just a tweak away from putting it all together, his bat speed, swing, and approach have me really excited to see what "putting it all together" will look like for him. My guess is something around 25+ homers with an above average on base clip.
6. Jordan Westburg – SS/3B – (Double-A)
Age: 22 | Height/Weight: 6'2′, 205 | Bat/Throw: L/R | 1st Round (30), 2020 (BAL) | ETA: 2023
| | | | | | |
| --- | --- | --- | --- | --- | --- |
| HIT | RAW POWER | GAME POWER | RUN | FIELD | FV |
| 35/50 | 50/55 | 40/55 | 55/55 | 40/45 | 50 |
Offense
Quiet load with a short stride and overall simple movements, Westburg is yet another player in this Orioles system who does not struggle to be on time as a result. Westburg is quick to the ball which allows him to catch up to velocity and avoid cheating. His swing at times can be a bit flat, but he squares the baseball up enough and produces strong enough exit velocities to hit for above average power (15 HR in 112 games this year).
If Westburg is able to get the ball in the air a bit more–he had a near 50% ground ball rate this year–he should be able to exceed 20 home runs with ease; the 22-year-old's strong 16% HR/FB rate reinforces that.
Similar to Gunnar Henderson, Westburg does not need movement to generate bat speed, giving me confidence in his hit tool to remain steady through the upper levels. Westburg was another prospect who saw two promotions this year, first from Low-A to High-A, and then to Double-A. Despite the stronger competition, the former Mississippi State Bulldog saw his strikeout rate decline as the year went on.
Overall, Westburg's 15 home runs in 2021 was an encouraging development in his first professional season, especially considering the fact that he only hit 10 homers in his entire college career. After seeing him in the Cape Cod League and now in a professional season, Westburg seems like one of those players who is more comfortable hitting with wood. Westburg launched a pair of home runs when I saw him in the Cape, one of which left the yard in about half of a second and traveled over 400 feet, so the Orioles knew that there was more untapped power in there when they took him 30th overall in 2020.
Defense/Speed
A slightly above average runner, Westburg has enough athleticism to stick at shortstop defensively and just enough speed for pitchers to check on him at first base. Between three levels, Westburg swiped 17 bags on 22 attempts. While he may not be a threat to steal 30+ bases, he should sprinkle in a handful of swipes annually even at the highest level.
Defensively, Westburg split time between shortstop and third base. He moves well enough to be an average defender at shortstop and has good infield actions. As Westburg continues to tap into his above average power, his bat should be able to accommodate a move to third base, where he would be above average defensively. Assuming both Westburg and Henderson continue on their development track offensively, it could be a battle between the two with the gloves to see who sticks at short and who makes the move to third.
Outlook
Heading into the 2020 MLB Draft, Westburg was one of the names who I thought could be a steal in the compensation round. The Orioles agreed, not letting him fall past the first compensation selection, betting on his offensive projection.
If I am the Orioles, I came away very happy with how Westburg's first professional season went. He hit for more power than he ever has in his amateur career and the batted ball data points towards room for improvement. I see 20-25 home runs in Westburg's future, with potentially room for more, complemented by solid athleticism and good enough defense on the left side of the infield.
7. Heston Kjerstad – OF – (Rookie-Ball)
Age: 22 | Height/Weight: 6'3′, 215 | Bat/Throw: L/R | 1st Round (2), 2020 (BAL) | ETA: 2024
| | | | | | |
| --- | --- | --- | --- | --- | --- |
| HIT | RAW POWER | GAME POWER | RUN | FIELD | FV |
| 40/50 | 55/60 | 40/60 | 45/45 | 45/50 | 50 |
Offense
First and foremost, I am so happy to see Heston Kjerstad resuming baseball activities after a year layoff due to Myocarditis. It has been a rollercoaster of an 18-month span for the former Arkansas Razerback, who saw himself get selected second overall in the 2020 draft–higher than any mock draft anticipated–just to not be able to debut in the subsequent 2021 season.
Fortunately, all indications are that Kjerstad is improving in regards to his health and could potentially be back on the field for 2022 Spring Training. The detour in regards to Kjerstad's development from a baseball standpoint is unfortunate, but should he be good to go in 2022, the outfielder has the offensive prowess to make up for lost time.
Kjerstad was a monster in his collegiate career at Arkansas, hitting .343/.421/.590 with 37 homers and 129 RBI in just 150 games. An unorthodox set up and load, Kjerstad allows himself to get slotted easily, creating a very direct path to the ball once he is ready to send his hands forward and unload. Kjerstad's barrel lives in the zone as a result, which aids his power to all fields.
At quick glance, Kjerstad's swing seems steep, but when you watch from an open-side view, it's clear that he loads his hands into a comfortable spot, allowing him to create natural lift without it coming at the expense of contact. Comfort is the name of the game for the left handed power hitter, and he has no problem controlling his body and repeating his swing thanks to that comfort.
Defense/Speed
All I really have to work off of in this department is limited video from over a year ago, so I want to preface with that. Kjerstad has obviously been dealing with more important things than tracking fly balls in the outfield, and with a heart condition, he has not been able to get out and move much let alone swing the bat until as recent as September 21st.
Based on what I do know, Kjerstad has the arm and athleticism to be an above average corner outfielder. Kjerstad predominantly played right field in his collegiate career thanks to his strong arm, but would be fine in either corner. A decent runner for his size, speed will never be a part of his game, but he also is far from a liability on the base paths.
Outlook
Given the fact that Kjerstad has not been able to even make his professional debut yet, he is an incredibly difficult prospect to project right now. That said, the Heston Kjerstad we have seen in the past is a guy capable of mashing 30+ homers while hitting for a steady average. Some scouts have questions as to how his rather unorthodox swing will play in the upper levels, but Kjerstad's track record against some of the best competition lends to the belief that the kid will continue to hit.
The priority for Kjerstad is to continue trending in the right direction health wise as baseball obviously comes second here. Eduardo Rodriguez of the Red Sox made his return from his own battle with Myocarditis this year, lending optimism that Kjerstad can do the same.
Kjerstad will be 23 years old by next season's start, but hoping he is at full strength by then, the outfielder could be in Double-A by midseason.
8. Connor Norby – 2B – (Low-A)
Age: 21 | Height/Weight: 5'10′, 190 | Bat/Throw: R/R | 2nd Round (41), 2020 (BAL) | ETA: 2023
| | | | | | |
| --- | --- | --- | --- | --- | --- |
| HIT | RAW POWER | GAME POWER | RUN | FIELD | FV |
| 35/60 | 40/45 | 35/45 | 50/50 | 45/50 | 45+ |
If you haven't noticed, there is a trend throughout the offensive prospects that the Orioles target. Simple swings, geared for line-drive contact, complemented by a strong approach and burgeoning power. What Connor Norby brings to the batters box is no different.
Norby deploys a small weight shift and a short toe-tap stride before unleashing his quick hands and explosive lower half. The former ECU Pirate has a steady track record of hitting, and finally put the power on display in his junior season, launching 15 homers along with a ridiculous .415/.484/.659 line. The added production did not compromise Norby's high contact rate, which I am sure you could already ascertain from the slash line in the preceding sentence, but also can be reinforced by his 12% K-rate.
The 21-year-old will look to do damage in hitter's counts, but also spreads his base out with two strikes and resorts to his supreme hand-eye coordination and quick bat to put the ball in play. Not every player can make that two-strike adjustment, but it has worked well for players who are capable of doing so; Bo Bichette is an excellent example.
Norby produced an impressive .283/.413/.434 line in his 26 Low-A games this year, with three home runs, and a strong 0.75 K/BB rate.
Defense/Speed
Another good athlete, but not a burner, Norby brings above average speed to the table and excellent footwork/actions at second base. I don't expect Norby to be a base stealer, but he moves well enough on the base paths to provide some value in that regard. I see an above average to plus defender at second base.
Outlook
This kid screams big leaguer to me. While the power may just be average, his potentially plus hit tool and ability to leverage hitter's counts should allow him to hit for more power than many would expect. Norby reminds me a lot of Jonathan India with a better glove.
9. Kyle Stowers – OF – (Triple-A)
Age: 23 | Height/Weight: 6'3′, 200 | Bat/Throw: L/L | 2nd Round (41), 2020 (BAL) | ETA: 2023
| | | | | | |
| --- | --- | --- | --- | --- | --- |
| HIT | RAW POWER | GAME POWER | RUN | FIELD | FV |
| 35/45 | 55/60 | 40/55 | 50/45 | 50/55 | 45+ |
Offense
A leg kick that helps him get into his back side followed by an explosive left-handed swing built for majestic homers, Stowers has one of the more visually satisfying swings you will find when he connects. Stowers generates so much torque firing from his back hip, that sometimes it looks like he is going to fall over in his finish. While the power hitting outfielder's swing can look out of control at times, I was impressed at the improvements he made this year in that department.
The aforementioned impressive rotational power led to Stowers looking to do damage to his pull-side a bit too often in his professional debut. He often times was swinging out and around baseball's that he should have been looking to drive up the middle or the other way. This year, Stowers showed a much improved ability to stay behind the baseball, allowing for his plus raw power to become a factor to all fields.
Stowers' improvements in his approach and swing resulted in a pair of promotions, finishing the season in Triple-A. Across all three levels, Stowers slashed .278/.383/.514 with 27 homers and a 141 wRC+. The only thing holding the 23-year-old back from being higher on the top prospect lists is the uncertainty around his hit-tool.
The outfielder struck out 32% of the time this season, but also offset those punch outs with a strong 14% walk rate. I always say that no two strikeout rates are the same, and Stowers' ability to get on base and his power output hedge a lot of the swing and miss concerns for me. Stowers' K-numbers also remained consistent in the 32-34% range, even when called up to Triple-A, which gives me confidence that he can keep it there or improve it.
Surprisingly, Stowers is incredibly comfortable left on left. The former Stanford Cardinal posted a .951 OPS against southpaws with just a 26% K-rate, helping his outlook as an everyday player. I would not be surprised if Stowers returned next year posting sub 30% K-rates in Triple-A and he is a name I am watching closely in the Arizona Fall League.
Defense/Speed
An average runner with an above average arm, Stowers makes really good reads in the outfield and has shown enough athleticism to be an above average outfielder in a corner. He gets good enough jumps on balls to play center field in an emergency, which more so reflects his above average capability in a corner.
Outlook
The most volatile offensive prospect in the Orioles top 10 is less volatile than the surface level stats may suggest. The big question on Stowers has been if he can hit enough to tap into his exciting power potential. I'd like to see a bit more before I can say with full confidence that Stowers' hit tool will hold up at the big league level, but I am a lot more optimistic than I was prior to this season.
With plus raw power, a high walk rate, consistent splits, and above average defense, Stowers hedges the swing and miss concerns through several different departments. While Stowers may have the widest range of potential outcomes of the hitters on the list, his upside is as high as any player not named Adley Rutschman if it all clicks.
10. Coby Mayo – 3B – (Low-A)
Age: 19 | Height/Weight: 6'5′, 190 | Bat/Throw: R/R | 4th Round (103), 2020 (BAL) | ETA: 2024
| | | | | | |
| --- | --- | --- | --- | --- | --- |
| HIT | RAW POWER | GAME POWER | RUN | FIELD | FV |
| 35/55 | 50/60 | 35/55 | 50/40 | 45/50 | 45+ |
Offense
Huge frame, long levers, yet a surprisingly controlled swing, Mayo impressed with his feel to hit in his first professional season. When looking at a 6-foot-5, 19-year-old in the batters box, body/barrel control is not one of the things I expect to see, but you would never know it was Mayo's first pro season. In 26 Low-A games, Mayo slashed .311/.416/.547. Mayo was big time over slot pick in the 4th round of the 2020 MLB Draft, the Orioles offered the then 17-year-old $1.75 million to forgo his commitment to the University of Florida.
After seeing Mayo play, it's easy to understand why the O's were willing to go well over slot for the teenager; his simple hitting mechanics follow suit with what the organization looks for, but he also has massive upside with his huge frame and athleticism. As Mayo continues to mature physically and at the plate, it's easy to envision 30+ home run upside.
Defense/Speed
Mayo moves really well for his size and has a plus arm at third base. There are some who believe that Mayo could end up moving to a corner outfield spot where his arm will play well and he would be more than nimble enough to be an above average defender. For now, the O's are continuing to get Mayo reps at third, where he showed improvement with his actions as the year went on as well as decent footwork.
Outlook
It is really early in the development of Mayo, so there's still a wide range of outcomes, especially with the profile that Mayo has physically. That said, Mayo's ahead-of-his-years polish at the plate hedges some of the perceived risk. I love the adjustments that Mayo made to his set up to aid his body control and his feel for the barrel is something that you can't really teach. When it comes to production, Mayo has a similar upside to Ryan Mouncastle, but Mayo seems to be a more patient hitter and is a more athletic defender.
Other Names to Watch
Kyle Bradish – RHP: Your classic "saw his stuff tick up at the ATS" guy, Bradish made some mechanical adjustments that helped his fastball sit 93-95, even reaching 96 MPH. Bradish creates natural deception and has a unique movement profile on his heater that makes him difficult to hit. His secondaries could use some refining, but his above average slider and average changeup/slider give him four usable pitches. After a strong year in Triple-A, Bradish is knocking on the door of the big leagues where he can be a solid back end starter.
Terrin Vavra – 2B: A polished hitter with a knack of getting on base, Terrin Vavra is a well-rounded, high floor prospect who should see action in Camden Yards by next year. While he may not light up the stat sheet, Vavra is an on base machine, walking 16% of the time this year in Double-A and posting a .388 OBP. Vavra will probably hit around 10-15 home runs in a full season, but his ability to get on base, strong defense, above average speed, and versatility make him a potentially intriguing super-utility man.
Anthony Servideo – SS: A fantastic defender, Servideo was finally able to flash the leather at shortstop after Grae Kessinger's departure at Ole Miss; before that, Servideo showed his defensive versatility by playing all over the diamond. Unfortunately, we only got to see 17 games of the shortstop version of Anthony Servideo, but he impressed on both sides of the ball there in 2020. In just a handful of games, Servideo hit more homers than he did in his entire college career prior, and showed that he is a true shortstop defensively.
Servideo is a patient hitter who is difficult to strikeout and puts the ball in play frequently. His strong glove and versatility leads me to think utility man, but I want to see a full season from Servideo offensively before I cap his ceiling like that, especially after the flashes he showed in an abbreviated 2020.
Check out our other Top 10 Prospect lists already published below:
Mariners Top 10 Prospects
Tampa Bay Rays Top 10 Prospects
Kansas City Royals Top 10 Prospects
Detroit Tigers Top 10 Prospects