News
Miami Marlins Acquire Bullpen Tandem Cole Soler and Tanner Scott From Baltimore Orioles
The Miami Marlins acquired much-needed bullpen help from the Baltimore Orioles for a pair of prospects, a draft pick and a PTBNL.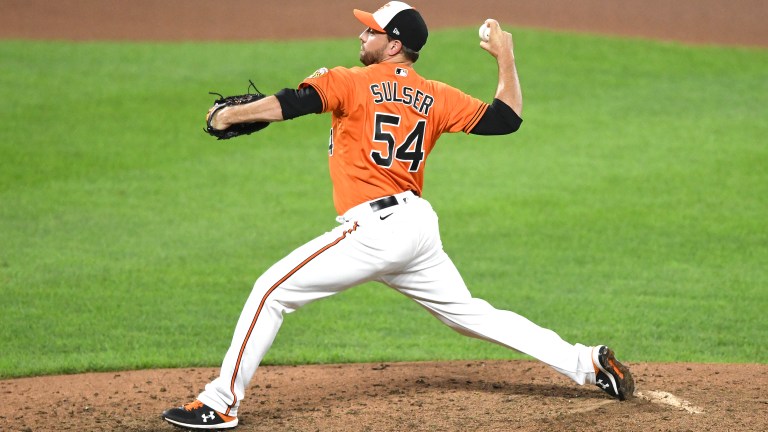 The Miami Marlins had major issues holding onto leads late in ballgames last year and up until last night, they had hardly done anything to address that problem this offseason.
After watching the first few weeks of Grapefruit League action, the Marlins decided it was time to look for some external options to add to the back-end of their bullpen and ended up striking a deal with the Baltimore Orioles for a pair of intriguing arms.
The Orioles shipped out righty Cole Sulser and lefty Tanner Scott in return for left-handed pitching prospect Antonio Velez, teenage outfielder Kevin Guerrero, a Competitive Balance B pick and a player to be named later.
For the Marlins, this was a no-brainer trade. The team desperately needed swing-and-miss relievers as the majority of the arms out of the stable are soft contact inducing sinker throwers. It's always good to have some guys in your bullpen who can get that big ground ball and avoid barrels, but to have an entire bullpen of those types in 2022 is a bit wild.
Maybe Marlins GM Kim Ng realized that, or the minor injury to slated closer Dylan Floro lit a fire under her, but Sulser and Scott instantly become the two best swing-and-miss relievers Miami.
Sulser, 32, is coming off a career-year for the Orioles. The right-hander pitched to a 2.70 ERA, 2.98 FIP and struck out 28.4% of batters he faced last season. It will remain to be seen how the Marlins will approach their bullpen roles once Dylan Floro returns, but the most important thing for the Marlins is that they added another high leverage arm who is capable of closing out games when needed.
Sulser recorded eight saves for the Orioles last year and boasts a mid-90s fastball with riding action setting up his plus changeup exceptionally well (opponents hit just .125 in 112 AB's against Sulser's changeup).
Tanner Scott is a bit more of a wild card, for better or for worse. The 27-year-old lefty is electric, however he struggles to contain said electricity. After pitching to a minuscule 1.31 ERA in 20 2/3 innings during the shortened 2020 season, Scott's ERA ballooned to 5.17 behind a sky-high 15% walk rate in 2021.
For Scott, it will never be about his quality of stuff, rather his ability to contain it. His fastball sits at 97 mph and the southpaw's plus-plus wipeout slider resides in the upper 80s. Scott commands his slider much better than his heater and while that is unusual, a small tweak to his mechanics could unlock something special.
The reality for the Marlins bullpen was relatively simple before this trade. Outside of Anthony Bender, there were no arms currently in the Marlins bullpen whose best case scenario looked anything like Cole Sulser did last year or what Tanner Scott's best case scenario looks like. To be fair on Scott, there's few relievers in baseball with a best case scenario as rosy as his.
The years of control made things extra enticing for the Fish as Sulser joins the team with four years of team control while Scott has three. It's worth noting that relievers in general are as volatile a position as you're going to find in baseball and the rebuilding Orioles likely wanted to sell high on Sulser's breakout.
For the Orioles, the trade absolutely makes sense and the return was solid. For the Marlins, being able to upgrade your bullpen drastically without dipping into your top-10 prospects is a phenomenal move.
The Orioles get some much needed pitching help in the form of Antonio Velez as well as a pretty early draft pick that not only gives them an extra selection, but boosts the draft bonus pool size for a franchise that always likes to get creative with money allotment between picks. Velez may never be an ace, but the southpaw has proven that he can pound the strike zone and get outs.
An undrafted signee out of Florida State University in 2020, Velez hit the ground running in his professional debut pitching to a 2.55 ERA in 99 innings between High-A and Double-A. Most impressively, Velez punched out 93 against just 11 walks in his nearly 100 frames. The 25-year-old paints his low-90s fastball on both sides of the plate, along with an effective slider in the 78-81 mph range and a riding changeup that induces a ton of weak contact.
Given Baltimore's starting pitching situation, there's a legitimate chance we could see Velez make his MLB debut at some point in 2022. Whether that is as a swingman/bulk relief role or as a legitimate back-end of the rotation starter will be dependent on Velez's performance in Double-A and eventually Triple-A, but his ability to pitch is too impressive to ignore. Even without lighting up the radar gun.
Teenage outfielder Kevin Guerrero is someone the Marlins probably weren't thrilled to part with. The 6-foot-4 17-year-old from the Dominican Republic was playing "up" with the Marlins Double-A team on the backfields frequently this spring. While he was overmatched, the fact that the Marlins were even willing to put him in that setting was a testament to the upside they believe he has. Plenty of scouts were on those back fields for the games being played almost every day and it's probably safe to assume someone within the Orioles organization liked what they saw. It will be some time before we see Guerrero in full season ball, but he's an intriguing lottery ticket nonetheless.
We do not yet know who the player to be named later could be in this deal, however the return for the Orioles was pretty solid. For the Marlins to maximize the value on this deal, pitching coach Mel Stottlemyre Jr. will need to continue to work his magic on young pitchers, this time with Tanner Scott. As for Sulser, his changeup will fit right in with much of the Marlins pitching staff.