Analysis
The Value of Wander Franco's Contract Extension
While he may have left some money on the table, Wander Franco elected for the security of signing the nine-figure contract now, before his 21st birthday.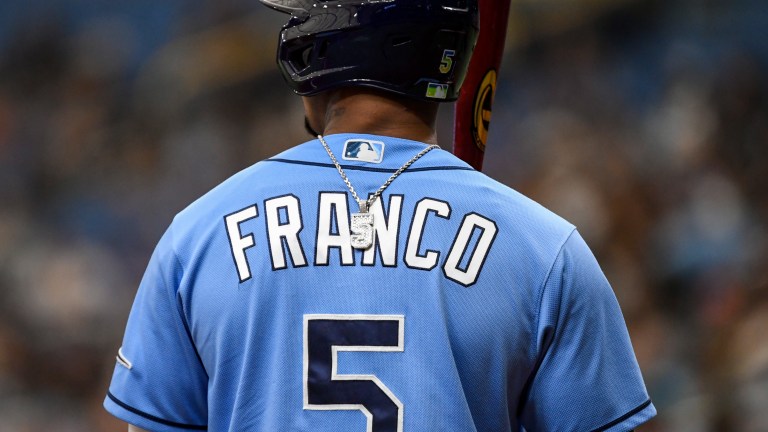 Wander Franco and the Tampa Bay Rays have agreed to an 11-year extension worth $185 million with a 12th year option worth $38 million, meaning he'll receive $16.5 million per year. This is a monumental extension for a player yet to turn 21 and has left the baseball world polarized. I want to explain my thoughts on the extension and why both parties were willing to come to an agreement.
More Money, Less Problems
First let's understand why Wander and his camp agreed to this extension. Unless Wander Franco, Ronald Acuña or Ozzie Albies are reading this, let's understand that none of us have ever been in the position where a few movements of a pen guarantees us almost a quarter of a billion dollars. Let me say that again, A QUARTER OF A BILLION DOLLARS.
That is a life changing amount of money, especially for a 20-year-old with only 300 plate appearances under his belt, so while the contract may seem extremely team-friendly at first glance, it's easy to understand why Franco would be so interested in this deal.
Anything can happen in baseball, and in life. Freak injuries happen and even the best players can bust on a whim. The expectation from Wander has long been that he'll blossom into being a top-10 player in baseball, something that he's already proven capable of doing after producing a 127 wRC+, coupled with above average defense and one of the lowest strikeout rates in baseball.
While those traits may have translated to a bigger payday down the line, he just assures himself a massive payday as is. The elephant weighing down on Wander's shoulders, if there was one, is almost certainly gone and now it's time for him to focus on baseball.
Surplus Value
Wander Franco is already a top-five shortstop in baseball in my eyes, behind Trea Turner, Carlos Correa and Fernando Tatis Jr. If you exclude the first 66 plate appearances of Wander's debut before the All-Star break, to factor in growing pains, he finished the year with a 143 wRC+ and .314 average. His wRC+ after the All-Star break ranked 18th in all of baseball, tied with Starling Marte, and ahead of players like Vlad Guerrero Jr. and Giancarlo Stanton. If WAR is more your flavor, he finished tied for 11th after the break in that category, tied with Aaron Judge at 2.5 WAR.
To say Franco had a good debut is a clear understatement. This is one of the best debuts in recent memory and already puts Franco in the conversation with other young superstars such as Ronald Acuña Jr, Vlad Guerrero Jr, and Fernando Tatis Jr. Even Juan Soto, who is arguably the best hitter not named Mike Trout, produced a a 146 wRC+ in his debut season as a 19-year-old.
This is all to say that the Rays are getting one heck of a deal for Wander Franco. According to Fangraphs, the cost of a win in 2020 free agency was about $8 million, so assuming that value stayed the same for 2021 free agency, we can get an idea the amount of value the Rays will be getting over the life of this contract.
Starting with the first six years of the deal, or the years that Wander would have been under team-control to begin with, we can assume that Franco would be worth anywhere from 3 WAR, on the very low-end, all the way up to 7 WAR on the high end, averaging out between 4-5 WAR per season. This is not an exact science, but for arguments sake, it seems pretty close to his potential output.
| WAR Output | * $ Value ($8 mil per WAR) |
| --- | --- |
| 3 WAR | $144 million |
| 4 WAR | $192 million |
| 5 WAR | $240 million |
| 6 WAR | $288 million |
*Dollar Per WAR value over the first six seasons of Franco's deal
Over the first six years of Wander's contract, he'll receive $99 million, and in return, the Rays will need Franco to average just above 2 WAR to equal their investment. Remember that he was worth 2.5 WAR in just a half season in 2021. Extrapolating the potential value of this deal over the first 11 years using the dollar per WAR value above, this contract could be worth as much as $500 million to the Rays if Franco averages 5.7 WAR over the entire 11 seasons.
That would obviously be on the upper end of projections, but it's an output that is within reach for someone with Wander's skillset. If Franco averages a more reasonable value of 4 WAR per season, he would produce $352 million in value for the Rays, well above the $185 million they are committed to paying him over that span.
Avoiding Arbitration and Escaping Risk
After seeing the insane amount of surplus value Franco will produce for the Rays, you're probably a bit shocked that he would sign a deal well below his potential value, and it's a warranted reaction, but the blame does not fall on the Rays or Wander Franco. Instead, the blame falls on Major League Baseball for having an arbitration system that is entirely stacked against the players and takes advantage of the best years of their careers at pennies on the dollar in value.
It's extremely fitting that Franco would sign this deal nearly a week before the collective bargaining agreement between the owners and the MLBPA expires on December 1st, and may be a hint that changes to the control teams have over young talent will not be dramatically changed, at least for players that have already debuted.
If Wander Franco had elected to play through the six years of control and enter free agency as a 27-year-old, he would have been paid significantly less than the $99 million he will receive over the first six years of his new deal. In order to get a feel for what Franco will be missing out on by forgoing free agency until he's 32 years old, let's analyze Corey Seager, who has entered free agency this offseason as a 27-year-old shortstop and shows similarities to Wander Franco.
Over the first six years of his career, Corey Seager made just $27 million dollars. He earned the rookie minimum of about $550,000 over the first three seasons and then made $4 million in year four, $7.6 million in year five and $13.75 million in his final year. For a player that produced two seasons above 6 WAR with a floor around 3.5-4 WAR, it's complete robbery, but now Seager is going to enter free agency at 27 years old with a multitude of suitors ready to unload the bank for his talents. Seager is set to be offered a 7-10 year deal worth at least $30 million per year, which would put his total contract somewhere between $210-$300 million.
For example, let's say that Seager signs the 9-year, $286 million deal that Spotrac projects. He would then be signed through his age-36 season and his total career earnings would be just north of $300 million. Back to Wander Franco, who will be paid $223 million through his age-32 season.
If the Rays opt into his club option in 2033, Franco will then enter free agency as a 33-year-old. Assuming all goes well, Franco could still be a superstar by that time and get one last big payday before he exits his prime. This means that the contract Franco just signed ensured that he is paid at least $185 million barring anything, and if all goes to plan, he could still very well exceed $300 million in lifetime earnings.
Did Franco leave money on the table?
It's a very real possibility, especially because he could have been worth a $400 million contract had he opted to enter free agency as a 27-year-old, but that possibility comes with greater risk. Franco and his advisors chose to escape all risk in exchange for a large sum of guaranteed money. All in all, this deal works perfect for both parties and allows the Rays to field a competitive team around Franco for years to come.