List
The Top-Five Easiest MLB Teams to Root for in 2022
If you're looking for a bandwagon to jump on, these are the teams for you.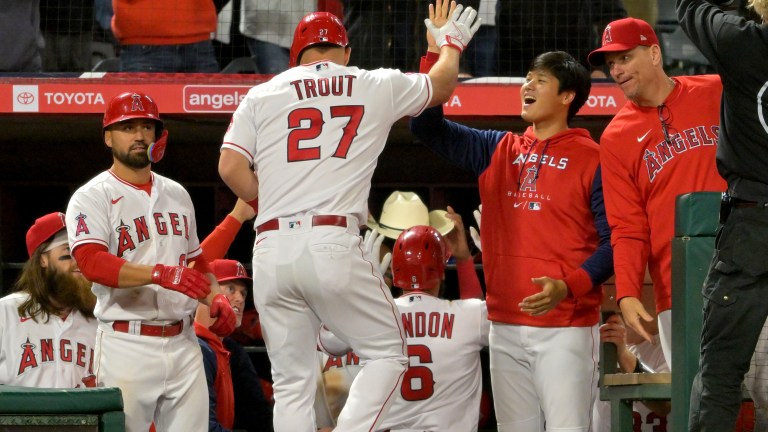 Unless you're Peter Appel, there's a chance that choosing your MLB favorites is more than just simply looking for who the best at the sport is. You love the success, sure, but it's also all those other little things. The little quirks set everyone apart, and then the story is what keeps us hooked.
And despite what some teams would have us think, the league has plenty of those hooks. But if you're like me (lazy) or like Javier Reyes (an often jilted lover of baseball, extremely lazy, and also still me), diving into this pool of quirky baseball fun isn't as easy as a Scrooge Mcduck swan dive into a pool of money.
But lucky enough for you, Javier F. Reyes (me again, except happier) is here to assist you!
The goal of this list is to find, through all the best scientific reasoning from all the smartest people, the most fun MLB teams to root for in 2022. This isn't about which teams will be the best. Because if you ask NBA fans from 2016-2019, the best doesn't always translate to being likable. Perhaps you're new to baseball, or consider yourself a nomad that likes choosing a new fandom every year, or you're simply a Reds fan losing the will to live: this list is for you!
Honorable mention: Colorado Rockies
The Rockies are a hot mess, and if the consistent popularity of reality TV shows is any indicator: a hot mess is gloriously entertaining to watch. The Kris Bryant signing was perhaps the greatest shocker of the entire offseason. It also probably didn't make sense! But who cares! MLB needs irrational spenders!
Most importantly, though, is the Rockies have Connor Joe, who our very own Jack McMullen has been singing the praises of for months:
5. Philadelphia Phillies
Bryce Harper may have netted himself an MVP award in 2021, but the Phillies certainly didn't do him any favors. Philadelphia failed to make the playoffs despite Harper's brilliance, much to the chagrin of the manic Philly fans everywhere. A high payroll combined with a middling farm system left the team in perhaps the most awkward position of any franchise in baseball.
And then, the wild MLB offseason happened.
The Phillies went out and signed not just one slugger, but two in the form of Nick Castellanos (five-years, $100 million) and Kyle Schwarber (four years, $79 million). And in an attempt to repair the many brain cells lost by fans over the last few seasons, the team finally (i.e. oh my god, FINALLY) addressed the bullpen with signings of Corey Knebel, Jeurys Familia, and Brad Hand. After leading MLB in blown saves in 2021, that should help!
But it's not just the spending spree and Harper's MVP value that add to the Phillies likability. They might be MLB's worst defensive team and that was before they signed two (!) of the biggest outfield liabilites in baseball. Basically, the Phillies are the epitome of the "Best defense is a good offense" mantra.
Will it work? That's not the point!
The Phillies are an old-fashioned slugfest — a seeming counter-culture stance to the analytical movement that dominates MLB today — and simply want to hit dingers. They might win every game by a football score. Plus, Meme Lord Castellanos has perhaps the best take from any MLB player in the last two years:
And Schwarber finally had the reaction that every MLB fan for the last, like, 800 years has been waiting for in regards to umpire Ángel Hernández:
Stay absurd, Philadelphia.
4. Toronto Blue Jays
Admittedly, the Blue Jays being on this list might very well go against the thesis of this article. In the words of the great American philosopher, Kendrick Lamar, "hypocrite!"
The Blue Jays are stacked, plain and simple. It starts with Vladimir Guerrero Jr., who evolved into one of the league's best players in 2021 and would've won the American League MVP last season if Babe Ruth weren't reincarnated and enhanced with the super-soldier serum. It was a tough, but understandable, beat for the young king. Essentially, it was like being another actor the same year J.K. Simmons was nominated for Whiplash.
George Springer is lit, Teoscar Hernández may be one of the game's most underrated outfielders, Bo Bichette's hair is a real thing, and while Matt Chapman's MVP potential may have passed, he's still an electric enough defender to make up for any of his batting shortcomings. Do you know good of a defender you have to be — in baseball, especially — to make defense exciting?
Chapman does it in spades.
And on top of all of that, there's perhaps no fanbase that goes more beautifully berserk than Toronto. Just watch their home games; it's impossible to stop yourself from cheering along with them. They even have a fairly complete starting rotation, even if the Thicc King Robbie Ray left in free agency.
The only thing that prevents the Blue Jays from ranking higher is just how expected all of it feels. Every prediction, along with every prognosticator and Twitter tweeter, has the Blue Jays as a top-4 team. They're almost too perfect. Paranoia? Sure, but that's what happens when you're a Padres fan that lived during 2021.
3. Seattle Mariners
Have you ever found yourself saying "Actually, yellow is the best Starburst flavor!" or "My favorite hip-hop artist is Aesop Rock"?
Well, Commander Hipster, do I have the team for you: The Seattle Mariners. Because while the Mariners certainly have a squad to be reckoned with, it's not exactly because their players are household names emblazoned on the back of trading card packs.
Instead, it's the ultimate collection of the best players you (probably) haven't heard of and the ones baseball nerds, wholesomely, lose their minds over. Part of the Mariners charm is just how much their vibe seems to scream Underdog — which may be a sentiment that's carried throughout their entire history — and last season epitomized it.
They were clutch, winning nearly every close game and especially down the stretch in a close playoff race. According to FanGraphs, their clutch rating of 8.71 in 2021 was the best in baseball with the second-closest being the Philadelphia Phillies with a 3.20 (!) rating. If that's not enough, they even embraced the "believe" slogan from Ted Lasso, a show people attempted to get mad at because it had the audacity to be a story about kindness.
But of course, the Mariners aren't just a one-hit wonder. They have a mixture of young talent — with plenty more to come — in top prospects Julio Rodriguez and Jarred Kelenic, as well as new acquisitions of Jesse Winker, Eugenio Suárez, Adam Frazier, and Thicc King Robbie Ray among others. Suárez, in particular, has been off to a great start after pulling an Andruw Jones and inexplicbaly forgetting how to hit in 2021.
And that's all without even mentioning guys like Ty France and Mitch Haniger, both of whom won't remain underrated for much longer. The Mariners are MLB's official hipster team of 2022 and you'll want to jump on the bandwagon soon so you can impress your baseball friends.
2. New York Mets
During an apperance on ESPN's new KayRod Cast, Chris "Mad Dog" Russo described how the New York Mets seem to have a "sex appeal" to them. Russo, who has a bachelor's degree in Being Wrong, Constantly, is referring to how the Mets, under owner Steve Cohen, are spending money like it's going out of style. And it's awesome. The Mets are literally big-brothering the Yankees. Making the Yankees look cheap — and therefore bad — by comparison is a treat many can get along with.
Plus, unlike the Yankees and their elitist culture, the Mets have players that are permitted to have a personality. Francisco Lindor and his blue hair?
Jacob deGrom AND Max Scherzer in the same rotation?
Pete Alonso bopping to Mobb Deep and winning the Home Run Derby?
Somehow, even new acquisition Mark Canha being a foodie is still more of a defining personality trait than 85% of the Yankees.
New York sports is back!
1. Los Angeles Angels
Alluded to earlier in the section on the Blue Jays, Shohei Ohtani is one of the best things to happen to baseball in decades. He's not just a video game character; he's a glitch in the video game that shouldn't even be possible. Ohtani has the almost-comical power level of an anime character. He's a gift to MLB and a privilige to watch.
But the Angels don't just have one legend amongst their ranks, because Mike Trout is back and seemingly better than ever. While it's true that Trout hasn't had the comensurate fame to match his talent level thus far in his career, that shouldn't take too much away from him. While, yes, it's true his personality is not that of, say, Joel Embiid's, it's not the only reason. If he were with a bigger market and — more critically — a better team, Trout might've become a superstar.
And therein lifes the very reason the Angels are the easiest team to root for in 2022. It would be a tremendous shame not just for the Angels, but for all of MLB, if it's two greatest talents were wasted on mediocre teams. Even fans of other teams in their division want the Angels to succeed. That's how badly people want to experience Mike Trout and Shohei Ohtani in the playoffs. It's rare that a respect for talent goes to such lengths.
And it's not just those two, as the Angels also have star third basemen Anthony Rendon, a revitalized Thor (Noah Syndergaard), and the Yankees organization probably panics at the mere sight of Brandon Marsh's illustrious beard. There probably hasn't been an Angels team with this much depth in years.
Nobody wants another Dan Marino scenario. Everybody wants the faces of baseball to finally have their moment. This year that might just happen.