Analysis
MLB Lockout: The Key CBA Issues
As MLB CBA negotiations become increasingly heated, here are the key issues that the owners and players are fighting for.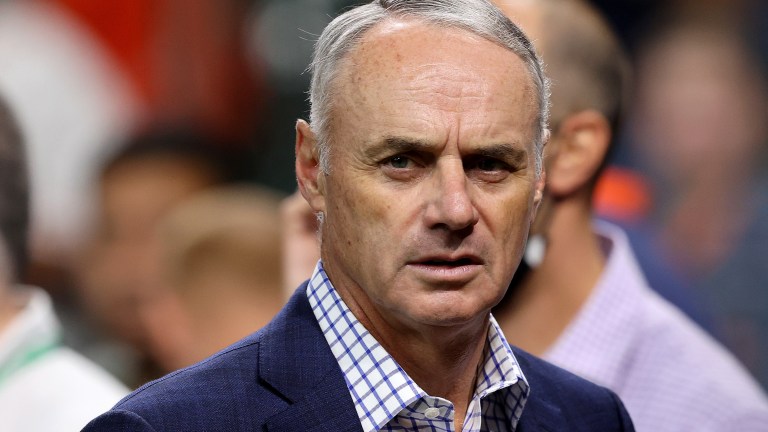 Arbitration and time-to-free agency are the crucial issues in this ongoing lockout by MLB owners. They also happen to be the issues that have resulted in the cancellation of MLB games (in combination or separately) in as many as eight MLB seasons from 1972-1994. Given the track record of how contentious these issues are, baseball fans will have to brace themselves for the potential cancellation of spring training games and even regular season games, unless there are efforts to compromise in these areas.
The MLB owners are content with the status quo, since the owners have steadily increased their share of revenues over the three most recent collective bargaining agreements spanning 2007 to the present. In 2007, the MLB player share was 51.6% of overall revenue compared to 49.3% in 2021. Meanwhile the average length of an MLB player's career has declined from 4.79 years in 2003 to 3.71 years in 2019, the last full season for which there is data. The share of position players 30 or older has declined from 40.4% in 2004 to 29.9% in 2021.
The primary goal of the MLB Players Association is to begin to reverse these trends. The players union representatives understand that the issues are too complex to be fully resolved, but they are presenting three proposals that they consider to be the centerpiece of their demands:
A higher minimum salary for first year players.
Two years to arbitration instead of three.
Five years to free agency instead of six.
So far, the owners have not budged on these issues (though their negotiating team has indicated a willingness to shorten service time to third-year arbitration).
How Can the MLBPA Achieve Their Goals?
First, with MLB careers having been reduced in length, the ability of MLB players to get higher salaries sooner would help put more money in the pockets of players earlier in their careers. This would be achieved through raising the minimum MLB salary and shortening time to arbitration. An earlier arbitration process would allow players to capture a higher percentage of their market value (though far from all of it) earlier in their careers.
Arbitration currently allows players to capture about 40 percent of their market value during their first arbitration year (year three); 60 percent of market value their second year of arbitration (year four); and 80 percent of their market value in their third year of arbitration (year five).
As mentioned earlier, the Players Association is also proposing a shorter time to free agency: five years instead of six. There has been some speculation that a shorter time to free agency might decrease player revenues because the increased supply of free agents would further reduce free agent salaries. While that might have been a legitimate concern a decade ago, the more likely scenario today would be to increase the salaries of players who reach free agency after five years. This is because the five-year free agency threshold would allow players to test free agency at an age that is closer to their prime.
Today, the average age of a free agent signing is approximately 32+ years, which reduces the salaries of the free agent pool. Given current patterns of MLB salary allocation, teams would be willing to spend more money on a younger free agent pool, and the threat of losing players to free agency sooner should incentivize teams to negotiate more long-term deals with players earlier in their careers—which would be good for the players, the teams and the fans in helping to ensure more continuity between the better players and the teams that scouted and recruited them.
Contrary to the rhetoric coming from Commissioner Rob Manfred, the Players Association's proposals are far from "radical." Each of the three core proposals just outlined would take modest steps to increase player salaries and negotiating leverage earlier in their careers. These proposals would move in the direction of greater parity between the owners and players in revenue distribution.
What Are the Hurdles?
There are complicated structural issues that make it difficult for the players to achieve a greater redistribution of revenues. The most complicated is the relationship between the current MLB revenue distribution system and money spent on players. The Players Association wants to reduce revenue sharing from the richest market teams to the poorest market teams to try to disincentivize low-revenue teams from "tanking" to get access to more revenue dollars. However, just reducing the overall revenue distribution is no guarantee that low-revenue teams would spend more money on payroll.
Instead of calling for reduced revenue sharing, the Players Association should be focused on incentivizing the spending of revenue sharing money by low-revenue teams on the MLB payroll. The union would be wise to negotiate with MLB owners on a salary floor that could also be a way to address the lack of spending by low-revenue teams on payroll. This would be a more constructive position that simply calling for $100 million less in revenue sharing. The MLB owners did propose a salary floor, according to reports, but it was (rightly) a non-starter for the players because it came with a much lower luxury or competitive balance tax (see my earlier article for Just Baseball).
On balance, though, it is the MLB owners who have failed to bargain in good faith on most of the proposals coming from the Players Association. The owners have instead moved away from the players in just about every meaningful area: calling for scraping arbitration entirely in favor of a WAR formula for determining player salaries their 3rd, 4th and 5th years (scaled down so that the amount would likely be the same or less for most players during their arbitration years); setting 29.5 years as the timetable for free agency, which would allow owners to continue paying players well below market value prior to free agency; and refusing to even consider shortening arbitration time from 3 to 2 years.
If the MLB owners refuse to budge on the issues that are the highest priority of the Players Association, expect a lengthy lockout that takes us into the regular season. Let's hope cooler heads prevail.