Analysis
Does Kyle Schwarber Make the Phillies Contenders?
Adding the slugger certainly bolsters the Phillies lineup, but is it enough to make them a real threat in the NL East?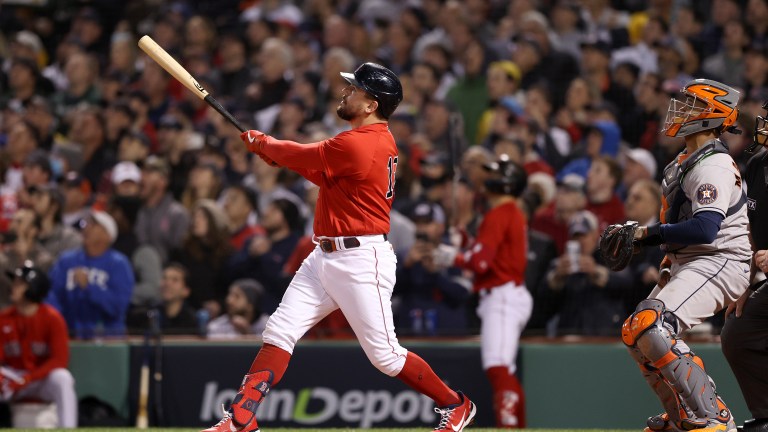 Kyle Schwarber and the Philadelphia Phillies agreed to a four-year deal worth $79 million Wednesday, according to multiple reports.
The move marks yet another big-money move by Philadelphia as they try to get out of the purgatory they have been stuck in. The Phillies have not won the NL East since 2011 and have finished second just once in that span.
Shockingly, the Phillies have the second-longest active Postseason drought in the league. The Tigers, Angels, Pirates, Royals and Orioles have all made the Postseason more recently than Philadelphia.
The Phils are not a team you think of among the bottom-tier franchises in the league, but their results have been such of late.
To try and get out of this slump, the organization hired legendary general manager Dave Dombrowski.
Dombrowski is the mastermind behind two World Series titles with the 1997 Marlins and 2018 Red Sox. He also built some great Tigers teams in his time as GM in Detroit from 2002-2015.
He has always been known for splashing the cash and putting together a loaded roster. That meshed well with the way the Phillies had been doing business, but it has not paid off just yet.
Now, after spending big again on Schwarber, Dombrowski has one question to answer: can Schwarbs be the guy that pushes the Phillies over the top?
Schwarbombs
There is no doubt that Kyle Schwarber will bring an extra element to an already solid lineup. Pairing him with reigning NL MVP Bryce Harprer and JT Realmuto in the heart of the order is terrifying.
The Phillies also have some other really solid pieces, such as Didi Gregorious, Jean Segura and Rhys Hoskins. They had five players with at least 400 plate appearances and a wRC+ over 100 last season, although one of them is the departing Andrew McCutchen.
Cutch leaving for Milwaukee leaves a hole open in left field, likely to be filled by Schwarber. However, it is also possible they finally try and get something from top prospect Mickey Moniak and play him out there. That would leave Schwarber in the DH spot, which is preferable as fielding has never exactly been his strong suit.
There are still plenty of concerns for this lineup. Gregorious struggled last year to the tune of just 68 wRC+ and it is a top-heavy lineup. Super utility man Brad Miller has moved on, and he was their only non-starter that had over 100 wRC+ last season.
A massive issue for the Phillies is the regression of Alec Bohm during the 2021 season. Bohm nearly won NL Rookie of the Year in 2020 and looked like a sure-fire star in the making. However, he took a massive step back in 2021 and received a demotion to Triple-A. He put together a .647 OPS and just 75 wRC+ last year.
The biggest problem was that his power just disappeared. Bohm's slugging percentage dropped from .481 in 2020 to an anemic .342 last season.
Kyle Schwarber will no doubt provide a huge power boost to this lineup. However, the top-heavy nature of their lineup is still a big concern, because one injury can cripple the whole team. With so much money tied up in the top part of the lineup, the drop off to the bottom may be too steep.
Either way it is a good problem to have. The top of that lineup is one of the best in the National League and maybe even all of baseball. It will have to carry them a long way, because the pitching needs some work.
Do the Phillies Have Enough Pitching?
The Phillies bullpen has become infamous for being a disaster. Their bullpen ranked 25th in the league with a 4.60 ERA and led the league in blown saves with 34. This is a trend for Philadelphia, finishing in the top 10 in blown saves three of the last five years.
The Phillies have been aggressive in getting bullpen help this offseason, signing Corey Knebel, Jeurys Familia and Brad Hand. It did come at a high price: they will be paying them a combined $22 million this season.
Ranger Súarez was a revelation coming out of their bullpen, but he was so sensational that ended up in starting rotation, making 12 starts to close the season. Súarez posted a 1.36 ERA in 106 innings and could very well slot back into the rotation this season.
The Phils have a two-headed monster at the top of the rotation in Zach Wheeler and Aaron Nola. Wheeler was the runner-up in the NL Cy Young race and Nola is consistently one of the most underrated pitchers in baseball.
However, there is a huge drop off after that. Zach Eflin was the only other full-time starter that had over 100 innings, but made just 18 starts. Eflin was good, posting a 98 ERA- with a 4.17 ERA, but that's not exactly what you are looking for in a third starter.
Last season, Kyle Gibson was the Phillies big trade acquisition at the deadline to address their rotation. He pitched to a 2.87 ERA in 19 starts with the Texas Rangers prior to the trade, then finished the year with a 5.09 ERA in 12 games (11 starts) with the Phillies.
Outside of Súarez, Eflin and Gibson, the Phillies have a few young starters in either Hans Crouse or Francisco Morales that factor in as depth as well. Still, the problem is the same with the Phillies rotation as it is with their lineup, it's too top-heavy.
It would not hurt for the Phillies to go out and sign an available veteran to sure up the rotation. Adding pitching depth is always a good idea for a team that will be so heavily reliant on offense.
Does Schwarber Make the Phillies a Contender?
Obviously, the answer will come once the game starts. Nobody knows how it will shake out until it happens, so it is not worth predicting.
Kyle Schwarber is coming off a career year in 2021, posting a .928 OPS and a 145 wRC+ while socking 32 dingers. The dude mashes and his left-handed power will play favorably in tiny Citizens Bank Park. That right field porch is going to get peppered with the combination of Harper and Schwarber swinging it from the left side.
Philadelphia won 82 games last year, and while it was technically a disappointment it shows they are close. If they had just gotten anything besides disaster from the bullpen, they are likely a playoff team.
They can put a scare into a lot of teams if their offense becomes a run-scoring powerhouse, especially if they have Wheeler and Nola available to pitch in a Wild Card round. With an expanded postseason this year, the chances they end their playoff drought are high.
While Schwarber is not the final solution, he certainly helps the cause. This will be an incredibly fun lineup that will be must-watch if everybody gets hot at the same time.
The problem is, we are talking about a whole lot of "ifs" when it comes to the 2022 Philadelphia Phillies.