Analysis
Seattle Mariners Land All-Star Jesse Winker in Six-Player Deal with Reds
The Cincinnati Reds teardown continues but all hope is not lost considering some of the players coming back in their latest trade.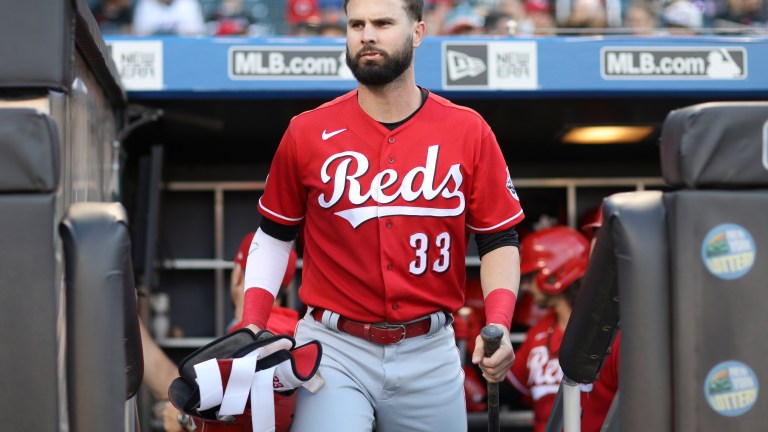 The baseball world was expecting Jerry Dipoto to remain busy once the lockout was lifted, but I don't know if anyone expected the Mariners president of baseball operations to make the move he made on Monday afternoon.
The Mariners and Reds agreed to a six-player swap–including a player to be named later–most notably sending All-Star outfielder Jesse Winker and Eugenio Suarez to Seattle. The move didn't come cheap for Dipoto both financially and prospect wise as the Mariners will eat the remaining $35 million owed to Suarez and also parted with RHP Justin Dunn, OF Jake Fraley and their best LHP prospect, Brandon Williamson. Per Ken Rosenthal, the Reds are excited about the player to be named later as well.
Seattle Mariners Perspective
For the Mariners, this was an easy opportunity to upgrade their lineup. Dipoto took advantage of his ownership's willingness to take on some salary and absorbed Eugenio Suarez's undesirable $35 million remaining over the next three years. By taking on the money, the Mariners were able to acquire the All-Star Winker without parting with one of their blue chip prospects.
That being said, Brandon Williamson is an extremely exciting arm who slotted into the No. 5 spot in our rankings for a loaded Mariners system and is comfortably inside of our Top 100 Prospect list for 2022, which is set to be updated this month.
With Mariners prospects George Kirby and Matt Brash not far off from contributing at the big league level and Justin Dunn's inconsistency, it is easy to understand how they saw the young right-hander as expendable. Dunn was solid when on the field, but struggled with some injuries last season, as well as command. Surely, the Mariners believe that Kirby and Brash have more upside than the outgoing Dunn.
Another interesting wrinkle in this deal is that it means that Jarred Kelenic will likely get plenty of run in center field, unless we will see more moves.
As it stands now, the Mariners outfield includes: Jarred Kelenic, Mitch Haniger, Kyle Lewis and now Jesse Winker with Julio Rodriguez knocking on the door. Haniger, Lewis and Winker could likely all rotate between corner outfield and DH. Winker leaves a bit to be desired defensively in the corner, which could be a bit disastrous alongside Kelenic who struggled defensively in center in his rookie campaign.
While Kyle Lewis' days up the middle could be behind him, it's easy to envision him getting a bit more run in left field where he can be an above-average defender if healthy. The Mariners are a much deeper team than Cincinnati was, which will mean Winker can be protected a bit more from left-on-left matchups.
Last season, Winker produced just a .572 OPS against lefties, while almost doubling up to a 1.070 OPS against right-handers. The 28-year-old also comes with two years of control, which likely made the absorption of Suarez's salary a bit more palatable.
The Mariners desire to get a bat at third base had been well-documented. They had been tied to names like Kris Bryant and Matt Chapman among others. Ultimately, the Mariners decided to kill two birds with one stone and bet on a bounce back from Suarez.
Even though Suarez's contract is far from desirable, it is still around $8 million AAV cheaper than Kyle Seager's deal over the last several seasons. It would not be crazy at all to expect Suarez to provide something similar as to what Seager did last year in the production department and the 30-year-old is only 200 games removed from a 49-home run season.
From the Mariners viewpoint, the $35 million owed to Suarez was a gamble worth taking because it kept them from needing to tap into the most elite prospects even if Suarez does continue to struggle. If Suarez bounces back even a little bit, the deal looks like a resounding victory.
Cincinnati Reds Perspective
For the Reds, it is the second move in as many days that signals a rebuild of some sorts. The Cincinnati brass will likely hide behind semantics and present what they have done this offseason differently, but at the end of the day, they are shedding salary and adding young players.
That being said, this doesn't look like a total tear down for the Reds and I do like the pieces coming back. The Reds continue to stockpile arms, now adding Brandon Williamson and Chase Petty to a system that already has one of the most exciting pitching prospect duos in baseball with Nick Lodolo and Hunter Greene.
Justin Dunn will slot right into the Reds rotation and Jake Fraley will likely be in the Opening Day lineup for Cincinnati. As for Williamson, I would not be surprised to see him make his MLB debut some time next season. The electric southpaw pitched to an impressive 3.39 ERA between High-A and Double-A last season while striking out a ridiculous 37.4% of batters.
If the Reds decide to hold onto Castillo, we could see a rotation of: Luis Castillo, Nick Lodolo, Hunter Greene, Brandon Williamson and Justin Dunn. Add Tyler Mahle into that mix as well if the Reds decide to keep him.
I know Reds fans probably don't care about Bob Castellini's checkbook, but his team has cleared up about $45 million over the next several seasons with the Sonny Gray and Winker/Suarez deals. The Reds could soon have one of the more exciting (and cheap) young rotations in baseball with young pieces like Jonathan India, Tyler Stephenson and hopefully Jose Barrero contributing at the MLB level.
Castellini's Reds don't have the best track record of spending money, however these moves look like a potential reshuffling of money rather than a total cutting of cost. Knowing that they are likely set on their rotation for the foreseeable future, the Reds could look to spend in the right spots to upgrade offensively. Especially with the $95 million owed to both Joey Votto and Mike Moustakas coming off of the books following the 2023 season. These moves could also help the Reds make a competitive extension offer to their ace Luis Castillo.
On the surface, the trade is frustrating. An All-Star going out with young players coming in is always a difficult pill to swallow. That said, 2021 provided plenty of reason to believe that the Cincinnati Reds would struggle to succeed as they were constructed. The team was uncompetitive against left-handed pitchers last season and left a ton to be desired defensively. As good as Winker was against righties, he contributed to the two aforementioned issues.
If the Reds mail it in from here on out, then let's call it what it is: a rebuild. The big league ready return Cincinnati is bringing in here gives me some hope that the Reds will reinvest into the team in some capacity, especially with the expanded playoffs.
That being said, I am not sure I am willing to die on the hill of Bob Castellini spending money. Stay tuned.