Analysis
Steve Cohen's All-In Approach is About More Than Just 2022
While Steve Cohen puts together a $300 million payroll to win now, he is investing in the future as much as he is in investing in the present.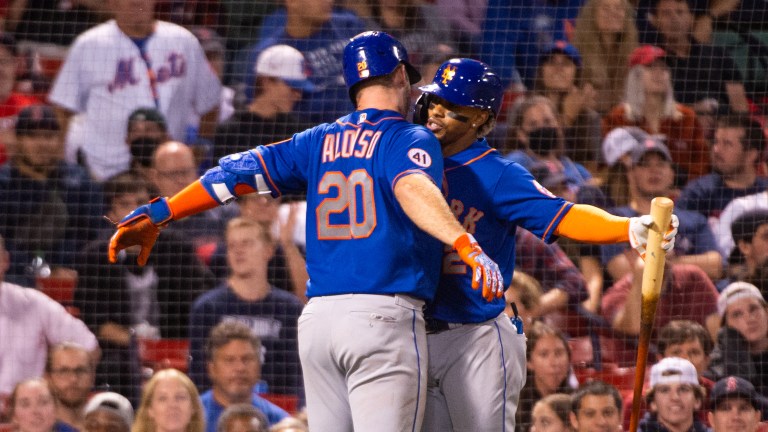 In sports we often use the phrase "all-in" to describe when a team goes for broke to win a championship. If a team goes "all-in" they are generally setting a window for contention where they look win it all and take home a championship.
Often times we see these teams come up short, never actually winning the big game before being forced to start over and rebuild so they can try to take advantage of another window for contention in the future.
When the Washington Nationals turned years of futility into two of the most can't miss prospects of the past decade, they went "all-in" around Bryce Harper and Stephen Strasburg.
In 2015 they signed Max Scherzer to a seven-year, $215 million contract, landing a win-now ace to take their team to the next level. To pay Scherzer top dollar, owner Ted Lerner deferred $105 million of salary, agreeing to pay him $15 million a year for seven years after the original contract expired.
Scherzer proved to be the perfect piece for the Nationals, as they won back-to-back NL East titles in 2016 and 2017, before finally reaching the mountaintop as World Series champions in 2019. Lerner continued to invest in winning, signing Strasburg to a seven-year, $245 million deal, while still having Patrick Corbin and Scherzer on the books to keep their championship rotation together.
Unfortunately, Strasburg got hurt, Corbin regressed and with Scherzer's contract almost up, the Nationals decided it was time to move back into a rebuild around Juan Soto. They traded Trea Turner and Scherzer and have yet to show any indication that they will be going for it in the near future. This is a luxury they can take advantage of after getting the job done and winning a World Series for their fans.
We have seen the same thing with the Chicago Cubs as they spent the trade deadline dealing away the stars from World Series' past, as they still sell tickets and beer off the championship they won in 2016.
This offseason, many have said that Steve Cohen is "all-in" with his New York Mets, as he has committed well over half a billion in salary in his first two years of ownership. Cohen went out and got the same ace the Nationals signed in 2015, landing Scherzer on a record-breaking three-year, $130 million contract, one year after giving Francisco Lindor a $341 million contract.
The thing that is different for the Mets though is that they aren't actually "all-in", because that would suggest that there isn't more money to be invested in the future. Instead Cohen is investing significantly in his new franchise, with hopes of turning the Mets into the next model franchise in Major League Baseball.
Understanding Cohen's Vision for the Mets
A New York native, Steve Cohen was a Mets superfan long before he owned the team or even before he was a billionaire. Like any fan, Cohen has spent decades complaining about every free agent that was not signed, trade that went wrong and bullpen decision that resulted in a loss.
The only difference is that Cohen has a net worth of $15.9 billion (according to Forbes) and was able to buy his favorite team. Now he finally has the opportunity to sign the former National who has been carving up his lineup for years, or hire the star manager who he has admired from afar, dating back to his time across town with the Yankees.
Cohen wants the Mets to be bigger and better than everyone else, creating a powerhouse that will not only dominate the NL East, but more importantly, dominate New York City.
While he may seem like George Steinbrenner reincarnate, trying to buy championships through free agency, what Cohen has done with this Mets team is far more calculated than it appears on the surface.
Being the wealthiest owner in Major League Baseball has its advantages, one of which being that he can afford to make mistakes and gamble more than other teams, whose poor decisions can cripple them for years.
When Cohen goes "all-in" on a team, it is as if the house itself was going "all-in" because he won't be out of business in the slightest if the gamble turns out to be a bust. As they say, "the house always wins".
Cohen doesn't need to make money off his baseball team, but that does not mean he wants to keep losing money either. 
Along with all the money Cohen has spent on the field, he has also been pouring money into every facet of the organization, expanding analytics, technology, scouting, player development and so much more in hopes of building a sustainable winner in Queens.
What Cohen is doing is laying the groundwork to make the Mets a cash cow. One that can win every year, keeping seats full and fans engaged. Cohen may burn hundreds of millions of dollars over the first few years, but if the Mets can capture the imagination of the city and take over New York the way they have in the past, all of it will come back around tenfold.
The Mets may not be the odds-on favorites to win it all next season, but they are certainly going to be a compelling team to watch. Scherzer and Jacob deGrom is just an absurd one-two punch and their lineup is much improved as well with Starling Marte, Mark Canha and Eduardo Esobar joining a group that already featured standouts like Brandon Nimmo, Francisco Lindor and Pete Alonso.
This is going to be a Mets team that dominates headlines with all of their big personalities, especially with Buck Showalter at the helm as their manager.
Yet if you look at the Mets farm system, the future of this franchise lies in the bats of top prospects Francisco Alvarez, Brett Baty and Mark Vientos (all of which are in Just Baseball's top 100 prospects).
Since Cohen took over the team, there has been an emphasis on hanging onto their top prospects and letting the farm system grow after years of gutting it through trades.
When the Mets traded for Lindor, they dealt two shortstops that were on their MLB roster and two prospects that were at least four years away. When they traded for Javier Baez at the deadline, they only dealt one prospect. While Pete Crow-Armstrong was a significant prospect to deal (and one they would like to have back in retrospect), he is only 19 years old and is coming off major shoulder surgery.
The Mets will continue to be opportunistic in the trade market, but they have made it very clear that the priority right now is to let their farm system grow while using Cohen's financial resources in free agency to improve the current roster.
Make no mistake, the New York Mets are in the midst of a rebuild. They are just rebuilding while putting a $300 million payroll on the field.
The Mets just signed two top international free agents last week in Simon Juan and Willy Fanas, spending a combined $3.4 million on the pair of outfielders.
International free agents are far from a sure thing, but Juan and Fanas give the Mets a pair of outfield prospects that replace the last two they sent out in major trades with Crow-Armstrong and Isaiah Greene (from the Lindor trade). Even better, Juan and Fanas will now be developed in a farm system that Cohen has been pouring resources into, giving them the best tools possible to succeed.
As the money trickles down through every department, the Mets are only going to get better and better over time. Fans should be thrilled about getting to watch this team in 2022, as this star-studded roster of veterans looks to capture ligthening in a bottle and end a World Series drought that has spanned five different decades. Still, the real fun is going to start a few years down the line.
If Cohen's vision is fully realized, the Mets will soon have a top tier farm system to pair with a MLB roster that is going for championships every year. The fan base is being catered too like never before, creating a whole new generation of Mets fans.
As we look ahead to the 2022 season, the Mets are absolutely "all-in" to win a World Series. They just have the ability to remain "all-in" for the next decade thanks to the hedge fund titan that owns the team.