Analysis
Six Reasons the Reds are This Year's Premiere Bandwagon Team
Still in hot pursuit of a Wild Card spot, there are a number of other special reasons for fans to root for the Cincinnati Reds.
Let's get this out of the way: yes, I'm the Padres guy, so this will easily go down as my greatest Benedict Arnold moment. But being the dutiful, prestigious journalist that I am — combined with the fact that the Padres have been more like a Coen brothers comedy rather than a legitimate contender as of late — it makes sense to give credit where credit is due. In this particular article, we will be giving credit to the Cincinnati Reds – the top team to bandwagon for the final stretch of the season.
I don't often get overtly political, and certainly not religious, with my writing; with that being said, I feel it's best that I confess that I, Javier Reyes, am in favor of bandwagoning. Maybe you love a certain player's personality or the organization's bizzare history — that isn't any more arbitrary than your fandom being predicated on where you grew up or who your parents rooted for, two things very much out of your control. Heck, I became a Chargers fan because I thought their lightning bolt looked rad as hell; I've been miserable ever since, but somehow don't regret it. So, if you're one of these nomad-esque fans, allow me to make the case for the Cincinnati Reds being the 2021 season's premiere bandwagon team.
1. They're Different! Different is Good!
This one is a bit of a cheat and also reeks of a hipster mentality, but I'm sorry darling, sometimes certain things just need to be said! If you simply peruse even the outer rim of Reds discourse, you'll no doubt see fans bemoan over the lack of media coverage they receive. It's a common complaint among smaller markets but the good people of Cincinnati, I do believe, deserve better. On top of having a good team, the Reds are currently in hot pursuit of last season's greatest bandwagon team: the Padres. Who doesn't love rooting for a good-ole fashion dethroning? The Padres are basically like if a firefly couldn't sporadically light up; they're the antithesis of the #SlamDiego moniker they earned in 2020.
Plus, again, given their smaller status, it could be fun to root for the Reds. There's a certain joy to be had with rooting for completely obscure-seeming franchises. Plus, it can become your brand! Just think of Jason Mendoza from The Good Place being a rabid Jacksonville Jaguars fan and appreciator of Blake Bortles! Is it absolutely ludicrous? Sure! But it's a lot easier to stand out from the overflowing New York, LA, or Chicago fanbases (sorry, Boston, despite what you keep telling us I just simply don't believe you're in the S-tier of markets). Perhaps it's poetic justice that 2021's bandwagon team is in hot pursuit of the previous holder of that title, like the student surpassing the master.
2. Exchanging Pitching for Offense 
In 2020, the Reds starting pitching finished with the fourth best ERA in the majors (3.50) and the best strikeout rate of any staff in baseball. This year, while the staff has managed to accrue a fair amount of strikeouts, their ERA has regressed to the bottom half of the majors — 17th, in fact, and a lot of that has to do with the mostly disappointing Luis Castillo. It's not so often that a team's entire identity alternates completely over the course of just one season, and that's what makes the Reds particularly unique. A lot of this has to do with the war-mongering Nick Castellanos (7th in wRC+ among qualified batters, and more on him later) one of the biggest breakouts in baseball with Jesse Winker (6th in wRC+ among qualified batters), the front runner for rookie of the year in Jonathan India, and the legendary Joey Votto (also more on him later, believe me).
Granted, there are two other possible explanations for this night-and-day shift:
Last year's truncated 2020 season had a host of bizzare developments. Remember when Jose Altuve and Marcus Semien were bad? Or when Eric Hosmer embraced launched angle and then teehee'd all of us and then went back to the groundball criminal that he's known to be? 2020 was weird!
I'm just a buffoon and team's vacillate like this frequently enough that isn't worth making a note of.
3. Nick Castellanos Was Imprisoned On Fraudulent Charges
Unwritten rules are bad, and violators of them should be treated like kings rather than the criminals that the ruling class (MLB, baseball culture, and, most definitely, old white guy baseball culture) deems them. Last season, it was Fernando Tatis Jr. swinging on a 3-0 pitch. This year, it was Nick Castellanos doing the unthinkable: flexing for a split second after scoring a run on a close play at home plate. I should probably also mention that my fellow Puerto Rican legend, Yadier Molina, responded to this incident in a way that tempted me to pull a Keke Palmer and temporarily suspend him from the Puerto Rican alliance.
As someone who loathed the way Disney wrapped up the latest Star Wars trilogy and even has some qualms with how my beloved Naruto ended, I can confirm that subscribing the the "headcanon" idealogy is a healthy way to go about things. In the case of Nick Castellanos, who somehow received a suspension for this innocuous gesture, I choose to believe that he walked into the commissioner's office like he was Eduardo Saverin. Lawyer up, because he's not just coming back for revenge on the suspension, he's coming back for EVERYTHING (i.e. winning the World Series) and we should all be rooting for him.
4. They Gave us the Best Meme in Recent Baseball Twitter History
I recently wrote about the glory of the Nick Castellanos home run meme, so I won't spend too much time breaking it down here (also because I'm lazy). It's probably the most widely-known quirk of the Cincinnati Reds, and alone might be a good reason for hopping on the bandwagon, as it simply never ceases to be funny. I'm genuinely wondering what might happen if this guy hits a huge home run in the playoffs. Nuclear armageddon? Another creepy Kevin Spacey video dropping? Everything is on the table.
Even Castellanos' wife, Jessica, addressed the meme and took issue with it being perpetuated so widely across the internet. The poor angel, predictably, received a number of replies in the meme format, and I do feel bad. While she is correct that terrible things happen every day and there's probably a good chance we could find something horrible to correspond with any number of home runs that happen, I still love it. The Cincinnati Reds fans, I'm sure, love it too.
5. Wade Miley Is Wonderfully Terrifying
I need you all to simply take a second to observe this absolutely unhinged player picture of Wade Miley, one of the starting pitchers for the Reds. He looks like a mad man, and I need to speak with whoever decided on that being the most appropriate picture because that person is a genius. But more than just the delightfully deranged picture, Wade Miley has actually had quite the remarkable season.
As a well-documented fan of relatively unremarkable pitchers randomly having good seasons, Miley has fit the bill for the Reds tremendously. He's one of those players we've all claimed off the waiver wire in fantasy baseball at least once, but this year he's been more than that: rocking the lowest ERA (2.89) of his career since 2012 (3.33), and even threw a no-hitter early on in the season.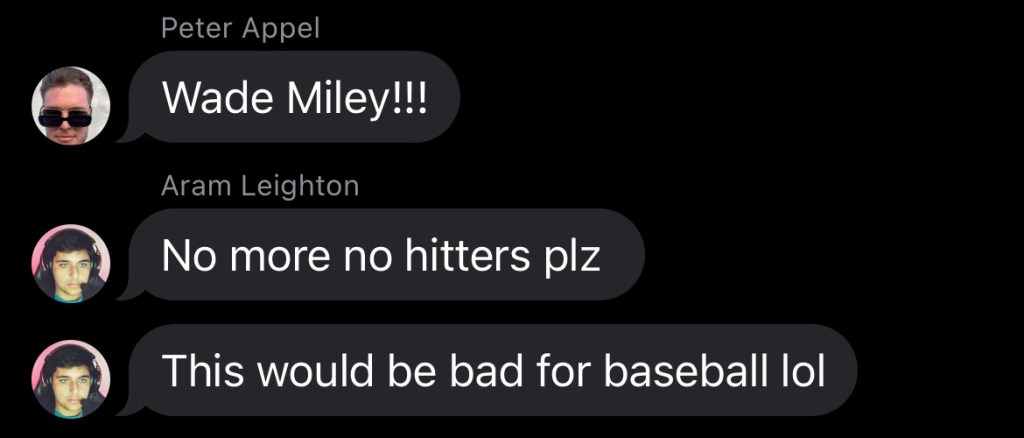 But despite all that, people seem hellbent on disrespecting him! Remember how everyone freaked out about this being a sign that things had gone too far? There was supposed to be an epidemic on the horizon — with folks lamenting over the glory of the no-hitter vanishing just because everyone was doing it — and look at us now, acting as if none of those takes ever happened. Well, Wade Miley remembers, and he's continued to pitch well ever since. We should be rooting for him. We should be rooting for him to have one of the most randomly good seasons amongst all starting pitchers. We should be honoring him and enshrining him as the unlikeliest of heroes; stay tuned for when he, somehow, outduels Max Sherzer in a playoff game this fall.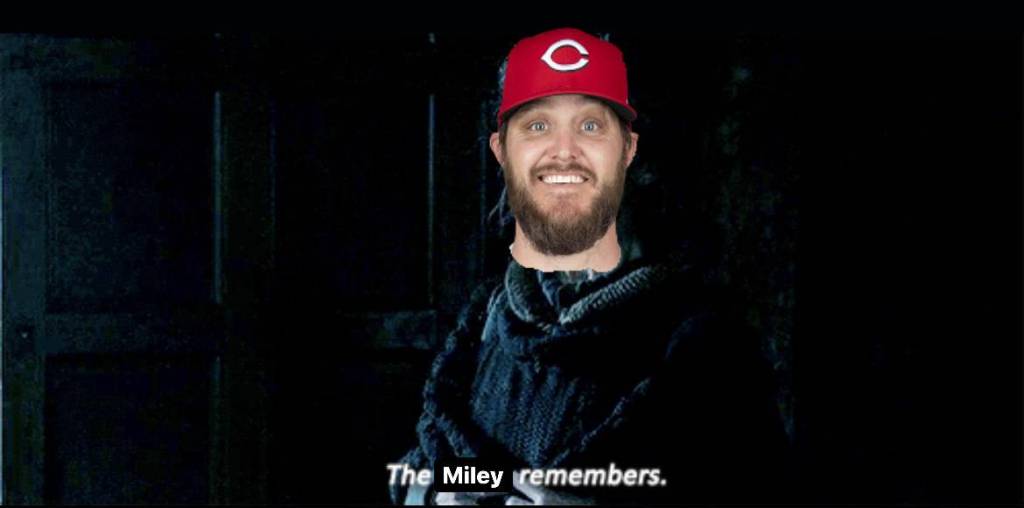 6. Abigail
June 20th should be known as a holiday in Cincinnati because that's when adorable Joey Votto super fan Abigail came to see her favorite player. It didn't start off well, as she was devasted after he'd gotten ejected in the game, but as you can tell from the post above, things ended on a happier note. If you're wondering whether or not the numbers have changed at all since that day, fear not! Since June 20th, Votto is slashing .289/.391/.610 with 21 (!) home runs and a wRC+ of 157. Need more? That wRC+ is the 6th best of anyone in baseball during that time frame and the home runs are the 4th most; I'd say that's pretty good for a 37-year-old first baseman.
Votto has long been one of the easiest players to root for in baseball, and this is yet another instance of his greatness. He even likes Ted Lasso! We should be rooting for Votto to lead the Reds to the promised land because it would only add to his hall of fame case, and, of course, would probably make Abigail incredibly happy. What more do you need folks? Seriously, tell me, I want to know which one of you soulless thugs aren't sold on the Reds.