Analysis
Phillies Sign Nick Castellanos to Form Dangerous Lineup
While the pieces might not fit together perfectly, the Phillies are creating one of the scariest offensive lineups in baseball.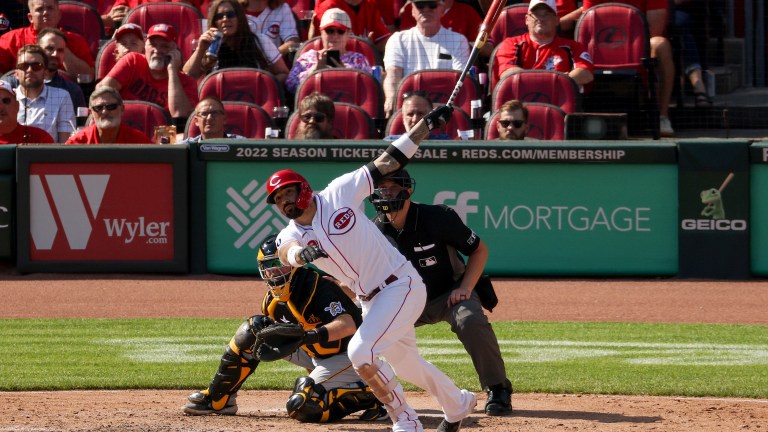 Nick Castellanos and the Philadelphia Phillies agreed to a five-year deal worth $100 million late Friday night, per ESPN's Jeff Passan.
After bringing in Kyle Schwarber, Philly adds Castellanos to an already loaded lineup. If Schwarber was not the piece to push the Phillies back into the Postseason, Castellanos likely is.
The top of Philadelphia's lineup is officially one of the strongest in the National League, if not all of baseball. A core of Castellanos, Schwarber, reigning MVP Bryce Harper, JT Realmuto and Rhys Hoskins presents a daunting task for opposing pitchers.
The Phillies have spent a lot of money recently but the results have not paid off. Philly has not made the playoffs since 2011, the second-longest drought in the league.
While pitching has been their achilles heel, the hope is the offense will carry them into the playoffs. With an expanded playoff in 2022, the chances of the offense being enough to get them in are very high.
The Phils were not far off last season, winning 82 games despite a disastrous bullpen. If they had not led the league in blown saves, they are likely coming off a postseason bid this year.
The addition of Castellanos presents some enticing options for a lineup that should be must watch when firing on all cylinders.
The Gang Ignores Defense
Citizens Bank Park is one of the best hitters park in the league and a perfect environment for this lineup. With Schwarber and Harper attacking the right-field porch, and Castellanos, Realmuto and Hoskins going after the short porch in left, they are a contender to lead the league in home runs.
Three of them had 30+ homers last year, Hoskins hit 27 and Realmuto had 17. Philly also has Jean Segura, Didi Gregorious and Odubel Herrera who have all flashed 20-homer power in their career.
It will be interesting to see how they actually line up. Segura is likely to lead off and Realmuto's speed for a catcher makes him a good option in the two-hole. The heart of the lineup is where it gets interesting and extremely scary. While it may be difficult, figuring out where Schwarber, Castellanos and Harper go is a good problem to have.
Still the real problem for the Phillies is sure to be the defense. While signing Castellanos allows Schwarber to DH, neither are great options in the outfield. The pair have -48 and -13 defensive runs saved in the outfield during their careers, respectively.
The plan seems to be outscore everybody and worry about the defense later. The Phillies have a solid pitching staff, but the bullpen is infamously unreliable.
Not to mention, both of their best starters—Zach Wheeler and Aaron Nola–had ERAs higher than their FIPs. That suggests both were hurt by poor defense behind them, especially Nola. His ERA was an ugly 4.63, but his FIP was a much cleaner 3.37.
Nola can expect something similar with an outfield made up of some combo of Schwarber, Castellanos and Harper in two of the three spots. The good news is Herrera is very good in center field and can anchor the defense.
The infield is not much better. Segura is their only starter from last season with a DRS above zero in his career and their third baseman, Alec Bohm, had -13 DRS in 2021.
The Phillies will be an interesting experiment in how much defense actually matters. It has to at least a little bit, right?
Fishing For Nothing
Another storyline emerging from the Castellanos signing is the inability for the Miami Marlins to reel in a big fish.
Coming into the offseason, Miami was supposed to compete for at least one big name in free agency. There were rumors up until today that the Marlins were in on Castellanos, but they once again got boxed out.
Barry Jackson of the Miami Herald had suggested that the South Florida native had interest in coming home, and could have been had for a similar price.
However, it seems these are not the type of deals the Marlins will be making under owner Bruce Sherman. If $20 million AAV is too much for Miami, it is hard to see any path to competing in the NL East. All three teams in front of them made massive improvements this offseason by throwing big money at big names.
Meanwhile, the Marlins were bystanders following the lockout despite claims from Sherman that they have money and will spend it.
With Schwarber and Castellanos gone, the biggest names left are Michael Conforto and Jorge Soler. Both would be considered disappointments by Marlins fans based on expectations coming into the offseason, but Conforto is still a good option for them.
Still, if the Marlins cannot make a significant upgrade via trade—Bryan Reynolds seems to be the big target—this offseason will be a massive disappointment.
Now the Fish are stuck in a division with three teams that can legitimately contend for the 2022 NL pennant.
Even with the defending World Champions and Steve Cohen's Mets in the East, is any team more intriguing than the Phillies?
This experiment in all offense, no defense is one everybody should pay attention to.
Even it fails, it will likely go down in epic fashion. If it works, they can easily be the most exciting offense in all of baseball.