Analysis
Trade Deadline Grades for All 30 Teams
Before we focus in on the final third of the season, let's look back and grade how each team in baseball fared at this year's trade deadline.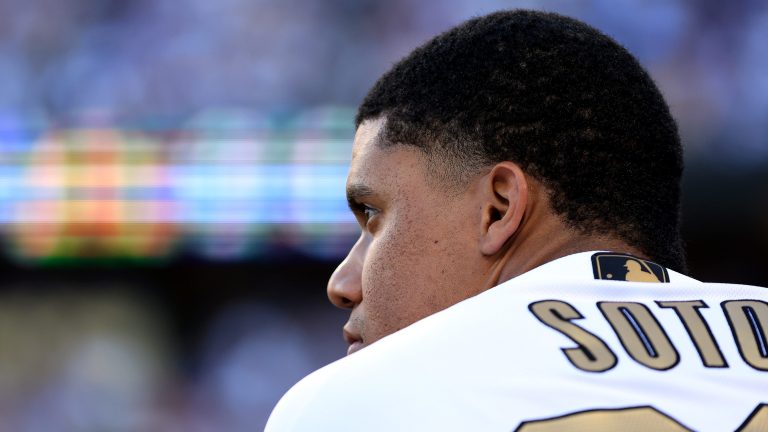 We are almost a week removed from the trade deadline, as the playoff push is in full swing for all the best teams in baseball. At the deadline, we saw some massive moves, with Juan Soto of course being the highlight, and some moves that we thought would happen that didn't end up coming to fruition.
Before we focus in on the stretch run of the season, let's take a look back at the deadline for each team in baseball and give them a grade for what they did, or did not, accomplish on August 2nd.
AL East
New York Yankees
Notable Additions: OF Andrew Benintendi, RHP Scott Effross, RHP Frankie Montas and CF Harrison Bader
Baseball's best team got exponentially better at the trade deadline with a numerous number of acquisitions. They bolstered their starting rotation, adding Oakland ace Frankie Montas to be the clear No. 2 behind Gerrit Cole. The Joey Gallo experiment has finally ran its course in the Bronx, with the exact opposite type of player coming in to fill the void with Andrew Benintendi.
With a wild amount of bullpen injuries, they decided to snag star reliever Scott Effross from Chicago, who has a massive five years of control. And with Montas coming in, Jordan Montgomery was shipped away to the Cardinals for Harrison Bader, who will provide an immense amount of defense come playoff time.
Brian Cashman and the Yankees front office hit the nail on the head here. While they didn't receive superstar Juan Soto, they walked away as clear winners. This team seems primed for a World Series run with their new additions.
Grade: A
Toronto Blue Jays
Notable Additions: RHP Anthony Bass, RHP Zach Pop, RHP Mitch White and UTL White Merrifield
Coming into the trade deadline, the Toronto front office had a clear mission. They lacked starting pitching, needed reliever help, and could add a left-handed bat to help balance out the lineup. They accomplished all three of these goals this past week.
Starting pitching help came in the form of Mitch White from the Los Angeles Dodgers. While his 3.60 ERA in LA might not jump off the page, it will be instrumental for a team that has struggled with its starters this year. He'll fill in perfectly in the back of that rotation.
Bullpen help came from Miami, with relievers Zach Pop and Anthony Bass coming in. Both are perfect for a team that, yet again, is begging for bullpen help in a playoff push. The final addition comes from Kansas City, as veteran utility man Whit Merrifield is now a Blue Jay. His 80 wRC+ is a far cry from his peak, but there's hope he can regain his previous form in a new uniform.
None of these moves the Blue Jays made were particularly sexy, but they will get the job done in key areas. This team was heavily flawed pre-deadline, and they've filled out their weaknesses pretty well.
Grade: B –
Baltimore Orioles
Notable Players Dealt: 1B/DH Trey Mancini, RHP Jorge Lopez
Prospect Return: RHP Chayce McDermott, RHP Seth Johnson RHP Yennier Cano, LHP Cade Povich, LHP Juan Rojas and RHP Juan Nunez
Trey Mancini's days as a Baltimore Oriole have finally concluded. It's sad to see the face of the franchise walk away, but they granted him the opportunity to go chase a World Series title. Star closer Jorge Lopez was also dealt to Minnesota, strengthening that teams arm barn even further. So, the Orioles were considered sellers, but it was for the best.
Baltimore has been one of the hottest teams in the sport over the past month, leapfrogging the Boston Red Sox in the AL East standings despite having a marginally smaller payroll. The prospects they received back will further accelerate their rebuilding process and will help them shine soon enough. I commend the Orioles front office for understanding that this simply isn't their year, but it will soon come. As they prep for 2023 and beyond, this is just another step in the right direction for this promising franchise.
Grade: B
Boston Red Sox
Notable Players Dealt: LHP Jake Diekman and C Christian Vazquez
Notable MLB Additions: C Reese McGuire, OF Tommy Pham and 1B Eric Hosmer
Prospect Return: 2B Enmanuel Valdez, OF Wilyer Abreu, 2B Max Ferguson and OF Corey Rosier
There's really one reaction that you can have from this Red Sox deadline: Confusion.
Boston sent away starting catcher Christian Vazquez to Houston mid BP in the saddest moment of the week.
In turn, they sent left reliever Jake Diekman to the White Sox in exchange for Reese McGuire, who in will be their new starting catcher. Fantasy football professional Tommy Pham was brought in to plug a hole in the outfield, which now sees Jackie Bradley Jr. and his horrific contract without a team. And following the Juan Soto trade fiasco, Eric Hosmer found his way to Boston.
It was a wild few days for this organization.
The team did receive a decent amount of prospect depth, which strengthens their future, but it's an odd deadline for a team who was fresh off an ALCS appearance and the addition of Trevor Story. They without a doubt upgraded in the outfield and at first, simply due to the fact that they have gotten zero production out of either position. But these moves don't really move the needle, let alone push them into a playoff spot.
Grade: C
Tampa Bay Rays
Notable Additions: LF David Peralta CF Jose Siri, LHP Garrett Cleavinger, RHP Jeremy Walker
Never ones to make the big splash, Tampa Bay added a few pieces to the team where they had previously struggled, adding pitching depth and a few bats. Jose Siri is far from an elite hitter, but is a perfect defensive replacement for Kevin Kiermaier, who will miss the rest of the season.
Left fielder David Peralta has put together a solid campaign in 2022 with Arizona, posting a 108 wRC+ and adds some much-needed run support to this Rays lineup. And finally, Cleavinger and Walker are two arms in Triple-A that the organization will work their magic on once more, you know they always do.
A big bat was a necessity for this team at the deadline. While Peralta is decent enough with the stick, it's incomparable to the Nelson Cruz addition at last year's deadline. They needed a little more support here. This team has struggled to score runs all year despite their elite pitching staff and should've dove into another bat before the deadline close. With that being said, Peralta and Siri are solid depth upgrades.
Grade: C
AL Central
Minnesota Twins
Notable Additions: RHP Jorge Lopez, RHP Michael Fulmer, RHP Tyler Mahle, C Sandy Leon
The Twins have needed pitching for a long time. It hasn't been a secret and everyone has been wanting to see this lineup supported by a more consistent staff. They finally did it. The Twins did what their AL Central competitors failed to do as they went out and addressed their biggest weakness by adding three high-quality arms.
While his 4.40 ERA with Cincinnati isn't the prettiest, the Twins deal for Tyler Mahle was crucial. They've lacked stability in their rotation for a while and don't have any truly trusted arms outside of Sonny Gray. They now add an arm in Mahle that should elevate their staff and be a guy that can start hypothetical playoff games for them. He turned in very good seasons in 2020 and 2021 and should only benefit from leaving Great American Ball Park.
The Twins other main additions came in the bullpen. Closer Jorge Lopez and reliever Michael Fulmer immediately elevate this group to another level. Jhoan Duran has been incredible in his rookie season, but they've lacked alternative steady options. Lopez has been phenomenal for Baltimore this year and comes with two more years of team control. Fulmer has had an up-and-down career in Detroit, but has blossomed in a key relief role over the last few years and should lock down the 6th or 7th inning for Minnesota.
Minnesota cemented themselves as the favorite in the AL Central as they were the only team in this division that got better and they did it in a big way by adding three strong arms. They dominated the deadline in comparison to the rest of their division.
Grade: A
Chicago White Sox
Notable Additions: LHP Jake Diekman
The confusing 2022 Chicago White Sox continue to befuddle. This team is supposed to be in a championship window but they've disappointed at every turn this season. However, they still have a legitimate shot at the playoffs because of the division they reside in. While they sat only a few games behind Minnesota, the general assumption was that they would look to add affordable rental pieces to help this roster despite the lack of farm depth within the organization.
They chose to essentially stand pat besides flipping their third catcher, Reese McGuire, for left-hander Jake Diekman. They have desperately needed another left-hander with Aaron Bummer still on the shelf and Garrett Crochet out for the year. He's not having the best year, but Diekman fills a hole and he should give the Sox another solid mid-inning option.
Many key players getting fully healthy should provide a boost for this team, but they had numerous holes to fill and neglected to do so at the deadline. If they find a way to win the division and further retool in the offseason, this doesn't matter. But if they end up losing the division to Minnesota, the deadline may be looked at as a major reason why they did. It was frankly a complete missed opportunity for this team.
Grade: F
Cleveland Guardians
Notable Players Dealt: C Sandy Leon
Return: RHP Ian Hamilton
The third team in the race for this division did even less than Chicago as they didn't add a single player to their MLB roster. The Guardians have an abundance of farm depth, especially in the middle infield and pitching departments. They seemed like a prime candidate to trade for one of the big catchers on the market but failed to get any deals done.
While Cleveland might have quite the same chance as Minnesota or Chicago to win the division, why not at least try? They've had some excellent breakout players in addition to continued stable play from many of their veterans. They had the ability to overtake their division rivals by utilizing their loaded farm system but failed to do so. The deadline can only be looked at as a failure for a team that could've competed.
Grade: D-
Kansas City Royals
Notable Players Dealt: OF Andrew Benintendi, 3B Emmanuel Rivera, UTL Whit Merrifield
Prospect Return: RHP Chandler Champlain, LHP T.J. Sikkema, RHP Beck Way, 3B Emmanuel Rivera, RHP Max Castillo, and 2B Samad Taylor
The Royals are in yet another rebuilding season, despite some optimism of better times to come prior to the season. They've seen some decent development from young players but the time as a whole has continued to be one of the worst in the league.
They did the right thing cashing in on Andrew Benintendi by sending him to the Yankees. The prospect return was headlined by Beck Way, who should have the ability to reach Kansas City's rotation. While they didn't bring back any elite prospects, they got three solid arms and this organization desperately needs pitching. They also finally moved on from the long-time Royal, Whit Merrifield, by sending him up north to Toronto. While they could've gotten more from him a few years back, they were still able to bring in some young talent.
The Royals are starting to put pieces together but it would've been nice to see them really sell and move as many veterans as they could. The moves they made weren't bad and added to their farm depth, but they had the opportunity to really build their future and didn't go all the way.
Grade: C+
Detroit Tigers
Notable Players Dealt: RHP Michael Fulmer, OF Robbie Grossman
Prospect Return: LHP Kris Anglin, RHP Sawyer Gipson-Long
For a team that was supposed to make a leap this year, it's been a long tough season. The Tigers have underperformed in almost every way and it seems like they need a bit more rebuilding before they can set their eyes on competing. The one area that has been excellent for them is the bullpen and the deadline seemed like a prime chance for them to cash in and prepare to compete in the future. They didn't do that.
The only bullpen piece they moved was Michael Fulmer, getting a flier prospect in return for him. Their only other move was sending Robbie Grossman to Atlanta. He's had a rough year after turning in a strong campaign last year, which makes it a bit confusing as to why they sold low now.
The Tigers should've sold as many players as they could knowing that they are clearly far away from competing. They chose to hold onto many of their bullpen pieces and other veterans instead of setting up a window for 2024 and beyond. Al Avila confuses us once again and rounds out a pretty disappointing division aside from Minnesota.
Grade: D
AL West
Houston Astros
Notable Additions: 1B/DH Trey Mancini, C Christian Vazquez, LHP Will Smith
Houston made a move I thought they would be afraid to make. Upgrading aging veterans Martin Maldonado and Yuli Gurriel. Mancini is particularly exciting as his profile at the plate will play up in Houston moving from the deep left field fence in Baltimore. The addition of Vazquez was one of the more under-the-radar moves. They are not sacrificing veteran leadership but are upgrading the offense significantly.
Will Smith's numbers are down, but bringing in a veteran with an outstanding track record is never a bad move. His 9.71 K/9 and 4.97 BB/9 are both the worst of his career and Houston is hoping there's just enough left in the tank. Overall, the Astros improved. A team built for the postseason with plenty of experience should be scary come October.
Grade: B+
Seattle Mariners
Notable Additions: RHP Luis Castillo, LHP Matt Boyd, C Curt Cassali and 3B Jake Lamb
Seattle made the first big splash move of the deadline acquiring Luis Castillo from the Reds for several top prospects. While Castillo rounds out a scary top three of Robbie Ray, Luis Castillo, and Logan Gilbert, I am questioning if the Mariners did enough. There are still holes on this roster and their inability to beat the Astros head-to-head this season increases concerns.
Boyd and Cassali are fine veterans who are currently both injured. Jake Lamb is about as hit-or-miss as a bench bat gets. I thought the Castillo move was the start of what would be another impact move or two. Instead, Seattle will roll the dice with the current lineup relying on Carlos Santana, Jarred Kelenic, Abraham Toro, Sam Haggerty, and other limited players.
Grade: B
Los Angeles Angels
Notable Players Dealt: OF Brandon Marsh, RHP Raisel Iglesias, RHP Noah Syndergaard
Return: C Logan O'Hoppe, RHP Jesse Chavez, RHP Tucker Davidson, CF Mickey Monaik and RF Jadiel Sanchez
As always, this was going to be the Angels year. A tale as old as time. Aggressively adding in the offseason did not produce the desired results and it's looking like step one in a true rebuild. A long overdue rebuild. I expected more moves to come, but maybe this winter will generate a better return.
Moving 24 year-old Brandon Marsh was a head scratcher. With Mike Trout's injury past, Taylor Ward returning to career numbers, and Jo Adell looking lost I thought they would hold onto Marsh. Instead, they essentially replaced him with Mickey Monaik, a career 5 wRC+ player through 107 at-bats.
Grade: F
Texas Rangers
Notable Players Dealt: RHP Matt Bush
Prospect Return: 2B Mark Mathias and LHP Antoine Kelly
The Rangers expected to at least show signs of competing this season, after adding several high-priced free agents. Instead, they are 12 games below .500 and out of the race. With their long-term money tied up in players who are not necessarily young, I expected a move or two for a controllable major leaguer.
At the end of the day, Texas made zero impact moves. The Rangers deadline has, well, no "feeling". If it was a day of the week it would be Tuesday. Let's hope the offseason is busy again or the prime years of Corey Seager and Marcus Semien will be wasted away.
Grade: C
Oakland Athletics
Notable Players Dealt: RHP Frankie Montas and RHP Lou Trivino
Prospect Return: LHP Ken Waldichuk, LHP JP Sears, RHP Luis Medina and 2B Cooper Bowman
After gutting their team in the winter for an underwhelming return, movie star Billy Beane had an opportunity to significantly add to a weak farm system. Frankie Montas was considered a top tier asset while Sean Murphy and Ramon Laureano's production and team control also made them attractive assets. The only one moved was Montas.
When you compare the return Castillo brought back to the return Montas fetched they are not even close. A back-end of the top 100 arm and prospects with limited ceilings. It's not a bad return, but I think everyone was expecting more.
The Athletics have three catching prospects they have invested a lot in and decide to keep Murphy. He will likely be moved this offseason and the return better be big.
Grade: D
NL East
New York Mets
Notable Additions: DH Daniel Vogelbach, OF Tyler Naquin, DH Darin Ruf, RHP Mychal Givens
Notable Subtractions: J.D. Davis
The New York Mets trade deadline was a bit underwhelming, as many expected them to push all the chips into the center of the table and go all-in. We thought Willson Contreras or J.D. Martinez would be traded to the Mets, but instead they added three veteran platoon bats.
Still, what the Mets accomplished at the deadline was significant for the holes on their roster. J.D. Davis was sent to the San Francisco Giants in exchange for Darin Ruf, who is set to become the complement to their first deadline addition, Daniel Vogelbach, at DH.
The Vogelbach/Ruf platoon is a big upgrade over the Davis/Dom Smith platoon the Mets have been rolling out all season. Adding Tyler Naquin seems to be a solid pickup as well, as he just homered twice against their division rival Atlanta Braves.
The one thing that is keeping them back from getting a better grade though is that the Mets needed to address their bullpen more than just acquiring Mychal Givens. Joely Rodriguez remains as the only left-handed reliever in the Mets bullpen post-deadline and he is pitching to a 5.12 ERA this season.
Grades: B
Atlanta Braves
Notable Additions: IF Ehire Adrianza, OF Robbie Grossman, RHP Jake Odorizzi, RHP Raisel Iglesias
Notable Subtractions: LHP Will Smith
The Atlanta Braves made all that right moves at last year's trade deadline and were hoping to strike gold again by finding great value at this year's deadline as well. Time will tell how these moves will pan out for the Braves, but they are certainly leave something to be desired.
Ehire Adrianza was part of the 2021 championship Braves, and he certainly fills a need as a utility infielder. With that said, he has an abysmal .473 OPS this season. Robbie Grossman is not much better at .601, although he at least rakes against left-handed pitching (.965 OPS).
Flipping reliever Will Smith for starter Jake Odorizzi was a savvy addition to make it through the regular season, but doesn't move the needle come October. The saving grace for the Braves came in their final trade, as they took on a big contract of Raisel Iglesias to add a reliever who has been one of the better closers in baseball over the past few years.
Grades: B-
Philadelphia Phillies
Notable Additions: RHP Noah Syndergaard, RHP David Robertson, OF Brandon Marsh
Notable Subtractions: OF Mickey Moniak, C Logan O'Hoppe
The Phillies may not have made the biggest of moves at the trade deadline, but they at least addressed some of their biggest needs.
David Robertson gives Philadelphia a legit closer, who was having a renaissance season in Chicago prior to the deadline. Noah Syndergaard adds a quality veteran starter to the middle of their rotation, which should help them greatly in their push for a Wild Card spot.
Maybe the most interesting trade they made however was the deal that landed them a former top prospect in center fielder Brandon Marsh. The 24-year-old has not hit much since making his MLB debut in 2021 (.653 career OPS), but he does bring a skill-set the Phillies desperately needed as a strong defensive center fielder.
Still under control through the 2027 season, Marsh still has a high ceiling that could be reached that would make this a steal of a trade and one of the best moves made by any team at the deadline. The floor is more likely at this point though, which is that Marsh is a high-end fourth outfielder long-term.
Grade: B-
Miami Marlins
Notable Players Dealt: RHP Zach Pop, RHP Anthony Bass
Prospect Return: SS Jordan Groshans
The Marlins top trade asset at the deadline was starting pitcher Pablo Lopez, as well as All-Star Garrett Cooper, yet both stayed put on August 2nd.
Miami made one trade, dealing a pair of relievers for a quality prospect in Jordan Groshans, but it is hard to think the Marlins could not have done more. If nothing else, the Marlins should have dealt aging veterans on expiring contracts like Jesus Aguilar to clear playing time for some of their young players on the farm.
Grade: C+
Washington Nationals
Notable Players Dealt: OF Juan Soto, 1B Josh Bell
Return: LHP MacKenzie Gore, 1B Luke Voit, SS C.J. Abrams, OF Robert Hassell III, OF James Wood, RHP Jarlin Susana
It really is impossible to grade the Washington Nationals deadline. They received a great return in the Juan Soto trade, but we are talking about dealing a generational talent. If they didn't get a great return, they could have failed this deadline, but do we really give them credit for making a trade that was guaranteed to net this type of a return?
The Nationals did well, but the team who trades the superstar rarely ends up winning the trade. The chances of any of these prospects having the same impact Soto would have had over the next 10 years is slim and there is a good chance that even the contributions that they receive from all of them will come up short of Soto's impact.
Grade: N/A
NL Central
Milwaukee Brewers
Notable Additions: LHP Taylor Rogers, RHP Matt Bush, RHP Trevor Rosenthal, OF Esteury Ruiz
Notable Subtractions: LHP Josh Hader
Grade: C
Trading Josh Hader at this point, a year and a half from free agency, made sense for a small market club. The move should help the Brewers stay completive long-term and give them financial flexibility. Then again, a first place team traded one of the top three closers in the game. The bullpen has several high leverage options that have a proven track record but that's a risky play when your team is looking to make a playoff run.
The Brewers have a strong pitching staff and their bats have always been the question. They elected to stay with their current roster relying on Tyrone Taylor and Jonathan Davis in center. I thought this division would be decided by which one of the Cardinals and Brewers had a better deadline, and it's looking like the Cardinals.
St. Louis Cardinals
Notable Additions: LHP Jordan Montgomery, LHP Jose Quintana, RHP Chris Stratton
Notable Subtractions: CF Harrison Bader, SS Edmundo Sosa
Grade: B
For the second year in a row, the Cardinals go out and add two lefty starters to their rotation. St. Louis needed starters and they brought in two solid options. Jordan Montgomery is the better of the two, in my opinion, but both are reliable veterans who should help the Cardinals chances in the post season. Sure, I would have loved to see them bring in a more impactful arm, but St. Louis kept their top prospects and will trust the veterans to carry them.
The second biggest concern for the Cardinals was middle infield. They essentially swapped out Edmundo Sosa for Paul DeJong. This roster has a lot of young players with upside that will need to mature quickly to make a deep playoff run. Then again, Nolan Arenado and Paul Goldschmidt could continue to simply carry the Cardinals through October.
Cincinnati Reds
Notable Players Dealt: RHP Luis Castillo, RHP Tyler Mahle, UTL Brandon Drury, OF Tyler Naquin
Prospect Return: SS Noelvi Marte, SS/2B Edwin Arroyo, RHP Andrew Moore, RHP Levi Stoudt, RHP Jose Acuna, 2B Hector Rodriguez, 3B Spencer Steer, 1B/3B Christian Encarnacion-Strand, LHP Steve Hajjar, SS/2B Victor Acosta
Grade: A
Cincinnati won the tear down trade deadline. OF course, that's not the crown you want to be in position to receive. The Reds turned Luis Castillo into two top 100 prospect (one top 20) and added 10 total prospect to their system at the deadline. Moving Castillo and Mahle with a year of control was key and capitalizing on Drury's breakout and and Naquin's expiring contract was simply the cherry on top.
In theory, these moves will help the Reds avoid another deadline teardown in years to come. While we cannot bank on prospects making it to the majors, acquiring 10 certainly helps your chances. While it feels strange to praise trading away talent, the Reds understood their position and make the right call.
Chicago Cubs
Notable Players Dealt: RHP Chris Martin, RHP Scott Effross, RHP Mychal Givens, RHP David Robertson
Prospect Return: RHP Hayden Wesneski, RHP Saul Gonzalez, RHP Ben Brown, OF Zach McKinstry
Grade: C+
Willson Contreras and Ian Happ appeared on everyone's deadline target lists yet both stay with Chicago. Happ I can see, Contreras makes less sense. Unless the market was significantly worse than projected, keeping Contreras is puzzling. Chicago elected to hold on Rafael Ortega, Patrick Wisdom, and other secondary pieces who do not fit into their future. The Cubs had an odd offseason and could be looking for a similar path this winter. If ownership really thinks they are in a position to construct a contender, they have a lot of work ahead.
Trading away four bullpen pieces helps their deadline grade. Chicago needs to add pitching to their system and Wesneski automatically becomes a top three pitching prospect for their organization. Ben Brown slots into their top 15 as well and offers an intriguing upside return for a 37-year-old rental.
The deadline was not a complete wash but once again I find myself asking what is the direction of this team?
Pittsburgh Pirates
Notable Players Dealt: LHP Jose Quintana, RHP Chris Stratton, 1B/DH Daniel Vogelbach
Prospect Return: RHP Johan Oviedo, 3B/1B Malcom Nunez, RHP Colin Holderman
Grade: B
David Bednar and Bryan Reynolds were the big names to watch and neither seemed to be seriously involved in trade talks. A quiet deadline in Pittsburgh still turned out to be rather productive. Moving Jose Quintana and Daniel Vogelbach's expiring contracts brought back pieces that have a chance to help sooner rather than later.
Holderman, 26, and his 1.93 ERA slot right into the Pirates bullpen this season. Same case for Ovideo, both coming with several years of team control and success to start their big league career. The Pirates have a low budget and finding ways to have a cheap and effective bullpen is a key to their success. Malcom Nunez is having a breakout in Double-A slashing .255/.360/.463 with 17 home runs as a 21-year-old. The perfect player to acquire now and see if he can continue to add power to his game.
NL West
Los Angeles Dodgers
Notable Additions: RHP Chris Martin
Notable Subtractions: RHP Mitch White, 3B Jake Lamb, UTL Zach McKinstry
Outside of acquiring reliever Chris Martin, the Dodgers basically spent this deadline shuffling a few of their ancillary pieces to other teams for prospects or cash. This was likely to maneuver their 40-man roster with all the talent they have in the farm, but leaves little impact on the 2022 campaign.
The Dodgers have so much talent that they didn't need to make any big adds at the deadline to win it all this season. Their lead of the Padres is comfortable to the point that it would shocking if they didn't win the NL West. Bottom line, they could have done a lot more, but they didn't have to.
Grade: C
San Diego Padres
Notable Additions: OF Juan Soto, 1B Josh Bell, UTL Brandon Drury, LHP Josh Hader
Notable Subtractions: 1B Eric Hosmer, 1B/DH Luke Voit, LHP MacKenzie Gore, LHP Taylor Rogers
A.J. Preller could not have done more at this year's deadline then what we just saw, as he transformed his roster overnight to become of the most dangerous teams in baseball.
Juan Soto alone would have been a haul, but the fact that they got Josh Bell in that trade is just the icing on the cake. Factor in a wise pickup of utilityman Brandon Drury, as well as their first blockbuster trade to acquire Josh Hader and we are talking about a massive deadline for the Pads.
Grade: A+
San Francisco Giants
Notable Players Dealt: LHP Matthew Boyd, C Curt Cassali, 1B/OF/DH Darin Ruf
Return: RHP Michael Stryffeler, C Andy Thomas, 3B J.D. Davis, LHP Thomas Szapucki, RHP Carson Seymour and LHP Nick Zwack
For a team that has been caught in the middle this season, their trade deadline moves certainly reflected that. The Giants were in no position to be buyers, so it is good they didn't go for it in a futile attempt at making the Wild Card, but they also did not sell heavily either.
Joc Pederson should have been dealt at the peak of his value after an All-Star campaign and other veterans should have been on the move as well. The returns likely would not have been great if they sold more, but San Francisco should have tried to extract as much as they could with an eye towards the future.
Grade: C+
Colorado Rockies
All the Colorado Rockies did at this year's trade deadline is extend their closer on a two-year deal. That would have been a fine move if their closer wasn't 37 years old, in the midst of what is by far a career-year.
Daniel Bard should have been moved at the very least, as he could have fetched the Rockies at least one significant prospect. Instead, we saw a team that is 15 games under .500 essentially sit on their hands without exploring any avenue to improve their future.
Grade: F
Arizona Diamondbacks
Notable Players Dealt: OF David Peralta, RHP Luke Weaver
Return: C Christian Cerda, 3B Emmanuel Rivera
The Diamondbacks got some value for pieces that weren't going to be part of their future long-term in David Peralta and Luke Weaver, but also held onto some other pieces that could have net them more like Christian Walker and Merrill Kelly.
Still, considering what they had to move, the Diamondbacks really didn't have much more that they could have done.
Grade: C