Analysis
Five Trade Destinations For Marlins Pitcher Pablo López
Pablo López was a late addition to the top targets at this year's trade deadline. If the Marlins were to move him, where could he land?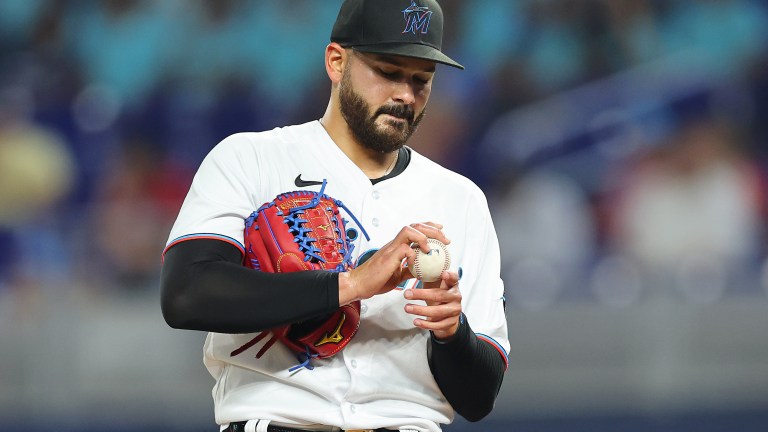 The Marlins have fallen apart both metaphorically and physically over the last month or so, seeing injuries and losses pile up alike. Both of the Marlins position player All-Stars have hit the IL in Garrett Cooper and Jazz Chisholm. Cooper should return in August, but the Marlins would be lucky to get Chisholm back this season.
The writing has been on the wall for the Fish over the last few weeks, but the pair of injuries to the team's two most productive players along with Brian Anderson, Jon Berti, and Jorge Soler put the final nail in the coffin for Miami.
The New York Post's Jon Heyman reported on Tuesday afternoon that the Marlins would be willing to listen on "everyone not named [Sandy] Alcantara."
The Marlins had not been open to the idea of trading right-hander Pablo López prior to this season, but with continued struggles offensively and not much reinforcement in the upper levels of the farm system, GM Kim Ng could look to convert the valuable young starter into a haul of necessities.
López would arguably be the most valuable trade chip on the market given his combination of pitching the best he has in his career this season and multiple years of control remaining. There also would not be a shortage of potential suitors for López and division rivals may find themselves bidding against each other for the 26-year-old's services.
If the Marlins are parting with López, I'd imagine they'd want a big league piece–or near MLB-ready piece–along with another solid prospect or two in return. Let's take a look at some of the teams that could be interested and what each team could have to offer.
New York Yankees
The Yankees have an incredibly deep farm system and would likely offer a prospect-heavy package. That said, Yankees GM Brian Cashman could put together a package of upper minors prospects would would likely interest the Marlins.
With Luis Severino expected to be shutdown for "several weeks" and Jameson Taillon struggling mightily over his last handful of starts, the Yankees may look to add an impactful arm in a year where they seem to have captured lightning in a bottle.
The Yankees could dangle centerfielder Everson Pereira and catcher/first baseman Austin Wells–both of which were recently promoted to Double-A Somerset. Center fielder Estevan Florial has also enjoyed a career-year in Triple-A and could instantly plug into the Marlins lineup.
Los Angeles Dodgers
With deep pockets and a perpetually loaded farm system, the Dodgers are always in position to add at the trade deadline. While the Dodgers have been just fine pitching-wise, the team could use some more established pitching by their standards.
Walker Buehler is currently on the 60-Day IL, Dustin May is recovering from Tommy John surgery and Clayton Kershaw–though still effective–cannot be leaned on like years prior.
Possessing arguably baseball's best farm system, the Dodgers have the prospect capital to get just about any player they want. The Marlins would likely want center fielder Andy Pages as a headliner in a deal for López, but if he is unavailable, the Marlins could pivot to outfielder James Outman and ask for more impactful prospects along with him.
Miguel Vargas could be the heir to Justin Turner at the hot corner, but he is just about big league ready and could be a great target to anchor third base for the Marlins for the foreseeable future. Fellow infielders Michael Busch, Eddys Leonard, Jorbit Vivas and Jacob Amaya would be suitable targets for the Fish as well.
I'd imagine a best case scenario deal for the Marlins being a combination of Pages and one of the aforementioned infielders. Vargas, Outman and one of the remaining infielders could be a nice back up plan.
St. Louis Cardinals
Named as one of the favorites in the Juan Soto sweepstakes, the Cardinals seem prepared to swing big at the deadline. If Soto stands pat in Washington like I believe he will, the Cardinals could pivot to a starting pitcher.
A trade within division for Luis Castillo seems like a long shot at best and the Cardinals could easily prefer López and his extra year of control to Frankie Montas. The Cardinals sneakily have a deep system highlighted with some intriguing, near big league-ready bats.
Of course, the Marlins would love to get Dylan Carlson, but I just can't imagine the Redbirds being willing to part with the 23-year-old outfielder unless it is in a deal for Juan Soto. Harrison Bader is a big league option for the Fish, but with only one year of control after this season, the Marlins would probably prefer to go the prospect route.
Outfielder Alec Burleson and shortstop Masyn Winn would be two ideal fits for Miami. While Burleson is limited to a corner, he is a breath of fresh air with his minuscule 15.5 K% in Triple-A while posting a .932 OPS.
Masyn Winn would instantly be the Marlins best shortstop prospect and despite being just 20 years old, the 2020 second round pick has already reached Double-A. A 2023 promotion for the potential five-tool shortstop would not be out of the question, and the Marlins need long-term answers at the position.
As much as the Marlins would likely want to attain a centerfielder in a deal for Lopez, acquiring a relatively close to big league ready shortstop in Winn along with another bat that could plug right into Miami's lineup in Burleson, the Fish would have to feel pretty good about the main pieces of the return.
Toronto Blue Jays
The Jays and Marlins were connected in some trade discussions prior to this season, but nothing really came to fruition largely due to the fact that the Marlins had little to no interest in parting with López.
The Marlins have long been infatuated with Teoscar Hernández and given the Jays middling farm system, GM Ross Atkins may have to part with an MLB piece in order to attain López. Hernández would be stretched in centerfield and only comes with one more year of control so the Marlins interest may be a bit diminished. However, Hernández would instantly be the Marlins best bat.
The Jays would need to add more to the package and a infield prospects like Leo Jimenez and Addison Barger could put the deal over the top.
Winners of seven straight, Toronto now sits atop the American League Wild Card by two games despite major pitching questions. If the Jays do not want to break up one of baseball's best lineups by subtracting Hernández, the only other way they could pull off a López trade would be to move prized catching prospect Gabriel Moreno.
The Blue Jays brass loves Moreno–and understandably so–but, with All Star backstop Alejandro Kirk's rise along with arguably the best backup catcher in baseball in Danny Jansen, perhaps the team may be a bit more open to moving their top prospect who recently was optioned to Triple-A.
The Marlins would likely jump at the opportunity to add Moreno, but could want more than one prospect for their No. 2 starter no matter how good Moreno is. It's an unlikely swap, but with the Jays getting hot at the right time, they might just go all in.
Minnesota Twins
The first place Twins have gotten by this season with a pedestrian pitching staff at best. Aside from Sonny Gray and impressive rookie Joe Ryan, the Twins rotation has the looks of a group that could really get exposed in the postseason.
The Marlins and Twins match up pretty well as trade partners with Minnesota boasting plenty of intriguing young bats. Rookie corner infielder Jose Miranda has really come alive for the Twins and may not be a piece they are looking to move off from, but the team also has outfielder/first baseman Alex Kirilloff, outfielder Trevor Larnach and injured shortstop Royce Lewis who have all shown impressive flashes at the big league level.
Another intriguing option for the Marlins is infield prospect Spencer Steer. The 24-year-old should almost surely be dangled as a trade piece for the Twins as his is making a strong case for an MLB promotion, but does not really have a spot in the lineup right now.
A third round pick in 2019, Steer has enjoyed a career year, launching 20 homers and 45 extra base hits in 78 Double-A/Triple-A games. With just a 17% strikeout rate on the season and the ability to play every infield position, Steer is a high floor option who could also be the future at the hot corner for the Fish.
Royce Lewis would be an ideal candidate for the Marlins if he were not recovering from his second ACL surgery, though as part of a package with Steer, the 23-year-old could still be of interest to Kim Ng as a potential longterm answer at shortstop.
The Marlins probably wouldn't find their center field solution in a deal with the Twins, but if they could shore up the left side of their infield for the foreseeable future, it may just be worth considering.