Analysis
Top 10 Remaining MLB Free Agents
Now that the new CBA is in place, free agency has finally resumed. Here are the top remaining players left to be signed before Opening Day.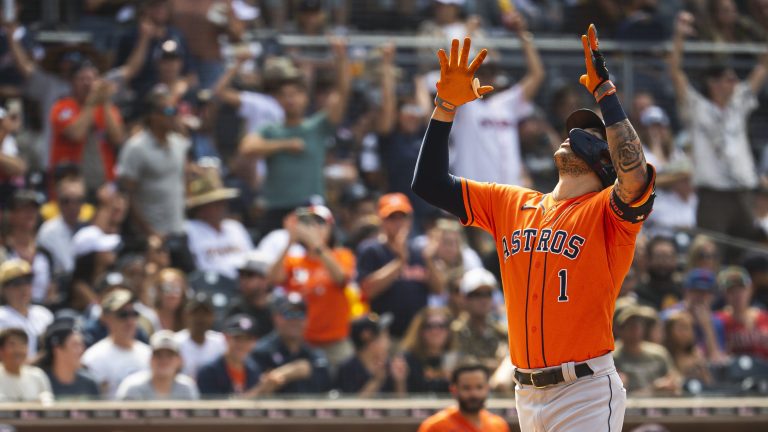 Heading into this offseason, we knew this would be one of the best free agent classes in years, but what we didn't know is that half of the field would be signed before December 2nd.
Corey Seager, Marcus Semien, Javier Baez, Max Scherzer, Robbie Ray, Kevin Gausman, Starling Marte and Marcus Stroman all came off the board prior to the lockout, but there are still plenty of impact free agents remaining for teams to bolster their rosters ahead of Opening Day.
Here are the top 10 remaining free agents who can have the biggest impact on their teams in 2022.
Position: 1B
Bats/Throws: L/L
Age: 8/8/1989 (32 years old)
Traditional Stats: .248/.344/.440, 22 HR, 47 XBH, 61 RBI, 576 PA
Advanced Stats: 15.1% K%, 9.0% BB%, 112 wRC+, .346 xwOBA, 1.6 fWAR
Defensive Stats: 6 OAA, -6 DRS
Any team would be better adding a proven winner like Anthony Rizzo. The 32-year-old first baseman is a four-time Gold Glove, three-time All-Star and of course a World Series champion dating back to the Chicago Cubs 2016 title.
Rizzo's numbers have dipped since 2020, as he has posted two seasons with a wRC+ below the standard he had previously set throughout his career. In 2019, Rizzo hit .293/.405/.520, with 27 home runs and a 140 wRC+ across 613 plate appearances. He has since hit 33 home runs in his last 819 PA, posting a 102 wRC+ in 2020 and a 112 wRC+ in 2021.
Still, Rizzo is an above-average defensive first baseman, who brings great leadership to any clubhouse he's a part of. Rizzo might not be the same power threat he once was, but he does not strike out a ton and he gets on-base at a relatively high clip. Any contending team with a vacancy at first base should be looking to sign Rizzo this offseason.
Position: OF/DH
Bats/Throws: L/R
Age: 3/5/1993 (28 years old)
Traditional Stats: .266/.374/.554, 32 HR, 51 XBH, 71 RBI, 471 PA
Advanced Stats: 27% K%, 13.6% BB%, 145 wRC+, .399 xwOBA, 3.1 fWAR
Defensive Stats: -6 OAA in LF, -4 OAA at 1B, -5 DRS in LF, -3 DRS at 1B
Kyle Schwarber was probably wise to wait until the new CBA was ratified, as his market stands to grow considerably with the advent of the universal DH.
The former catcher is still not a great outfielder, as he posted bad defensive metrics in left field for the Washington Nationals to start the season. The Boston Red Sox tried Schwarber out over at first base and he seemed to struggle fielding that position as well.
One thing Schwarber doesn't struggle with however is mashing baseballs. The powerful left-handed hitter smoked 32 home runs in 2021, which included a ridiculous stretch were he hit 12 home runs in just 10 games. Having played just 113 games in 2021, Schwarber would have been on pace for a 45 home run season over a full 162. Any team would sign up for that production from their full-time DH.
Position: P
Bats/Throws: L/L
Age: 12/10/1992 (28 years old)
Traditional Stats: 13-5, 2.37 ERA, 0.96 WHIP, 2.4 BB/9, 12.6 K/9
Advanced Stats: 4.9 fWAR, 183 ERA+, 2.68 xERA, 2.65 FIP, 3.17 xFIP
Carlos Rodon is one of the most interesting high-ceiling free agents on the market, as he just turned in a remarkable season for the Chicago White Sox. Rodon finished fifth in the AL Cy Young voting and ranked eighth in all of baseball with his 4.9 fWAR.
The problem with Rodon is his lack of a track record. Coming into this season, Rodon had only made 41 starts dating back to 2017 and his career 3.79 ERA is far higher than the 2.37 mark he put up this season.
Teams could be hesitant to give Rodon a long-term deal, but if they can be creative with the structure of the contract, this could be the most attractive pitcher left on the board. Signing the left-hander to an incentive-laden contract based on innings pitched makes a lot of sense for teams. For Rodon, structuring opt-outs in his contract would allow him to prove 2021 was not a one-year fluke, where he could test the market again after another strong season in 2022.

Position: OF
Bats/Throws: L/R
Age: 3/1/1993 (28 years old)
Traditional Stats: .232/.344/.384, 14 HR, 34 XBH, 55 RBI, 479 PA
Advanced Stats: 21.7% K%, 12.3% BB%, 106 wRC+, .350 xwOBA, 0.8 fWAR
Defensive Stats: 1 OAA, -4 DRS
Michael Conforto hit free agency a year too late. Following the 2020 season, where he hit .322/.412/.515 with a 158 wRC+, Conforto looked like he could be the top free agent outfielder in this class. Unfortunately, Conforto endured the worst season of his career and hit free agency as an unknown commodity.
Looking back at what Conforto did in 2019 is probably the best prediction for his future value, as his numbers weren't inflated like the small sample size of 2020. That season, Conforto hit .257/.363/.494, with 33 home runs 90 RBI and a 127 wRC+. If teams get the 3.9 fWAR player he was that season, they will be very happy with the contract they sign Conforto to. Especially coming off the down-year where he is not expected to claim top dollar.
Position: P
Bats/Throws: L/L
Age: 3/19/1988 (33 years old)
Traditional Stats: 10-8, 3.55 ERA, 1.02 WHIP, 1.6 BB/9, 10.7 K/9
Advanced Stats: 3.4 fWAR, 115 ERA+, 3.17 xERA, 3.00 FIP, 2.87 xFIP
Carlos Rodon probably has more upside than Clayton Kershaw at this stage in their respective careers, but Kershaw's floor is certainly higher when healthy.
Despite being 33 years old, Kershaw still had no problem getting hitters out in 2021, pitching to a 3.55 ERA. In his younger years, Kershaw was one of the most durable pitchers in the sport, but he has not made 30 starts in a season since 2015.
While it would be weird to see Kershaw wearing anything but Dodger blue, there has been some rumblings linking the future Hall of Famer to the Texas Rangers. Kershaw is a native Texan, who just saw his former teammate Corey Seager sign a $325 million decade-long contract with the Rangers. Kershaw could chose to go home and lead an up-and-coming Rangers team next season, or simply return to the Dodgers and continue to build out his legacy in Los Angeles.

Position: OF/DH
Bats/Throws: R/R
Age: 3/4/1992 (29 years old)
Traditional Stats: .309/.362/.576, 34 HR, 73 XBH, 100 RBI, 585 PA
Advanced Stats: 20.7% K%, 7.0% BB%, 140 wRC+, .374 xwOBA, 4.2 fWAR
Defensive Stats: -6 OAA, -7 DRS
Similar to the previously mentioned Kyle Schwarber, Nick Castellanos was wise to wait until the new CBA to sign his next contract when all 30 teams are expected to have a DH spot to fill.
Castellanos exercised the opt-out clause on his four-year contract with the Cincinnati Reds after posting a career-year in 2021, with 34 home runs and 100 RBI. A former third baseman, Castellanos is one of the worst defensive outfielders in baseball, which may have hurt his market prior to the CBA expiring. When it comes to just the bat however, few free agents could have bigger impacts on their new teams next year then Castellanos.
Position: SS
Bats/Throws: R/R
Age: 11/15/1992 (29 years old)
Traditional Stats: .251/.329/.471, 24 HR, 63 XBH, 75 RBI, 595 PA
Advanced Stats: 23.4% K%, 8.9% BB%, 100 wRC+, .333 xwOBA, 3.5 fWAR
Defensive Stats: -7 OAA, 9 DRS
Despite posting one of the worst seasons of his career, Trevor Story was still worth 3.5 WAR in 2021, showcasing the immense value he can bring to any team. The 29-year-old is still a strong defensive shortstop, that can be signed to play any position in the infield.
Dating back to his debut in 2016, Story's 21.6 fWAR is the eighth-best mark among shortstops, nearly four wins better than the 17.8 fWAR that Javier Baez has posted during that same span. Baez just signed a six-year, $140 million deal with the Detroit Tigers.
The question for Story is does he want to take a long-term deal like Baez and potentially make a lower AAV, or does he want to bet on himself on a higher AAV short-term deal that would allow him to test his market again sooner rather than later.
Position: 3B/OF
Bats/Throws: R/R
Age: 1/4/1992 (29 years old)
Traditional Stats: .265/.353/.481, 25 HR, 59 XBH, 73 RBI, 586 PA
Advanced Stats: 23% K%, 10.6% BB%, 123 wRC+, .346 xwOBA, 3.6 fWAR
Defensive Stats: -4 OAA at 3B, -4 OAA in RF , -2 DRS at 3B , -2 DRS in RF
Kris Bryant has long awaited this opportunity to test the free agent waters and should be able to land a healthy nine-figure contract once he eventually signs on the dotted line.
When it comes to his market, Bryant has been recently linked to the Angels, Padres, Rockies, Mets, Mariners, Phillies and Astros, so he has a healthy list of suitors. The 29-year-old can play all over the field, although the defensive metrics don't paint that versatility in the brightest of lights as he grades out below-average at basically every position he plays.
Still, having versatility is a great commodity for teams, especially if he can produce offensively. For his career, Bryant has hit .278/.376/.504, with a 134 wRC+. Even if his days winning MVP's are behind him, Bryant should still be a very good player for a very long time.
Position: 1B
Bats/Throws: L/R
Age: 9/12/1989 (32 years old)
Traditional Stats: .300/.393/.503, 31 HR, 58 XBH, 83 RBI, 695 PA
Advanced Stats: 15.4% K%, 12.2% BB%, 135 wRC+, .416 xwOBA, 4.5 fWAR
Defensive Stats: 3 OAA, 2 DRS
What is going on with the Atlanta Braves and Freddie Freeman?
This seemed like the biggest no-brainer signing of the offseason, as Freeman is an absolute icon for a Braves franchise that just won the World Series. If his production was tailing off, you could maybe understand why the Braves would be haggling over years with Freeman, but the guy is coming off another great year.
Dating back to 2016, Freeman has been the best first baseman in baseball, with a 27.4 fWAR. With a swing as beautiful as Freddie's, the chance for a steep decline in the near-future is very slim. If Freeman wants $180 million over the next six years, what are the Braves waiting for?
Because if they wait too long, other teams will gladly pay Freeman what he is worth.
Position: SS
Bats/Throws: R/R
Age: 9/22/1994 (27 years old)
Traditional Stats: .279/.366/.485, 26 HR, 61 XBH, 92 RBI, 555 PA
Advanced Stats: 18.1% K%, 11.7% BB%, 134 wRC+, .373 xwOBA, 5.8 fWAR
Defensive Stats: 12 OAA, 20 DRS
Carlos Correa started free agency as the top player on the board, so of course he remains at that mountaintop now. Marcus Semien was the only free agent to post a higher fWAR than Correa this season and he is four years older.
Having just turned 27 years old, Correa could receive a 10-year pact similar to the one Corey Seager just signed with the Texas Rangers, although who knows which team will be willing to ink a contract that should exceed $300 million.
Still, it is a rare opportunity for teams to be able to land a superstar in their prime, who can play elite defense at a premium position like Correa can at shortstop. Correa was clearly not pressured at all by the expiring CBA to sign his new deal, which shows that he is going to hold out to get every last penny of his long-awaited mega-contract.