Analysis
2022 Free Agent Profile: Anthony Rizzo
While no longer considered one of the top first basemen in baseball, Anthony Rizzo still has plenty left in the tank as he enters his age-32 season.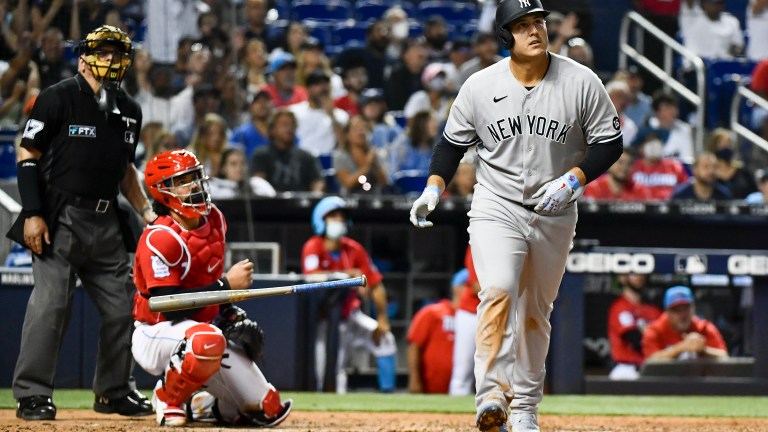 Position: 1B
Bats/Throws: L/L
Age: August 8th, 1989 (32 years old)
Traditional Stats: .249/.340/.428, 22 HR, 48 XBH, 61 RBI, 73 R, 87 K, 576 PA
Advanced Stats: 15.1% K%, 9% BB%, 112 wRC+, .339 wOBA, 1.6 fWAR
Defensive Stats: 6 OAA, -6 DRS
Before we even begin this breakdown of Anthony Rizzo's free agency, let's address the elephant in the room. Yes, Rizzo is no longer the same player he was in 2016 when he led a World Series championship team, won both the Gold Glove and the Silver Slugger and finished fourth in MVP voting for the second consecutive season.
With that said, Rizzo is a still a damn good ball player that could play a vital role in helping any team win a championship in 2022. He's consistently been one of the best defensive first basemen in baseball and has eight seasons in a row (excluding 2020) where he has eclipsed 20 home runs.
Add in the fact that he is just an awesome teammate and leader, and anyone who has a vacancy at first base should be lining up to sign Rizzo this offseason.
Path to Free Agency
Drafted by the Boston Red Sox out of high school in 2008, Anthony Rizzo made his MLB debut as a San Diego Padre in 2011 at 21 years old. He struggled in his first season, hitting just .141/.281/.242 across 153 plate appearances. In the offseason, Rizzo was traded to the Chicago Cubs.
You can say that Jed Hoyer always knew what he had in Rizzo, as he was the assistant GM when the Red Sox drafted him, then he acquired him again as the Padres GM before trading for him one last time once he became the Chicago Cubs GM. That faith in Rizzo began to pay off during the 2012 season.
Hoyer blamed himself for rushing Rizzo to the big leagues the previous year, so they started him out in Triple-A, where he hit .342/.405/.697, with 23 home runs in 70 games before being recalled to the majors. Rizzo hit the ground running as he became the first player in Cubs history to have three game-winning RBIs in his first five games with the team.
Rizzo fared far better in his second attempt at a rookie campaign, hitting .285/.342/.463, with 15 home runs and 15 doubles in 87 games. Rizzo became a fixture in the Cubs starting lineup, helping bridge the gap from a rebuild into a window of contention.
In 2014, Rizzo ascended to become one of the game's best sluggers, making his first All-Star appearance, while posting his first 30 home run season. Rizzo made three consecutive All-Star games from 2014 through 2016 and finished top-10 in the MVP voting each season as well.
From 2014 through 2019, Rizzo hit .284/.388/.513, with a 141 wRC+. His 179 home runs during that span were tied with Paul Goldschmidt for most by any first baseman and were the 10th-most overall. Rizzo's 26.3 fWAR was 17th in MLB across that five-year window and with 592 RBIs, Rizzo was a top-five run producer as well.
Along with being a standout with his bat, Rizzo helped the Cubs defensively as well, taking home Gold Gloves in four of five seasons from 2016 through 2020. While he did win a Gold Glove, Rizzo's offense started to decline in 2020, as he hit .222/.342/.414, with a 102 wRC+.
That decline continued this past season, as Rizzo hit .248/.344/.440, with a 112 wRC+. He was also traded midseason, getting sent to the New York Yankees in exchange for two minor league prospects. All told, Rizzo spent parts of 10 seasons with the Cubs and hit .272/.372/.489, with 242 home runs and 784 RBIs.
Contract Projection
In 2013, the Chicago Cubs wisely signed Anthony Rizzo to a seven-year, $41 million contract extension, which included two $16.5 million club options that would later be exercised.
After massively outperforming that contract, Rizzo was looking for more than the Cubs were willing to offer him on a new extension, as he reportedly turned down a five-year, $70 million contract prior to last season. Now the question is if Rizzo will in fact sign for more than that this offseason.
What felt like an insulting offer prior to last season now feels like a fair one considering his production over the past two seasons. Rizzo can likely earn a little bit more money per year if he accepts a shorter-term contract, but at 32 years old, this could be his last chance to secure a decent payday over a longer term deal.
The starting point for the AAV on Rizzo's next contract is likely at $14 million a year, the same thing he turned to down from Chicago last offseason. There is a chance depending on the years and who is bidding for his services that Rizzo could get closer to a $20 million AAV, but it is doubtful that he would exceed that.
Top Five Landing Spots
Anthony Rizzo might not be an All-Star anymore, but he still is a very capable starting first baseman. Despite the apparent decline, Rizzo belongs in elite company when it comes to his ability to not only hit for power, but do so without striking out at a high rate.
Any team who signs Rizzo will get a player that will give you great at-bats, getting on-base at a solid clip while still providing some pop from the left side of the plate. Throw in his defense at first base, which ranked second among all first basemen in OAA in 2021 and his leadership in the clubhouse and Rizzo should be a very attractive free agent to the following teams.
New York Yankees
Let's just start where things left off for Rizzo, as a reunion with the New York Yankees is certainly in the cards. In fact, earlier this offseason it was reported that Rizzo was hoping to return to the Bronx next season.
Luke Voit only played 68 games in 2021 due to a knee injury and there is some doubt as to what his future looks like with the Yankees. Rizzo could compliment Voit in a platoon over at first base or just replace him entirely depending on what New York decides to do.
The Yankees have a lot of decisions to make on the other side of the lockout. Whether or not they should retain Rizzo certainly has to be near the top of that list.
Boston Red Sox
How about a return to the team that drafted him?
The Boston Red Sox were playing Rizzo's former teammate Kyle Schwarber over at first base down the stretch last season and if they don't re-sign him, they will be left with Bobby Dalbec and Christian Arroyo on the depth chart at first.
Rizzo is likely to come a bit cheaper than Schwarber, but can offer some of the same things, giving the Red Sox some much-needed left-handed pop. Rizzo would also be a vast upgrade defensively for Boston.
Miami Marlins
Signing with Boston would be a return to the organization that drafted him, but signing with the Miami Marlins would be coming home. Rizzo grew up in Parkland, Florida, which is about an hour north of Miami (depending on the traffic and who's driving) and still has great connections to the South Florida area.
Playing for his hometown team could be very attractive for Rizzo, especially considering all of the up-and-coming talent they feature, particularly with their starting rotation. The Marlins are a team that is hoping to learn how to win in 2022, and there might not be any leader better to teach them winning habits than Rizzo.
The one issue with the Marlins signing Rizzo is that they are already fairly loaded at first base with Jesus Aguilar, Garrett Cooper and Lewin Diaz. Aguilar has been very solid for the Marlins since coming over in 2020, as he has hit .265/.336/.458, with 30 home runs in 182 games.
Since 2020, Cooper's 133 wRC+ is the best mark on the Marlins, but injuries have limited him to just 105 games during that span. Diaz could theoretically provide Miami with some left-handed pop to platoon with Aguilar and Cooper, but he is still hitting below the Mendoza line for his career.
Bottom line, the Marlins have some options at first base, but none of them should really stand in the way of signing Rizzo. With the advent of the DH and Cooper's ability to play right field, the Marlins can juggle Aguilar, Cooper and Rizzo and find a way to get all of them at-bats.
For his leadership alone, Rizzo would be a worthwhile investment for the Marlins. Factor in the great story it would be to see him come home and there is a chance we could see Rizzo in some warmer weather come Opening Day.
Philadelphia Phillies
The Phillies already have their starting first baseman in place for next season, as Rhys Hoskins will once again be set to get regular at-bats for Philadelphia. Last season, Hoskins hit 27 home runs in just 107 game played.
However, Hoskins has missed playing time in each of the last two seasons due to injury and is nowhere near the defender that Rizzo is over at first base. This could open the door for the Phillies to sign Rizzo, especially since they can just slide Hoskins into the new DH role and let him mash without having to worry about him being a liability at first base.
The Phillies are really thin right now on their MLB roster, so they have to make some moves before Opening Day if they intend to compete in the NL East this season. While Rizzo is not the perfect fit on their roster, he still would immediately become one of the best hitters in their lineup, while providing some further veteran leadership as well.
A lineup of Jean Segura, J.T. Realmuto, Bryce Harper, Rhys Hoskins and Anthony Rizzo would profile as one of the better offensive team in MLB next season.
Atlanta Braves
One of the biggest question marks that is left unanswered until the lockout ends is whether or not Freddie Freeman will be back with the Atlanta Braves next season. It feels wrong to even imagine the Braves defending their title next season without Freeman, but there seems to be some doubt as to if they are willing to give him the type of contract he deserves.
If Freeman were to sign elsewhere, the Braves would suddenly have a massive hole to fill in their infield and in the heart of their lineup. While Rizzo would be a stepdown from Freeman, he is definitely the best alternative option they could target in free agency and he will cost way less to sign.
Maybe with the ascent of Austin Riley last season the Braves feel like they have enough offensive punch to get by without Freeman and instead would prefer to sign Rizzo at 50 cents on the dollar.
Final Prediction
Anthony Rizzo re-signs with the Yankees on a three-year, $51 million deal.
If Anthony Rizzo is eager to return to the Yankees, there is no reason why they shouldn't jump at the opportunity to bring him back next season. Signing a deal that pays $17 million per year would give Rizzo a slight bump from the $16.5 million he made last season, but that would not be a contract that would hamstring the Yankees in any way.
Maybe the Yankees could sweeten the pot and throw in a club option on a fourth year with a buyout to increase the overall guaranteed money, but a contract in that neighborhood would be fair for both sides.