Analysis
2022 Free Agent Profile: Carlos Rodón
Coming off a career-year, Carlos Rodón is the best remaining free agent starting pitcher, but injury concerns may impact his market.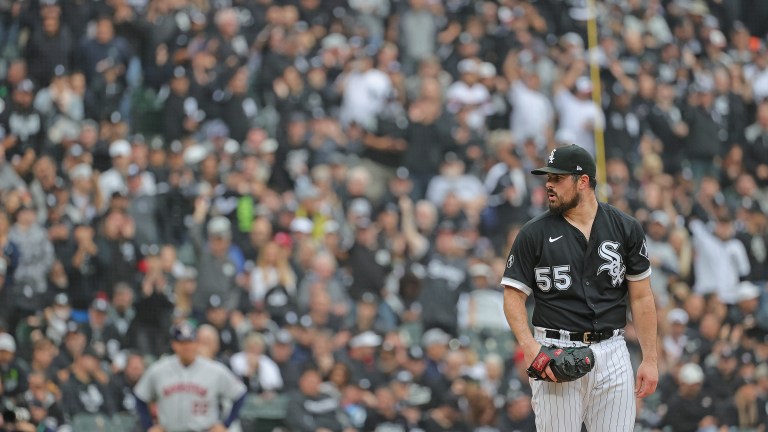 Position: SP
Throws/Bats: L/L
Age: December 10th, 1992 (29 years old)
2021 Traditional Stats: 24 G, 13-5, 132.2 IP, 2.37 ERA, 185 K, 0.96 WHIP, 4.9 fWAR
2021 Advanced Stats: 34.6 K%, 6.7 BB%, 2.68 xERA, 3.17 xFIP, 0.88 HR/9
When looking at the remaining MLB free agents, one thing is pretty clear. Carlos Rodón has more upside than any other starting pitcher on the market. The only problem is that he might come with the most risk as well.
Rodón made his first All-Star appearance in 2021, as he became one of the most dominant starting pitchers in baseball. Unfortunately the injury concerns that have followed him throughout his entire career once again surfaced in the second half.
Following the season, the Chicago White Sox shockingly did not extend a qualifying offer to Rodón, casting an even bigger shadow over those injury concerns moving forward. Yet whoever signs Rodón will get the chance to add an ace to their staff right now, who will probably come cheaper than the other frontline pitchers who have signed this offseason.
This is why Carlos Rodón is one of the most interesting free agents left in MLB right now.
Path to Free Agency
After a historic collegiate career at North Carolina State University, Carlos Rodón was select by the Chicago White Sox with the third overall pick in the 2014 MLB Draft.
Already a polished prospect, Rodón was called up to the show within a year of being drafted, making his first appearance on April 21st 2015. Pitching out of the bullpen, Rodón allowed two runs off three hits in 2 1/3 innings of work. He made two more appearances out of the bullpen before finally being inserted into the starting rotation on May 9th, 2015.
Rodón ended up making 23 starts in his rookie season and pitched to a 3.75 ERA. In 2016, Rodón missed some time with a left wrist sprain, but still made 28 starts and pitched to 4.04 ERA.
In 2017, he finally missed significant time due to injury, only starting 12 games. The following year, he started the season on the IL with a shoulder injury. He did made it back however and made 20 starts, pitching to a 4.18 ERA.
In 2019, Rodón was the White Sox Opening Day starter but he went down with Tommy John surgery in the middle of May after making seven starts and pitching to a 5.19 ERA. While he would make his return in 2020, Rodón barely pitched and was not good when he did (8.22 ERA).
After the down-year, Rodón was non-tendered by the Chicago White Sox on December 2nd 2020, only to be re-signed on a one-year, $3 million deal at the end of January. The White Sox were going to allow Rodón to be part of their rotation again on a prove-it deal and boy did he prove it.
In his second start of the season, Rodón threw no-hitter that was damn-near a perfect game. If not for clipping the back foot of light-hitting catcher Roberto Perez in the ninth inning, Rodón may have been able to secure perfection. But a no-hitter is not a bad consolation price.
Overall, he was great in 2021, pitching to a 2.37 ERA in 24 starts. However his season turned a bit following his July 18th start against the Houston Astros, as the injury bug once again reared it's ugly head for Rodón.
Through July 18th, Rodon was averaging 96 MPH on his fastball and had a 36.6% K rate, which he paired with a 6.8% walk rate. In that start against the Astros and their overpowering lineup, Rodón threw seven shutout innings with 10 strikeouts and no walks. That would be the last time in the 2021 season where he would go more than five innings.
Over his next two starts, Rodón went exactly four innings each time and was pulled before reaching 80 pitches. On August 7th, Rodón took the mound on eight days rest and threw five innings of scoreless ball against the Cubs with 11 strikeouts. After the start, the White Sox put Rodón on the IL with shoulder fatigue.
Rodón came back off the IL on August 26th and made just five starts over the final 39 days of the season, making a start nearly every eight days. He only reached 80 pitches in one of those five starts and his fastball velocity sat at 93.2 MPH. While he still pitched to a 2.35 ERA, his K rate dropped to 27.2% during that final stretch of the season.
In the playoffs, Rodón pitched Game 4 of the ALDS against the Houston Astros, but only lasted 2 2/3 innings.
There is no question that Rodón can be an ace when he is healthy. But the question is whether his shoulder can hold up, as he has never made 30 starts in a season.
Assessing Rodón's Unique Free Agent Value
Again it is worth noting that Carlos Rodón is coming off a season that saw him pitch to a 2.37 ERA with a 34.6% strikeout rate and a 6.7% walk rate.
Among pitchers with at least 100 innings thrown, only NL Cy Young winner Corbin Burnes had a higher strikeout percentage. Rodón also had the third-best strikeout-to-walk percentage differential in MLB at 27.9%, trailing only Burnes and Max Scherzer.
Rodón also ranked among the 10 best pitchers in MLB with a 15% swinging-strike rate and a 70.3% opponents' contact rate. One look at Rodón's 2021 MLB Percentile Rankings and it is clear how dominant he was this past season.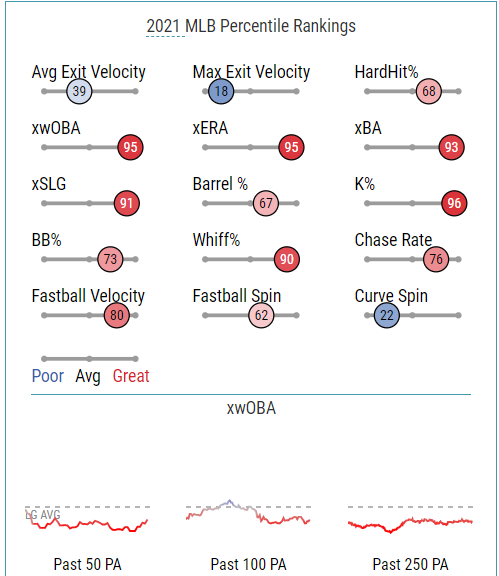 Rodón primarily uses a three-pitch mix with his fastball, slider and changeup, while dropping in the occasional curveball at times. The biggest reason for his ascent this past season though was that he added velocity to his fastball
In 2021, Rodón averaged 95.4 mph on his fastball, adding four miles per hour compared to 2019. He also threw his fastball 58.7% of the time, more often than he ever has in his career. Pairing that fastball with a slider and a changeup that generated 40.6 and 36.3 Whiff%'s respectively.
In his final eight starts, we saw Rodón pitch effectively with diminished velocity, as he had a 3.00 ERA, but he was not nearly as dominant. Teams have to wary of signing Rodón with that balky shoulder, as velocity is key to his success.
Rodón's agent Scott Boras previously said that he is looking to sign a multi-year deal this offseason. Now that is obviously posturing by Boras, but it's an interesting assertion. You are talking about a pitcher that bet on himself last year on a $3 million prove-it deal. He has been injured his entire career and probably wants some security off his career-year, rather than betting on himself to do it again.
This is a free agent where it is very hard to gauge a range that his next contract will fall in, as you have to weigh his performance against the risk. I also believe this is going to be a contract that has a unique structure to it, with teams looking to protect themselves against the risk and Boras looking to be able to maximize the earnings for one of the best pitchers in baseball when healthy.
If Rodón does secure the multi-year deal he desires, it would be surprising if any team went longer than three years. With that said, there is also likely to be opt-outs structured in any multi-year deal, as Boras will want the option to cash in on Rodón's value if he can put up another great season in 2022.
Some have projected Rodón to get $25 million on a one-year deal, or something more in the neighborhood of three years, $60 million. The longer the contract, the lower the AAV will be for a pitcher that carries this much risk.
Five Potential Landing Spots for Rodón
Carlos Rodón could be the missing piece for any of the teams that have real playoff or championship aspirations in 2022. While he is certainly a risky pitcher to bet on, the upside is enough that any contender should be willing to pay him a significant salary for at least the upcoming season.
Here are some teams that fit that billing, who could look to sign Rodón this offseason.
New York Yankees
Are the New York Yankees going to start spending money this offseason, or are they sitting free agency out?
The only major league signing the Yankees have made this offseason was re-signing Joely Rodriguez on a one-year, $2 million deal. Maybe they have a big signing like Carlos Correa in the works, but as of now, they have been awfully passive this offseason. Meanwhile across town, Steve Cohen's Mets have added well over $80 million to their 2022 payroll.
The Yankees should be looking to make a few big splashes if they really want to improve going into next year and Rodón would be an interesting option to boost their starting rotation.
Unless Luis Severino finally returns to previous form, the Yankees are missing a legitimate No. 2 starter behind ace Gerrit Cole. Rodón would give the Yankees a great one-two punch in that rotation.
Los Angeles Angels
The Los Angeles Angels starting rotation pitched to a 4.78 ERA in 2021, as they were ranked 22nd in MLB. Shohei Ohtani impressed in 23 starts, pitching to 3.18 ERA, but the Halos staff behind him was inconsistent to say the least.
Alex Cobb was solid for the Angels last year, but he signed with the San Francisco Giants this offseason. Jose Suarez and Patrick Sandoval both pitched to sub-4 ERA's in 2021, giving the Angels a few solid options heading into next year, but neither of them have even thrown 100 innings in a MLB season yet.
Noah Syndergaard could prove to be a great signing for the Angels, but he is coming off Tommy John surgery and the last time we saw him pitch at the end of the season, he only pitched two innings and was not allowed to throw any sliders.
The Angels could use a legitimate ace to knock everyone else down a slot in their rotation and Rodón could be that guy. The only issue is they would be adding another question mark to a staff that already has plenty of them. Still, Rodón represents the best upside play they could shoot for at this stage in the offseason.
New York Mets
The New York Mets have already added one ace to their rotation this offseason to pair with Jacob deGrom, why not add another?
If healthy, Max Scherzer, deGrom and Rodón would be the best trio of starters in baseball. Even with Scherzer, the Mets are still looking to add to their rotation as Carlos Carrasco had an injury-plagued season in 2021 and Taijuan Walker had an awful second half after being an All-Star.
Sliding Rodón into the middle of their rotation between deGrom/Scherzer and Carrasco/Walker would be the exact type of move that could turn the Mets into World Series favorites. We all know Steve Cohen is willing to spend, so it would not be surprising at all if the Mets went hard after Rodón.
St. Louis Cardinals
The St. Louis Cardinals have already addressed their starting rotation by adding a left-hander this offseason, as Steven Matz is the one major move they made prior to the lockout.
Matz is a quality back-end starter, who should have a lot of success pitching in front of that Gold Glove saturated defense. Still, he is by no means an ace and still leaves a lot desired for a rotation that could use even more reinforcements if the Cardinals want to really contend this season.
Carlos Rodón would be a great compliment to Jack Flaherty and Adam Wainwright atop the Cardinals rotation, giving them more upside than some of the other options they have to fill out their rotation like Dakota Hudson and Miles Mikolas.
Boston Red Sox
The Boston Red Sox lost one of the key contributors to their starting rotation this offseason when Eduardo Rodriguez signed a five-year, $77 million deal with the Detroit Tigers. E-Rod has been a fixture in Boston's rotation since 2015 and presented far more upside than Rich Hill, who signed as a replacement of sorts on a one-year, $5 million deal.
The Red Sox still have ace Chris Sale, who looked pretty solid in nine starts last season after returning from Tommy John surgery, and Nathan Eovaldi proved himself to be an ace as well with an outstanding 2021 campaign. Adding Rodón to the mix would just take the Red Sox to another level, which they may require considering all the competition that exists in the AL East.
Final Prediction
When it comes to Carlos Rodón it is almost just as fascinating to predict the type of contract he will sign, over which team he will sign with.
Rodón will be paid well in 2022, but what teams are willing to offer him beyond that on a multi-year deal is really uncertain. A couple of things to look for in this contract is opt-outs to hit free agency again and maybe even escalators factored in based on innings pitched.
Let's say Rodón signs a three-year, $60 million contract. We could see it structured where he makes $25 million in 2022, while making $17.5 million in the final two years of the deal, with an opt-out to hit free agency after year one. That contract could have escalators in it where he could make more on those final two years of the deal if he hits 150 innings pitched in 2022 and then again in 2023.
If he really wants to bet on himself, Rodón can agree to sign on a one-year deal and turn this into a real bidding war for his services. Based on the reporting that he wants a multi-year deal though, I would instead expect a really creative contract structure that allows the team to protect themselves from his injury risk, while also providing Rodón with security and an ability to still maximize his value.
Contract Prediction: Carlos Rodón signs with the New York Yankees on a three-year, $60 million deal.