Analysis
Carlos Correa: MLB's Top 2022 Free-Agent
Carlos Correa is playing his way into becoming 2022's Top MLB free agent.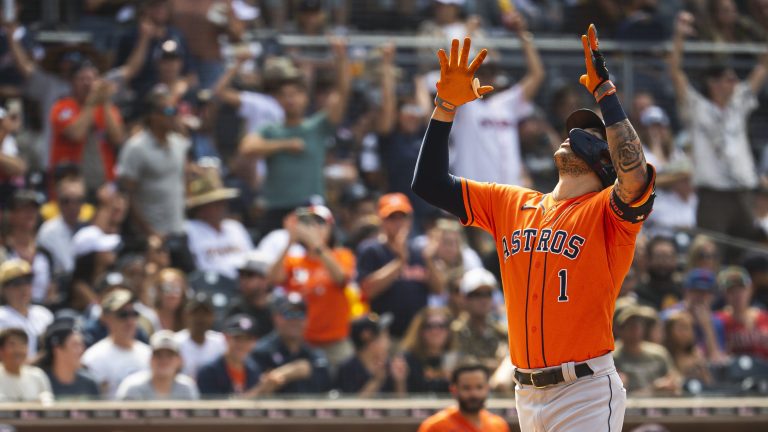 Heading into this season, there was a lot of discussion around some of the game's best young shortstops entering the final season of their contracts. Carlos Correa was seen by many as the third best shortstop option set to hit the market in 2022, which now is far from the case. Corey Seager was coming off of a spectacular year capped by a World Series MVP, Trevor Story posted another fantastic season that saw him lead MLB in triples and stolen bases, while Carlos Correa posted just a .709 OPS in the regular season.
Story had been the most discussed name due do the expectation that he would be dealt, but a down year and questionable decision making by the Rockies means that he will finish out this season in Colorado before hitting the open market. Corey Seager has been strong since returning from injury, but has played just 70 games this season for the Dodgers. In the meantime, Carlos Correa has been arguably the best shortstop in baseball.
Improved Approach
Correa turned the page after a shaky shortened 2020 season, by dominating the postseason and almost improbably sending a despised Astros team back to the World Series. In his 13 postseason games, Correa slashed .362/.455/.766 with 6 home runs and 17 RBI. The 26-year-old kept the momentum rolling into the 2021 season, on pace for a career high in homers, hits, and walks, fWAR, and BB/K.
Perhaps the most important factor in Correa's big year is the fact that he is on the field. In his 7th season, the Puerto Rico native has eclipsed the 120 game mark for just the second time. The only other season where Correa took the field more than 120 times was 2016, his best season in the eyes of fWAR (5.2). Another important contributor to Correa's strong offensive production is his improved plate discipline. Over the last three seasons, Correa had seen his walk rate dwindle and strikeout rate rise a little bit. This season, Correa has cut his chase rate down by 8% to a career low 23.4%. The unsurprising byproduct of that has been a career best walk rate of 12.5% and Correa's lowest strikeout percentage since his rookie season (18.5%).
Defensive Breakout
Correa's improvements have not been limited to offense and availability, as the shortstop is enjoying the best defensive season of his career. With a defensive WAR of 2.1, Correa trails only Isaiah Kiner-Falefa and Michael A. Taylor for tops in the American League. His 10 outs above average rank tenth among all MLB infielders, and Fielding Bible has attributed Correa with 13 Defensive Runs Saved, trailing only Kiner-Falefa at the shortstop position.
How Much Will He Get?
Set to turn 27-years-old next week, Correa will be one of the youngest players on the open market coming off of a career year. Projecting these contracts can be really tough because as we see many long term deals age poorly, I can't help but wonder how confident a team would be in giving Correa eight-plus years given his injury history. Corey Seager has also missed large chunks of time, and Trevor Story has not been iron man either, along with the classic Coors splits conundrum.
Correa has placed an emphasis on keeping himself on the field, and has seen the results this year in production and availability. As crazy as it sounds, Correa could just now be entering his prime. He also has a better understanding of the type of player he wants to be. Dating back to the beginning of 2020, Correa has not even attempted a stolen base, treading a bit more lightly on the bases.
As history has shown, long term contracts can be risky injury, but teams will still delve them out. There may even be teams who still prefer Seager over Correa, especially those who need a left handed bat. After posting back to back solid defensive seasons, Seager has still been trying to find his rhythm since getting Tommy John Surgery in 2018. If Correa can come close to replicating last year's postseason after his spectacular 2021 regular season, I think $230+ million could be attainable for Correa. Heading into this year, I would've been surprised to see him surpass $120 million, which goes to show what a big contract year can do for you. Correa will be an interesting case, but there's no debating that he made himself many, many more millions this offseason.