Analysis
Clayton Kershaw Could Retire with Hall of Fame Legacy in Place
A free agent for the first time in his career, Clayton Kershaw could retire now as the most dominant pitcher of the Live-ball era.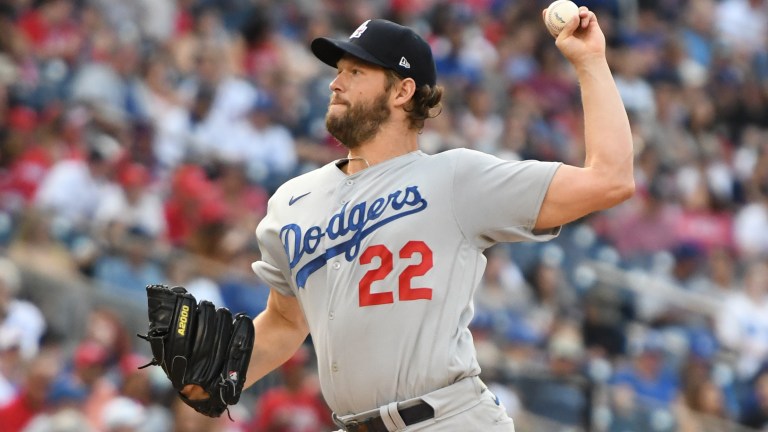 For the first time in his MLB career, Clayton Kershaw is a free agent. Selected with the seventh overall pick in the 2006 MLB Draft out of Highland Park High School in University Park, Texas, the 14-year veteran has spent his entire career with the Los Angeles Dodgers.
Kershaw has authored a first ballot Hall of Fame career in Los Angeles, winning five ERA titles, three Cy Youngs and the 2020 World Series. Kershaw is also one of 17 pitchers since the Live-ball era who have won the Pitching Triple Crown, taking home the honors for his dominant 2011 season.
Now the soon-to-be 34-year-old has to decide where to pitch next season, as he is not under contract with the Dodgers for the first time since he was 18 years old.
While it did not get major headlines, there was an interesting note in Bob Nightengale's latest notebook for USA Today.
Nightengale spoke to a former teammate who believes Kershaw will either pitch for his hometown Texas Rangers or retire. Now we should not get too carried away by this because Nightengale did not even tweet it out or mention it as a headline for his notebook. Still, after watching another great player in Buster Posey retire on top this offseason, it should not be discounted entirely.
Kershaw's legacy is already cemented in stone, regardless of if he ever toes the rubber again. And that legacy is as the most dominant pitcher of the Live-ball era.
The ERA King
Clayton Kershaw's career numbers are pretty staggering when you really look at their context in MLB history. There is simply no precedent for a pitcher to have amassed nearly 2,500 career innings pitched and to still have a 2.49 career ERA.
Right now, Kershaw ranks 42nd all-time when it comes to his career ERA, but that list looks an awful lot different if we remove the pitcher's from the Dead-Ball Era prior to 1924.
As we discussed in a previous article about the 300-win club, the Deal-ball Era produced statistical anomalies when it came to pitcher performance, as every advantage was skewed to their favor during those days.
Take one look at the faces that make up the top 24 pitchers of all-time when it comes to ERA, and it is clear that all but one of them comes from a bygone era.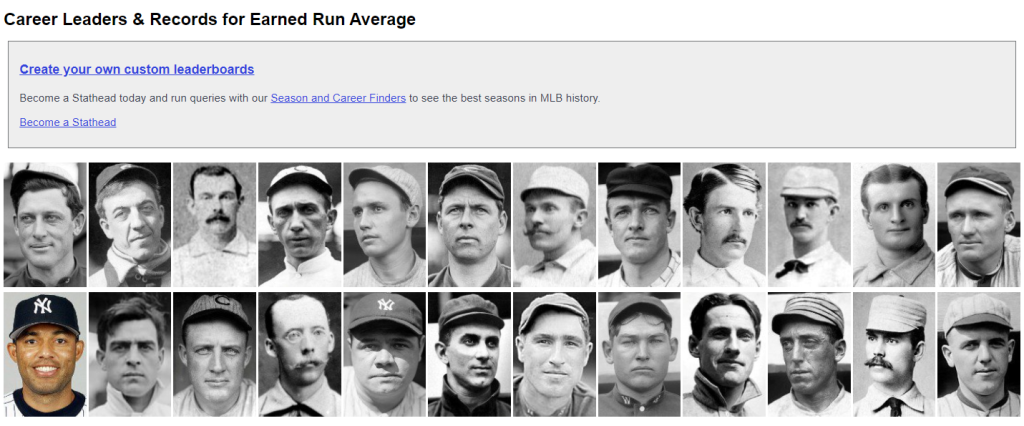 The most dominant closer in MLB history, Mariano Rivera, comes in at No. 13 on the all-time list with his 2.21 career ERA. Other than Rivera, there is not a single pitcher on the all-time list that comes in ahead of Kershaw who pitched primarily in the Live-ball era.
Since 1924, Kershaw is unequivocally the most dominant regular season pitcher in MLB history. Jacob deGrom is currently a fraction point behind Kershaw with his career 2.50 ERA, but he has pitched nearly half the amount of innings.
Kershaw's standing among the top-10 career ERA leaders of the Live-ball era is the best reflection of his dominance compared to his peers.
| | | |
| --- | --- | --- |
| Pitcher | Career ERA | Innings Pitched |
| 1. Clayton Kershaw (2008-Present) | 2.490 | 2,454.2 |
| 2. Jacob deGrom (2015-Present) | 2.497 | 1,261.2 |
| 3. Holyt Wilhelm (1952-1972) | 2.523 | 2,254.1 |
| 4. Whitey Ford (1950, 1953-1967) | 2.745 | 3,170.1 |
| 5. Dan Quisenberry (1979-1990) | 2.760 | 1,043.1 |
| 6. Sandy Koufax (1955-1966) | 2.761 | 2,324.1 |
| 7. Ron Perranoski (1961-1973) | 2.789 | 1,174.2 |
| 8. John Hiller (1965-1970, 1972-1980) | 2.833 | 1,242.0 |
| 9. Bruce Sutter (1976-1986, 1988) | 2.833 | 1,042.0 |
| 10. Spud Chandler (1937-1947) | 2.836 | 1,485.0 |
Career ERA Leaders Since 1924
All-time greats like Whitey Ford, Sandy Koufax, Tom Seaver, Bob Gibson and Pedro Martinez all finished their careers with ERAs that are markedly higher than Kershaw's through his first 14 seasons. As Kershaw currently remains a free agent, he must now decide what he has left to play for.
Next Stop for Kershaw?
Kershaw's final destination is Cooperstown, but we still don't know if there will be any more stops along the way before he gets there. There is no question that Kershaw can still pitch, as he had a 3.55 ERA across 22 starts last season. Still, you have to wonder if the grind is worth it for a pitcher who has already done it all.
In 2008, Kershaw made his MLB debut at just 20 years old and pitched to a 4.26 ERA across 107 2/3 innings pitched. He then began a stretch from 2009 through 2018 in which he put together 10 consecutive seasons with a sub-3.00 ERA. During that span he finished in the top-three in the NL Cy Young voting six times, taking home the award three times.
Over the latter stages of his career, Kershaw has dealt with various nagging injuries, but has still been able to make at least 21 starts in every season of his career (except for the shortened 2020 season). In fact, prior to the 2021 season, Kershaw had never been put on the injured list with an arm injury. That changed however in July, when he went on the IL with forearm inflammation.
The injury kept him out of the Dodgers rotation until September. Kershaw returned to make four starts down the stretch, but was pulled from his last start on October 1st with more arm pain and was held off the Dodgers postseason roster.
Now entering his age-34 season, Kershaw has to decide if it is worth it to continue to pitch and subject himself to further injuries. There are still milestones to be had for Kershaw, as he is just 15 wins away from 200 career victories. The allure of another World Series is likely still a draw for him as well.
At the end of the day though, there is nothing left to prove if Kershaw decides it is time to retire on top. In fact, there may be more to lose than to gain for a pitcher like Kershaw at this stage.
Kershaw has been pitching with diminished velocity since the 2018 season, but there is no question that the left-hander is not quite as dominant as he once was. Prolonging his career amidst a decline could jeopardize his standing atop the all-time leaderboard when it comes to his career ERA. This may be insignificant to Kershaw, but it is worth noting.
There are of course detractors who will point to Kershaw's lack of success and career 4.19 ERA in the postseason as a reason to smear his legacy as one of the all-time greats, but it is unlikely he can do much more to re-write that narrative now.
Kershaw did about all he could to change his postseason reputation in 2020, when he was a huge reason for the Dodgers winning the World Series. Kershaw went 4-1 during that World Series run, with a 2.93 ERA. He also recorded wins in both Game 1 and Game 5 of the 2020 World Series.
Maybe the Dodgers bring Kershaw back for another season or two, allowing him to get a few more cracks at adding another ring before he finishes his Hall of Fame career having played for just one franchise. Or there is a chance Kershaw really does want to experience playing for his hometown team, joining former teammate Corey Seager as the latest free agent prize for a revamped Rangers team.
Time will tell what Kershaw decides to do next, but regardless of what that decision is, the left-hander is set to go down as one of the greatest pitchers in MLB history.