Analysis
2022 Free Agent Profile: Michael Conforto
Despite coming off a down-year, Michael Conforto is sure to have a long list of suitors when free agency resumes.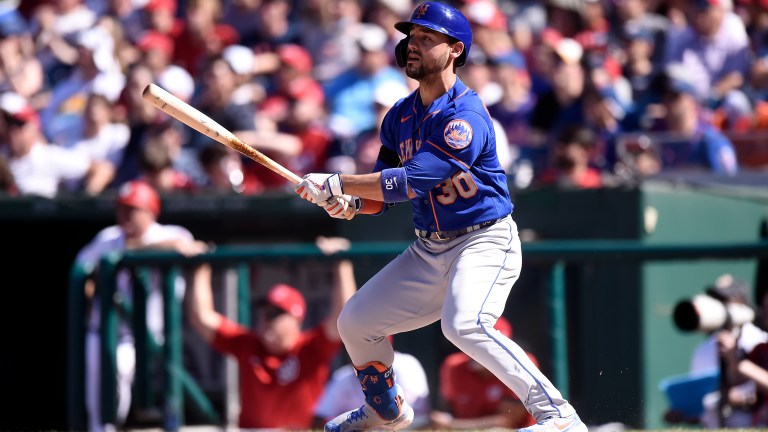 Position: OF
Bats/Throws: L/R
Age: March 1st, 1993 (28 years old)
Traditional Stats: .232/.344/.384, 14 HR, 34 XBH, 55 RBI, 52 R, 104 K, 406 PA
Advanced Stats: 21.7% K%, 12.3% BB%, 106 wRC+, .322 wOBA, 0.8 fWAR
Defensive Stats: 1 OAA, -4 DRS
Michael Conforto is the classic case of a player who has hit free agency at the wrong time. If he had become a free agent just a year sooner, Conforto could have been in the conversation with George Springer as the top outfielder on the market.
In 2020, Conforto hit .322/.412/.515, with a 158 wRC+ across 54 games played. The year prior, he belted a career-high 33 home runs with 92 RBIs and a 127 wRC+. Throughout his career, Conforto has shown the ability to hit for power, get on-base at a high clip and play strong defense out in right field. Unfortunately those traits weren't on display as much in 2021.
Conforto is coming off the worst season of his career and has likely seen his free agent value diminish a bit because of it. Still, if you look at the remaining free agents, you would be hard-pressed to find a better buy-low candidate than Conforto.
All-Star upside is not out of the question for this 28-year-old, but even his baseline production should be that of a quality starting corner outfielder who will help his next team win a lot of baseball games.
Path to Free Agency
Drafted 10th overall by the New York Mets in 2014, Michael Conforto was fast-tracked through their minor league system and debuted on July 24th, 2015.
Conforto made the jump straight from Double-A to help a Mets team that was struggling mightily offensively. With the addition of Conforto, along with the trade deadline acquisition of Yoenis Cespedes, the Mets completely revamped their outfield and their lineup, helping them make a push in the second half that resulted in an NL East division title.
When the Mets made the World Series, Conforto became just the third player in MLB history to have played in the Little League World Series, College World Series and Major League World Series. He made history again when he homered twice in Game 4, becoming the first rookie since Andruw Jones to accomplish that feat in a World Series game.
Conforto was the Mets Opening Day left fielder in 2016, but would end up enduring a real sophomore slump that saw him demoted to Triple-A in the middle of the season. Conforto would bounce back in a big way the following year, making his first All-Star appearance in 2017.
That season was really the best of Conforto's career, as he hit .279/.384/.555, with 27 home runs and a 147 wRC+ in 109 games. Unfortunately his season was cut short when he dislocated his left shoulder on a swing, which required surgery to repair. Conforto posted a career-best 4.4 fWAR in 2017.
Over the following two seasons, Conforto returned to the lineup healthy and eclipsed 150 games played each year. Altogether he hit .250/.356/.471, with 61 home runs, 117 extra-base hits, 174 RBIs and a 123 wRC+. He also posted strong seasons defensively, as he was worth 12 OAA across 2018 and 2019.
In 2020, Conforto played at an All-Star level in the shortened season, finishing 11th in all of baseball with his 158 wRC+. Everything went downhill though last season, as Conforto hit just .232/.344/.384, with a 106 wRC.
Still, over the past seven seasons with the Mets, Michael Conforto has been among the most productive outfielders in baseball. For his career, he has hit .255/.356/.468, with a respectable K% of 21.7% and a BB% of 12.1%. Among qualified outfielders since 2015, Conforto ranks 17th in wRC+ (124) and fWAR (16.9).
Having spent the better part of a decade as one of the top-20 outfielders in baseball, Conforto is a great bet to have strong 2022 campaign, making him one of the most attractive free agents left on the market.
Contract Projection
Michael Conforto is another one of these free agents who has a very unpredictable market. Agent Scott Boras spoke glowingly of Conforto and the market he was about to enjoy earlier in the offseason, making it seem like he had plenty of suitors.
While Boras paints a rosy picture, Conforto was not signed prior to the lockout for a reason. Teams could be wary of meeting a nine-figure asking price when he is coming off a down-year, or maybe there were too many offers to sort through on such a short timeline.
It is still unknown if Conforto is looking for a long-term deal now, or if he wants to sign a one-year deal to rebuild his value. He could then hit the open market again next offseason under the new CBA with no qualifying offer attached.
Boras could also get creative with Conforto the same way we have seen with other free agents of the past. Right now, Nick Castellanos is viewed as the top free agent outfielder remaining following a season where he hit 34 home runs in 138 games.
In 2020, Castellanos signed four-year, $64 million deal with the Cincinnati Reds. A big part of the contract was that it had an opt-out clause after each of the first two years of the deal, so when he put up a career-year in 2021, Castellanos was able to become a free agent.
Don't be surprised if Conforto signs a very similar contract this offseason, especially if Boras can find him a hitter-friendly ballpark to give him the best chance to post monster numbers in 2022.
Contract Range:
Michael Conforto should make at least the $18.4 million he turned down on the qualifying offer for 2022, but there is a good chance he gets even more. Depending on his market and how many years he signs for, the AAV on Conforto's contract could end up between $20 and $25 million.
Top Five Landing Spots
Any team that is looking for a starting level outfielder should be all-in on Michael Conforto. Nick Castellanos and Kyle Schwarber are the only free agent outfielders who bring more to the table offensively, but when you factor in the defense, an argument could still be made that Conforto is the best all-around outfielder left.
While Conforto was not great in 2021, teams should look past his struggles as there are plenty of reasons to expect a bounce back. First off, hitting can be contagious and for the 2021 Mets, it was contagious in a bad way as the entire team went through collective slumps throughout the season.
Conforto also dealt with a significant hamstring injury which sidelined him for six weeks in the middle of the season. He did however turn things around from August on, as Conforto hit .272/.372/.457, with eight home runs, 30 RBIs and a 128 wRC+ to finish the year.
Teams that want to contend in 2022 should be prioritizing Conforto this offseason, as he is a great bet to be an above-average contributor next season.
Seattle Mariners
Could a return to the Pacific Northwest be in the cards for Michael Conforto?
Conforto was born and raised in Seattle, so a homecoming could be an enticing possibility for the 28-year-old, especially as the Mariners are set to be contenders for years to come with the young core they have put together.
Last year, the Mariners came up just short of making the playoffs, but still won 90 games. Conforto would give them a much-needed veteran presence to help with the loss of Kyle Seager as they look to end a playoff drought that now spans 20 years.
If there is one place that Conforto would go on a long-term contract, Seattle seems like the most logical landing spot.
Chicago White Sox
On the opposite end of the spectrum, if there is one place where Michael Conforto could go on a one-year deal, watch out for the Chicago White Sox.
With all the young talent the White Sox have to pay in the near future, Chicago might not be looking to lock down Conforto to a long contract, but they could certainly use his services in an attempt to win-now in 2022.
Conforto would be a great compliment to the youth that Chicago has in the outfield with Luis Robert and Eloy Jimenez, providing them with a starting right fielder that can take their team to the next level.
For Conforto, he would have the chance to win now and be part of a great lineup, which would only stand to boost his free agent value for next year.
San Francisco Giants
Even if he doesn't sign with Seattle, Michael Conforto could return to the West Coast by signing with the San Francisco Giants. The Giants are coming off a great season where they led Major League Baseball with 107 wins. That has to be enticing for Conforto, who has not played in the playoffs since 2016.
It does not appear like the Giants will be reuniting with Kris Bryant this offseason, so they could certainly use another bat in their starting lineup. While LaMonte Wade Jr. and Darin Ruf both had solid offensive campaign's in 2021, Conforto is a better all-around player than both of them.
Signing Conforto would be the perfect addition for the Giants, as he can improve their defense in the outfield, while adding another on-base and home run threat to the middle of their lineup.
Philadelphia Phillies
A couple of years ago, the Philadelphia Phillies poached an outfielder from a division rival when they signed Bryce Harper, could they now do the same with Conforto?
The Phillies desperately need to address their outfield, as there is not much to like on their roster outside of Harper at this time. Andrew McCutchen was their second-best outfielder over the last few seasons, but they decided to pay him a $3 million buyout rather than have him return for $15 million next season.
Conforto has been great throughout his career playing against the Phillies, particularly at Citizen's Bank Park. Across 53 games played, Conforto is hitting .279/.356/.569, with 15 home runs and 42 RBI in Philadelphia. Citizen's Bank Park would be the perfect bandbox for Conforto to call home, giving him a chance to boost his value and test free agency again if given an opt-out in his contract.
Boston Red Sox
The Boston Red Sox have made one major move this offseason to address their lineup and it made them worse offensively. Prior to the lockout, the Red Sox traded Hunter Renfroe to the Milwaukee Brewers in exchange for Jackie Bradley Jr. and a pair of prospects.
Bradley's return to patrolling center field is sure to help them defensively, but they are losing a lot of power from Renfroe as he hit 31 home runs last season. Conforto could replace that power production, while also giving the Red Sox another right fielder with a strong arm.
Final Predicition:
Michael Conforto signs a three-year, $70 million deal with the Boston Red Sox.
Something about this fit just makes too much sense to me. Conforto has a swing that could play really well at Fenway Park, as he pulls a lot of his home runs down the right field line, but also hits a lot of opposite field doubles.
Speaking as someone who has watched every game of his Mets career, I'd bet that Conforto quickly learns how to take advantage of the Green Monster and would not be surprised at all if he ended up leading the league in doubles. A change of scenery should be good for Conforto, especially if he can get dropped right into a winning situation.
If Conforto signs a three-year deal, Boras will likely push for an opt-out clause that would allow him to hit free agency again next year if he posts a strong season.