Analysis
Nick Castellanos Free Agent Case: Not Your Typical Story of Splits
Soon-to-be free agent Nick Castellanos has some of the most dramatic splits you'll see. Should teams be deterred?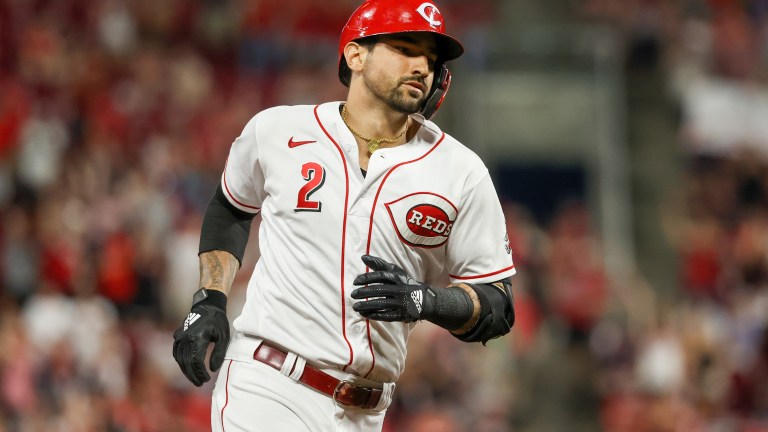 After a career year in his age-29 season, it did not come as a surprise that Nick Castellanos will reportedly opt out of the final two years, $32 million of his contract with the Cincinnati Reds. Castellanos set career marks in: batting average (.309), home runs (34), OPS (.934), wRC+ (140).
There's no debating that Castellanos earned himself a nice raise in pay with last season's performance, but there are some oddities to his 2021 campaign that could make teams a bit weary of giving him a huge deal.
Home/Road Splits
There's no secret that Great American Ballpark is a hitter's paradise. According the Baseball Savant's Park Factor tool, the stadium is the third most advantageous environment for hitters since 2019–trailing only Coors Field and Fenway Park. Generally, Coors Field is the only place where home/road splits carry legitimate weight for a player in the open market, but Castellanos' splits are too dramatic to ignore.
| Splits | Slash Line | HR | wRC+ | HR/FB% |
| --- | --- | --- | --- | --- |
| Home | .359/.407/.702 | 23 | 177 | 31.1% |
| Road | .259/.319/.454 | 11 | 105 | 14.7% |
Nick Castellanos Home/Road Splits
Now, the purpose of this piece is not to diminish Nick Castellanos as a baseball player, the guy is a stud and a ton of fun on the field. My goal is to help contextualize what the open market looks like for Castellanos, a rare example of a player who has put up solid numbers in a pitcher's park, then absurd numbers in one of the best hitter's parks.
When Castellanos signed his four-year, $64 million deal with the Cincinnati Reds ahead of the 2020 season, he was a .277/.326/.472 hitter in 877 career games–about 12% above league average if you go by his 112 wRC+.
If we are going to cite Great American Ballpark in his phenomenal year, it is only fair to reference Comerica Park when looking at Castellanos' preceding seasons; Comerica Park is ranked 20th in ballpark factor by Baseball Savant, putting the stadium comfortably in the pitcher's park category.
Self-Fulfilling Prophecy
While the numbers Castellanos put up in Cincinnati are hard to ignore, so is his track record. Since breaking into the Major Leagues at 21 years old, the outfielder continued to improve before breaking out in 2018 for the best season of his career to that point. The then 26-year-old hit .298/.354/.500, with 23 HR and a career-high 129 wRC+.
It made sense that Castellanos' initial breakout came in 2018, considering where he was at in his career. At that point, he had four full seasons under his belt and was reaching his physical prime. Given the success we have seen Castellanos have in a hitter-friendly environment, it would be natural to expect his numbers would have been better away from the cavernous Comerica Park during his Tigers career. After all, he did call the Tigers home a joke due to how spacious it is in 2019.
Ironically, Castellanos was better in the park he would later publicly resent, posting an OPS of .892 at home and .818 on the road when he was Tiger. In 2019, Castellanos started to struggle again when playing in Detroit, sporting roughly a 200 point OPS difference home vs road.
"We'll get on second base or third base and they'll come up and be like, 'Man, how do you guys do this?'" Castellanos said a week before being traded in 2019. "We play 81 games here, man. I don't want to hear about the two you hit that are questionable."
What is bizarre is that Castellanos made it work in 2018 within the same confines. In fact, he made it work better that year. The walls didn't move back in Comerica Park prior to the 2019 season, but based on Castellanos' comments, they may as well have. It was clear a change of scenery was needed and a change of scenery was what he got.
After hitting just five home runs in June and July combined during the 2019 season, Castellanos launched 11 in his first month as a Cub. By park factor, Wrigley Field is no more friendly of a place to hit in than Comerica Park–in fact, it ranks just behind the Tigers home in that department.
Altering His Approach
Yogi Berra once said, "baseball is 90 percent mental and the other half is physical." I can't help but wonder if seeing those fly balls die on the warning track during tough stretches started to pile up on Castellanos mentally. The right-handed hitter has always deployed an all fields approach, but in 2018 and 2019, he pulled the ball at an uncharacteristically high rate when playing at home–roughly 45% after never breaking 39%.
While there have been some fluctuations in Castellanos' performance by ballpark, there's really no debating his ability to flat out barrel baseballs as the 29-year-old is routinely in the top 20% in the league in that department.
Rather than selling out pull-side, Castellanos was able to get back to his roots in Cincinnati which is an all-fields approach. If you look at the two spray charts below, you can see how much more Castellanos was willing to drive the ball to the gaps in 2021. The irony is, a lot of the balls he drove out of the yard in Cincinnati ,or on the road, would have easily left the yard even in Comerica's cavernous gaps.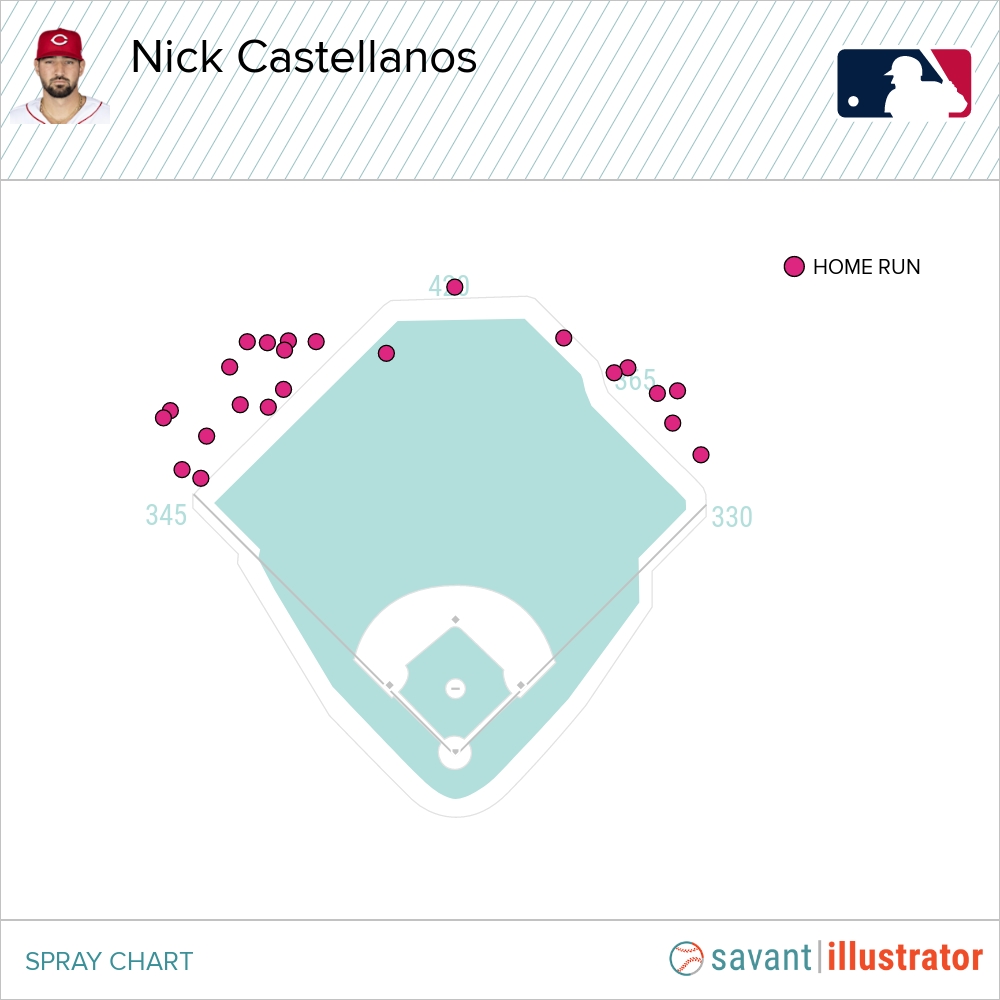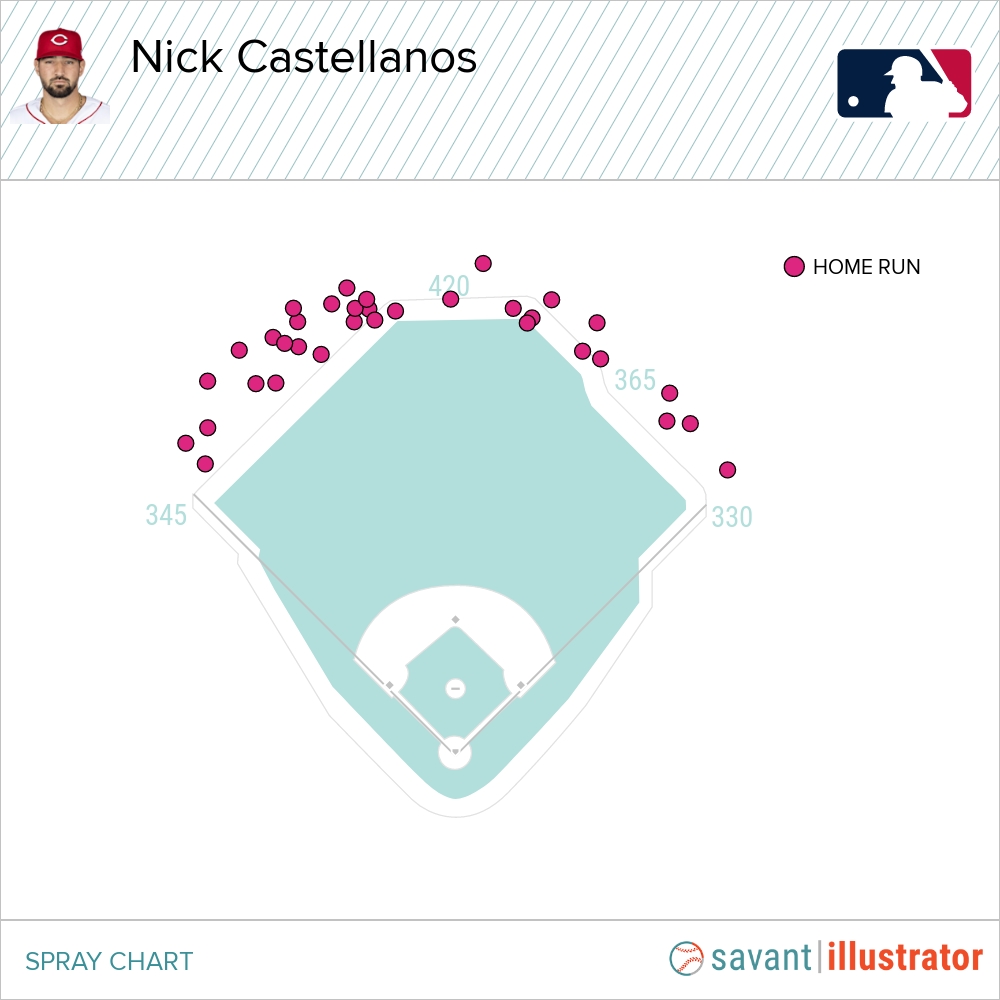 Things come full circle when you look at the batted ball data for Castellanos in 2021. I mentioned how much better the slugger was in Cincinnati, but beyond the sheer production decline when playing outside of GABP is a much higher pull-rate–eight percent higher to be exact. Ta-Da!
We have the exact converse effect for Castellanos in Cincinnati. He has way more confidence in his all-fields approach in GABP, but starts selling out pull side when he is away from his hitter friendly home.
I might be concerned with that fact if it weren't for the charts above. Many of the balls that Castellanos hit out in GABP would have been gone anywhere…including that "joke" of a field he used to play in.
According to Baseball Savant, 80% of Castellanos' 2021 homers would have left the yard in 21 of the 29 ballparks (Toronto excluded). For reference, his teammate Joey Votto's homers would have left 22 out of 29 parks at that same clip.
Market Value
As the 1,000 words prior can attest, Castellanos is a bit of a unique free agent case. He provides little to no value with the glove, placing even more of an emphasis on the intricacies of his offensive production. What is clear is that he is more valuable than the $16 million he was slated to make in 2022.
As a general manager, I wouldn't be deterred by the Castellanos splits because he seems to be more influenced by the feel of a stadium rather than being physically impacted by the distance of the wall. A player whose game is predicated on consistency, barrels, and an all-fields approach finds himself adapting to his environment. Baseball is already too hard of a sport to find consistency in and very few hitters can be chameleons.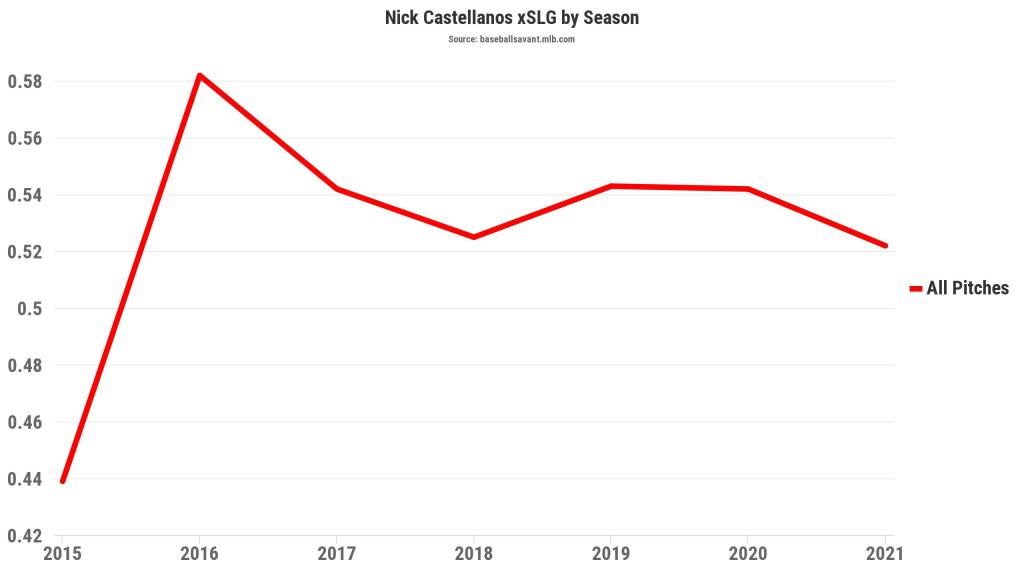 For a player who has been so consistent on a macro scale, I would feel good enough about Castellanos ability to hit no matter where he is physically. However, if I am a GM of a team with a big ballpark, that's a conversation that would have to come up prior to inking a deal, because it's hard to deny the way Castellanos' environment influences his approach.
There is likely no team that Castellanos would be more valuable to than the Cincinnati Reds, but I'd expect several teams to be prepared to give him around $25 million AAV over four or five years; especially with the seemingly inevitable implementation of the universal DH.