Analysis
2022 Free Agent Profile: Trevor Story
Everyone's favorite pun-generating shortstop, Trevor Story is coming off a down year by his standards. Which teams are most willing to bet he bounces back?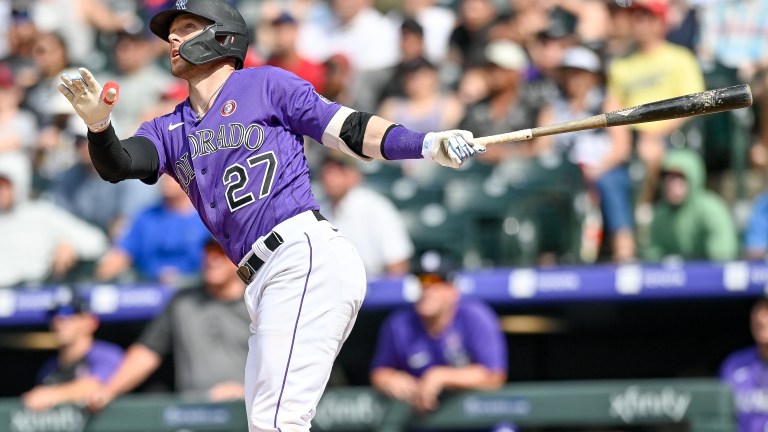 Position: Shortstop
Bats/Throws: R/R
Age: November 15, 1992 (29 years old)
Traditional Stats: .251/.329/.471, 24 HR, 63 XBH, 75 RBI, 88 R, 139 K, 595 PA
Advanced Stats: 23.4% K%, 8.9% BB%, 100 wRC+, .341 wOBA, 2.5 fWAR
The year is 2016. You're sitting in your fantasy baseball draft lobby, probably indulging in a yummy snack — mine being the Sour Cream & Onion Sun Chips, otherwise known as the best chip. The rate of your chip consumption starts to increase, though, as you are debating whether or not to buy in on the spring training hype and draft Trevor Story, the newly-appointed shortstop of the Colorado Rockies after longtime superstar Troy Tulowitzki was shipped out the season prior.
You're nervously eating your chips and water, wondering if this was simply going to be another instance of spring training hype getting out of control — that this could be another Greg Bird scenario. So, you elect to pass on him; let that be somebody else's problem, right?
Of course, that was a mistake.
Soon after that, you're just a passive observer, listening to podcasts about how incredible of a start he's had instead of walking to your communications class because you elected to drink cheap beer with your friends last night, and just enough that your brain crawled out of your skull.
Since then, Story has been one of the most productive shortstops in all of baseball, amassing the eighth-best fWAR total (21.6) at the position (unless you choose to exclude Manny Machado and Marcus Semien, who some don't view as shortstops, he'd be sixth) thanks to a combination of raw power and excellent defensive skills.
With that, you'd think Trevor Story would be a shoo-in for a jumbo thick contract — regardless of how stacked this 2022 free agency class is — but the reality is a bit more complicated due to an uneven 2021 campaign.
Let's break it down.
Path to Free Agency
With the exception of his sophomore-slump season in 2017, in which he had a career-high 34.4% strikeout rate and a paltry wRC+ of 82, Trevor Story has done about as good a job you could do in replacing a franchise legend. He bounced back in 2018 by lowering his astronomically-high, Javier Báez-esque k-rate to a much more digestible 25.6%, while also managing to keep his power intact, finishing tied-for-second at the position in home runs (37).
But it wasn't just one strong follow-up season that put Trevor Story on the map. Since 2018, Story has the fourth-best fWAR (17.1) and most home runs (again, if you exclude Manny Machado) amongst shortstops, and the 11th-best fWAR total for ALL position players.
On top of that, Story has been proven to be a reliable defender. With the exception of Francisco Lindor, there's an argument to be made that Story has been the most productive dual-threat shortstops in the game.
Since 2018, his 35.8 defensive rating on FanGraphs is the sixth-best at the position and his 43 DRS (defensive runs saved) rank third behind only Nick Ahmed and Carlos Correa. And unlike fellow 2022 free agent Carlos Correa, Story hasn't had nearly as much of a plagued injury history. Plus, thanks to his last name, he served as the perfect ammunition for numerous writers everywhere trying to pen clever puns for their latest column. So what's not to like?
The answer is fairly simple: Coors. For about as long as there have been superhero movies pumped out each year, or stories about Kanye West doing…whatever, Coors Field has served as a common point of contention in the baseball community. Is it really like hitting on the moon?
Just how much is it inflating a player's value?
Some manage to overcome this situation, but in the case of Story's career numbers away from the ballpark, it's concerning:
| | | | | | | |
| --- | --- | --- | --- | --- | --- | --- |
| Trevor Story's Career splits | AVG | OBP | SLG | K% | wOBA | wRC+ |
| Home | .303 | .369 | .603 | 24.7% | .402 | 125 |
| Away | .241 | .310 | .442 | 30.6% | .321 | 98 |
And if you're wondering whether or not those numbers may be more indicative of the beginning of his career, that's sadly not the case. In his down-year in 2021, he hit sensationally well at Coors (.296/.365/.515) while performing flat-out anemically on the road (.203/.292/.426); the splits are just as drastic for even his best seasons prior, too.
Sure, the fundamental power seems to be mostly legit, which you can see by his ISO (isolated power) mark of .251 being near the top of the position since 2016, but the questions of his overall offensive output remain the same. It's a tricky proposition to behold, which could be why he wasn't among the flurry of free agent signings that occurred before the MLB lockout.
Contract Projection
Trevor Story's contract situation depends largely on whether or not he chooses to cash in now, or undergo a Marcus Semien-like strategy and sign a short-term deal in order to bring his value back up heading into his age-30 season. We've already seen teams make their big commitment to a franchise shortstop, with the Detroit Tigers spending big on Javier Báez (6 years, $140 million) and Texas Rangers with Corey Seager (10 years, $325 million), so the possibilities for Story have narrowed a tad bit.
Depending on whether or not Story takes a prove-it deal akin to Semien's 1-year, $18 million contract before the 2021 season, or decides to cash in his chips now for something similar to the aforementioned Báez will be a major factor. Something with an AAV between $18 million and $23 million would make sense for Story, but the years are a lot more questionable.
Top Five Landing Spots
Yes, he had a down 2021 season, and yes, his home/road splits are concerning, but there does need to be some amount of attention brought to the Rockies organization. They're, to be blunt, a clown show. They're easily one of the most dysfunctional organizations in all of sports, and we've seen players be productive in better circumstances before.
"There's rebuilding," as Aram Leighton wrote back in November, "then there's whatever the Colorado Rockies are doing." Perhaps the right lineup, or right ballpark, to surround Story could elevate him back to elite status and have the "Coors Product!" killjoys having to apologize for their slander.
5. Seattle Mariners
Look, with the exception of the Steven Cohen-era Mets and AJ Preller out of San Diego, Jerry Dipoto is a GM that you can never sleep on. The Mariners shocked everyone with their surprisingly productive, 90-win season in 2021, and adding another noteworthy bat to their lineup after bolstering their pitching rotation with Robbie Ray would make for quite a splashy offseason in Seattle.
There's just something about Jerry's. Beware, good friends.
It's true that the Mariners have plenty of young talent — often regarded as one of the best overall farm systems in baseball — but some low-cost, immediate additions to the team could prove fruitful. It's true the team has shortstop prospect Noelvi Marte, ranked 22nd on Just Baseball's Top-100 list, but he's unlikely to debut soon. A short, one to two-year deal until the team feels comfortable bringing up Marte could make a lot of sense for both sides. Story's offense could take a hit in the pitcher-friendly confines of Seattle, but he's an upgrade over JP Crawford with a steady glove and infinitely upside offensively.
4. Los Angeles Angels
The Angels are desperate. Like, really desperate. They're about ready to do something on the level of Kevin Costner in Draft Day — trading away three years of first-round picks — kind of desperate. And what do desperate teams do?
They give out massive contracts, of course!
The Angels front office has basically been the Oprah "You get a car!" meme for the last decade when it comes to signing free agents.
Trevor Story could potentially fit the bill for them, given that their farm system doesn't inspire much confidence and they're looking to be competitive with superstars Mike Trout and Shohei Ohtani. Given that the market for Story could get dicey, the Angels could offer Story a five-year deal and backload the contract to keep payroll down until other players, like Justin Upton, come off the books.
Is it a smart move, per se? Not exactly, but there's worse players, and moves, to gamble on if you're in win-now situation like the Angels.
3. Houston Astros
The Houston Astros are the team everyone loves to hate. But they've still got quite the juggernaut of a team, especially offensively. The only issue, of course, is they've most likely seen the last of shortstop Carlos Correa, who they attempted to bring back on a low-ball, five-year, $160 million deal prior to the season. Naturally, bringing in Trevor Story as a replacement would be a solid move.
Combining a hitter-friendly park with a lineup full of god-killers like Yordan Alvarez and Kyle Tucker could be enough to rejuvenate Story's output. The Astros could make a similar offer to Story in terms of the years, with around five being ideal, and save a lot of finanical flexibility that a Correa signing likely wouldn't afford. Plus, the multi-year deal could be exactly what Story values most. It just makes sense.
2. New York Yankees
If you're at all on baseball Twitter, you've probably seen Yankees fans collectively leaking brain fluid all over the timeline after GM Brian Cashman didn't make any moves during the first free agency splurge.
Management has been open about wishing to upgrade at the shortstop position given the collapse that infielder Gleyber Torres has had over the past two seasons. It's possible the team may be willing to give Torres another year to figure things out and return to his 2018-2019 form, but they're also the Yankees, and fielding a contender every year has been their identity since the beginning of time.
Trevor Story could fit the bill for a myriad of reasons. He would help add on to the Yankees' recent trend of banking on flawed players that hit for power, and signing a Rockies player coming off of a down year has worked for them before (DJ LeMahieu, at least initially).
Top prospect Anthony Volpe could mean they aren't going to give an enormous, multi-year offer to Story, but the AAV could be amongst the highest of any suitor still left and a home ballpark that's more conducive to his offensive game.
1. St. Lous Cardinals
Like the Yankees, the Cardinals have also benefitted from the Rockies ineptitude. While far from his peak, Nolan Arenado delivered for the Cardinals in his first season. They were an excellent team all-around in 2021, but one glaring hole was their shortstop situation: Paul DeJong.
While not atrocious, DeJong was the black sheep for a Cardinals lineup filled with elite talent on both sides of the ball. An upgrade, especially with much more money to spend with Andrew Miller, Carlos Martinez, and Matt Carpenter no longer on the mend, is an obvious move.
A reunion between Nolan Arenado and his former teammate is the type of cheesy sentimentality that baseball thrives on, and would essentially complete the formulation of a literal Justice League of Gold Glove defenders. Because of his glove, the downside of Story's bat away from Coors could be alleviated, and clearly, even just a more home run reliant Arenado — but while maintaining his elite defense —was good enough for the Cardinals in 2021.
Final Prediction
The New York Yankees sign Trevor Story to a two-year, $43 million contract.
If you read the tea leaves, it's hard to imagine the Yankees not making an impact signing at shortstop. But given the likely exorbitant cost of Carlos Correa, who recently announced he was switching to hiring Soctt Boras as his free agent, might actually not be the route to go down given their circumstances.
Their salary numbers could float out of orbit, even by Yankees standards, especially when you take into account the possibility of extending their superstar slugger, Aaron Judge.
It's possible the front office may feel like they got burned with signing DJ LeMahieu to a long-term deal after his extremely poor 2021 season. Going the cheaper route with Trevor Story, with a strong short-term offer that will cover them until Volpe is big-league ready.
If it worked once, why not try it again?