Analysis
2022 Free Agent Profile: Kyle Schwarber
Coming off a career-year where he hit 32 home runs in 113 games, Kyle Schwarber is one of the most attractive free agent sluggers left on the market.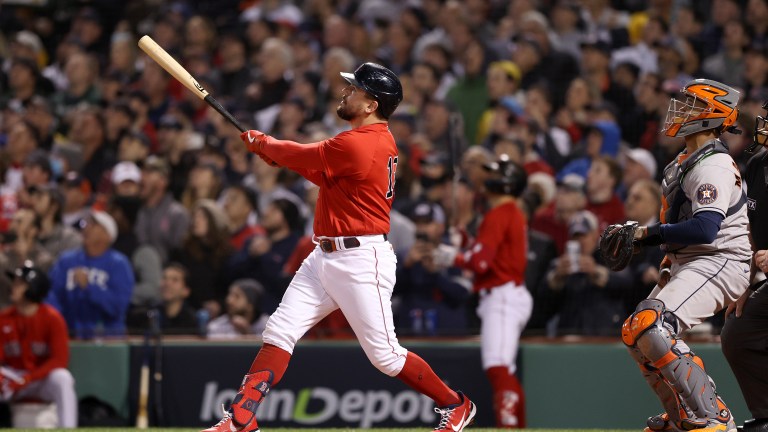 Position: OF/1B/DH
Bats/Throws: L/R
Age: March 5th, 1993 (28 years old)
Traditional Stats: .266/.374/.554, 32 HR, 51 XBH, 71 RBI, 76 R, 127 K, 471 PA
Advanced Stats: 27% K%, 13.6% BB%, 145 wRC+, .392 wOBA, 3.1 fWAR
Defensive Stats: LF: -6 OAA, -5 DRS 1B: -4 OAA, -3 DRS
One of the best bats left in free agency, Kyle Schwarber wisely waited to sign his next contract until after the new CBA was agreed upon, as reports indicate that the universal DH will be coming to MLB next year.
Outside of maybe Nick Castellanos, no free agent gained more leverage with that news than Schwarber, as the 28-year-old looks to cash in off a career-year that saw him become one of the best sluggers in the game.
Path to Free Agency
Kyle Schwarber's path to free agency was sped up a bit last offseason, when the Chicago Cubs made the surprising decision to non-tender the homegrown fan-favorite. Schwarber was coming off a down 2020 campaign, where he hit .188/.308/.393, but it was only a 59-game sample.
Prior to that, Schwarber had proven himself to be a strong left-handed bat that, if nothing else, deserved to be tendered a contract to complete his arbitration years.
Originally drafted as a catcher in the first round of the 2014 MLB Draft, Schwarber's bat was so far along that he made his debut a little over a year after being selected in 2015. The then-22-year-old helped the Cubs break a six-year playoff drought, playing 69 games down the stretch that season.
Schwarber split time between playing catcher and left field, as the Cubs did whatever they could to work the rookie's bat into the lineup. He hit .246/.355/.487, with 16 home runs and a 131 wRC+.
In the playoffs, Schwarber hit five home runs, breaking Miguel Cabrera's record for the most home runs ever hit in a single postseason by a player 22 years old or younger. Despite being swept in the NLCS, expectations were sky-high for the young offensive juggernaut in 2016.
Unfortunately for Schwarber, his 2016 season was cut short just two games in, when he blew out his knee in an outfield collision with Dexter Fowler. Schwarber was ruled out for the rest of the season, but ended up making a miraculous return when the lights were brightest in the 2016 World Series.
Schwarber started Game 1 of the World Series as the Cubs designated hitter, making MLB history when he doubled in the fourth inning. In doing so, Schwarber became the first player to ever record his first hit of the season in the World Series. Across the seven-game series, he went 7-for-17 (.412), with three walks, two RBI, and one stolen base.
Once fully health in 2017, Schwarber became the Cubs starting left fielder, a position he held for the next four seasons. From 2017 through 2020, Schwarber hit .229/.334/.480 , with a 110 wRC+. While he trailed his teammates Kris Bryant, Anthony Rizzo and Javier Baez in fWAR and wRC+, Schwarber did lead the Cubs with 105 home runs during that span.
After being non-tendered last offseason, Schwarber signed a one-year with the Washington Nationals to provide Juan Soto with some much-needed protection in the lineup. While 2021 was ultimately a forgettable year for Washington their best stretch of the season came when Schwarber got hot in June.
Starting with a two-home run game against the San Francisco Giants on June 13th, Schwarber went on a stretch where he hit 15 home runs in 17 games to close out the month. The Nationals went 14-3 during that span. On July 3rd, Schwarber landed on the IL with a hamstring strain. This ended up marking the end of his tenure with Washington.
On July 29th, Schwarber was traded to the Boston Red Sox. The 2021 All-Star returned off the IL on August 13th and played a big role in helping Boston make the playoffs. Playing in 41 games, Schwarber hit .291/.435/.522, with a robust 161 wRC+ for the Red Sox.
Once we get to other side of the lockout, Schwarber is sure to be one of the most highly-coveted free agents left on the market, as he provides the home run power teams crave.
In 2021, Schwarber graded out in the 89th percentile or higher in average exit velocity, max exit velocity, xwOBA, xSLG, Barrel%, BB% and chase rate.
Contract Projection
Early in December it was reported that Kyle Schwarber was seeking a three-year, $60 million deal in free agency. After being non-tendered just a year ago, signing a three-year deal would offer some security for Schwarber, while also opening the door for him to hit free agency again at 31 years old.
Outside of Freddie Freeman, Schwarber currently stands as the best left-handed bat left on the market. From the right side of the plate you still have Carlos Correa, Trevor Story, Kris Bryant and Nick Castellanos.
Bryant and Castellanos are the most comparable free agents to Schwarber, as they both play in corner spots and hit for power. Since Bryant and Castellanos have longer track records they are likely to cash in on bigger paydays, but that just makes Schwarber that much more attractive.
Small market teams may overpay slightly to get their hands on a hitter like Schwarber, who is going to cost a good amount, but is not expected to cross over into the nine-figure range. Because of how healthy of a market he should enjoy, there is no reason why Schwarber can't get the $60 million he desires, if not a little more.
Contract Range:
Between $20-25 million over a three-to-four year deal.
Top Five Landing Spots
While Schwarber has proven to be an adequate defender in left field and at first base, teams certainly won't be signing him for his glove. It is all about the bat with Schwarber and that bat will be even more attractive with the advent of the universal DH.
National League teams who don't yet have a primary DH on their roster should be lining up for Schwarber's services once we get to the other side of the lockout. Here are some of the potential landing spots for the slugger.
5. Colorado Rockies
The Colorado Rockies are lost as a franchise right now. After losing Nolan Arenado and likely Trevor Story in consecutive offseason, they desperately need to add some offense to their lineup if they want any hope attracted any attendance in 2022.
Prior to the lockout, MLB Network's Jon Heyman reported that the Rockies were one of the many teams interested in signing Schwarber.
If Schwarber wants to win, the fit doesn't necessarily make sense, but if they are willing to pay him a premium to sign there, maybe he ends up in Colorado. While there are other fits that are more exciting, who wouldn't want to see what Schwarber could do spending a full season hitting at Coors.
4. Cleveland Guardians
As much as everyone wants to paint the Cleveland Guardians as a rebuilding team, they should be looking to contend. Jose Ramirez is the best all-around third baseman in baseball and they have some of the best young pitching in baseball as well with Shane Bieber, Cal Quantrill, Aaron Civale and Zack Plesac.
We just saw with the Washington Nationals in 2021 how much Schwarber can impact a lineup that already has a superstar. Washington had an effective lineup with three players in Trea Turner, Juan Soto and Schwarber.
For the Guardians they could pair Schwarber with Ramirez and Franmil Reyes to give the middle of their lineup enough punch to win a lot of baseball games in 2022. The Guardians have what every team in baseball covets, a really good starting rotation that is cost-controlled. This is the time to pay a premium for an offensive player that gives you a chance to win now.
In 2017, Cleveland signed Edwin Encarnacion to a three-year, $60 million deal with a $25 million club option that carried a $5 million buyout. Encarnacion hit 70 home runs in two years with the then-Indians, before getting traded in the last year of his deal.
If Schwarber will sign for the Encarnacion contract, the Guardians should be all over that.
3. Miami Marlins
The Miami Marlins are a really interesting sleeper team for Kyle Schwarber to sign with. They are currently built around their young starting pitching with Sandy Alcantara, Trevor Rogers, Pablo Lopez, Jesus Luzardo, Eliesier Hernandez and Sixto Sanchez.
This offseason, Miami has invested in their lineup by signing Avisail Garcia, while trading for Joey Wendle and Jacob Stallings. This gave them a Gold Glove catcher to guide their pitching staff and two above-average bats that can plug right into the middle of their lineup. Schwarber might just be the missing piece that could turn them into a legitimate playoff contender.
Interestingly enough, Schwarber has fared very well in the pitcher's park that is now known as loanDepot Park. In nine games played in Miami, Schwarber has hit .324/.395/.824, with five home runs.
2. Boston Red Sox
The Boston Red Sox clearly valued Kyle Schwarber enough to trade for him at the deadline, so it would make sense to see a reunion between these sides this offseason. Boston is obviously still trying to contend and showed interest in re-signing Schwarber before the lockout.
Neither Bobby Dalbec or Christian Arroyo provide the type of pop to the lineup that Schwarber can and they are also both right-handed. Schwarber can provide Boston with a left-handed bat they can platoon at first base, while also getting him some at-bats as their DH.
The biggest move the Red Sox have made to adjust their lineup so far this offseason was trading Hunter Renfroe to the Milwaukee Brewers, bringing back Jackie Bradley Jr. in return. This was clearly a move to improve defensively, but Boston lost some power when they moved Renfroe.
Signing Schwarber would be the perfect way to get some more pop back into their lineup, with a player who already showed he could thrive in Boston at the end of last season.
1. Philadelphia Phillies
Outside of Bryce Harper, the Philadelphia Phillies are missing a left-handed punch to their lineup and Schwarber could certainly provide it. The Phillies need to replace Andrew McCutchen in left fiend and Schwarber could be the perfect fit.
While he would obviously be a downgrade defensively compared to McCutchen, Scwarber's power would play up in a big way at Citizen's Bank Park. Just take one look at his spray chart from 2021 and how many balls would have left the yard in Philly.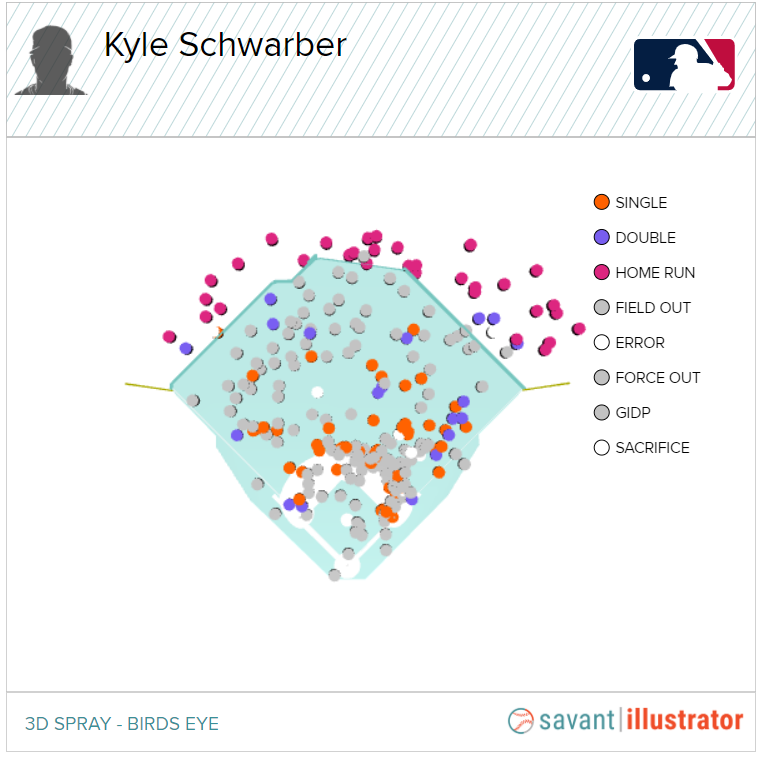 If Schwarber played every game at Citizen's Bank Park last season, he would have had an extra nine home runs. Imagine Schwarber could have had a 40-home run season playing less than 120 games?
Schwarber has 10 career hits across 16 games played at Citizen's Bank Park, which isn't great, but six of those hits were home runs and two of them were triples. Schwarber, Bryce Harper, J.T. Realmuto, Rhys Hoskins and Jean Segura would combine to form a pretty potent offense that could contend in the NL East.
Final Prediction
The Miami Marlins have shown themselves to be aggressive so far this offseason and Schwarber could be the perfect final piece. Miami Herald's Barry Jackson was the first to report Schwarber's asking price back in December, making it clear that the Marlins have real interest in signing him.
With so many other teams interested in Schwarber, the Marlins may have to give him an additional year to get a deal done, but they can structure it as a mutual option to give themselves more flexibility moving forward.
Contract Prediction: Schwarber signs a three-year, $60 million deal with the Marlins that includes a $25 million mutual option with a $5 million buyout for 2025.