Analysis
2022 Free Agent Profile: Freddie Freeman
The top first baseman on the market, Freddie Freeman could have a long list of suitors if the Atlanta Braves fail to meet his contract demands in free agency.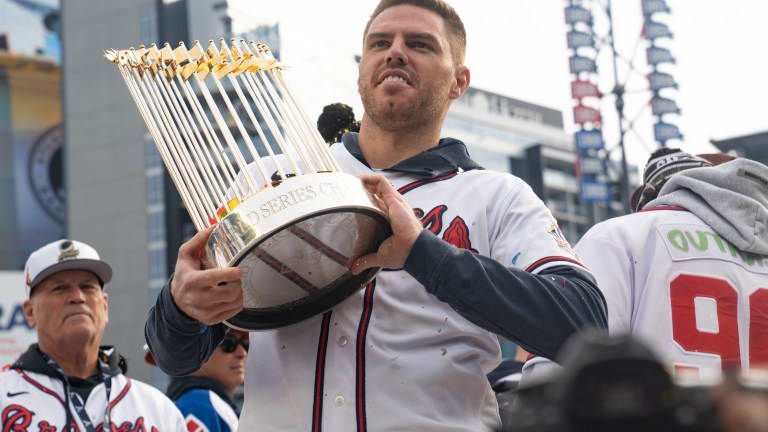 Position: 1B
Bats/Throws: L/R
Age: September 12th, 1989 (32 years old)
Traditional Stats: .300/.393/.503, 31 HR, 58 XBH, 83 RBI, 120 R, 107 K, 695 PA
Advanced Stats: 15.4% K%, 12.2% BB%, 135 wRC+, .379 wOBA, 4.5 fWAR
When the offseason first began, it seemed like a foregone conclusion that Freddie Freeman would be returning to the Atlanta Braves. After 15 years spent with the franchise, Freeman had finally delivered a World Series to Atlanta and remains one of the best first basemen in the game, even at 32 years old.
Yet as the offseason has wore on, there has been more and more speculation that Freeman could in fact be on the move, as the Braves were hesitant to meet his contract demands prior to the lockout and may fail to do so again post-lockout.
This suddenly opens things up for Freeman to become one of the hottest names on the market, as Carlos Correa is the only remaining free agent who can provide more of an impact than Freeman can next season.
Path to Free Agency
Freddie Freeman was drafted by the Atlanta Braves in the second round of the 2007 MLB Draft out of El Modena High School in California. It would then only take three short years before Freeman would make his MLB debut as a September call-up in 2010 at just 20 years old.
Freeman struggled in very limited playing time in 2010, but that did not stop him from being the Braves Opening Day first baseman in 2011. A position he has held for the past 11 seasons.
As a rookie, Freeman hit .282/.346/.448, with 21 home runs, 32 doubles and a 120 wRC+. He ended up finishing second in the Rookie of the Year voting to his teammate Craig Kimbrel, who pitched to a 2.10 ERA and saved a league-leading 46 games for the Braves that season.
Freeman had a similar season in 2012, before experiencing a real breakout during the 2013 campaign posting the first 5.0 fWAR season of his career. Still just 23 years old, Freeman hit .319/.396/.501, with a gaudy 150 wRC+. This was the beginning of a nine-year run where Freeman has posted a wRC+ over 130 every single season.
Since 2013, there have been two first basemen that have been head and shoulders better than the rest of the league. Freeman and Paul Goldschmidt.
Goldschmidt is leading the league in fWAR during that span with his 42.9 mark, but Freeman is not far behind with his 40.1 fWAR. Freeman's 144 wRC+ is tied with Joey Votto as the top mark for all first basemen since 2013. He also is top-three in RBIs (770), runs scored (808), OBP (.394), SLG (.523) and has the best batting average at .302.
For his career, Freddie Freeman has hit .295/.384/.509, with a 138 wRC+. He is a five-time All-Star, three-time Silver Slugger, with a Gold Glove and an MVP on his resume as well. Bottom line, Freeman is on a Hall of Fame trajectory. The only question is if he will play his entire career with one franchise or if he will be playing in a different uniform next season.
Contract Projection
When he was 24 years old, Freddie Freeman signed an eight-year, $135 million contract extension to remain with the Atlanta Braves through his age-31 season. Freeman just completed that contract and is now set to sign a much larger one as he looks to cash in on a decade of being one of the best players in baseball.
Freeman made it known early this offseason that he wanted to sign a six-year deal with the Atlanta Braves that would pay him at least $30 million a season. Considering his production and importance to the franchise, it would have seemed like a no-brainer that the Braves would sign him to that contract. Apparently that is not the case however, as the Braves have countered with contract offers that span less than six years.
This has opened the door for another team to swoop in a sign Freeman, as there are a handful of teams that would we willing to sign a player of his caliber for $30 million a year over a six-year pact. In fact, if this turns into a bidding war, Freeman could easily land a contract north of $200 million.
Top Five Landing Spots
Recent reports have been linking many different teams to the Freddie Freeman, as the New York Yankees, Mets, Los Angles Dodgers, Toronto Blue Jays and even the Tampa Bay Rays have shown interest in signing the All-Star first baseman.
We can't rule out a reunion with the Braves just yet, but suddenly it seems like a realistic possibility that Freeman could move on to sign with a new team this offseason.
5. Atlanta Braves
We will start with the obvious one, as the Atlanta Braves could still come to their senses and re-sign the guy who has lead their team for the past decade. The Braves have Ronald Acuna Jr. and Ozzie Albies both under contract for years to come on extremely team-friendly deals, so the idea that they can't afford Freeman is ridiculous.
The one concern the Braves have with Freeman is that he could decline as he starts to get up there in age, yet he has shown absolutely no signs of regression over the past few seasons. A six-year contract would take Freeman through his age-37 season and it is reasonable to think he could remain productive throughout that entire window.
Freddie Freeman is synonymous with the Braves franchise. Until we see him wearing another uniform, it is hard to predict that he will sign anywhere else.
4. Toronto Blue Jays
The Toronto Blue Jays do not need to go out and sign a first baseman, as Vlad Guerrero Jr. could hold down the position for years to come. Guerrero is coming off a season where he blasted 48 home runs and posted a ridiculous 166 wRC+. Still, the Blue Jays were rumored to have interest in signing Freeman, which would push Guerrero over to DH.
Defensively there is no question that Freeman is superior to Guerrero. He has won a Gold Glove and in 2021, Freeman was worth 3 OAA, compared to Guerrero who was worth -3 OAA. Freeman would not only improve the Blue Jays defense, but he also would add a big left-handed bat in the middle of their lineup, which is pretty righty-heavy at the moment.
The Blue Jays have yet to replace the offensive production they are losing with Marcus Semien departing in free agency. Freeman would be a great addition that could put them over the top as they look to contend in a loaded AL East.
3. New York Yankees
Speaking of a loaded AL East, the New York Yankees are one of the more fascinating teams to watch once the lockout ends, as they have yet to make a big splash in free agency.
The Yankees acquired Anthony Rizzo to add a left-handed slugger into their lineup last season, and could look to re-sign him to remain in New York this offseason. Signing Freeman would cost a lot more than re-signing Rizzo, but for good reason. Freeman is a better player at this stage in their respective careers, making him a much safer bet to be productive over the next few seasons.
Rizzo is the more likely free agent target for the Yankees, but don't be surprised if they make a big push to sign Freeman if he decides to move on from Atlanta.
2. Tampa Bay Rays
If this was written two weeks ago, there is no chance the Tampa Bay Rays would have been included on this list. When is the last time Tampa even signed a top-tier free agent?
Still, they deserve mentioning now because Jon Heyman reported that the Rays gave Freeman an offer prior to the lockout.
While it still feels like a longshot that the Rays could come out of a bidding war and land Freeman, it would be a great story to see a small market team splurge and add a player of his caliber through free agency. Every year we know the Rays will be in the mix as a playoff team, but adding Freeman is the type of move that could make the difference once they get to the playoffs in October.
1. Los Angeles Dodgers
If Freddie Freeman were to leave the Atlanta Braves, the most logical landing spot would be for him to sign with the Los Angeles Dodgers. The Dodgers are always in the market to add more star power and have the financial wherewithal to give Freeman more money than any other team.
Another thing that works in the Dodgers favor is the fact that Freeman is from California and could welcome a return to the West Coast. If Freeman signs with the Dodgers, he knows that he can compete for titles every year. The fit really is perfect. It just depends on if he is ready to leave the only franchise he has played for in his career.
Final Prediction
Freddie Freeman signs a six-year, $180 million deal to remain with the Atlanta Braves
Freddie Freeman could probably get more money if he were to sign with another team, but it's not all about the money for Freeman. He wants to be paid what he deserves and $30 million a year over six years should be enough to get a deal done.
The Braves may continue to balk at that price tag, which could force Freeman to look elsewhere, but until that happens we can't put Freddie anywhere but Atlanta.