Analysis
2022 Free Agent Profile: Carlos Correa
There is no free agent who has the power to change the fortunes of a franchise more than this Platinum Glove winning shortstop.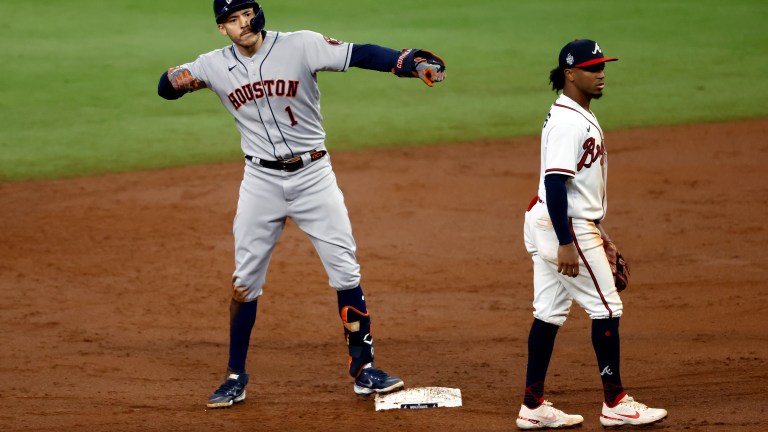 Position: SS
Bats/Throws: R/R
Age: September 22nd, 1994 (27 years old)
Traditional Stats: .279/.366/.485, 26 HR, 61 XBH, 92 RBI, 104 R, 116 K, 640 PA
Advanced Stats: 18.1% K%, 11.7% BB%, 134 wRC+, .364 wOBA, 5.8 fWAR
After posting a career-year in 2021, Carlos Correa entered free agency as the clear-cut top player on the market.
Correa not only won his first Gold Glove in 2021, he also won the Platinum Glove for being the league's top defender, all while playing the premium shortstop position. Pair the defense with his ability to leave the yard at any time and you have a player that can change the fortunes of your franchise for the next decade.
Corey Seager set the market for Correa earlier this offseason when he signed a 10-year, $325 million deal with the Texas Rangers. Correa deserves a bigger deal, but the question is, who is willing to offer him one?
Path to the Free Agency
Carlos Correa is no stranger to being the top overall player in a given class, as he was selected first overall in the 2012 MLB Draft at just 17 years old. Correa quickly made his way through the minors and debuted before his 21st birthday on June 8th, 2015.
Part of a rookie class that included fellow Puerto Rican shortstop Francisco Lindor, Correa went on to win the AL Rookie of the Year Award after hitting .279/.345/.512, with 22 home runs, 68 RBIs and 14 stolen bases in just 99 games.
Correa continued to produce as one of the best shortstops in baseball over the next few seasons, as he posted two-consecutive campaigns with an fWAR over 5.0 in 2016 and 2017. Obviously the 2017 Houston Astros season is still controversial due to the sign stealing scandal, but it is still worth noting that Correa hit .315/.391/.550, with 24 home runs and a 152 wRC+ in 109 games played.
That year he missed two months of the season due to a torn ligament in his thumb and those injury woes would follow him into 2018, when he missed 52 games with a back injury. Along with missing time, Correa posted his worst offensive season in 2018, hitting just .239/.323/.405, with a 101 wRC+.
Correa bounced back offensively in 2019, posted a 142 wRC+, but was limited to just 75 games played due to a neck injury. Having missed nearly 200 games from 2017 through 2019, Correa was starting to develop the reputation of being an injury-prone player. Luckily he has been able to quell some of those concerns over the last two years.
In the shorted 2020 season, Correa played in 58 of the Astros 60 games. Then this past year, Correa eclipsed 140 game played for the first time since 2016, as he enjoyed a healthy and productive final campaign before hitting free agency.
All told, Correa has hit .277/.356/.481, with a 128 wRC+ across seven seasons with the Houston Astros. Since debuting in 2015, Correa is third behind Francisco Lindor and Xander Boegarts when it comes to fWAR among shortstops. He is also top-five in home runs (133) and RBIs (489).
Of shortstops who have played at least 500 games since 2015, Corey Seager is the only hitter who has posted a better wRC+ than Correa.
Contract Projection
Looking at the top free agents remaining on the market, there is no doubt that Carlos Correa is the best player still available and is likely to get paid as such.
Scott Boras represents Correa and will surely be marketing him to team's as not only the best free agent available, but as the best shortstop in the game today. Obviously with other great shortstops like Fernando Tatis Jr. and Trea Turner, amongst others, that fact is debatable but that won't stop Boras from setting the price tag astronomically high for his prize client.
One look at the top contracts for shortstops around the game it is clear that Correa is about to hit land a massive deal in free agency.
| | | |
| --- | --- | --- |
| Shortstop | Age | Contract |
| Fernando Tatis Jr. | 23 | 14 years, $340 million |
| Francisco Lindor | 28 | 10 years, $341 million |
| Corey Seager | 27 | 10 years, $325 million |
| Manny Machado | 29 | 10 year, $300 million |
Looking over those four contracts, it is clear that the starting point for Correa's contract is going to be $300 million. Manny Machado may no longer be playing shortstop, but he hit free agency after playing short during the 2018 season and received that 10-year, $300 million deal.
Last offseason, Fernando Tatis Jr. signed a record $340 million contract extension for a shortstop, only to shortly be topped in total dollars guaranteed by Francisco Lindor. Lindor's contract extension also carries a higher average annual value than any other contract for a shortstop at $34.1 million.
Corey Seager's contract this offseason fell just short of Lindor's, but was still a remarkably great deal for a player who has dealt with plenty of injuries throughout his career. Based on performance, Correa deserves more than Seager, but there are not many teams who can afford to sign a player to deal worth north of $325 million.
The structure of these contracts is always interesting, particularly with a Boras client. One way or another, expect Correa to set a record with the deal he signs. Now that could be in terms of AAV, or in total money guaranteed. Entering his age-27 season, a contract that spans more than a decade is a distinct possibility, allowing Correa to exceed Lindor's $341 million guaranteed deal.
If Correa signs a shorter deal, the starting point could come in over $35 million to set the AAV record.
Top Five Landing Spots
There are only so many teams that can realistically be in the market to sign Carlos Correa this offseason. Prior to the lockout, it was reported that the Chicago Cubs, New York Yankees, Boston Red Sox, Atlanta Braves and Los Angeles Dodgers all had interest in signing Correa.
With that said, we still cannot rule out the Houston Astros or another dark horse team entering the mix to sign Correa considering the impact he could have on his new team for the next decade.
5. Houston Astros
This is for all of you Houston Astros fans reading this who are dreading the departure of your homegrown superstar. With the double play combination of Correa and Jose Altuve, the Astros have been perennial World Series contenders, so why wouldn't they re-sign their former first overall pick?
Prior to extending him the qualifying offer, it was reported that the Astros offered Correa a five-year, $160 million contract extension to remain in Houston. While that deal is still significant, it falls well below his market value considering the contract that Corey Seager just signed. Because of this, it is hard to imagine these two sides coming to terms on a new deal to bridge that massive gap.
If Houston does not want to go beyond five years for Correa, they are going to have to up the AAV on that offer from $32 million to something greater than $35 million. Even then, a reunion feels unlikely at this stage.
4. Philadelphia Phillies
The Philadelphia Phillies desperately need to make a big addition to their lineup if they want to compete in the NL East next season and Correa could be the perfect fit. You can't overstate how much of a massive he would be over Didi Gregorius both offensively and defensively.
This is the window where the Phillies should be doing everything in their power to spend and maximize their chances to win it all with reigning MVP Bryce Harper. The only question is how much money is John Middleton willing to spend to do that?
The Phillies already have three players on the books that are making north of $20 million in Harper, J.T. Realmuto and Zach Wheeler, so adding a fourth is certainly a big commitment. Still, the Phillies would maybe have the best lineup in a loaded NL East if they were able to make this move, taking them from fringe to legitimate contenders.
3. Boston Red Sox
Since making his debut in 2015, it is pretty easy to make the argument that the best two offensive shortstops in baseball have been Carlos Correa and Xander Bogaerts. Could that duo form a double play combination in Fenway next season?
Bogaerts has been open to moving off shortstop if the Red Sox where to add a star player and Correa certainly fits that billing. For everything that Bogaerts brings with his bat, his defense leaves a lot to be desired. Since 2019, Bogaerts has been worth -22 OAA and -18 DRS at shortstop.
Correa would instantly transform the Red Sox defense, something they are clearly looking to address this offseason with the return of Jackie Bradley Jr.
With J.D. Martinez set to come off the books after this season, the Red Sox should have the financial flexibility to make this type of a big addition. Boston may also want to sign Correa because it would keep him away from their chief division rival, the New York Yankees.
2. New York Yankees
The New York Yankees have yet to make a big splash this offseason, which makes you wonder what are they waiting for?
While a World Series drought of 12 years would not be significant for most franchises, that is an eternity for the Yankees. Gleyber Torres and DJ LeMahieu both took massive steps back last season, making infield a huge area of need for New York this offseason.
Carlos Correa is exactly the type of free agent that we have come to expect the Yankees to sign, as he could be that missing piece that puts them over the top. The only question is if the Yankees want to sign Correa when they still have Aaron Judge's contract extension looming. Instead they could opt to sign a free agent like Trevor Story, who could come over at a much more affordable price tag.
1. Chicago Cubs
After moving on from Kris Bryant, Javier Baez and Anthony Rizzo, the Chicago Cubs are in desperate need of a franchise player to build around and Carlos Correa could be the perfect guy to fill that void.
While the Cubs weren't willing to sign their own stars to big contracts, don't rule them out to spend big on a player like Correa. Rizzo is certainly on the other side of his prime and you can make the argument that Bryant is on a bit of a down-turn as well. Baez is an electric player, but also a flawed one.
Correa is still just 27 years old and capable of playing elite defense at shortstop, while being a type of bat that can carry a lineup. The Cubs only have Jason Heyward on the books for two more seasons and other than that, there most significant contract is Marcus Stroman. Stroman is signed to just a three-year deal, of which he can opt out of after the second season.
Bottom line, the Cubs should have all the flexibility in the world to sign Correa to the $300+ million contract he desires this offseason.
Final Prediction
The Chicago Cubs sign Carlos Correa to a 12-year, $360 million contract
There is something about Carlos Correa that is reminiscent of when Bryce Harper was a free agent a few years ago.
Harper was waiting around long into that offseason before he signed his then-record breaking $330 million deal and Correa is already in a similar boat as he did not sign a deal pre-lockout. If the goal is to receive the biggest contract ever for a shortstop, Correa could sign a deal that is longer than 10 years, just like the 13-year pact Harper signed on with the Phillies.
For the Cubs, they could get a franchise player at $30 million a year, which will look great on their books for the next five seasons. The back half of that contract could get ugly, but the Cubs should not be worried about that now.