Analysis
Tampa Bay Rays Trade Deadline Outlook
The Rays might not have a chance to win their division, but they are certainly looking like a Wild Card team that will add at the deadline.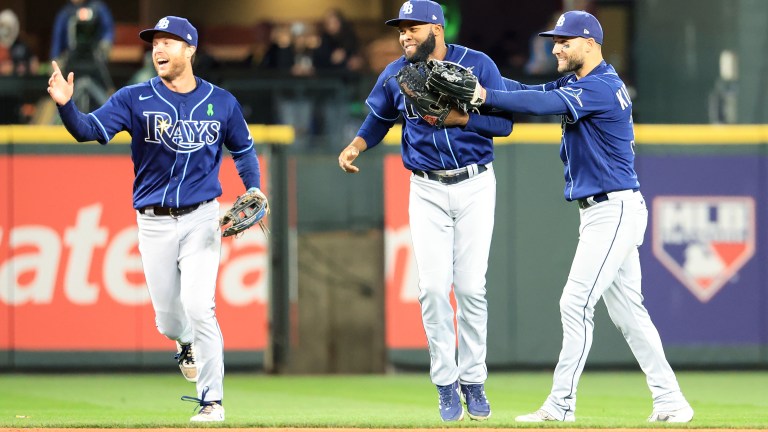 The Tampa Bay Rays don't think like you and me, or any other team in baseball for that matter. The Rays sit with the 24th-highest payroll in baseball, right in between the Kansas City Royals and Arizona Diamondbacks at $88 million a year. As the kids would say, "they are built different," and the way they'll attack the deadline will undoubtedly be different from most baseball teams.
The 2022 Rays are in an exciting spot. The Rays have the third-best record in the American League at 51-41, yet they sit 13 games back from the New York Yankees for first place in the AL East. At this point, the odds to catch them aren't very high, but they are in a great position for a Wild Card spot.
Fangraphs gives them a 71% chance of making the playoffs but I would place that number closer to 90%. This team has been injured all year, with players like Wander Franco, Brandon Lowe, Mike Zunino, Kevin Keirmaier, Manuel Margot, Shane Baz, Jeffrey Springs, JP Feieryesen and Andrew Kittredge all missing time.
I use the word "exciting" because it's about to get a whole lot better. Brandon Lowe just returned to the lineup and Wander Franco should be back by the end of August. Manuel Margot should return to the lineup by September. Jeffrey Springs and JP Feieyersen should return to the staff by the end of the year as well. With all these injuries to their best players, they still sit 10 games over .500. The Rays are just incredible.
What Do The Rays Need?
The Rays need some offensive fire power. Brandon Lowe provides a huge boost, but without Wander Franco, Manuel Margot, and now Harold Ramirez being out for at least another month, bats have to be the priority for President of Baseball Operations, Erik Neander.
While the Rays normally aren't a team to land the big star, there are plenty of bats on the market that makes a lot of sense for the Rays.
Last year, the Rays acquired Nelson Cruz at the deadline. This year, there are few more rentals that could be of interest to Tampa.
Josh Bell – 1B/DH – Washington Nationals
Simply put, outside of Juan Soto, Josh Bell is the best bat available on the market right now.
Bell is turning in the best season of his career, hitting .302/.388/.492, with 13 home runs, 51 RBIs and a 144 wRC+. The Rays have been getting quality production out of first baseman Ji-Man Choi, but would have no problem finding at-bats for Bell, as they could split time between playing the field and being the DH.
Tampa may not feel the need to shoot this high to acquire Bell when they have so many pieces coming back, but there is no doubt he'd be the best bat they could add to the middle of their lineup.
Brandon Drury – INF – Cincinatti Reds
Brandon Drury to the Rays makes too much sense. He's recorded games this year at every position in the infield and has a skill-set that the Rays would love to maximize. This man destroys left-handed pitching.
Drury is hitting .326/.344/.708 with nine home runs and a ridiculous 182 wRC+ against southpaws. The Rays could play Drury everyday while some of their key pieces get healthy and then come playoff time, they can platoon him. The positional versatility to play anywhere in the infield and in either corner in the outfield is just an added bonus.
Everyone Needs Pitching, But Do the Rays?
The Tampa Bay Rays get great pitching ever year it seems, even when the cast of characters is always changing. At this point, we don't even question it.
Right now, the Rays' team 3.41 ERA is the fourth-best in the game, behind just the Dodgers, Astros and Yankees, who are arguably the best three teams in baseball. Tampa continues to have the most-used bullpen in the game, as their split between rotation and bullpen innings is indicative of their unique approach.
Tampa's bullpen ranks first with 414 1/3 innings pitched, while their rotation comes in dead-last with 440 1/3 innings under their belt. While this split is how the Rays have operated for years, they could still benefit from adding another quality starting pitcher to the roster.
Luis Castillo, Pablo Lopez or Frankie Montas
We just updated our top 20 list of available trade targets to include Pablo Lopez, who the Marlins may make available at this deadline. He joins Frankie Montas and Luis Castillo as the top starting pitchers who could be moved at the deadline.
While the Rays have the capital to get a deal done, buying a player at their peak value for prospects does not feel like the way Tampa would go. Instead, it would make more sense to see them try to extract some value from another starter who won't cost quite as much.
Tyler Mahle – SP – Cincinnati Reds
In the second tier of starters available at this year's deadline, Tyler Mahle stands out as the clear top guy. Mahle's struggles pitching at Great American Ballpark have been widely covered and there might not be a better ballpark for him to move to than the Trop.
Mahle's career 3.74 ERA on the road could suddenly become the norm if he was pitching in front of the Rays strong defense at one of the most pitcher-friendly parks in baseball. With that said, pitching in the AL East comes with it's own set of challenges.
Still, if the Rays see value in Mahle, expect to see the best version of him if he were moved to their pitching lab in Tampa. Under control for next year as well, Mahle could be the perfect addition that would be worth dealing some prospect capital for.
Noah Syndergaard – SP – Los Angeles Angels
If the Los Angeles Angels are going to do anything at this year's deadline, it might just be dump the salaries from their offseason spending.
This could make Noah Syndergaard available to be traded, as the 29-year-old is making a hefty $21 million in salary for the 2022 season. The Rays aren't generally the team that takes on big money, but if the Angels want to eat some of the salary for a better prospect return, maybe they could send Thor to Tampa.
Syndergaard has had an uneven season pitching in his first year off Tommy John. Through 15 starts, Syndergaard has a 3.83 ERA, but is striking out just 18.9% of the batters he faces, which is by far a career-low. Now more of a groundball pitcher than a flame-throwing strikeout artist, Syndergaard could be Tampa's next reclamation project.
While the idea of Syndergaard to Tampa makes some sense, this more could be a move they revisit in the offseason when they can sign him to a cheap contract and see what they can do with that particular ball of clay over a full season.
The Rays are one of the most difficult organizations to read in baseball, so who knows which way they will actually go at the deadline. Regardless they should be buyers, who will look to find value wherever they can to improve their chances at a deep playoff run.