Analysis
Josh Bell Enjoying Best Season of His Career in Washington
Josh Bell is putting together a big year in 2022. Will the 29-year-old end the season with the Washington Nationals?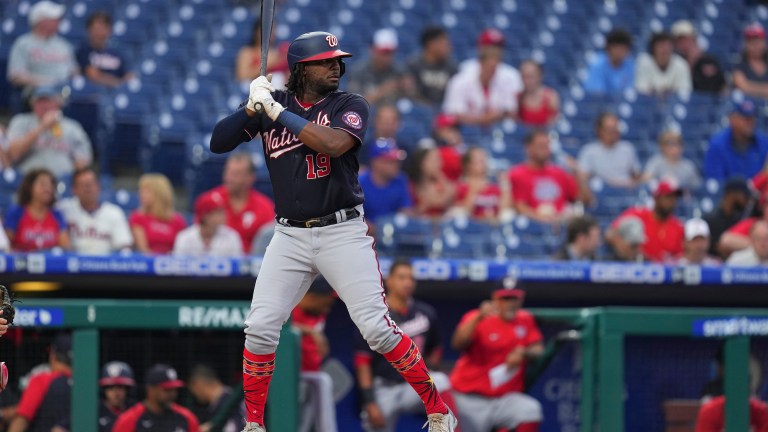 Since winning the World Series in 2019, the Washington Nationals have been one of the worst teams in all of MLB.
They have two fifth-place finishes since and once again sit at the bottom of the NL East standings. Despite the team's struggles since reaching the top of the MLB world, Josh Bell has emerged as a bright spot in the nation's capital.
The 29-year-old first baseman is putting together a career-year in 2022. He is slashing .308/.389/.497 with a 145 wRC+ and has been the most valuable player on the Nationals with a team-leading 2.3 fWAR.
With the trade deadline approaching, Bell being in the final year of his contract and the Nationals looking like they will end up sellers, the 29-year-old seems likely to find himself in a new uniform before the end of the season.
What's Behind Bell's Success?
The switch-hitter seems to have made a change to his approach at the plate this season. His K% is down to 13.3%. This is a 4% decrease from 2021 and 13% from 2020. However, the decrease in strikeouts appears to have come with a dip in the quality of contact he's making.
His Hard Hit rate, barrel rate and average exit velocity are all down from 2021, indicating that Bell is focusing on making contact, rather than hitting the ball as hard as he can each time at the plate.
The results have been fantastic for Bell. His average and OBP are career-bests, his BABIP is also at a career-best .328, showing that despite making weaker contact, he's still driving the ball enough to find his way on base.
Has Bell done enough to earn himself an All-Star nod?
Tough to say in such a deep group of NL first basemen. Paul Goldschmidt rightfully won the fan voting and will start for the NL in Los Angeles, but coming up behind him is a group consisting of Pete Alonso, Freddie Freeman, C.J. Cron, Christian Walker and Bell.
Bell ranks third out of these seven players with his 2.3 fWAR. It may be tough for Bell to get in over the bigger names like Freeman and Alonso, but it's tough to argue that he shouldn't be at the game at all.
And while Juan Soto may garner the most attention in Washington, and eventually earn the team's spot, Bell may be the most deserving National to play in the midsummer classic.
Best Landing Spots for Bell
While most MLB teams would probably love to add a switch-hitting bat, that's putting together the season that Bell is. There are a couple of teams that make a ton of sense to trade for Bell to strengthen their lineups for a postseason push.
The first team that could use an upgrade at first base, is the Boston Red Sox. The Red Sox have gotten -0.3 fWAR from their first baseman in 2022 — the fourth-lowest mark in the league.
Bobby Dalbec has been struggling after a late-season surge in 2021. He has just a 78 wRC+, to go along with a 30.1% strikeout rate, while only hitting six home runs so far.
Bell would be a welcome addition to the Red Sox lineup. The two teams also made a trade at last year's deadline for a free agent to be, with the Nationals sending Kyle Schwarber to Boston — a trade that worked out very well for the Red Sox, as Schwarber hit well down the stretch and helped Boston reach the ALCS.
The team that knocked Boston off in that very same ALCS would be another great landing spot for Bell.
The Houston Astros are another team in need of a boost at first base. They rank just ahead of the Red Sox in first base fWAR with -0.2, as 38-year-old Yuli Gurriel has not looked like the same hitter we've seen over the course of his career.
Would Houston be willing to move on from Gurriel though?
He has been an integral piece of their success over the past six seasons. With Yordan Alvarez, Kyle Tucker and Michael Brantley all playing corner outfield spots, there wouldn't be much time to have both Bell and Gurriel in the lineup by DH'ing one of them, so it would likely mean a move to the bench for Gurriel.
Nevertheless, Bell would arguably make the Astros lineup top-to-bottom the best in baseball.
The final team that Bell would be a great addition for is the San Diego Padres. The Padres have gotten some of the worst production in MLB from both their first base and DH spots in MLB.
Luke Voit and Eric Hosmer have only combined for a 0.9 fWAR and neither have an OPS over .740.
For a team with San Diego's record, their offense has been below average. The team has a combined 98 wRC+ and has generated -8.7 offensive fWAR. Despite having an MVP-type season from Manny Machado, the rest of the offense needs a boost.
Bell would be a perfect fit in San Diego, but once again the Padres would have to make a decision on one or both of Voit and Hosmer.
But if they want to both make the playoffs and have success while they are there, a move for Bell would make a ton of sense, especially with the eventual return of Fernando Tatis Jr.
Bottom line, there will be no shortage of teams that will call on Bell at the deadline. He is the one piece the Nationals have to sell that can produce great value to their farm system. Only time will tell where he ends up and the implications that will have on the playoff race.
All stats courtesy FanGraphs and from before play on July 10th