Analysis
Juan Soto Could Be Baseball's Biggest Trade Target Ever
Having a 23-year-old superstar of Juan Soto's caliber on the block is unprecedented, as he could be the best trade asset in MLB history.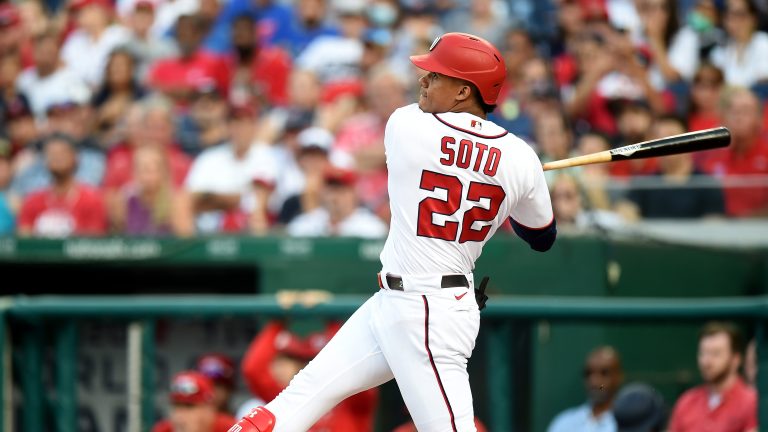 Four hundred and forty million dollars. That is what Juan Soto reportedly turned down last week over the span of 15 years, which would have been the largest contract in the history of North American sports.
That said, the position that Soto and his agent Scott Boras are taking is justified. While we scratch our heads as to how a person could ever reject nearly half a billion dollars, it is important to recognize the context of the Nationals proposed deal.
A $440 million contract over the span of 15 years averages out to roughly $29.3 million annually. That would make Soto the 15th-highest paid player in baseball in terms of average annual value. Soto comes with two years of control following this season, where his salary will likely be determined through arbitration.
Typically, those deals will net much less than the player's actual market value. For example, Yankees outfielder Aaron Judge is making $19 million this season in his final year of arbitration. Regardless, a team out there will likely be willing to top the Nationals offer in terms of AAV, though it could be for a lesser amount of years.
If moved, with multiple years of control, the returning package will be something we've almost never seen before. Not only will a team who acquires Soto need to have a ton of young talent that they are willing to part with, but they will also need to be able to extend the young star to a record-breaking contract.
For a Nationals organization that is tied up with two of baseballs worst contracts in Stephen Strasburg and Patrick Corbin, who are still owed roughly $200 million dollars following this season, the temptation to dump salary through Soto's immense trade value will surely be there.
Still, the Nationals' farm system leaves a lot to be desired and the team does not have many young, controllable pieces at the big league level.
Aside from Josh Bell, the Nationals do not have many other valuable trade assets either. If GM Mike Rizzo does ultimately trade Soto, it probably makes the most sense to avoid attaching Corbin or Strasburg's contracts in order to maximize the player return. Put simply, the Nationals are a lot more than financial flexibility away from being contenders again.
So, who can meet both the steep asset price of the Nationals and financial asking asking price of Juan Soto?
Los Angeles Dodgers
Any time an elite player is made available on the trade market, it is probably safe to assume that the Dodgers are a possibility. Not only is LA perpetually one of the best teams in the league, but their farm system is almost always strong as well.
In terms of MLB pieces, the Dodgers could part with recovering right-hander Dustin May, infielder Gavin Lux, along with right-hander Mitch White.
Prospect wise, the Dodgers boast a litany of intriguing players like Diego Cartaya, Bobby Miller, Michael Busch, Andy Pages, Miguel Vargas, Ryan Pepiot, Gavin Stone and others.
Other teams could top what the Dodgers would be willing to trade big league piece wise, though it would be nearly impossible to surpass a package of prospects that includes: RHP Bobby Miller, OF Andy Pages, 3B Miguel Vargas and RHP Gavin Stone on top of the MLB pieces. If the Dodgers want Soto bad enough, it will be tough for anyone to outbid them.
San Diego Padres
If we know one thing about Padres President of Baseball Operations AJ Preller, it is that he likes to swing for the fences. A Soto trade would be Preller's magnum opus of eye-popping moves.
The Padres are already flirting with the luxury tax threshold and have Joe Musgrove, Mike Clevinger and Sean Manaea all set to hit free agency after this season. The trio of pitchers are only making less than $30 million combined this year and it is safe to assume that San Diego will want to extend one of Musgrove and Clevinger or both.
Subtracting Wil Myers' $22.5 million salary helps, but the team will almost surely need to find a home for Eric Hosmer and Drew Pomeranz as well.
In terms of assets, the Padres strong drafting over the last couple years has helped offset their aggressive trades and preserve a respectable system. A deal would likely start with shortstop CJ Abrams and left-handed pitcher MacKenzie Gore. Two young and controllable big leaguers is an ideal start to the trade, similar to the Josiah Gray and Keibert Ruiz return the Nationals netted in the Trea Turner/Max Scherzer deal.
Obviously, Gore and Abrams would not be enough. The Padres would also have to include multiple prospects. The Padres have a trio of outfield prospects who the Nationals would surely have interest in. Robert Hassell III was the Padres first round pick in 2020 and has done nothing but mash since breaking into pro ball.
James Wood has emerged as an extremely exciting and athletic 6-foot-7 power bat and the recently called up Esteury Ruiz has been one of the best players in the minor leagues this year with an OPS north of 1.000, while pacing all of affiliated baseball with 61 stolen bases.
The Padres can also dangle 2021 first-rounder Jackson Merrill as well as emergent southpaw Robert Gasser to mix and match a deal to the Nationals' liking.
It would be pretty difficult for a team to top what the Padres could put together package wise and San Diego might just have the only executive bold enough to do it.
New York Mets
I know I said that it would behoove the Nationals to avoid attaching a bad contract, but the Mets could be the one exception. Not only do the Mets have baseball's wealthiest owner with Steve Cohen, but the team's system has steadily improved as well.
Make no mistake, a trade for Soto would squeeze the Mets system dry of everything it has and a trade within the division may make things even more difficult. Still, the idea that the Nationals could potentially unload one of MLB's worst contracts while attaining a very solid return has to be at least a thought.
A deal would likely have to start with one of baseball's best catching prospect Francisco Alvarez and also include several names like Brett Baty, Ronny Mauricio, Alex Ramirez, Mark Vientos and David Peterson.
It's hard to imagine an iteration of the aforementioned group being enough for Soto, but it's not like the Nationals would be throwing in the towel on the prospect return to dump salary here. We almost never see a top five prospect in baseball traded and Baty, Mauricio and Vientos are no slouches either.
Seattle Mariners
The hottest team in baseball made some aggressive moves prior to the 2022 season and have one of the best farm systems around to allow them to go out and make a crazy trade.
While the Nationals will likely ask for Julio Rodriguez–to which Seattle would rebuff–the Mariners can put together a darn-near unbeatable package and have delved out big contacts in the past.
In 2013, the Mariners inked Robinson Cano to a 10-year, $240 million deal, which is still the largest contract for a second baseman in MLB history. Ahead of this season, the Mariners forked up $115 million over five seasons to secure last year's AL Cy Young winner, Robbie Ray.
With so much young and controllable talent, Ray is slated to be the only player making more than $20 million next year. Core players like J-Rod, Ty France, Logan Gilbert and George Kirby all have several years of arbitration ahead of them and the Mariners have J.P. Crawford, Eugenio Suarez and Marco Gonzalez all locked up for less than $12 million in average annual value over the next three seasons.
With much of the team's corps locked up for cheap and a ton of prospect capital, the Mariners have to be a consideration in the Juan Soto sweepstakes.
A deal would likely start with top prospect Noelvi Marte and George Kirby. The Mariners would presumably want to avoid dealing Kirby, but the uncertainty of Matt Brash combined with Emerson Hancock looking more like a middle-of-the-rotation arm might make that difficult.
Outfielder Kyle Lewis would likely be included as a young piece who has proven to be capable of hitting MLB pitching when healthy, however injury issues have hampered his value a bit since winning AL Rookie of the Year in 2020.
Of course, the Mariners also have Jarred Kelenic. Once one of the game's most promising prospects, Kelenic has struggled at the MLB level, but looks to be hitting his way back to Safeco Field with his recent performance in Triple-A. Having just turned 23 years old, there's still a ton to like with Kelenic.
Seattle also has intriguing prospects like catcher Harry Ford, shortstop Edwin Arroyo, outfielder Jonathan Chase and several others who could help put the deal over the top.
New York Yankees
The Yankees are likely focused on extending Aaron Judge, who is in the midst of one of the best contract years we've ever seen. Rather than trading the farm and then some just to pay Soto more than Judge will likely command even after his monster season, it seems like the most cost-effective move would be to simply lock up No. 99.
This is the New York Yankees we are talking about though and it would be malpractice to not mention them in the sweepstakes for one of the best hitters in the league.
The Yankees don't have a ton that they can trade from at the big league level, however their farm system is among the best in Major League Baseball. Though deemed "untouchable" by many close to the Yankees organization, shortstop prospect Anthony Volpe will need to be the headliner in a Soto deal along with second baseman Gleyber Torres.
The Yankees also have the Jasson Dominguez, Oswald Peraza, Austin Wells, Luis Medina, Ken Waldichuk, Everson Perreira and Yoendrys Gomez who are either top 100 guys or not too far off.
It would be a much more prospect-heavy package from the Yankees that would surely deplete their system, but the Yankees have plenty of prospect depth.
The idea that Juan Soto could be playing for another team in a few weeks is something none of us really would have imagined coming into this season, but this is the chance for the Nationals to completely reset their franchise, which is about as far away from contention as any team in baseball.
We are in for a fascinating next few weeks as the Soto sweepstakes heat up, as anything is on the table at this stage. If Soto lands in the right spot, this could not only change the tides when it comes to who wins the World Series this year, but also for years to come.