Post All-Star MLB Power Rankings: Who Are The World Series Favorites?
Here's how the 30 teams stack up after the Midsummer Classic, leading up to the Trade Deadline.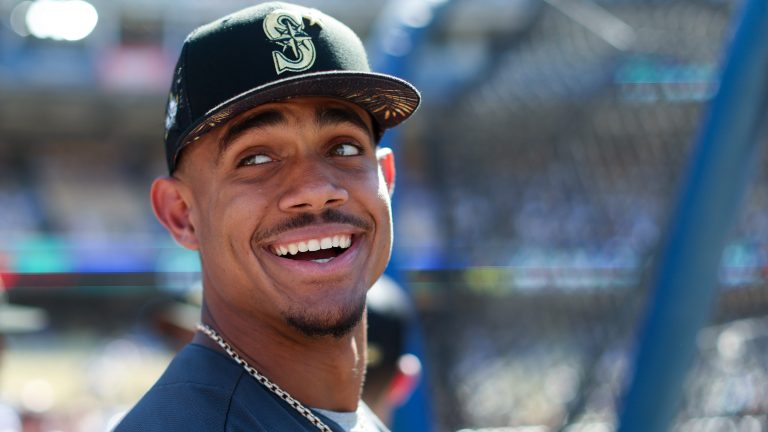 The All-Star break allows every team in baseball to get off the treadmill for a moment, grab some electrolytes, and take a deep breath. As the home stretch of the MLB season is upon us, front offices will launch head-first into trade season.
The top third of this list is littered with "buyers". How will they improve their squads as they gear up for an October run? The bottom third is looking to dish out any expiring value in hopes of landing their next top prospect. As for the middle third? Your guess is as good as mine.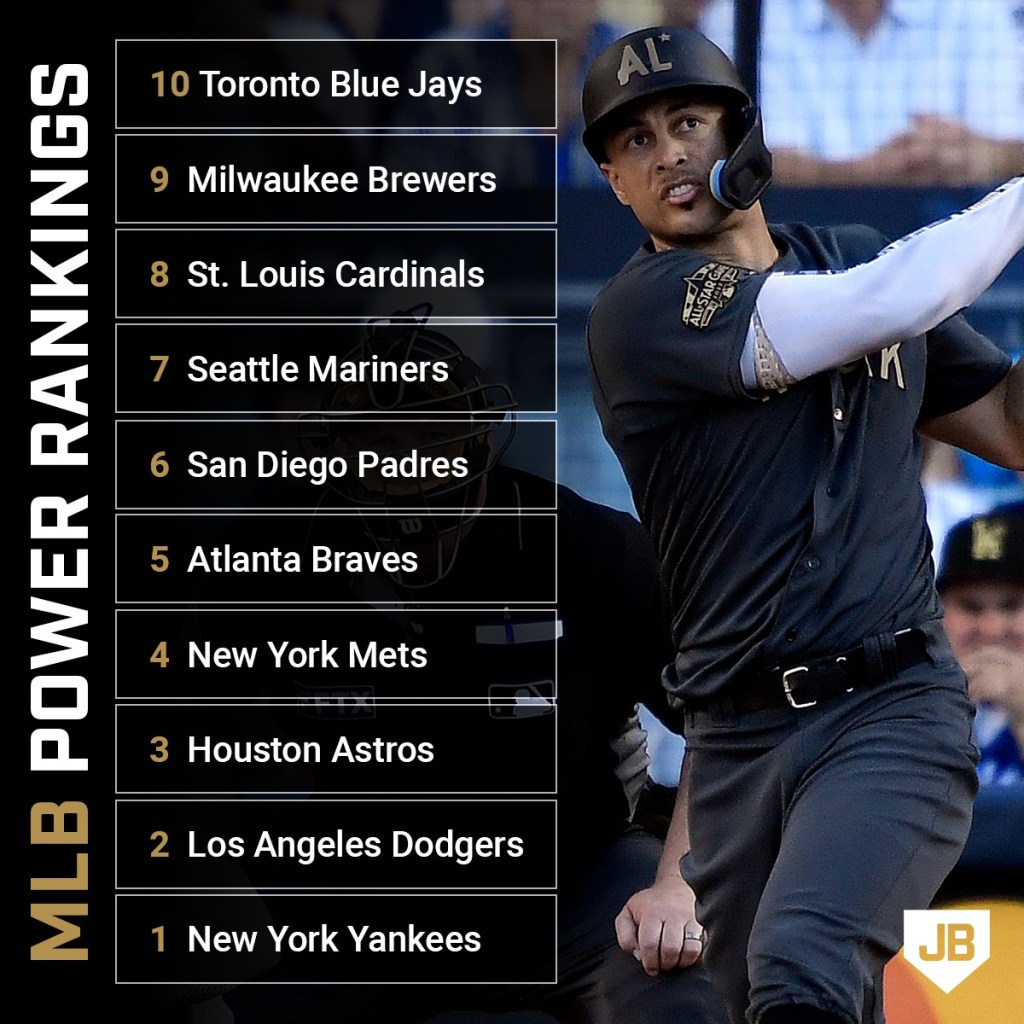 1. New York Yankees (Previous Ranking: 1)
The Yankees have become nothing short of a battering ram, and they seem primed to hold that form through at least the end of September. Aaron Judge is the only player in Major League Baseball to reach 30 home runs thus far, leads in total bases, and ranks in the top five in all of baseball in RBIs, slugging percentage, and OPS. Nestor Cortes ranks in the top-10 in ERA, while Gerrit Cole has the second most strikeouts in all of baseball, just three back of Chicago's Dylan Cease. Despite the Luis Severino news, this team has the depth and top-end domination to hoist the trophy in early November. The biggest question right now seems to be who's joining them by August 2nd at the trade deadline.
2. Los Angeles Dodgers (Previous Ranking: 4)
No team in the National League sprinted through the finish line to the proverbial "first half" quite like the Dodgers. LA won four in a row and nine of their last 10 before hitting the four-day "staycation" with the All-Star festivities taking place on their home turf. Freddie Freeman seemed to put the Atlanta (and Excel) saga behind him; in his last six games before the hiatus, Freeman went 16-for-24 with seven RBIs.
3. Houston Astros (Previous Ranking: 2)
Even with Lance McCullers still yet to make his season debut, Justin Verlander's vintage season and Framber Valdez's fifteen straight quality starts have propelled this rotation to heights past what they may have expected to reach. Offensively, Yordan Álvarez has had ample backup; José Altuve is slashing .327/.443/.531 in 14 games in July. Even with minimal roster manipulation before the deadline, this team feels like it'll stick around for a while this fall.
4. New York Mets (Previous Ranking: 3)
After taking a three-game set from the Braves in the week leading up to the break, the Mets are still the slim favorites to win the NL East. Starling Marte had a great home stretch in July, hitting .383 with four extra base hits and four stolen bases in his last 12 games. After Max Scherzer's valiant return to the mound the only thing holding them back from reaching their final form seems to be Jacob deGrom's shoulder.
5. Atlanta Braves (Previous Ranking: 6)
Our first non-division leader arrives! Sitting just 2.5 games back of the Mets in the NL East, Atlanta could clip at New York's heels from now until the final horn of Game 162. Austin Riley has lit the world on fire in July; in 17 games, Riley's hitting .400 with a 1.311 OPS, six doubles, nine home runs, and 18 RBIs. If Matt Olson continues to progress towards being the masher that we know him to be, the Braves could take over the division by July's end.
6. San Diego Padres (Previous Ranking: 5)
With the division already out of reach, it feels like the Padres are running their own race. Still 10 games above .500, San Diego lost six of its last 10 before the break. The Padres offense has just a .654 OPS in July, knotted with the Pittsburgh Pirates and in the bottom-third in the league. The depth of the starting pitching may be at its utmost importance from this point on.
7. Seattle Mariners (Previous Ranking: 18)
The hottest team in baseball just got even more momentum, without playing a singular game. Rookie phenom Julio Rodriguez has taken the baseball world by storm this week, finishing as the runner-up in the Home Run Derby and his infectious smile stealing the show during Tuesday night's All-Star Game. Along with Eugenio Suárez, the J-Rod Show has put the Pacific Northwest into the bright lights of center-stage in baseball over the last several weeks. And, it feels sustainable.
8. St. Louis Cardinals (Previous Ranking: 11)
Albert Pujols deservedly got his swan-song ovation earlier this week in Los Angeles, surrounded by all of the young players that idolized him during his final Home Run Derby and All-Star Game. Now that the sentimental festivities are over, the Cardinals seem poised to pounce on Milwaukee and take command of the NL Central. Spearheading the effort: Nolan Arenado. In 14 games in July, Arenado has hit .380 with a 1.158 OPS.
9. Milwaukee Brewers (Previous Ranking: 8)
Corbin Burnes has fully replicated his Cy Young form, but he seems to be lacking any assistance. Milwaukee limped into the All-Star break, losing three in a row and seven of their last 10 games. Run differential can be misleading, but the difference is too stark to ignore; Milwaukee's +25 run differential is 40 runs lower than St. Louis, who sits a half game back.
10. Toronto Blue Jays (Previous Ranking: 9)
After a rough patch, the Blue Jays ran through the tape over the weekend leading up to the break with a sweep of the depleted Royals, who were without 10 unvaccinated players. No team has hit better than Toronto this month, with their .282 team batting average pacing Major League Baseball. It's taken a long time to fully see it, but it does truly feel like this offense is beginning to come around at this point. All that's left is for the pitching staff, possibly with some deadline additions, to hold up its end of the bargain.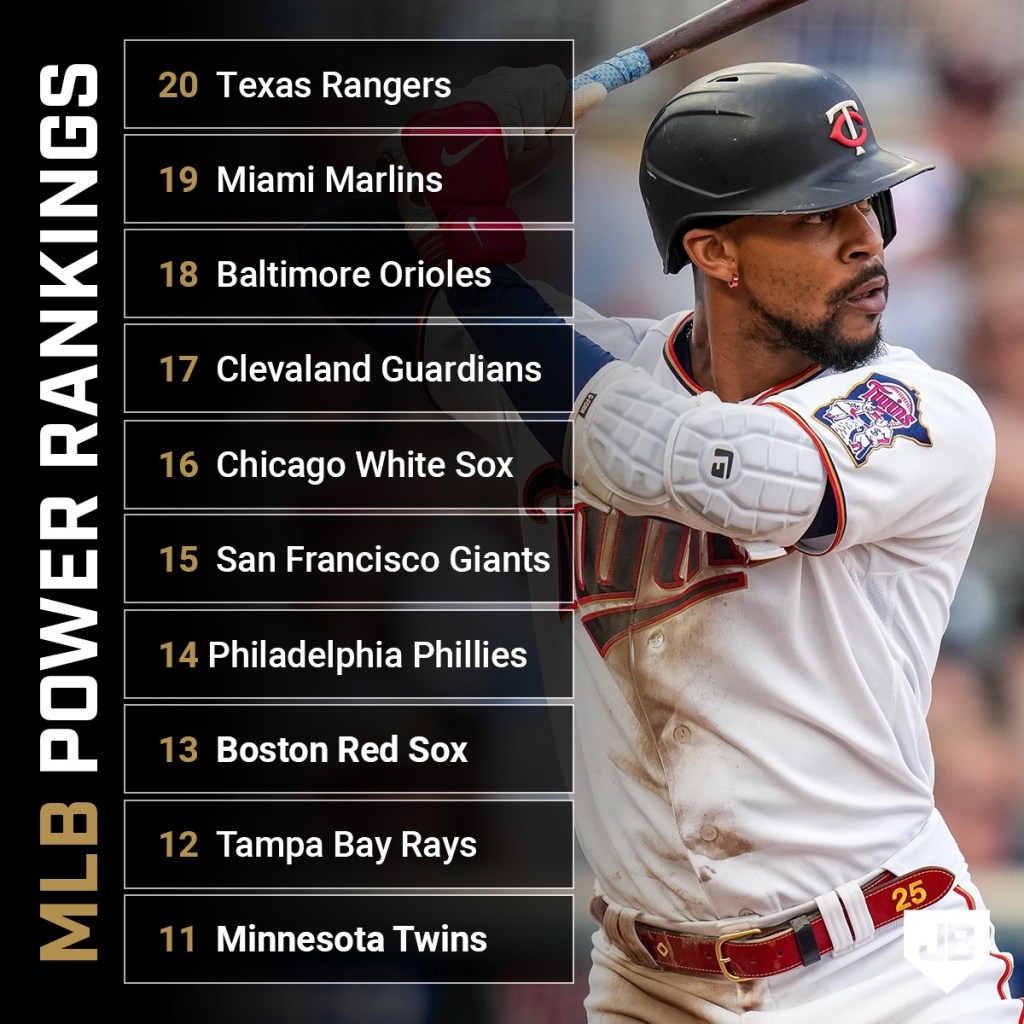 11. Minnesota Twins (Previous Ranking: 12)
Whether we understand it or not, Minnesota continues to hang around the top of the division. They have shown cracks in the armor, going 3-7 over their last 10 games heading into the break. Cleveland sits just two games back, and the surging White Sox are three back after beating the Twins 11-0 this past Sunday. If Minnesota is going to break away from the pack, they'll need to add quality arms at the deadline.
12. Tampa Bay Rays (Previous Ranking: 14)
Don't be fooled by the first inning of the All-Star Game; Shane McClanahan is the best pitcher in the American League. McClanahan leads all qualified starters in ERA at 1.71, besting Miami's Sandy Alcantara by five points. He's also first in WHIP, second in batting average against, and tied for second in strikeouts with Dylan Cease. Tampa has jumped to second in the AL East and a game-and-a-half clear of Toronto for that final Wild Card spot. If the Rays want to cement their spot in the postseason, their bats need to get healthy. And quickly.
13. Boston Red Sox (Previous Ranking: 7)
All the good vibes that the Red Sox seemed to have in June vanished before the break. Dropping seven of their last 10 and getting trounced by the Yankees 13-2 on Sunday, uncertainty surrounding Rafael Devers and Xander Bogaerts' contract situations infiltrated the All-Star media sessions. Many teams have circumvented uncomfortable financial situations, but this one feels particularly intense.
14. Philadelphia Phillies (Previous Ranking: 15)
With Bryce Harper still shelved for at least the next month, the Phillies need to figure out a way to supplement their offense. Alec Bohm has done his part, logging an OPS over 1.000 in the month of July. The pitching staff has stayed relatively healthy through the front half of the year, and that will surely need to continue as they push for a Wild Card spot.
15. San Francisco Giants (Previous Ranking: 10)
The 1-2 punch of Carlos Rodon and Logan Webb have been as strong as any in the National League, both logging ERAs under 3.00. The problem for San Francisco seems to be that the talent tapers off from there. Brandon Belt has been solid when on the field, Joc Pederson has put together a so-so All-Star campaign, and Austin Slater and Mike Yastrzemski have exceeded expectations. While all that's great, it took the stars aligning for everyone on the roster for this team to win 107 games last year. It's hard to picture a second half where the same can be said.
16. Chicago White Sox (Previous Ranking: 20)
Just when this team seemed down and out, they rattle off seven wins in 10 tries to head into the All-Star break at an even .500 and just three games back of the division-leading Twins. José Abreu has turned it on, hitting .386 in July. If the White Sox continue to win and make things interesting, Abreu will have flipped from a possible trade target to the anchor of a team looking to cash in on their lofty expectations at the start of the season.
17. Cleveland Guardians (Previous Ranking: 13)
Winners of three in a row heading into the break, Cleveland thrashed the Tigers and sent José Ramirez and Andres Gimenez to the All-Star Game in good spirits. The starting pitching has been a strong suit, led by Shane Bieber and Triston McKenzie. Offensively, Austin Hedges and Myles Straw have been liabilities. If Cleveland has legitimate contending aspirations before its assumed "window" fully opens, they'll need to shop the best farm system in baseball for an impact bat, either behind the plate or in the outfield.
18. Baltimore Orioles (Previous Ranking: 19)
How can they only climb one spot? An even .500? Winners of 10 in a row before running into Tampa last weekend? The offense is as legitimate as they've shown. As for the pitching, it felt a bit flukey during the stretch. All-Star Jorge Lopez and Félix Bautista have been lights out in the bullpen, but Dean Kremer, Tyler Wells, and Spenser Watkins can only be so good for so long. Next year, when Grayson Rodriguez and D.L. Hall break through, this team will be a legitimate factor in the AL East.
19. Miami Marlins (Previous Ranking: 21)
The Sandy Show made its way out to Los Angeles, but the Marlins' "embarrassing" weekend series against the Phillies in Miami this past weekend still clouds the team's outlook. The next two weeks will be as big of a test of the Marlins as anyone else in the league. Do they buy at the deadline, or do they sell? If it's the latter, what do they sell, exactly?
20. Texas Rangers (Previous Ranking: 16)
The Rangers ran into the red-hot Mariners to end the first half of the season, but they still seem to be outperforming expectations and find themselves ahead of the Angels in the division standings. The most exciting news for the Rangers came on Sunday night, when they took former Vanderbilt star Kumar Rocker with the third overall pick in the MLB Draft. With big money allocated to the middle infield, a deep crop of young hitters, and Rocker and college teammate Jack Leiter running side-by-side, it's an easy time to latch on to the Rangers.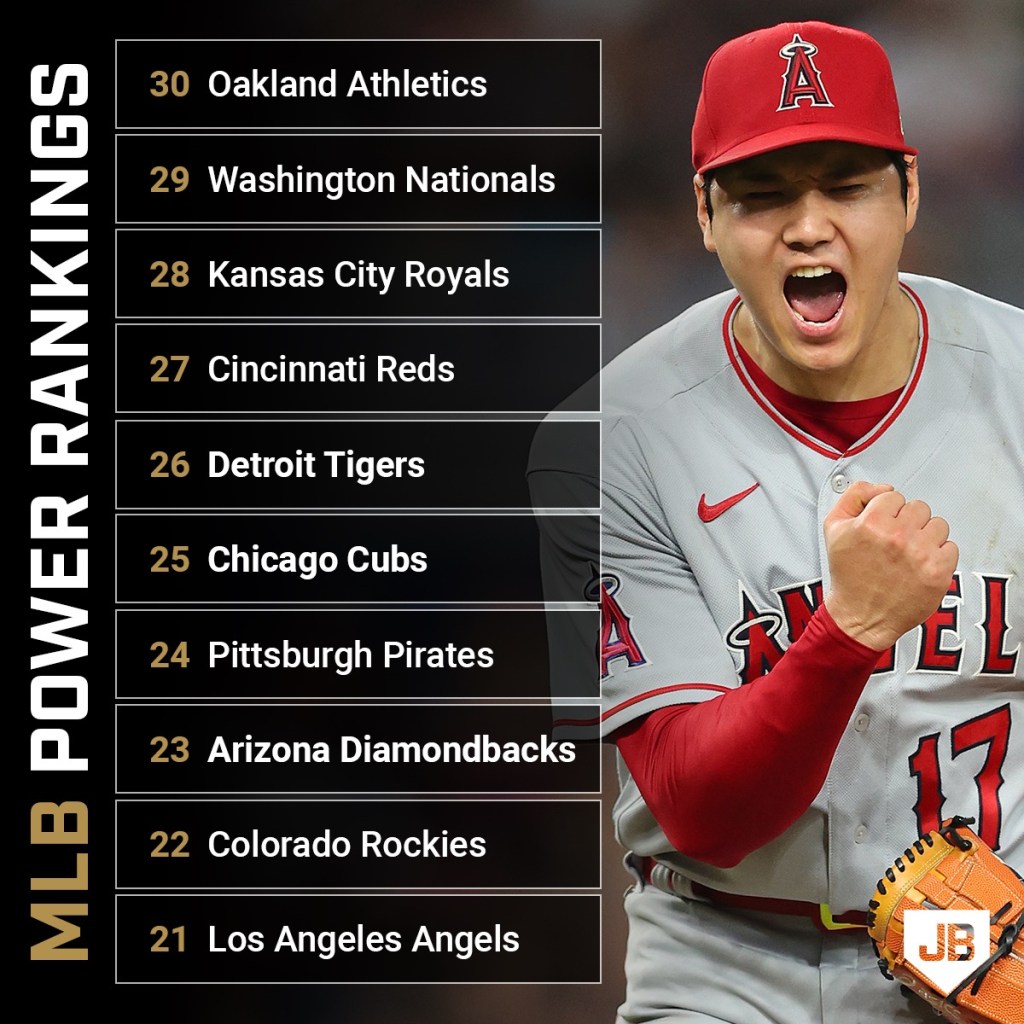 21. Los Angeles Angels (Previous Ranking: 17)
At 39-53 and 10.5 games back of Toronto for the final Wild Card spot in the American League, it may be time to finally call it quits with the 2022 Los Angeles Angels. Instead of slamming our heads against the wall every night expecting this team to flip a switch, we should simply marvel at what Shohei Ohtani is doing and let General Manager Perry Minasian sell off whichever pieces he believes will put them in the best position to win with Trout and Ohtani in the lineup.
22. Colorado Rockies (Previous Ranking: 23)
Believe it or not, the Rockies are figuring out which pitchers survive at Coors Field. Chad Kuhl has been their best starter all season long, utilizing his sinker and slider. José Ureña has dazzled through his first three starts with Colorado, allowing just three earned runs in 18.2 innings while relying heavily on his sinker and slider. And with the 10th overall pick in Sunday's first round of the MLB Draft, the Rockies took right-hander Gabriel Hughes out of Gonzaga, who relies on a sinking and running fastball and a wipeout slider. It seems that GM Bill Schmidt has a new type, and it looks like a good type to have.
23. Arizona Diamondbacks (Previous Ranking: 22)
With Arizona sitting in the cellar of the NL West, it may be time to start selling off veteran contributors for new prospects to join the fold. Alek Thomas has graduated from the top prospect ranks, but Corbin Carroll, Jordan Lawlar, and new draftee Druw Jones should have some company on top-10 lists before August 2nd.
24. Pittsburgh Pirates (Previous Ranking: 24)
The Pirates hold serve because that's what they seem primed to do in the second half. This team won't compete for a division title or a Wild Card spot, but will still show flashes of the bright future to come with Oneil Cruz leading the charge offensively and Roansy Contreras getting tons of run on the hill. More is coming for the 'Bucs; we just have to wait a bit longer on it.
25. Chicago Cubs (Previous Ranking: 27)
The Cubs dropped nine of their last 10 games heading into the break. If they weren't sure that this "re-tooling" was going to turn into a rebuild before this, they should be now. Willson Contreras and Ian Happ should command serious hauls, which is exactly what Jed Hoyer, Carter Hawkins, and the rest of the Cubs brass needs.
26. Detroit Tigers (Previous Ranking: 25)
Spencer Torkelson's demotion to Triple-A Toledo seemed to take all of the wind out of Tigers fans' sails. Even with 2020's No. 1 overall pick down in the minor leagues, Riley Greene will provide enough excitement to buy Tork time to regain the form we know he has in him. After a solid draft earlier this week, the optimism for the Tigers seems to be in the lower levels of the Minor Leagues, with Jackson Jobe, Ty Madden, and the new draftees.
27. Cincinnati Reds (Previous Ranking: 28)
Who will go, and where will they go? All-Star Luis Castillo looked dominant in his inning of relief in the Midsummer Classic, and he will likely command a king's ransom. He has obviously been tied to the Yankees; the only question seems to be who will come back to add to an already-strong farm system.
28. Kansas City Royals (Previous Ranking: 29)
Oh, the Royals. Andrew Benintendi should get Dayton Moore a nice return of young talent, likely hoping that it's on the mound. The series in Toronto last weekend with 10 regulars out due to a lack of vaccination provided an opportunity to glimpse into the future, with Witt, Pratto, Pasquantino, and infield prospect Michael Massey all on the field at the same time. Add M.J. Melendez back into the fold for the second half, and this is a young core that many can get behind.
29. Washington Nationals (Previous Ranking: 26)
The team that chartered the Home Run Derby champion to Los Angeles is not allowed to be anywhere but the bottom-three in the league. The rift between Juan Soto and his agent Scott Boras and the Nationals' front office reached a point of pettiness not often seen before. This team could look a lot different in two weeks than it does right now.
30. Oakland Athletics (Previous Ranking: 30)
Ah, the other team that wanted to charter its All-Star to LA. Thankfully, the Astros called out Oakland's pettiness and flew Paul Blackburn to the City of Angels with them. If this team doesn't ship Blackburn, Frankie Montas, and Sean Murphy out of town before the deadline, then they're dropping the ball.