Analysis
Los Angeles Angels Trade Deadline Outlook
Another year, another failed season building around Mike Trout for the Angels, who are left without many good options at this trade deadline.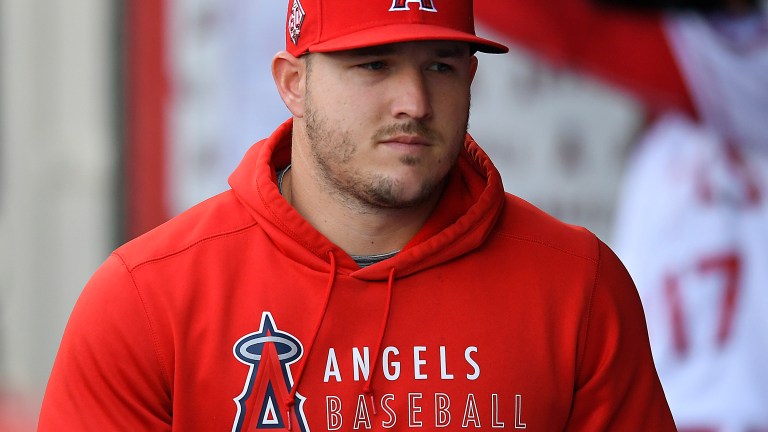 After starting the season as one of the best teams in baseball, the Los Angeles Angels have once again fell flat. Another abysmal season has occurred, with LA sitting at 40-55, fourth in the AL West. I can only imagine how generational talents Shohei Ohtani and Mike Trout feel, as this organization once again has failed to build a competitive team.
The Anthony Rendon contract has completely fallen apart, looking like one of the worst contracts in the entire sport. All three major offseason bullpen signings have come up short, with Ryan Tepera, Aaron Loup and Rasiel Iglesias seeing serious regression in 2022. And the massive one-year deal for Noah Syndergaard seems like a failure with a 4.00 flat ERA.
A below average offense (93 wRC+) and a below average staff (4.05 ERA) have plummeted this team into mediocrity. With an Ohtani extension imminent, this team is forced to make some tough decisions. The Angels are clearly not built to win right now. They won't be a force in the playoff race at 15 games under .500.
In turn, they should sell what assets they have at this year's deadline to scrap together some capital. While there isn't a lot to love on this roster, it will be beneficial to shed some salary in the coming week.
Noah Syndergaard – SP
2022 stats: 74 IP, 5-7, 4.00 ERA, 4.07 FIP, 18.6 K%, 6.4 BB%, 46.1 GB%, 1.0 WAR
Potential fits: Cardinals, Astros, Dodgers, Padres, expiring deal
Noah Syndergaard took a leap of faith in the 2022 offseason, signing with Los Angeles on a one-year, $21 million deal. Fresh off Tommy John surgery, a bounce back in LA would be incredible. While he hasn't been the worst arm in the bigs, it's a far cry from his peak with the Mets. His first 29 innings as an Angels saw him steady a 2.45 ERA with a 3.35 FIP, rather impressive. His success turned to instability however, with his numbers ballooning since early May.
It seems like "Thor" is reaching the twilight years of his career. A struggling LA rotation took a chance on him with the rather lucrative one-year deal and it hasn't necessarily panned out the way they'd hoped.
Syndergaard's velocity has trickled away since his days in Queens, with an average four-seam velo of 94 MPH. In turn, he's limited the walks and is relying on ground balls more than ever. He's also posting a career-high in BABIP against at .270. There could still be some real value here with the 29-year-old.
The starter is nowhere near ace caliber like he once was, but a playoff contender could come calling in the next week to inquire about his services as a back-end arm. At the end of the day, it works as a salary dump for the Angels looking to get value from the contract.
Any team that trades for Syndergaard gets a somewhat reliable arm that could do a job during a postseason stretch. It would not surprise me whatsoever if Noah is in a different uniform in the coming weeks.
Ryan Tepera – RP
2022 stats: 35.1 IP, 1-2, 1 SV, 4.08 ERA, 4.15 FIP, 20.3 K%, 9.1 BB%, 37.4 GB%, 0.0 WAR
Potential fits: Phillies, Brewers, Twins, Yankees
Ryan Tepera was a highly sought-after reliever at the 2021 deadline, eventually traded in a package with Craig Kimbrel to the Chicago White Sox. He posted career highs in ERA (2.71), FIP (2.73), BB% (7.9%), ERA- (65) and WHIP (0.88) in 2021. The veteran reliever had carved himself a nice contract with the Angels following a stellar campaign, signing a two-year, $14 million contract with the club.
Similar to Syndergaard, he was brought in to improve a struggling LA bullpen besides closer Raisel Iglesias. The results have not been what Angels fans expected, unfortunately.
The stability Tepera was able to bring to both the Cubs and White Sox bullpens has faded away. He's steadily fallen back into being a rather average reliever with his 2022 statistics, a common theme that you'll find with a majority of this team. With his velocity steadily decreasing, his slider usage has become more prominent than ever, resulting in less success. On the bright side, Tepera ranks in the 95th percentile in HardHit% among all MLB arms, so that's positive.
Tepera will make $7 million next year on his current deal, which is easier to trade than some of his teammates. Obviously not of closer caliber, he could be an arm that would work well as a middle reliever. As we shift towards the push for October, there are plenty of organizations that will be looking to strengthen their back half. The four teams I have listed above are all in serious playoff contention. In the case of the Yankees, injuries have hit them hard. The Angels are plagued with monetary issues, and getting Tepera off the books could be a positive.
Aaron Loup – RP
2022 stats: 33 IP, 0-3, 4.36 ERA, 3.98 FIP, 25.7 K%, 8.6 BB%, 45.7 GB%, 0.1 WAR
Potential fits: Blue Jays, Mets, Cardinals
Continuing on with the theme of struggling relievers in the Angels 'pen, Aaron Loup has completely fallen off a cliff in 2022. With a Baseball Savant page that is colder than the artic circle, it's been a rough first year in LA. Loup signed a two-year, $17 million deal with the Angels during the offseason after a stellar 2021 with the Mets.
Loup's 65 games with the Mets in 2021 saw him accumulate a stellar 0.95 ERA in 56 innings. He was held out of save situations due to Edwin Diaz, but he was easily New York's best reliever last season. He allowed a miniscule 0.16 HR/9 while racking up an elite GB% of 50%. This saw him net his current deal in Los Angeles, but he hasn't been the pitcher they expected him to be.
Aaron Loup's ERA has skyrocketed up 4.36 with a 3.98 FIP. The lefty's ground-ball percentage has dropped 5%, and his strikeout percentage has also dipped. The 0.16 HR/9 number we discussed earlier has shot up to 1.08. All the numbers across the board have shot up from his immaculate 2021. Similar to Tepera, he was brought to LA to help this struggling bullpen and it just hasn't panned out.
Loup's three-year peak might've concluded, as he's been one of the more underrated arms in the game. The 34-year-old could find himself in a contending uniform in the next few weeks, as a franchise could hope to unlock the previous version of himself. A return to the bright lights of NYC could be in the cards and would be a great fit. Either way, getting his $8.5 million AAV off the books would be a positive for Los Angeles, as this deadline could be filled with salary dumps.
The Angels should be sellers at the deadline based on the state of the team, but there really just isn't much to be sold. This is a team that likely stands pat now, before having very hard conversations in the offseason about how to either build around Trout and Ohtani, or start over entirely.